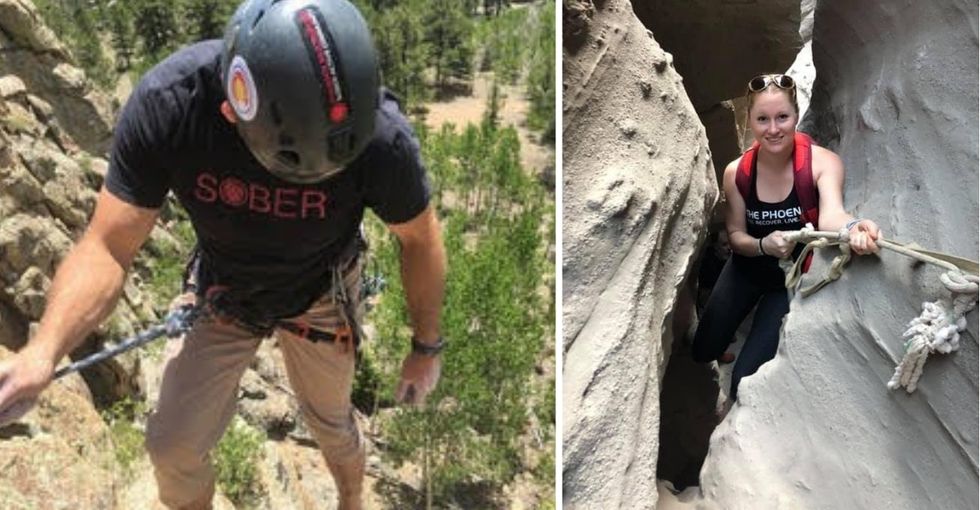 True
Stand Together
A decade ago, Todd and Kaley Jones couldn't imagine a life without drugs and alcohol.
When Kaley left a 9-month inpatient drug treatment program at age 19, she was terrified. She went digging through her makeup bags at home, hoping maybe she had stashed away some drugs so she could numb her fear. No luck.
Later, she walked into a 12-step meeting and saw a man wearing a t-shirt that said, "SOBER." Kaley was mortified. Why wasn't he embarrassed? Wasn't it a shameful thing to have had a drug or alcohol problem? But the man, Todd, wasn't ashamed. "He was happy and he was laughing," says Kaley, "and he told me about Phoenix."
---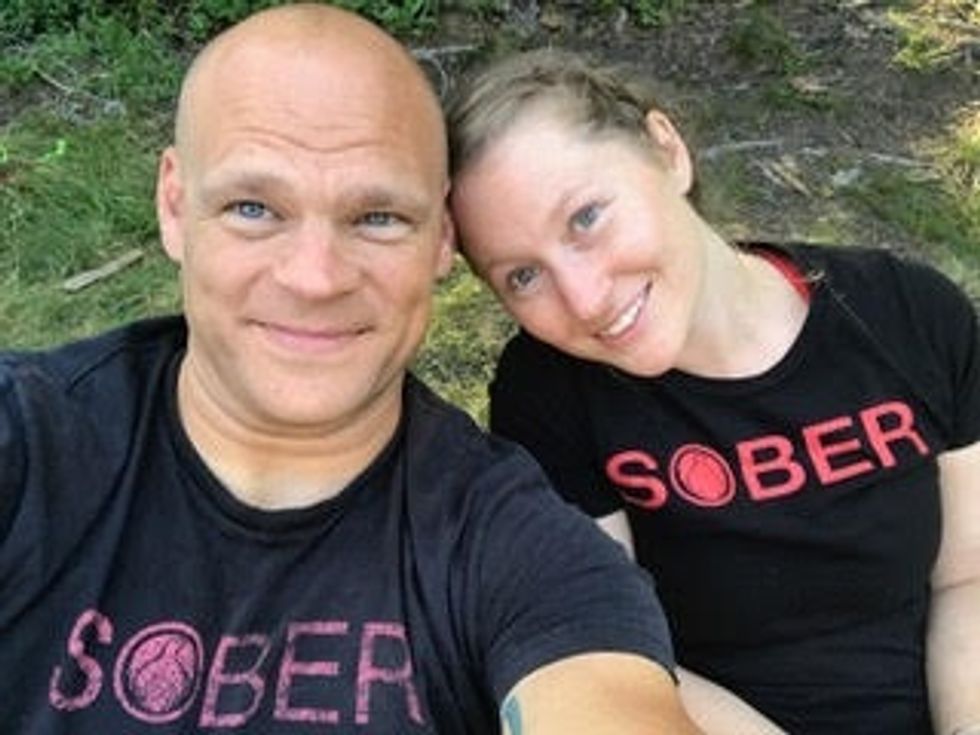 Kaley and Todd Jones. All photos courtesy of The Phoenix.
The Phoenix is a sober community built around an active lifestyle. It was founded by Scott Strode back in 2006. Mountaineering and boxing played a huge role in Strode maintaining long-term sobriety, so he created a program that combines physical activity with a sober community.
Todd, who now manages the Colorado Springs chapter, was first sent to The Phoenix from a drug court judge's referral. "I had no idea what to do with myself when I first got sober," he says. "When I showed up at Phoenix, I had this tremendous sense of belonging. There were other people who were trying to do the next right thing for themselves like I was. I felt this tremendous sense of safety. And one of the strongest things was they were really excited that I was there, and welcomed me back."
But the program's strength is about more than a community of people who love sports. It shows its members they're capable of overcoming their obstacles. "When you tie into a climbing rope for the first time and make it to the top of the wall, it starts to make you feel like you can beat your addiction," Strode said in a YouTube video.
Kaley, who now serves as the National Engagement Officer for The Phoenix, says that many treatment programs focus on getting sober, but not on what comes next. The Phoenix answers the "what's next" question by providing empowering activities for people in recovery as well as understanding, supportive peers to do them with.
All Phoenix instructors are people in recovery themselves, and that community makes all the difference.
A Phoenix event might be anything from a rock climbing excursion to a weight lifting session to a cooking class. The only requirement for joining a Phoenix event is that you've been clean and sober for 48 hours. All events are free for individuals, including instruction and all necessary equipment. Participants are asked to sign a team member agreement, which says they will be inclusive and supportive of fellow team members, and that they are dedicated to a sober lifestyle.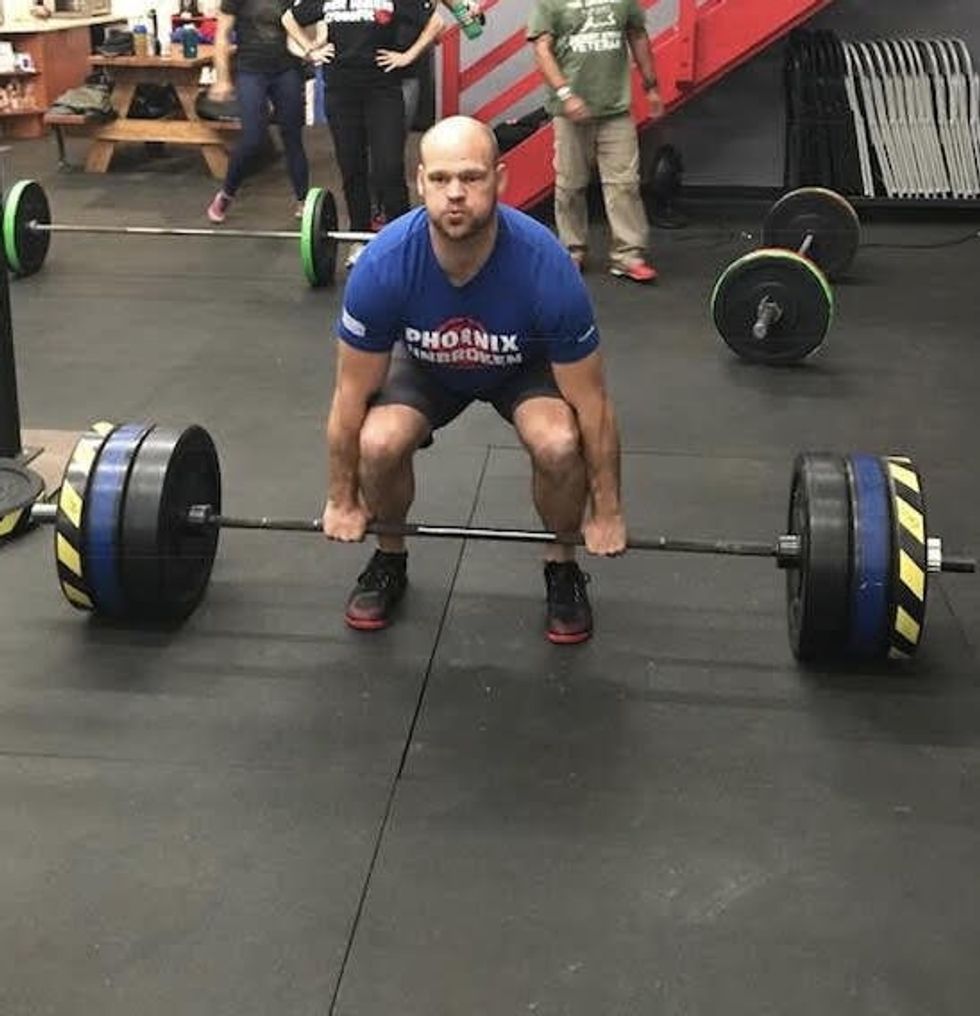 Todd Jones
Kaley says they leave that last part vague on purpose. "We understand that sometimes people will relapse and they need to have a home to come back to. Things happen, and we're always going to be here no matter what their journey into recovery looks like."
Todd says that all Phoenix instructors are in recovery themselves, so they know what it's like to walk the journey to sobriety and can offer support through sharing their own lived experiences.
If an instructor in recovery can't be found, Kaley says they will always have a peer facilitator, "so that if someone does walk in with 48 hours sober, and they're terrified, and they don't know how to stay sober, there's someone right there who can say, 'I have walked that path. It takes courage to open the door and come in here. I'm glad you're here. This is what I did to stay sober,' and they can share that on an individual basis."
Phoenix programs are always free for individuals, thanks to donations, grants, and partnerships with organizations like Stand Together.
Thanks to support from Stand Together, a social change organization that supports the country's most innovative social entrepreneurs working to directly address the problems that cause poverty and homelessness, The Phoenix has been able to expand exponentially. Stand Together has worked with The Phoenix to secure funding, solidify and fine tune its business processes and scale the organization.
Kaley says scaling has been hugely important since The Phoenix has seen "explosive" growth in the past two years. In 2016, they were located in five cities. By the end of 2018, they'd expanded to 33 cities. "The reality that drug addiction and alcoholism is ravaging this country has become very apparent," says Kaley, "and we have a solution."
Kaley points out that 86% of Phoenix team members remain sober if they are consistently active in their programs, which is an impressive number. (According to the National Institute on Drug Abuse, the average relapse rate for substance abuse disorder is 40-60%.)
The Phoenix changed the course of Kaley and Todd's life—and thousands of others as well.
It's helped more than 26,000 people on their journey to and through sobriety. And each person brings their own unique story with them — recognizing and embracing that is also how the program fights the stigma of addiction. It's helping people realize that their unique experiences can be used to help other people find their identity in their new sober lifestyle.
Kaley says that joining The Phoenix drastically changed her perception of her own journey. "I met all of these other people who were enjoying their life and proudly owning their recovery," she says. "And it was the first time I felt any hope that maybe I could have a life beyond hiding in basements talking about my problem. And that I could just truly be who I am and help others to find the hope that I was given."
"It's a lifeline for me," she adds. "Even on the good days, I need to check in. And on the bad days, I need to check in even more. And there is always space for me. I used a lot because I didn't ever think I was enough. I just wasn't good enough. And at Phoenix I always feel like I'm enough."
"Recovery had never been appealing to me," Todd says. "And Phoenix made recovery very appealing. And it helped me change my identity from addict, alcoholic, felon, to a Cross-fitter, rock climber, husband, person in long-term recovery as I grew within the program and the community." Todd and Kaley have each been sober for nine years and have been married for four.
Here's to The Phoenix for fighting the stigma that often accompanies addiction, and for providing empowerment and support along the road to recovery.
Stand Together invests in solving the biggest problems facing our nation today in order to unleash the potential in every individual, regardless of their zip code. By supporting social entrepreneurs like Strode who're close to social issues like addiction and have developed innovative solutions, the company is helping combat these issues in ways that are working. You can get involved and find a transformative org near you at Standtogetheragainstpoverty.org.
To find out which of these organizations supports your values, take this quiz here and let Stand Together do the searching for you.