Family
Appetizer. Entree. Salad. Side. Dessert. 60 mins.
Canva
True
Friendsgiving might have started as a novel alternative to Thanksgiving, but today it's an American holiday in its own right.

For many, especially millennials and Gen Zers, Friendsgiving offers an opportunity to get creative with their celebrations without being obligated to outdated, even problematic traditions or having to break the bank.
However, some of us might not want to go to the extreme of only having pizza and beer. What if there were a way to balance the decadence of a traditional Thanksgiving meal while still keeping it easy and laid-back? And could we make it healthy too?
As it turns out, we can.
Here's a super simple breakdown of what your next Friendsgiving prep could look like. An appetizer, salad, side, entree, and dessert. All done in an hour—even quicker if you assign certain dishes to different partygoers. #spreadsheetsrule
But wait, it gets better—all of these meals can be made organic at an affordable price, using O Organics® at Albertsons. O Organics helps shoppers find quality ingredients at reasonable prices every day of the year. Friendsgiving is no different.
Without further ado, let's get cooking!
Appetizer: Charcuterie Board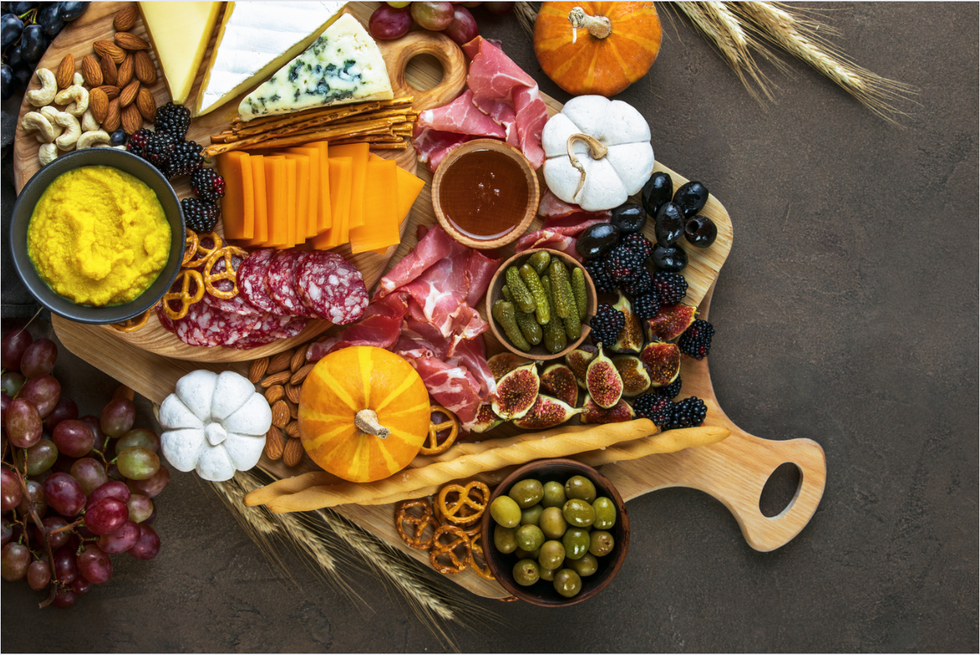 Canva
Nothing quite hits like the fancy, grown-up version of Lunchables. Crackers, meats, cheeses, and various fancy toppings that can be combined in endless ways. The easiest form of culinary creativity there is.
You already know how to make one of these bad boys, but here's a basic template if you're needing a dose of inspo:
Meats: Some tasty choices here are salami, prosciutto, sausage, etc. I made a smaller-scale board and decided to go with salami. If you or your friends aren't a fan of pork, sliced turkey or smoked salmon are some yummy alternatives.
Cheese: The possibilities are endless here. You can even opt for a dairy-free cheese option!
Bread or Crackers: Artfully arranged. Speedily snacked upon. Some O Organics options here and here .
Fillers: this is where the charcuterie really shines. Fill in the spaces with splashes of color and flavor. Be sure to go for both savory and sweet. That means olives , sliced cucumbers, bell peppers, nuts , and a vibrant array of fresh or dried fruit . A yummy fruit spread doesn't hurt either.
Time: 5 min
Salad: Squash And Feta Salad
Ingredients:
( 3-4 servings )
1 small red onion ( O Organics sells them in a bag )
1 bag O Organics frozen Butternut Squash
6 cups fresh O Organics spinach , arugula , kale , or whatever salad green you like
1/4 cup O Organics pecans
1/4 cup O Organics Extra Virgin Olive Oil
O Organics Lemon and Olive Oil Salad Dressing
Crumbled O Organics Goat Cheese
Salt and pepper
Chop some onions. Sautee them in olive oil. Add a bag of frozen squash. Dress some salad greens with dressing. Add the onions and squash. Top with pecans, cheese, salt and pepper. Badda bing badda boom.
Time: 10 minutes
Side: Autumn Seasoned Air Fryer "Roasted" Potatoes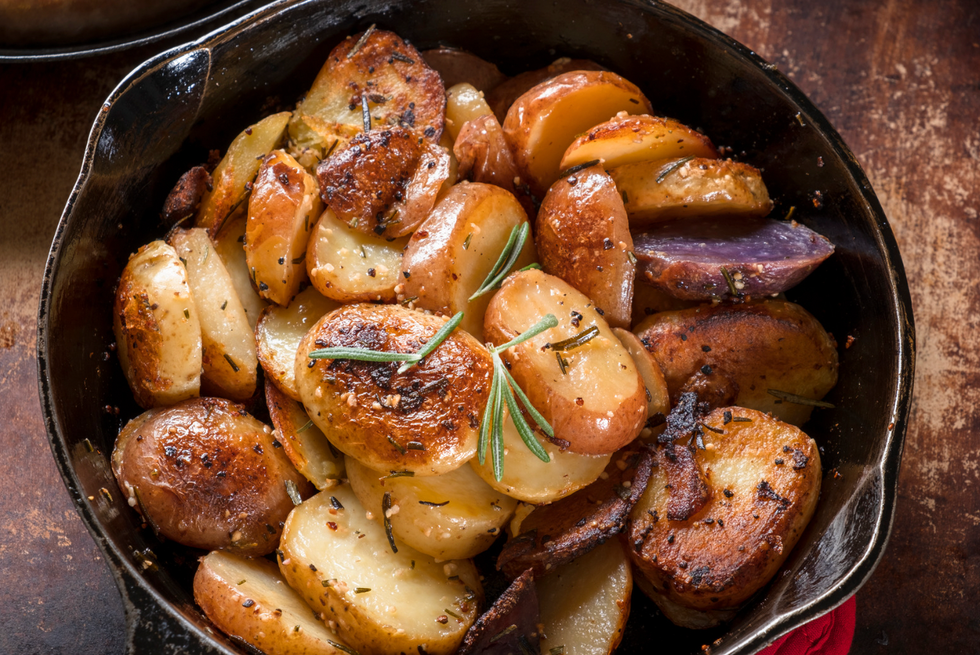 Canva
As any millennial will tell you, we love our air fryers. Nothing quite ticks all the quick, easy and healthy boxes quite like one. And if you haven't yet had a perfectly crispy on the outside, buttery soft on the inside air fryer potato, then what are you waiting for?
Ingredients:
One 3 pound bag of O Organics red or russet potatoes—honestly any potato will do
2 Tablespoons O Organics olive oil
1 tsp Italian Seasoning
That's it. No really.
Cut potatoes into one-inch pieces. Coat with olive oil. Sprinkle seasoning. Cook in an air fryer at 400 degrees for 10 minutes. Toss the potatoes in the basket and continue to cook for 8-10 minutes or until tender and crisp.
Time: 20 minutes. TOPS.
Entree: Coconut Chicken Curry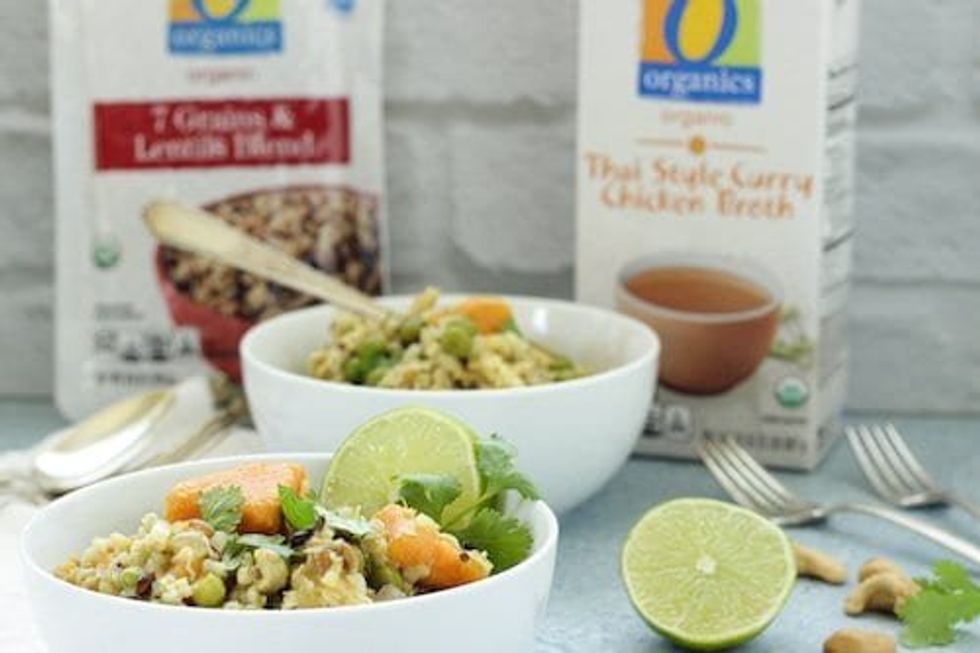 cravingsomethinghealthy.com
Because who needs turkey? This one pot piéce de rèsistance is the very essence of Friendsgiving—unique, versatile and not without a little spice.
Being the entree, this dish calls for a few more ingredients, but is honestly not much more demanding. You're basically looking at 15 minutes for prep, and about 30 minutes to simmer.
Ingredients:
1 tablespoon O Organics olive oil
1 medium onion diced
2 teaspoons ginger minced
2 teaspoons green curry paste
2 teaspoons curry powder
2 cups O Organics Thai Style Curry Chicken Broth
1 large sweet potato peeled and cut into 1-inch dice
1 15-ounce can O Organics full-fat coconut milk
2 ½ cups O Organics cooked chicken breast
1 8.8 ounce package O Organics 7 Grains & Lentils Blend
1 16 ounce bag of O Organics frozen peas
½ teaspoon salt or to taste
Lime juice
Cilantro
Chopped O Organics cashews to garnish
Using a Dutch oven (or large pot with a lid), saute the onion and ginger in olive oil over medium heat, for about 4 minutes. Add the curry paste and curry powder and saute for one more minute.
Add the Thai Style Curry Chicken Broth and the diced sweet potato. Bring the mixture to a boil, and then cover with a lid, reduce the heat to medium-low and catch up with friends for 20 minutes while the dish simmers.
When the sweet potato is tender, shake the can of coconut milk well and pour it into the pot. Add the chicken, 7 Grains & Lentils Blend, and peas. Bring to a boil, and then reduce the heat and let the curry simmer for another 10 minutes.
Congrats! You are finished. You can add salt, lime juice, cilantro, extra curry powder/paste, or garnish with roasted cashews. Each bowl is customizable.
Time: 40 min
Dessert: Holiday Kettle Corn Bark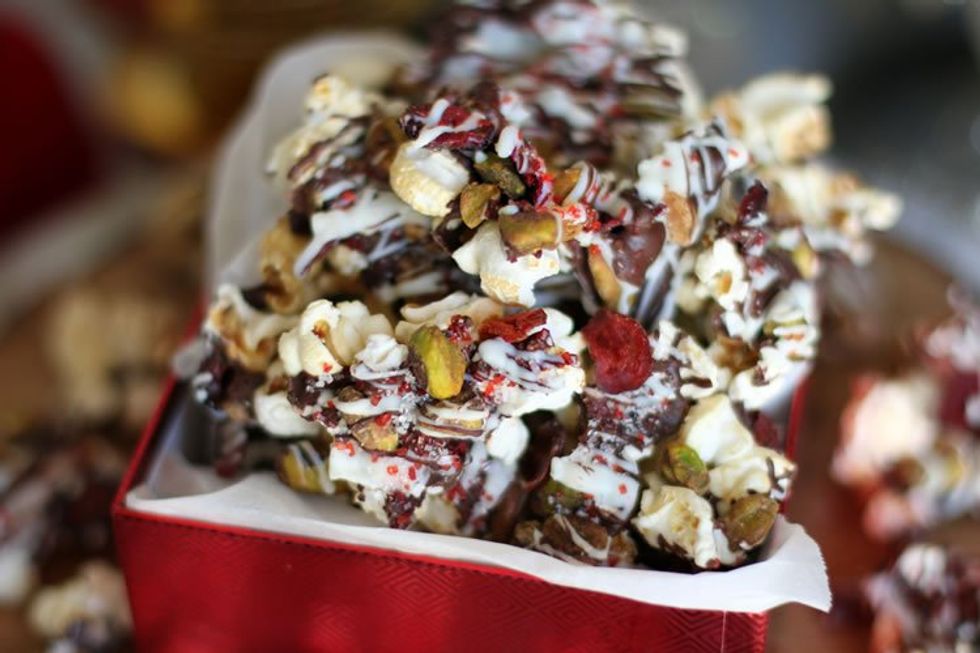 onbetterliving.com
Of course, you can always opt for pie, but sometimes people might want to opt for something a bit more bite-sized when it comes to desserts—especially after a hefty meal. This sweet and salty finger food does the trick quite nicely.
Ingredients:
1 bag (6 oz) O Organics Kettle Corn Organic Popcorn (about 9 cups)
1 bag (10 oz) O Organics Semi-Sweet Chocolate Chips
8 oz white chocolate, broken into small pieces
1 cup pistachios, roasted and salted
2/3 cup O Organics Dried Cranberries
2 tbsp O Organics Organic Coconut Oil
1 tsp salt
Line a 12x17-inch baking sheet with wax or parchment paper. Spread kettle corn on the lined baking sheet in one thin single layer. Put the semi-sweet chocolate chips with 1 tablespoon coconut oil in a microwave-safe bowl and microwave in 30-second intervals until the chocolate is melted and smooth. Drizzle the melted chocolate evenly over kettle corn, reserving about a 1/3 cup for finishing touches. Sprinkle the pistachios and cranberries over the kettle corn evenly.

Follow the same melting instructions for the white chocolate, then drizzle evenly over the kettle corn. You can follow with any remaining semi-sweet chocolate for a layered effect. Let the kettle corn stand for 5 minutes.
Place the kettle corn bark in the freezer for 10 minutes to harden. Once the bark has hardened, break into pieces.
Time: 20 minutes.
OR…if you want to make life even easier…just grab some pints of ice cream and call it a day. No judgment here.
Time: literally a few seconds to open the freezer and grab some bowls.
And there you have—a no muss, no fuss, healthy and affordable Friendsgiving spread. Spend less time in the kitchen and more time with your chosen family.
Get to your nearest Albertsons today and find everything you need to make these yummy dishes! No Albertsons in your area? You can also find O Organics products exclusively at Safeway, Vons, Jewel-Osco, ACME, Shaw's, Star Market, Tom Thumb, Randalls, and Pavilions.