Intriguing. Nothing's better than the headline: "The reason people are [bad quality that describes you] is actually because they're [good quality]."
I got to reading. And as it turns out, according to the article, late people are actually the best people ever. They're optimistic and hopeful:
"People who are continuously late are actually just more optimistic. They believe they can fit more tasks into a limited amount of time more than other people and thrive when they're multitasking. Simply put, they're fundamentally hopeful."
They're big-thinking:
"People who are habitually late don't sweat over the small stuff, they concentrate on the big picture and see the future as full of infinite possibilities."
Late people just get it:
"People with a tendency for tardiness like to stop and smell the roses…life was never meant to be planned down to the last detail. Remaining excessively attached to timetables signifies an inability to enjoy the moment."
By the end of the article, I had never felt prouder to be a chronically late person.
But also, what the hell is going on? Late people are the worst. It's the quality I like least in myself. And I'm not late because I like to smell the roses or because I can see the big picture or because the future is full of infinite possibilities. I'm late because I'm insane.
So I thought about this for a minute, and I think I figured out what's going on. The issue is that there are two kinds of lateness:
1. OK lateness. This is when the late person being late does not negatively impact anyone else — like being late to a group hangout or a party. Things can start on time and proceed as normal with or without the late person being there yet.
2. Not-OK lateness. This is when the late person being late does negatively impact others — like being late to a two-person dinner or meeting or anything else that simply can't start until the late party arrives.
John Haltiwanger's Elite Daily article is (I hope) talking mostly about OK lateness. In which case, sure, maybe those people are the best, who knows.
But if you read the comment section under Haltiwanger's article, people are furious with him for portraying lateness in a positive light. And that's because they're thinking about the far less excusable not-OK lateness.
All of this has kind of left me with no choice but to take a quick nine-hour break from working on a gargantuan SpaceX post to discuss not-OK late people.
When it comes to people who are chronically not-OK late, I think there are two subgroups:
Group 1: Those who don't feel bad or wrong about it. These people are assholes.
Group 2: Those who feel terrible and self-loathing about it. These people have problems.
Group 1 is simple. They think they're a little more special than everyone else, like the zero-remorse narcissist at the top of Haltiwanger's article. They're unappealing. Not much else to discuss here.
Punctual people think all not-OK late people are in Group 1 (as the comments on this post will show) — because they're assuming all late people are sane people.
When a sane person thinks a certain kind of behavior is fine, they do it. When they think it's wrong, they don't do it. So to a punctual person — one who shows up on time because they believe showing up late is the wrong thing to do — someone who's chronically late must be an asshole who thinks being late is OK.
But that's misunderstanding the entire second group, who, despite being consistently late, usually detest the concept of making other people wait. Let call them CLIPs (Chronically Late Insane Persons).
While both groups of not-OK late people end up regularly frustrating others, a reliable way to identify a Group 2 CLIP is a bizarre compulsion to defeat themselves — some deep inner drive to inexplicably miss the beginning of movies, endure psychotic stress running to catch the train, crush their own reputation at work, etc., etc. As much as they may hurt others, they usually hurt themselves even more.
I come from a long line of CLIPs.
I spent around 15% of my youth standing on some sidewalk alone, angrily kicking rocks, because yet again, all the other kids had gotten picked up and I was still waiting for my mom. When she finally arrived, instead of being able to have a pleasant conversation with her, I'd get into the car seething. She always felt terrible. She has problems.
My sister once missed an early morning flight, so they rescheduled her for the following morning. She managed to miss that one too, so they put her on a flight five hours later. Killing time during the long layover, she got distracted on a long phone call and missed that flight too. She has problems.
I've been a CLIP my whole life. I've made a bunch of friends mad at me, I've embarrassed myself again and again in professional situations, and I've run a cumulative marathon through airport terminals.
When I'm late, it's often the same story, something like this:
I'll be meeting someone, maybe a professional contact, at, say, a coffee place at 3:00. When I lay out my schedule for the day, I'll have the perfect plan. I'll leave early, arrive early, and get there around 2:45. That takes all the stress out of the situation, and that's ideal because non-stressful commutes are one of my favorite things. It'll be great — I'll stroll out, put on a podcast, and head to the subway. Once I'm off the subway, with time to spare, I'll take a few minutes to peruse storefronts, grab a lemonade from a street vendor, and enjoy New York. It'll be such a joy to look up at the architecture, listen to the sounds, and feel the swell of people rushing by — oh magnificent city!
All I have to do is be off the subway by 2:45. To do that, I need to be on the subway by 2:25, so I decide to be safe and get to the subway by 2:15. So I have to leave my apartment by 2:07 or earlier, and I'm set. What a plan.
Here's how it'll play out (if you're new to WBW, you're advised to check this out before proceeding):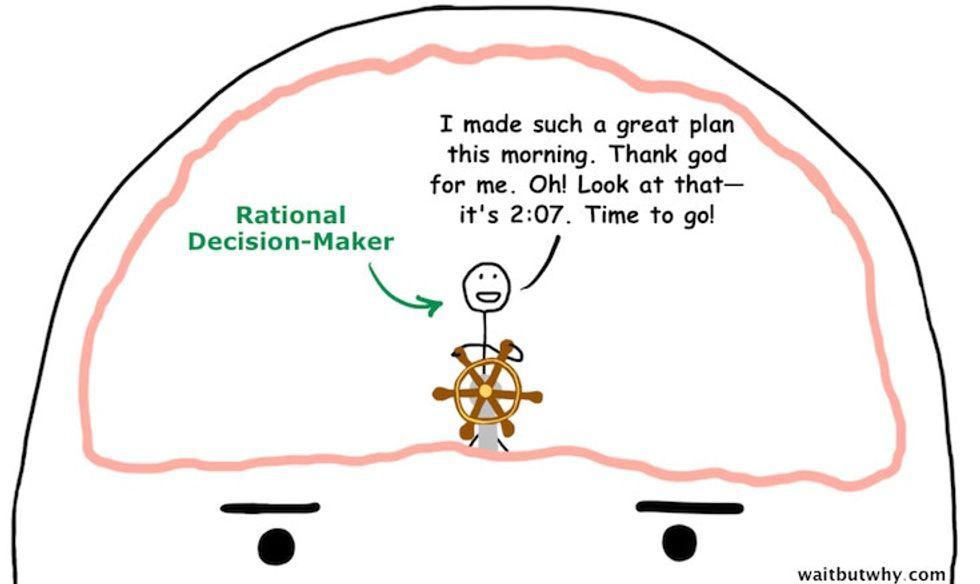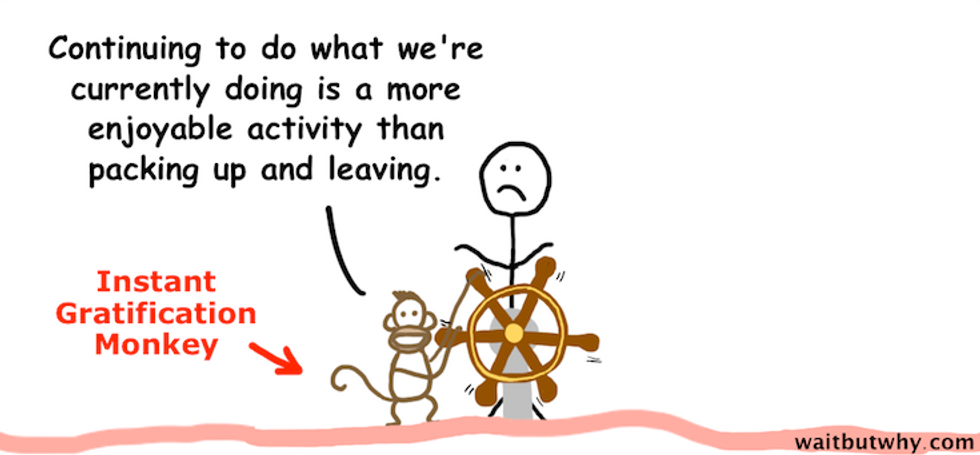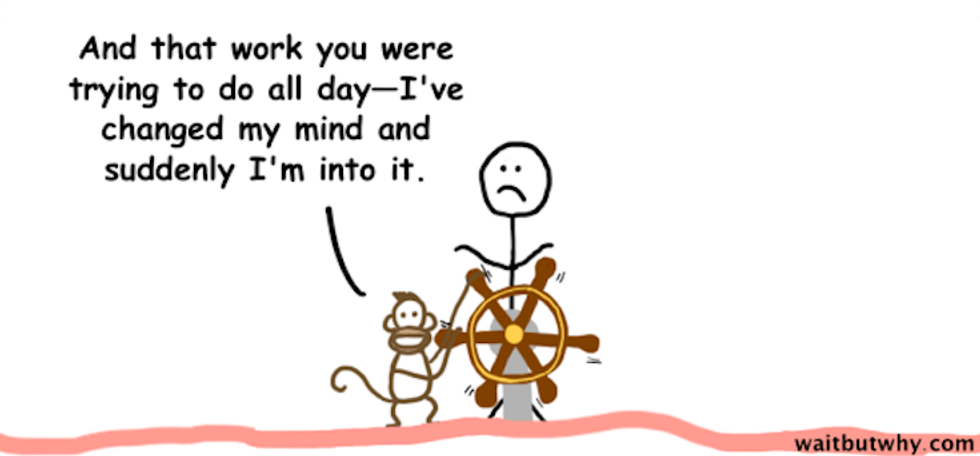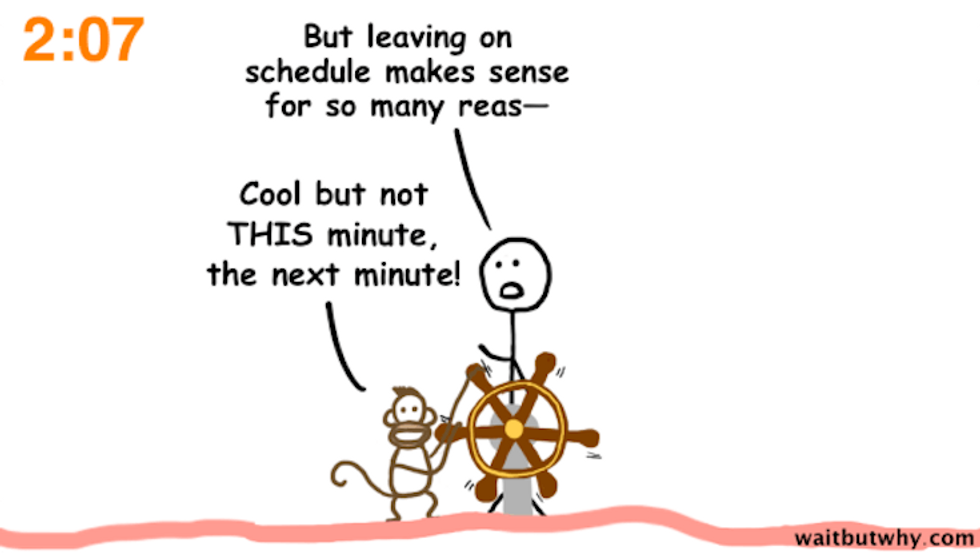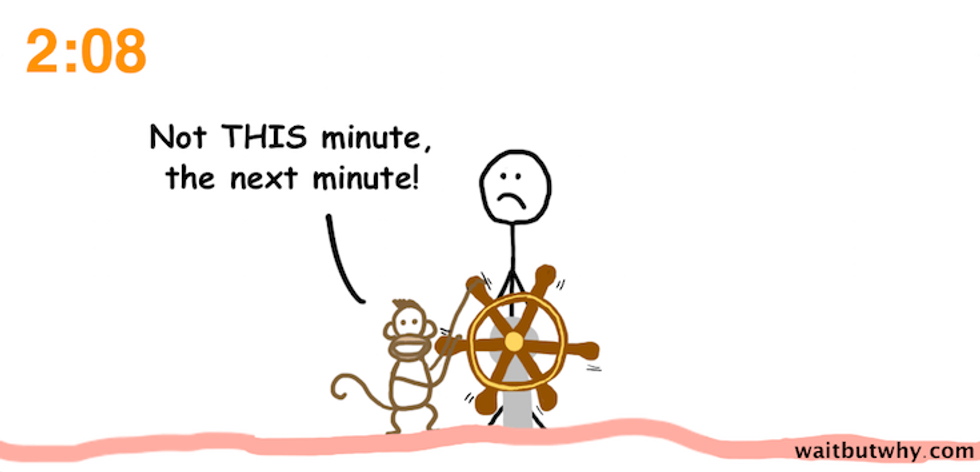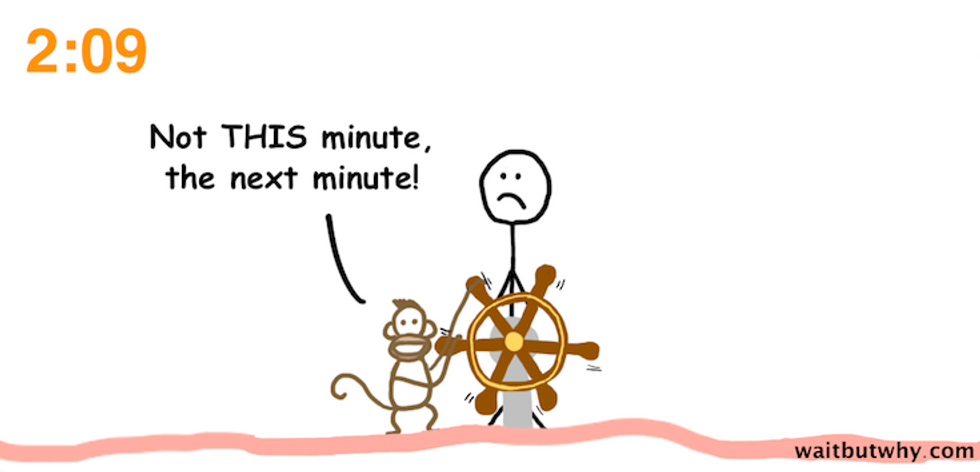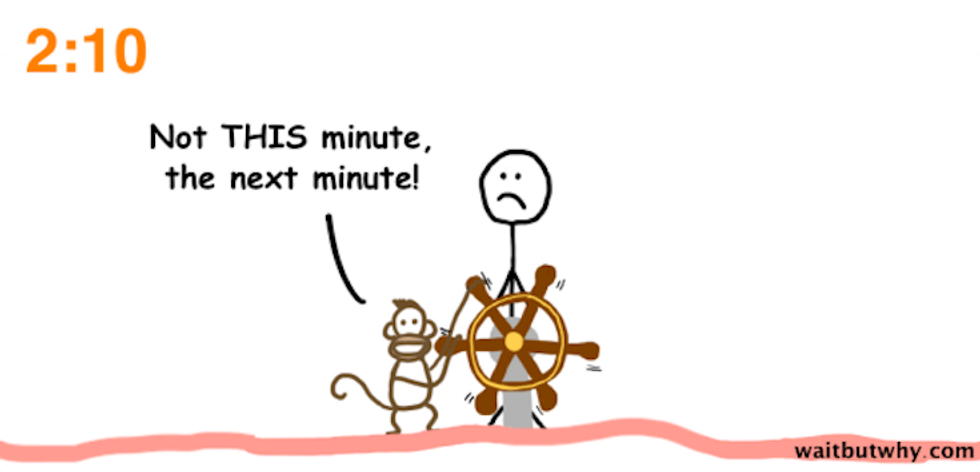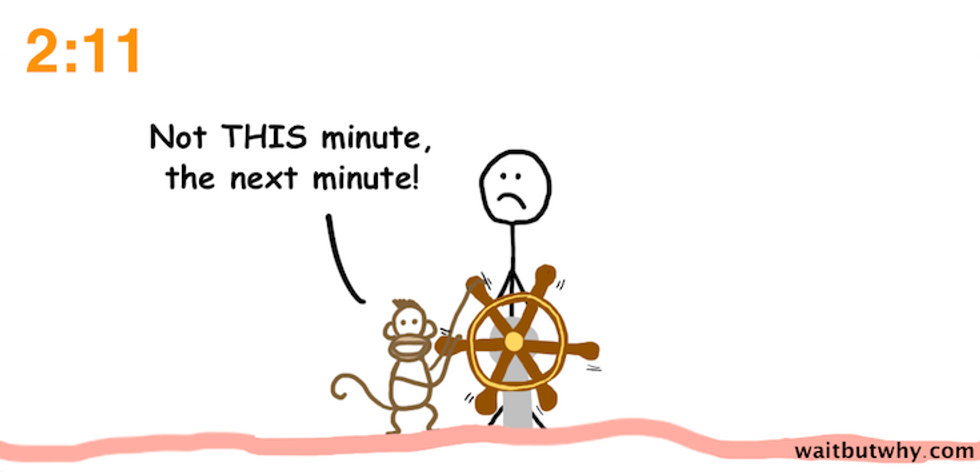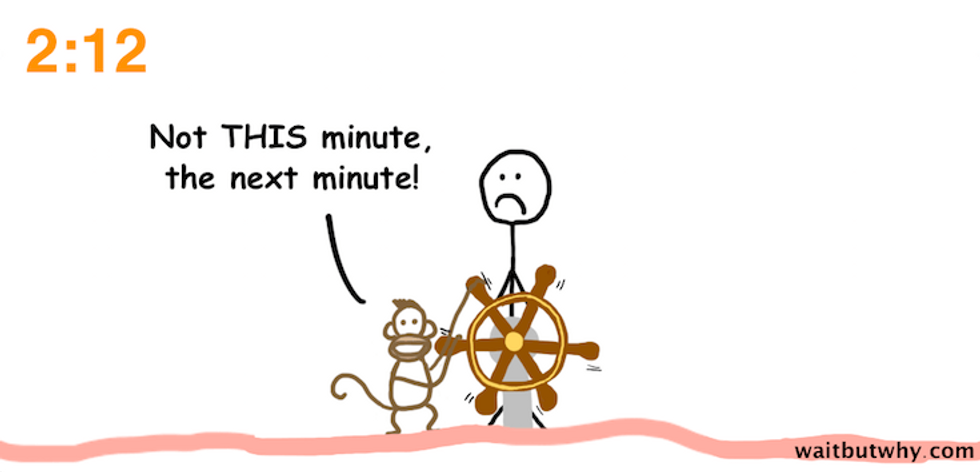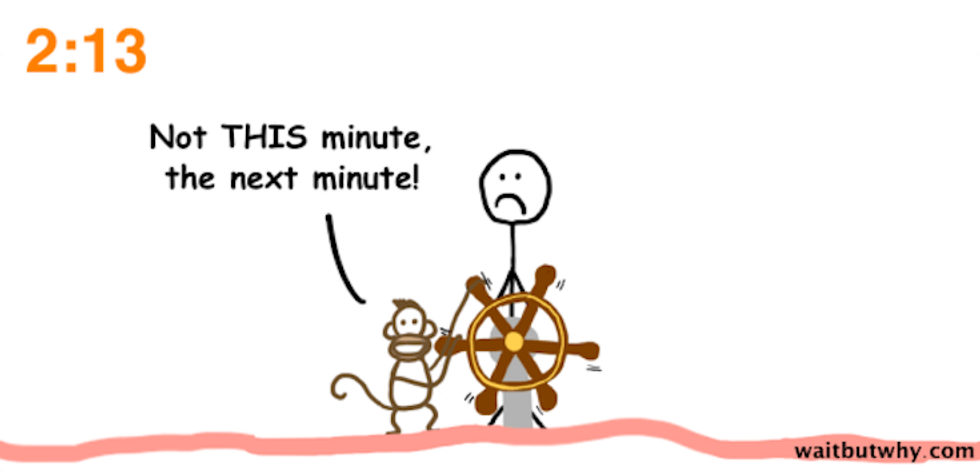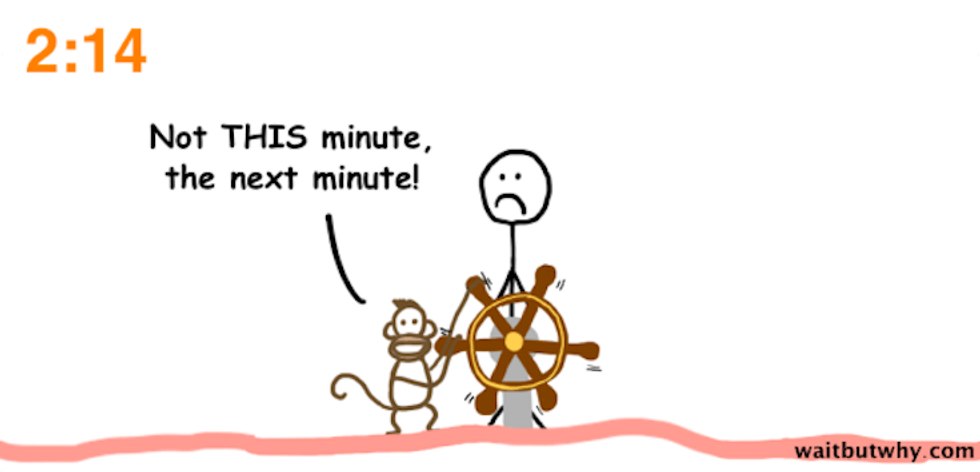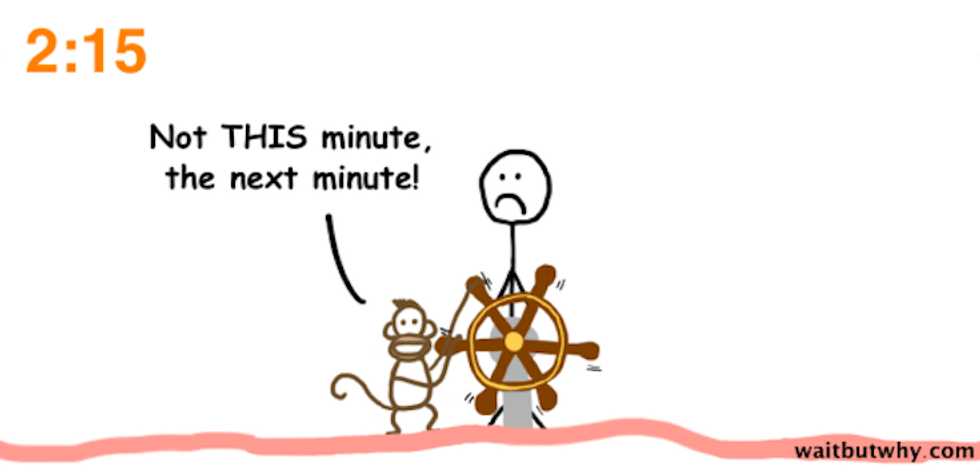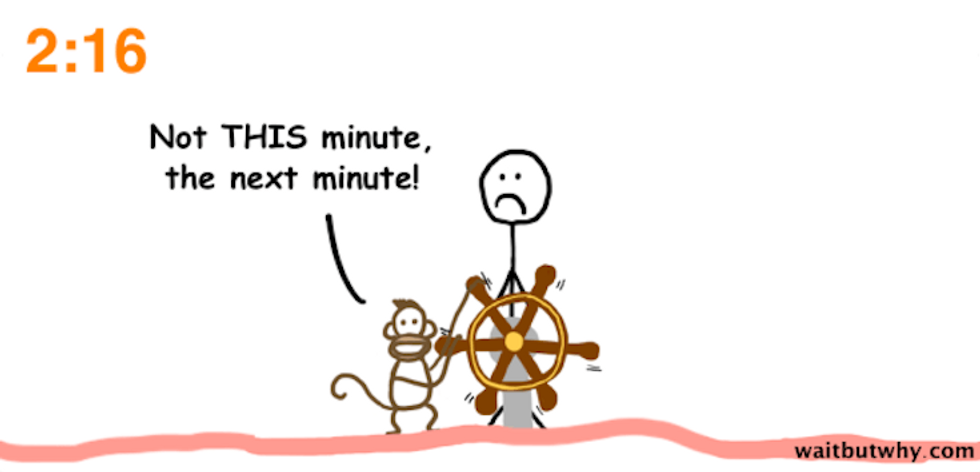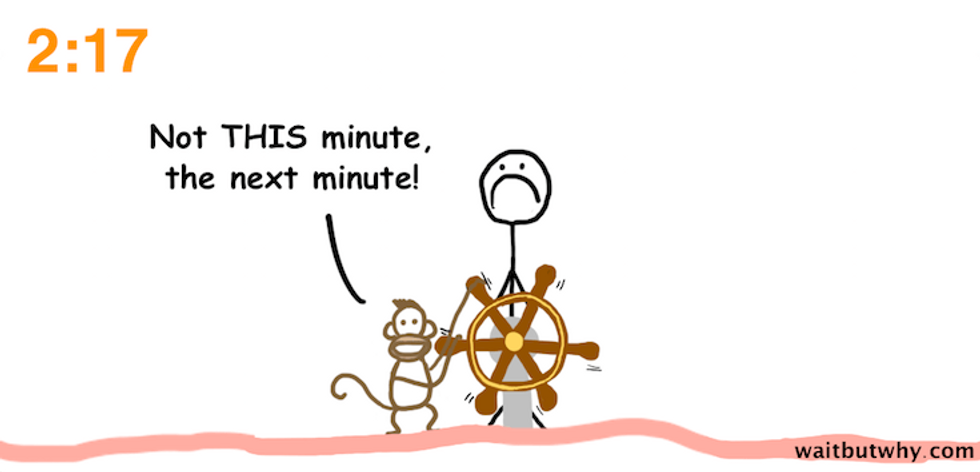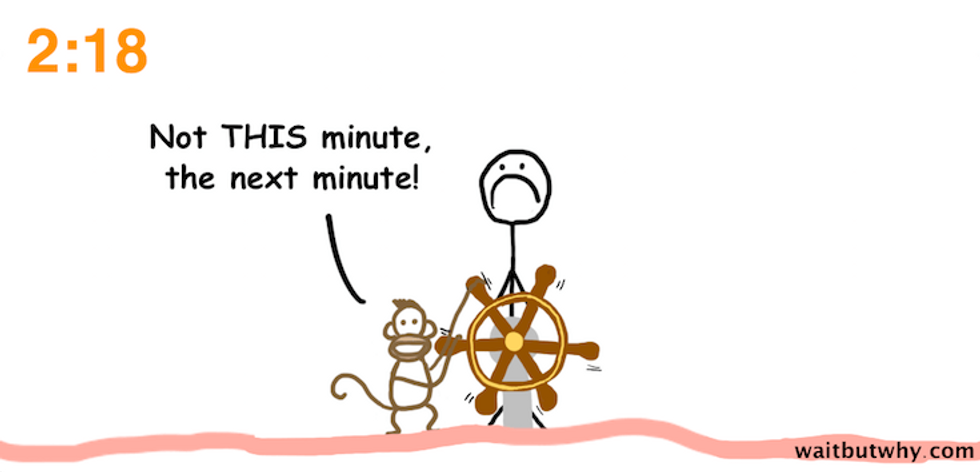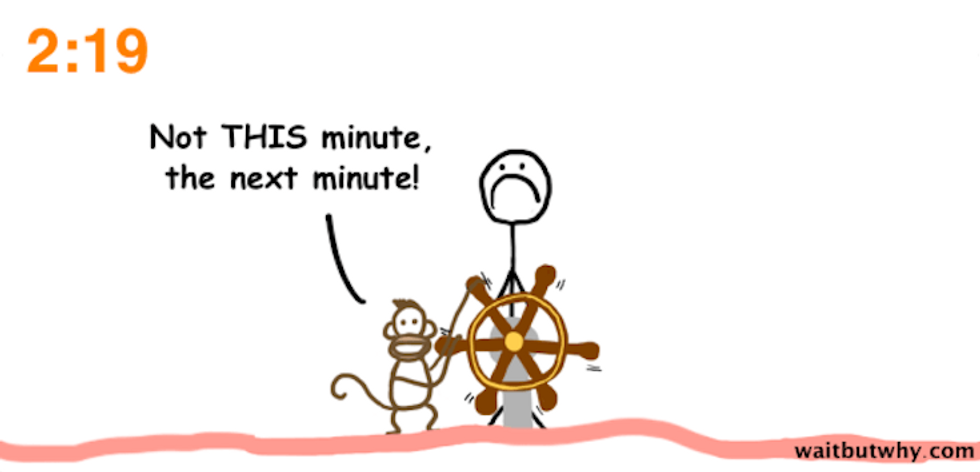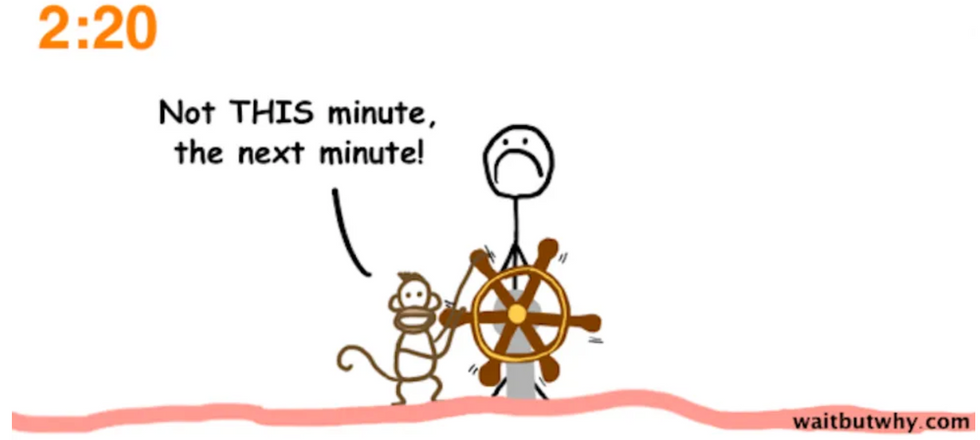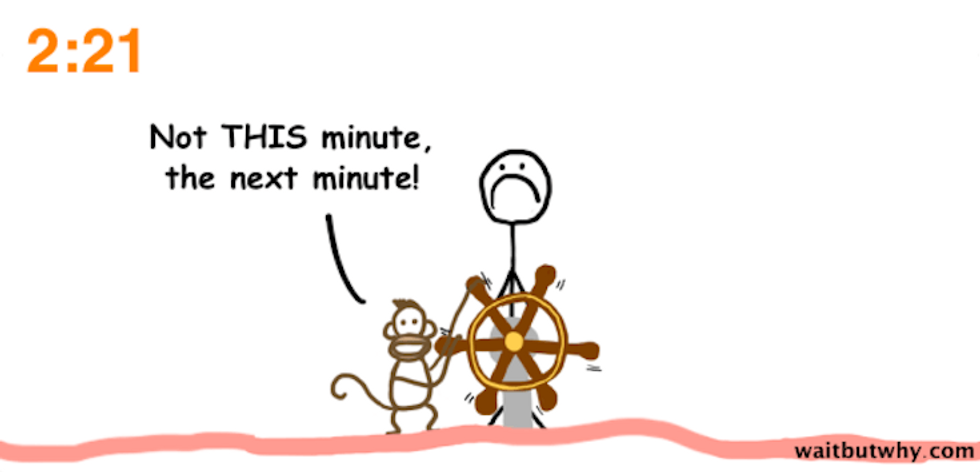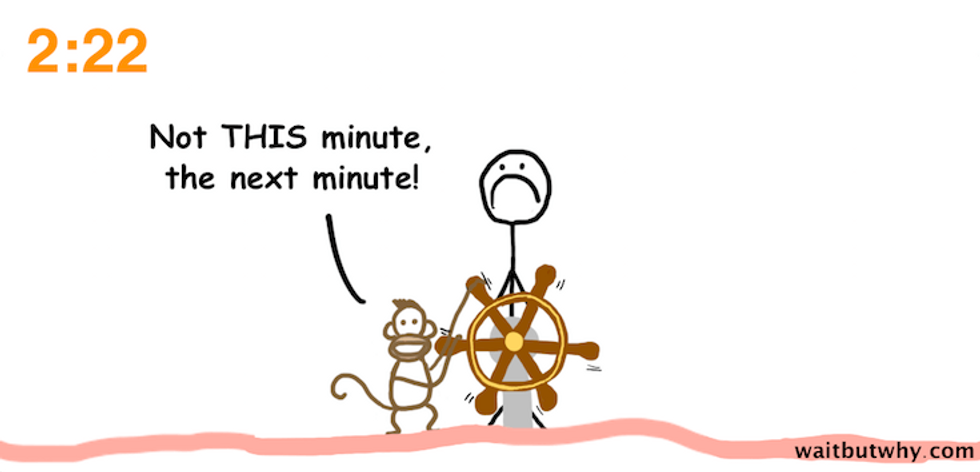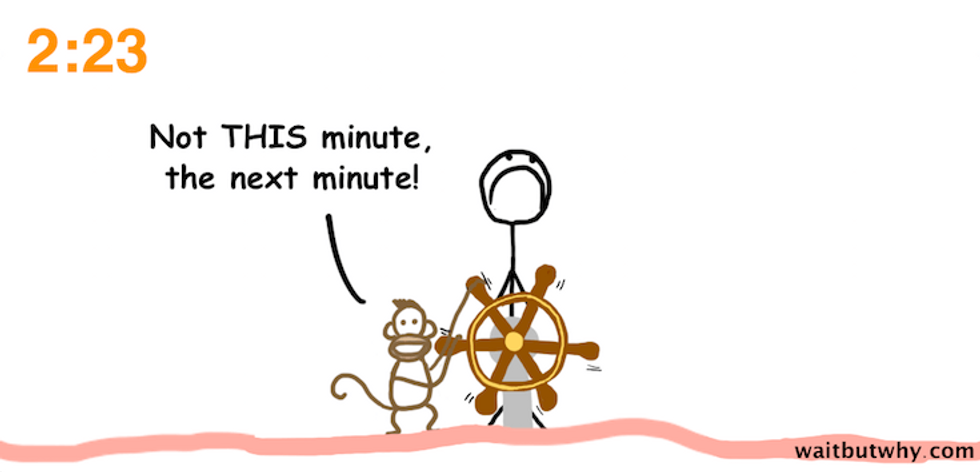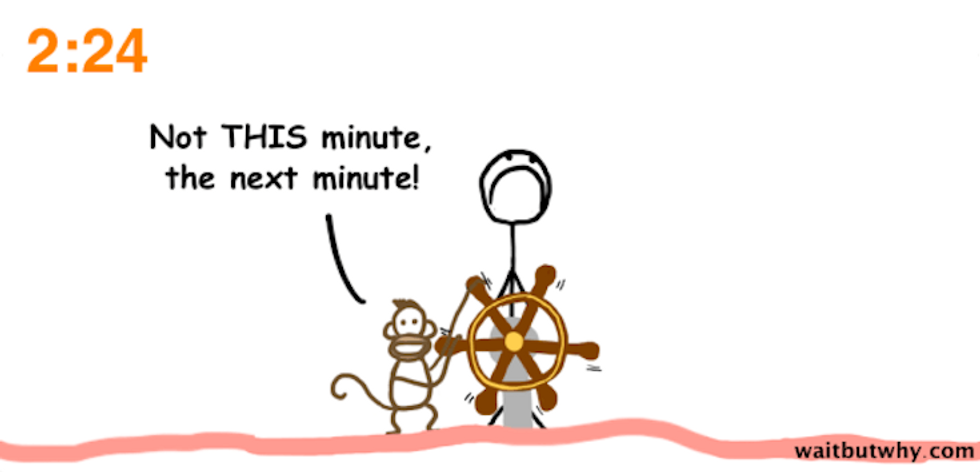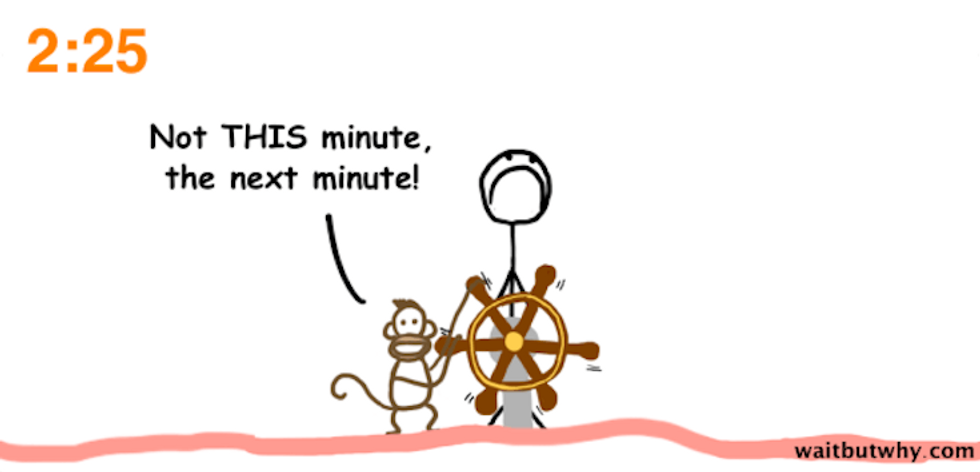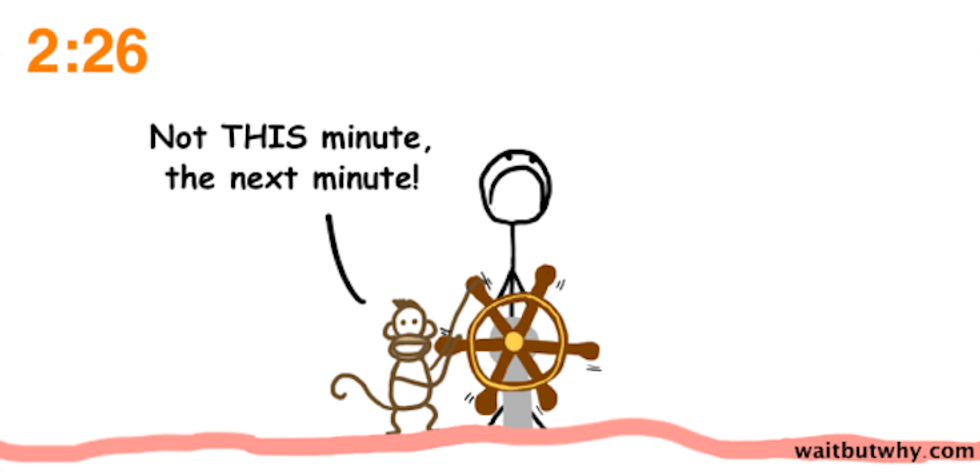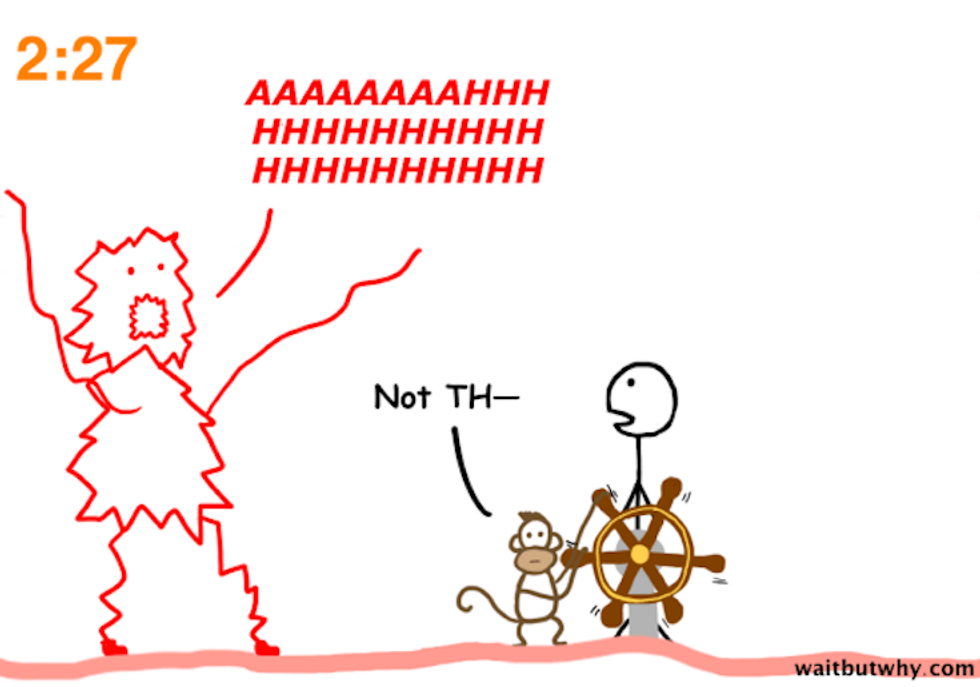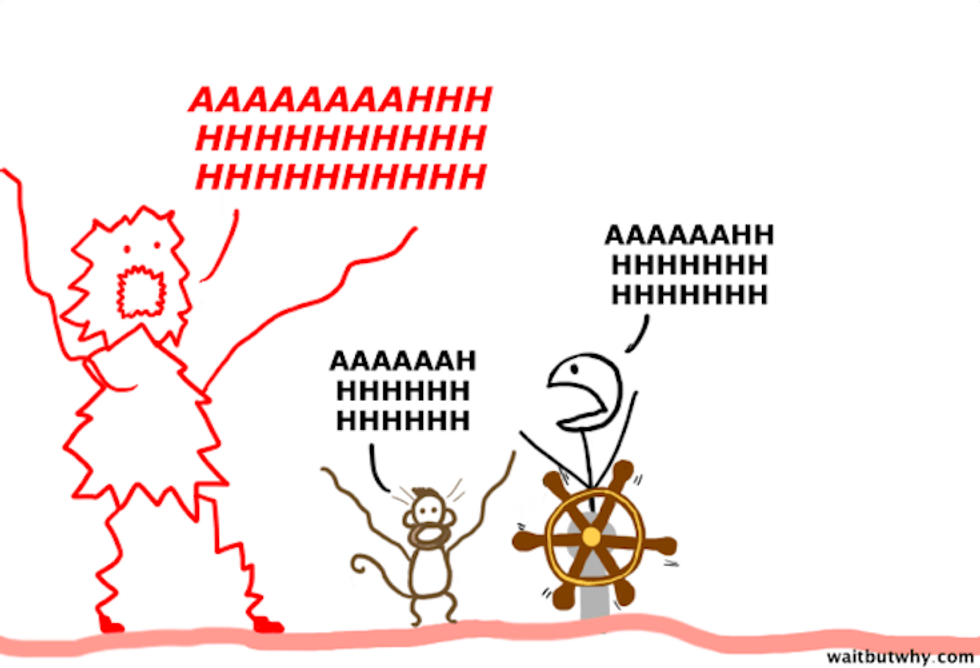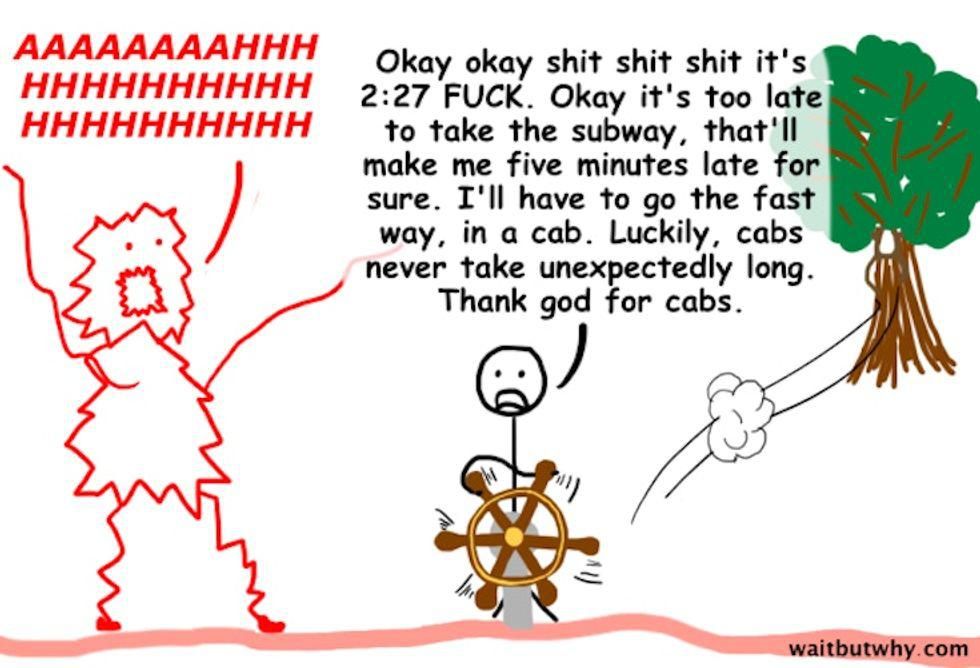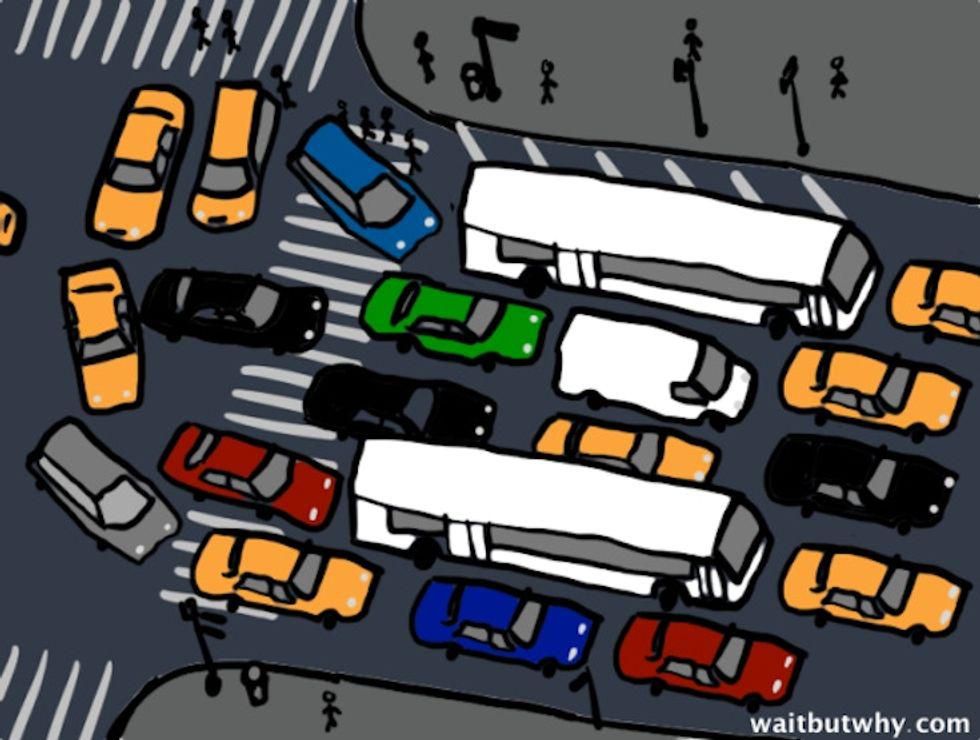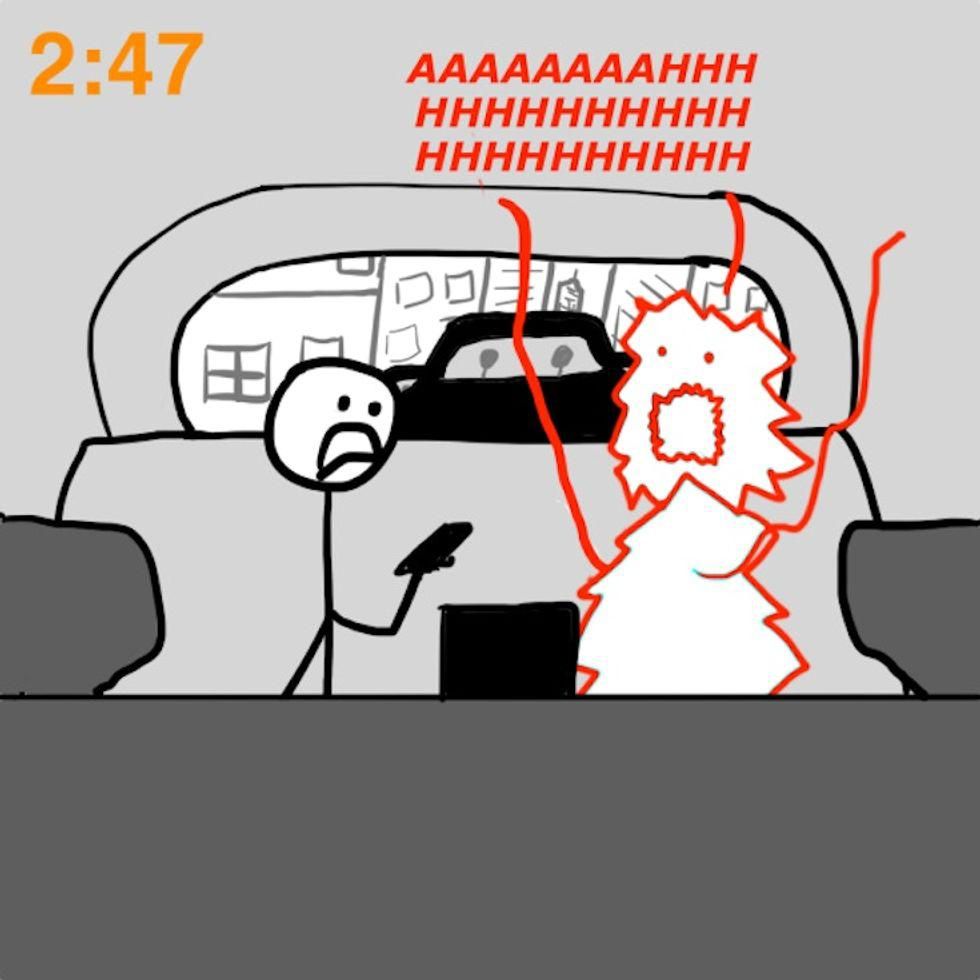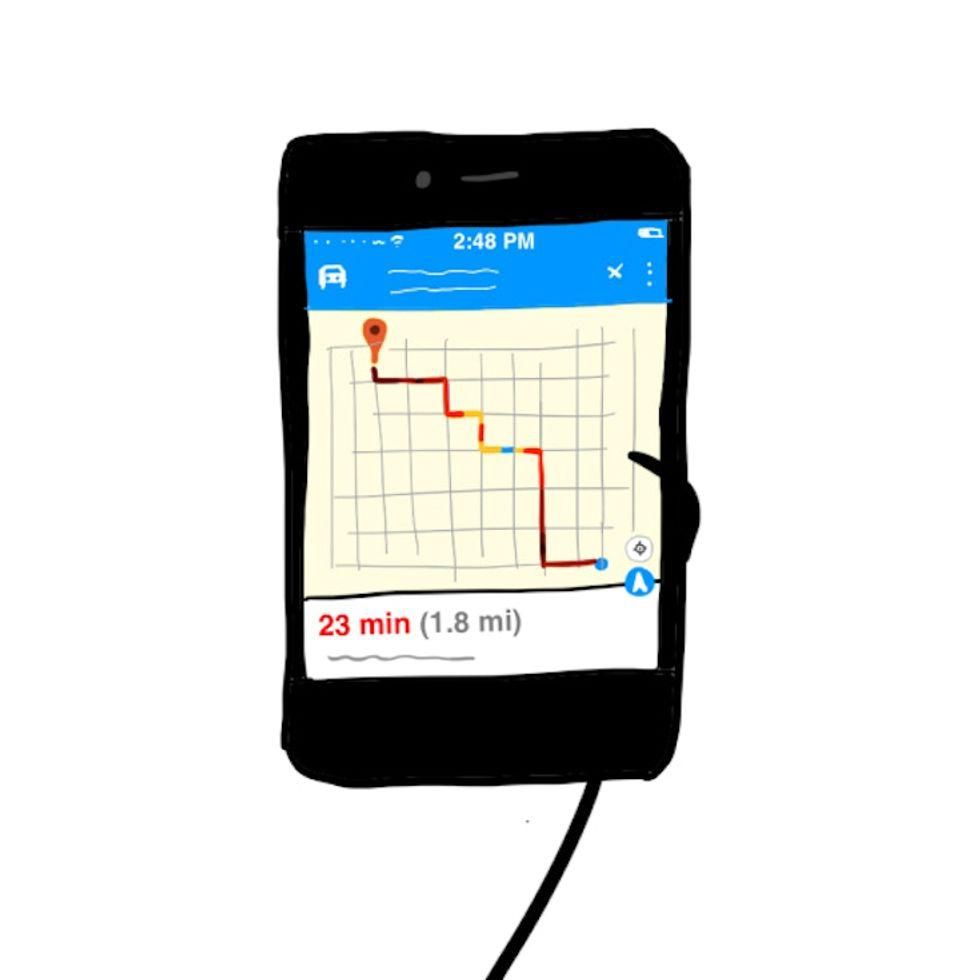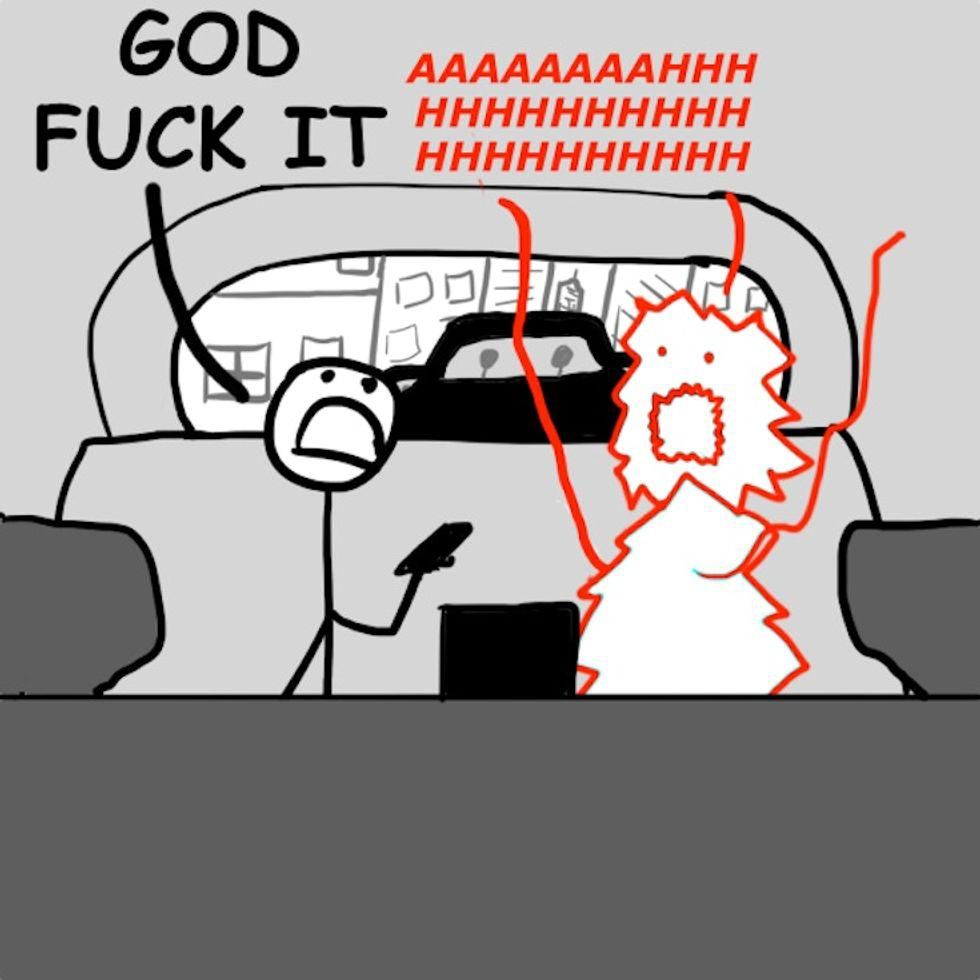 CLIPs are strange people. I'm sure each CLIP is insane in their own special way, and to understand how they work, you'll usually have to get to some dark inner psychology.
For me, it's some mix of these three odd traits:
1. I'm late because I'm in denial about how time works.
The propensity of CLIPs to underestimate how long things take comes out of some habitual delusional optimism. Usually what happens is, of all the times the CLIP has done a certain activity or commute, what they remember is that one time things went the quickest. And that amount of time is what sticks in their head as how long that thing takes. I don't think there's anything that will get me to internalize that packing for a weeklong trip takes 20 minutes. In my head, it's eternally a five-minute task. You just take out the bag, throw some clothes in it, throw your toiletries in, zip it up, and done. Five minutes. The empirical data that shows that there are actually a lot of little things to think about when you pack and that it takes 20 minutes every time is irrelevant. Packing is clearly a five-minute task. As I type this, that's what I believe.
2. I'm late because I have a weird aversion to changing circumstances.
Not sure what the deal is with this, but something in me is strangely appalled by the idea of transitioning from what I'm currently doing to doing something else. When I'm at home working, I hate when there's something on my schedule that I have to stop everything for to go outside and do. It's not that I hate the activity — once I'm there I'm often pleased to be there — it's an irrational resistance to the transition. The positive side of this is it usually means I'm highly present when I finally do haul my ass somewhere, and I'm often among the last to leave.
3. Finally, I'm late because I'm mad at myself.
There's a pretty strong correlation here — the worse I feel about my productivity so far that day, the more likely I am to be late. When I'm pleased with how I've lived the day so far, the Rational Decision-Maker has a much easier time taking control of the wheel. I feel like an adult, so it's easy to act like an adult. But times when the monkey had his way with me all day, when the time rolls around that I need to stop working and head out somewhere, I can't believe that this is all I've gotten done. So my brain throws a little tantrum, refusing to accept the regrettable circumstances, and stages a self-flagellating protest, saying, "NO. This cannot be the situation. Nope. You didn't do what you were supposed to do, and now you'll sit here and get more done, even if it makes you late."
So yeah, that's why I'm late. Because I have problems.
Don't excuse the CLIPs in your life — it's not OK, and they need to fix it. But remember: It's not about you. They have problems.






Images courtesy of AFutureSuperhero and Friends and Balance Dance Project
True
The day was scorching hot, but the weather wasn't going to stop a Star Wars Stormtrooper from handing out school supplies to a long line of eager children. "You guys don't have anything illegal back there - any droids or anything?" the Stormtrooper asks, making sure he was safe from enemies before handing over a colorful backpack to a smiling boy.
The man inside the costume is Yuri Williams, founder of AFutureSuperhero And Friends, a Los Angeles nonprofit that uplifts and inspires marginalized people with small acts of kindness.
Yuri's organization is one of four inaugural grant winners from the Upworthy Kindness Fund, a joint initiative between Upworthy and GoFundMe that celebrates kindness and everyday actions inspired by the best of humanity. This year, the Upworthy Kindness Fund is giving $100,000 to grassroots changemakers across the world.
To apply, campaign organizers simply tell Upworthy how their kindness project is making a difference. Between now and the end of 2021, each accepted individual or organization will receive $500 towards an existing GoFundMe and a shout-out on Upworthy.
Meet the first four winners:
1: Balance Dance Project: This studio aims to bring accessible dance to all in the Sacramento, CA area. Lead fundraiser Miranda Macias says many dancers spend hours a day at Balance practicing contemporary, lyrical, hip-hop, and ballet. Balance started a GoFundMe to raise money to cover tuition for dancers from low-income communities, buy dance team uniforms, and update its facility. The $500 contribution from the Kindness Fund nudged Balance closer to its $5,000 goal.
2: Citizens of the World Mar Vista Robotics Team: In Los Angeles, middle school teacher James Pike is introducing his students to the field of robotics via a Lego-building team dedicated to solving real-world problems.
James started a GoFundMe to crowdfund supplies for his students' team ahead of the First Lego League, a school-against-school matchup that includes robotics competitions. The team, James explained, needed help to cover half the cost of the pricey $4,000 robotics kit. Thanks to help from the Upworthy Kindness Fund and the generosity of the Citizens of the World Middle School community, the team exceeded its initial fundraising goal.
Citizens of the World Mar Vista Robotics Team video update youtu.be
3: Black Fluidity Tattoo Club: Kiara Mills and Tann Parker want to fix a big problem in the tattoo industry: there are too few Black tattoo artists. To tackle the issue, the duo founded the Black Fluidity Tattoo Club to inspire and support Black tattooers. While the Brooklyn organization is open to any Black person, Kiara and Tann specifically want to encourage dark-skinned artists to train in an affirming space among people with similar identities.
To make room for newcomers, the club recently moved into a larger studio with a third station for apprentices or guest artists. Unlike a traditional fundraiser that supports the organization exclusively, Black Fluidity Tattoo Club will distribute proceeds from GoFundMe directly to emerging Black tattoo artists who are starting their own businesses. The small grants, supported in part with a $500 contribution from the Upworthy Kindness Fund, will go towards artists' equipment, supplies, furnishings, and other start-up costs.
4: AFutureSuperhero And Friends' "Hope For The Holidays": Founder Yuri Williams is fundraising for a holiday trip to spread cheer to people in need across all fifty states.
Along with collaborator Rodney Smith Jr., Yuri will be handing out gifts to children, adults, and animals dressed as a Star Wars' Stormtrooper, Spiderman, Deadpool, and other movie or comic book characters. Starting this month, the crew will be visiting children with disabilities or serious illnesses, bringing leashes and toys to animal shelters for people taking home a new pet, and spreading blessings to unhoused people—all while in superhero costume. This will be the third time Yuri and his nonprofit have taken this journey.
AFutureSuperhero started a GoFundMe in July to cover the cost of gifts as well as travel expenses like hotels and rental cars. To help the nonprofit reach its $15,000 goal, the Upworthy Kindness Fund contributed $500 towards this good cause.
Think you qualify for the fund? Tell us how you're bringing kindness to your community. Grants will be awarded on a rolling basis from now through the end of 2021. For questions and more information, please check out our FAQ's and the Kindness Toolkit for resources on how to start your own kindness fundraiser.
Get stories worth sharing delivered to your inbox
Get stories worth sharing delivered to your inbox