It's been 19 months since the first case of COVID-19 was identified in Wuhan, China, and since that time, a lot has changed. Cities, states, and entire countries endured rolling shutdowns — or lockdowns. Business shuttered and schools were closed, and life as we knew it changed. From mask mandates to social distancing, every action and behavior was altered. But as infection rates begin to drop, we are making a comeback. Restaurants, movie theaters, and malls are (now) open. Business is (more or less) back, and this fall, most children will return to the classroom. In-person education will resume. But what does life look like in a post-pandemic world, particularly for the youngest members of our society?
"The COVID-19 pandemic affected our kids in many ways that we don't yet fully understand," Laura Lofy — a licensed psychologist and school psychologist — tells Upworthy. "Some desperately missed their classmates. Others fell behind on schoolwork, and some became riddled with anxiety and fear. Many regressed on skills they had developed or lost momentum in areas in which they had been making progress." And one of those areas is interpersonal, i.e. many children are struggling socially, and this has the potential to have a long-lasting impact on our children and the next generation.
"Since March 2020, there's been a significant increase in reported youth anxiety, particularly in relation to fears of the coronavirus, along with greater frustration, boredom, insomnia and inattention," an article on The Conversation explains. "Results of a survey from summer 2020 found that over 45% of adolescents reported symptoms of depression, anxiety and post-traumatic stress." Resuming face-to-face interactions is also a major stressor. But what can we do as parents and caregivers to help our children progress? How can we help them (re)acclimate to life? The first thing we should do is temper our (and their) expectations.
"It's important to have realistic expectations and recognize upfront that this is going to be hard," pediatric psychologist Kate Eshleman tells the Cleveland Clinic. "Kids haven't had to share with others, and they haven't had to talk to unfamiliar adults," Dr. Eshleman says. "You may see some shyness or kids responding to other people in ways that aren't typical of how they act around their families." But these obstacles can be overcome, with time, encouragement, and a bit of guidance.
"I think the most valuable thing that parents can do is ask open-ended questions, listen carefully to what their kids are saying, validate their experiences and feelings, and revisit the topic often and from different angles," Lofy says. "Including kids in conversations to explore their experiences and understanding of what happened will also be really helpful."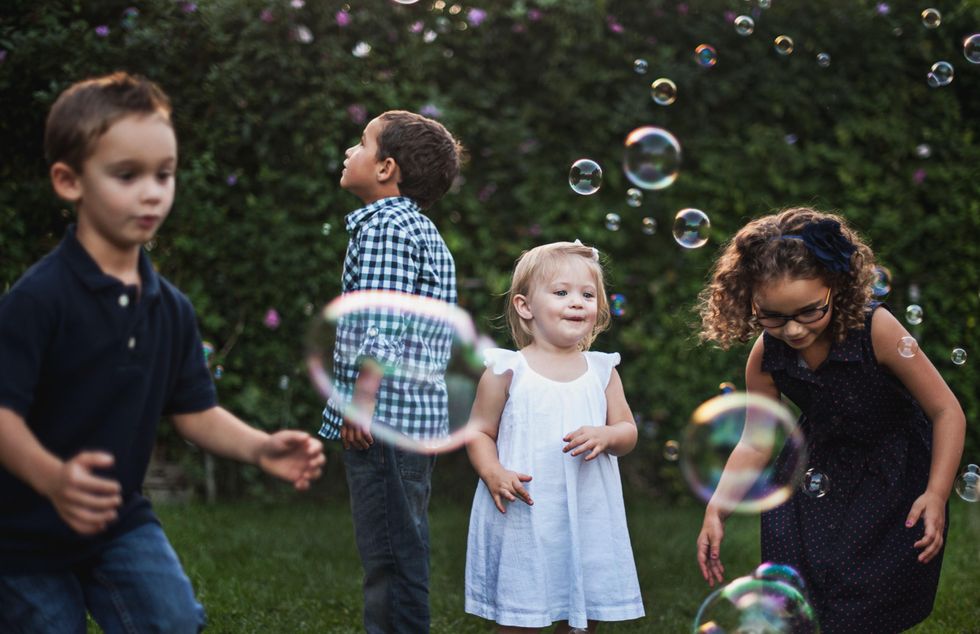 Photo by Katherine Hanlon on
Not sure how (or where) to begin? Sharing one's own reflections can be a good jumping off point. "You could say something like, 'You know, it's kind of weird going back to work. On one hand, I am excited to see my friends, but on the other hand, I kind of liked being home with my family. What about you and school? How do you feel about going back?' I highly recommend that parents practice asking open-ended questions, using starters like 'tell me about...' and "what was that like for you,'" Lofy adds. "Give them room to speak and then use validation to convey understanding."
Of course, there are other ways prepare your child for post-pandemic socialization — and post-pandemic life. Start small. Birthday parties and trips to Disney may be overwhelming but an ice cream playdate could be perfect. Give them conversation starters. Communication may be tricky at first, but having ideas can help. Dr. Eshleman and the Cleveland Clinic suggest creating a list of questions and talking points. "Come up with a handful of topics they can ask their friends about in person. Arming them with age-appropriate questions (i.e. 'Did you go on vacation this summer?' and 'What's your favorite thing for lunch?') will help kids feel better prepared to converse face to face." You should also be sympathetic and empathetic. Use validating language and acknowledge their struggles, and take things slow, particularly with toddlers and young children who have had very little or no pre-COVID interactions.
"Hire a babysitter or enlist the help of an extended family member to watch your child while you run errands or even just work in the yard, which will give them practice in being apart from you," the Cleveland Clinic explains.
That said, this approach will not work for everyone. Some children are experiencing higher levels of anxiety, and not everyone is ready for social re-entry — and that's okay. Getting back to "normal" will take time. But according to Tiiu Lutter, a licensed therapist and the co-founder of Thriving Families Center, these fears should be addressed sooner than later.
"When left alone, anxiety gets worse, so the sooner it is faced and handled, the quicker it goes away." '
But what can you do? According to Lofy, you should acknowledge their fears, normalize their feelings, you should help them assess the situation — and weigh the real versus perceived risk — and come up with a plan to move forward. Having executable steps helps.
"If your child experiences social anxieties, you should start a conversation about their fears," Lofy says. "What is it they are concerned about? Put their fears into a 'normal' context. Reassure them their feelings are normal and that other kids are nervous as well. They are not alone in feeling anxious. You should also have a plan for their anxiety. Prime your child for a social event. Talk with them about what they will be doing and who will be there. Practice your deep breathing before the event, and before you get out to the car practice your strategies, remind your child they will be safe and you want them to have fun."
If your child is still unable to move forward, you may want to enlist the help of a trained professional. Clinical psychologists, school psychologists, and child therapists have tools that we as parents do not. Another great resource, particularly for teens, is Crisis Text Line. This is free, 24/7 service puts your child in touch with a trained crisis counselor immediately, via text.
popular
That's why Verizon is launching a gaming tournament.
Courtesy of Verizon
True
If someone were to say "video games" to you, what are the first words that come to mind? Whatever words you thought of (fun, exciting, etc.), we're willing to guess "healthy" or "mental health tool" didn't pop into your mind.
And yet… it turns out they are. Especially for Veterans.
How? Well, for one thing, video games — and virtual reality more generally — are also more accessible and less stigmatized to veterans than mental health treatment. In fact, some psychiatrists are using virtual reality systems for this reason to treat PTSD.
Secondly, video games allow people to socialize in new ways with people who share common interests and goals. And for Veterans, many of whom leave the military feeling isolated or lonely after they lose the daily camaraderie of their regiment, that socialization is critical to their mental health. It gives them a virtual group of friends to talk with, connect to, and relate to through shared goals and interests.
In addition, according to a 2018 study, since many video games simulate real-life situations they encountered during their service, it makes socialization easier since they can relate to and find common ground with other gamers while playing.
This can help ease symptoms of depression, anxiety, and even PTSD in Veterans, which affects 20% of the Veterans who have served since 9/11.
Watch here as Verizon dives into the stories of three Veteran gamers to learn how video games helped them build community, deal with trauma and have some fun.
Band of Gamers www.youtube.com
Video games have been especially beneficial to Veterans since the beginning of the pandemic when all of us — Veterans included — have been even more isolated than ever before.

And that's why Verizon launched a challenge last year, which saw $30,000 donated to four military charities.
And this year, they're going even bigger by launching a new World of Warships charity tournament in partnership with Wargaming and Wounded Warrior Project called "Verizon Warrior Series." During the tournament, gamers will be able to interact with the game's iconic ships in new and exciting ways, all while giving back.
Together with these nonprofits, the tournament will welcome teams all across the nation in order to raise money for military charities helping Veterans in need. There will be a $100,000 prize pool donated to these charities, as well as donation drives for injured Veterans at every match during the tournament to raise extra funds.
Verizon is also providing special discounts to Those Who Serve communities, including military and first responders, and they're offering a $75 in-game content military promo for World of Warships.
Tournament finals are scheduled for August 8, so be sure to tune in to the tournament and donate if you can in order to give back to Veterans in need.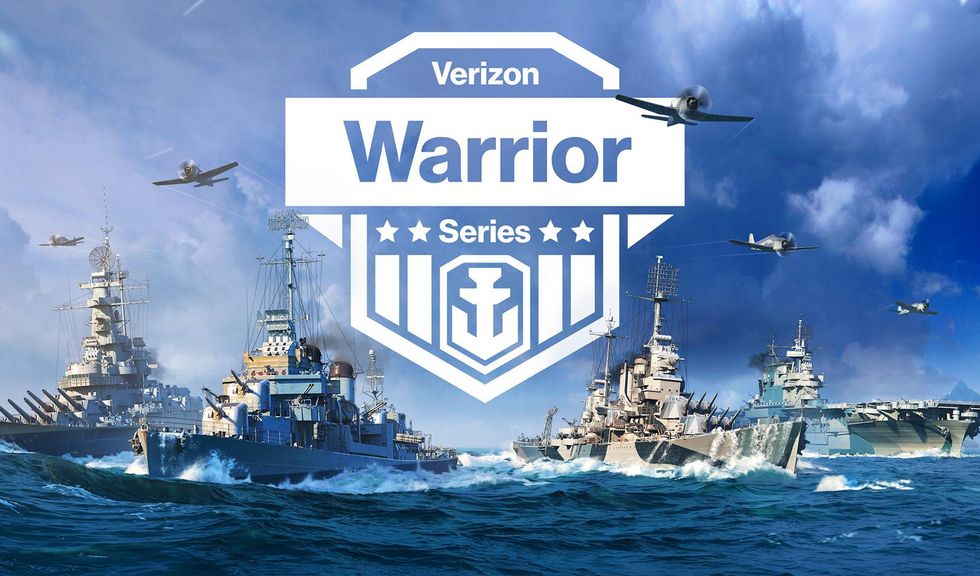 Courtesy of Verizon
Courtesy of Capital One
True
We and other personal finance experts have long talked about the financial challenges of the LGBTQ+ community. That includes access to equal housing, services protections and wage inequality because of one's sexual orientation or gender identity.
While those protections would be included in the Equality Act, legislation remains pending in Congress.
To be fair, the LGBTQ+ community has made significant progress over the last several years. The two most notable being the Supreme Court's 2015 ruling to ensure marriage equality and 2020 decision to ban employment discrimination based on sexual orientation or gender identity. That progress has continued with the current administration, as President Joe Biden recently signed executive orders protecting LGBTQ people from housing and services discrimination.
The LGBTQ+ community faces a unique set of financial challenges that are preventing equal opportunity for all.
Let's break down some of the obstacles confronting members of the LGBTQ+ community.
Queer people are often expected to pay more
One LGBTQ+ financial challenge is the expectations — and misconception — that LGBTQ people can or should pay more because we don't have kids. While 15% of LGBTQ people have kids — compared to 38% of opposite-sex couples — it's not a cause for LGBTQ people having more money.
In fact, because of wage inequality for people in the LGBTQ community, having fewer opportunities for career advancement and in many cases needing the physical and emotional safety that comes with living in an LGBTQ-friendly city (many of which often have high costs of living), it's likely that your LGBTQ+ sibling or friend doesn't have as much financial security as their straight counterparts.
This is why we didn't travel for the holidays for three years while paying off credit card debt. Adding $800 to $1,000 in plane tickets to the credit cards we were working hard to pay off didn't make sense. Yet, our families never offered to come to where we lived for a holiday and foot the travel expenses.
A similar situation arises when caring for aging parents. LGBTQ folks are more likely to be asked to care for aging parents, which is backed by a 2010 MetLife study. This increases the financial burdens and restricts the savings opportunities for LGBTQ folks.
Queer people, especially gay men, struggle with the 'hysteresis effect'
There's also the lingering consequence of the HIV/AIDS epidemic on the LGBTQ community, specifically for gay men.
As Paul Donovan said on Queer Money® episode 252 about his book, Profit and Prejudice: The Luddites of the Fourth Industrial Revolution, that then created a hysteresis effect.
The hysteresis effect occurs when a singular event has an economic effect that lasts even after the initial event no longer exists.
Of course, we're still fighting HIV/AIDS. But we know more and have more resources to fight HIV/AIDS and it's no longer the death sentence it once was. A lingering economic effect for many LGBTQ+ people is "an unhealthy short-term view when it comes to finances," according to Donovan.
Our struggle with the hysteresis effect is one reason we got into $51,00 in credit card debt. We had a myopic view of what being successful was and spent accordingly.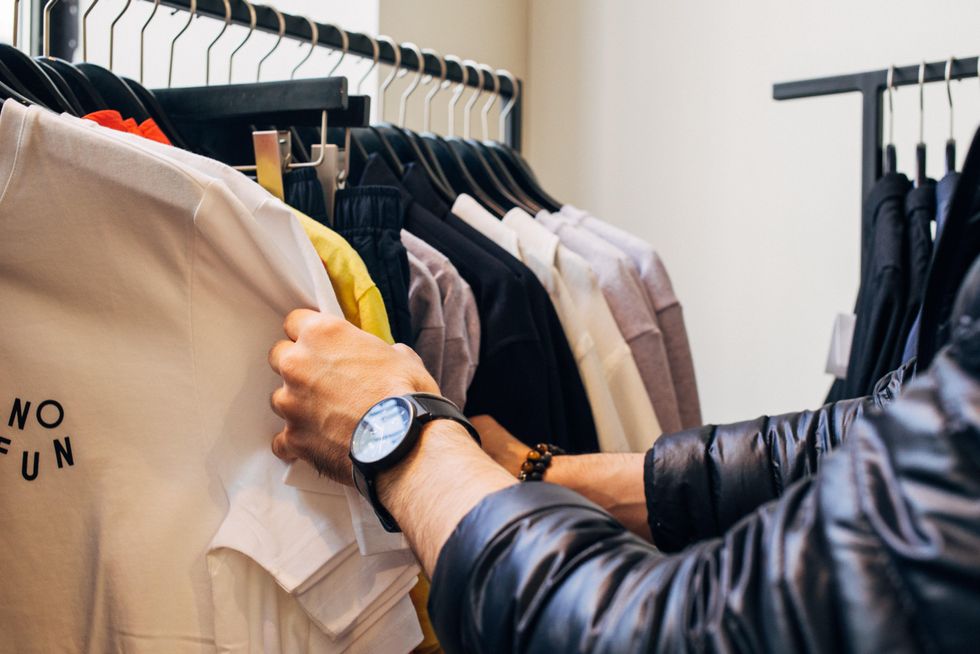 Photo by Charles Deluvio on Unsplash
The consequences compound on the challenges above and the many LGBTQ+ financial challenges about which we and many others have written. For example, LGBTQ+ people have smaller emergency savings accounts, less in retirement savings and more in debt than the general population, according to Student Loan Hero.

How to overcome those challenges
Get clear and become committed to your life and money goals
There are a lot of emotions tied to money. We attach our self-worth and value to money. We sometimes feel guilty that we have money while we also sometimes feel guilty that we don't have enough money. If we're letting family or loved ones guilt us into paying for what we can't afford, paying more than our fair share, or risking our financial security, we likely have emotional reasons, such as the need to please, to cause that.
This is just one reason why it's important for LGBTQ+ folks to get crystal clear on what matters most to us. We must figure out what we want our lives to look like and what we want to achieve, then architect our lives to reach those goals. That includes financing. If being helpful, giving or being charitable is one of our goals, we can include that in our life and financial plans.
If we have fewer resources at hand, then being clear on the one or two things we most want to achieve in life can help us efficiently spend our money and have money left over to help the people we care about or to meet our obligations.
Let's be hopeful (and intentional) about our future
As Dr. Martin Luther King, Jr. famously said, "the arch of the moral universe is long and bends toward justice".
There's no doubt it's bending toward justice in the LGBTQ+ community. The solution is that we must recognize that.
This means that while we live our best lives today, we must consider our long-term financial security and the lives we want to live when we're older. To be clear, living our best lives today and having financial well-being to live our best lives in the future aren't mutually exclusive.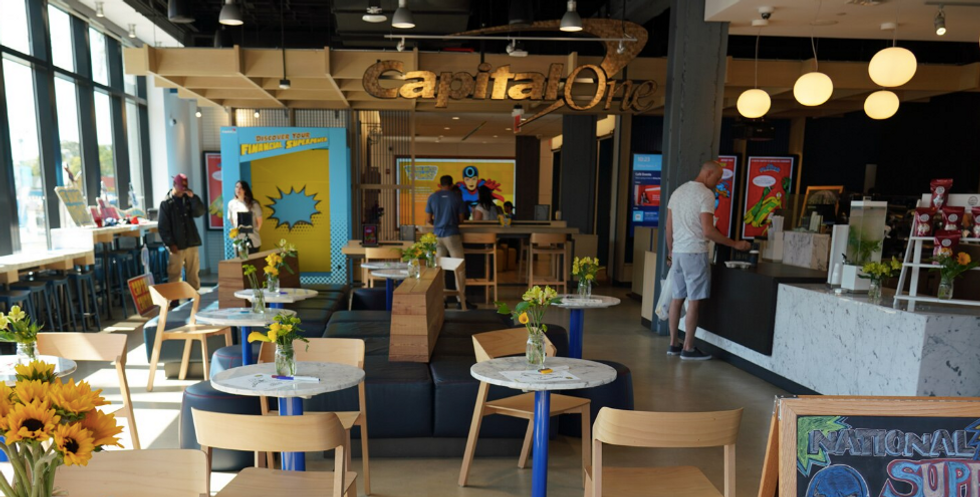 Courtesy of Capital One's website
It's by talking with our friends and family about money, working with a Money Coach at a Capital One Café or other financial planner to recognize what matters most to us today and what we want in the future.

It's for these challenges and opportunities that we're strong advocates for LGBTQ+ financial independence and why we're proud to partner with Capital One. Though people have nuanced backgrounds, Capital One believes, as we do, that finances should work for everyone. That's why Capital One
supports LGBTQ+ communities
facing unique economic hardships through both products and programs supporting our needs.
True
Davina Agudelo was born in Miami, Florida, but she grew up in Medellín, Colombia.

"I am so grateful for my upbringing in Colombia, surrounded by mountains and mango trees, and for my Colombian family," Agudelo says. "Colombia is the place where I learned what's truly essential in life." It's also where she found her passion for the arts.
While she was growing up, Colombia was going through a violent drug war, and Agudelo turned to literature, theater, singing, and creative writing as a refuge. "Journaling became a sacred practice, where I could leave on the page my dreams & longings as well as my joy and sadness," she says. "During those years, poetry came to me naturally. My grandfather was a poet and though I never met him, maybe there is a little bit of his love for poetry within me."
In 1998, when she left her home and everyone she loved and moved to California, the arts continued to be her solace and comfort. She got her bachelor's degree in theater arts before getting certified in journalism at UCLA. It was there she realized the need to create a media platform that highlighted the positive contributions of LatinX in the US.
"I know the power that storytelling and writing our own stories have and how creative writing can aid us in our own transformation."
In 2012, she started Alegría Magazine and it was a great success. Later, she refurbished a van into a mobile bookstore to celebrate Latin American and LatinX indie authors and poets, while also encouraging children's reading and writing in low-income communities across Southern California.

When the pandemic hit in 2020, she decided it was time to do even more to serve people during these difficult times.
"It became clearer to me that the lack of representation in the book publishing industry for BIPOC/LatinX writers & poets had to change," she says. "I want to be an agent of change in the publishing industry and contribute to its transformation."
She created Alegría Publishing to nurture and produce works by indie LatinX storytellers and expanded the mobile bookstore to celebrate BIPOC/LatinX writers and poets, as well as the books published by Alegría publishing. And one day she hopes that she can take the bookstore across the United States and discover even more emerging writers.
Today, Agudelo also mentors indie authors two nights a week through the Alegría Writing Collective for LatinX writers. "They rock my world every class," she says.
"The amount of talent in our community pushes me to keep growing our company so the world can read their work and remember their names."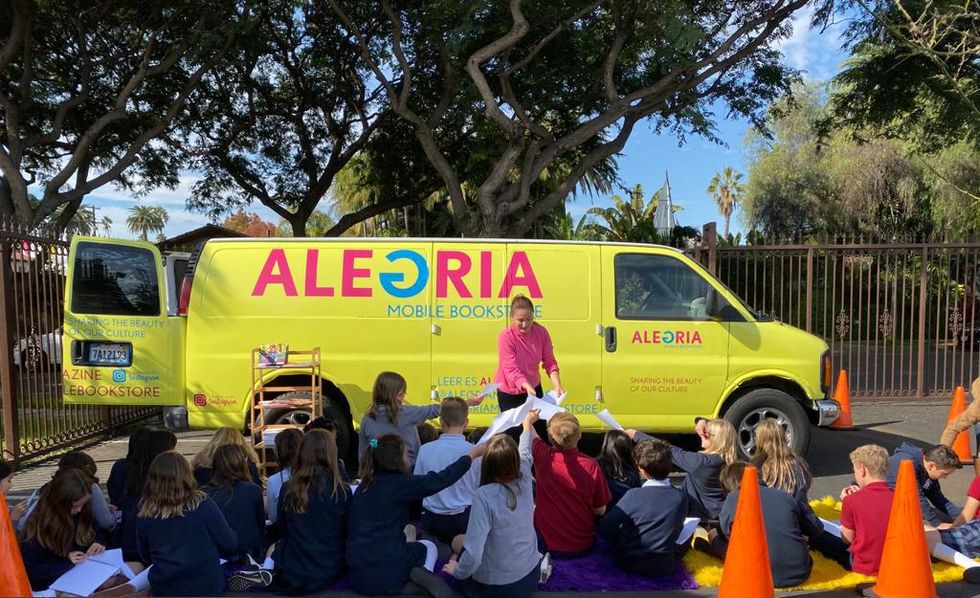 Agudelo has made it her mission to empower women and her community. "My career has been such a blessing filled with magical milestones and I never take these moments for granted," she says. "There is nothing like being able to make a woman's dream of publishing their first book and bring it to life. Watching their reaction, when they look at their book for the first time is priceless."

"As women, we are naturally powerful, we just have to keep reminding each other of our power."
Agudelo is one of Tory Burch's Empowered Women this year. The donation she receives as a nominee is being awarded to The Sims Library of Poetry, which is the first black-owned poetry library in California.
"Hiram Sims, its founder, started lending books to his university students out of this suitcase after mandating that they read one book of poetry a week. As demand grew, his suitcase library was forced to seek a larger home," says Agudelo. "Their mission is to serve, educate, and foster a love for poetry, especially for marginalized people of color in the community of South Los Angeles."
To learn more about Tory Burch and Upworthy's Empowered Women program visit toryburch.com/empoweredwomen. Nominate an inspiring woman in your community today.
Get stories worth sharing delivered to your inbox