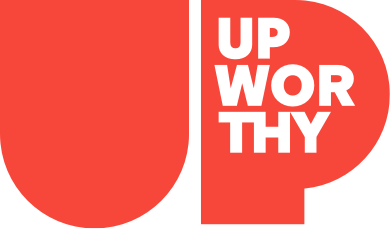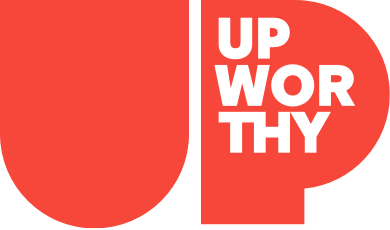 Stories Worth Sharing.

For People Who Give a Damn.
Sign up for the Upworthy newsletter:
(c) GOOD Inc. All Rights Reserved.
PS. You are doing great. Keep it up :<)
This website uses cookies in order to enhance your experience. Please review our Privacy Policy to learn how we may use cookies and how you can change your browser settings to disable cookies. By continuing to use this website without changing your settings, you consent to our use of cookies.
Service dogs are invaluable to their owners because they are able to help in so many different ways.
They're trained to retrieve dropped Items, open and close doors, help their owners remove their clothes, transport medications, navigate busy areas such as airports, provide visual assistance, and even give psychological help.
The service dog trainers at K-9 Country Inn Working Service Dogs in Canada want those who require service dogs to live the fullest life possible, so they're training dogs on how to attend a theatrical performance.
The adorable photos of the dogs made their way to social media where they quickly went viral.
On August 15, a dozen dogs from Golden Retrievers to poodles, were treated to a performance of "Billy Elliott" at the Stratford Festival in Ontario, Canada. This was a special "relaxed performance" featuring quieter sound effects and lighting, designed for those with sensory issues.
"It's important to prepare the dogs for any activity the handler may like to attend," Laura Mackenzie, owner and head trainer at K-9 Country Inn Working Service Dogs, told CBC.
"The theater gives us the opportunity to expose the dogs to different stimuli such as lights, loud noises, and movement of varying degrees," she continued. "The dogs must remain relaxed in tight quarters for an extended period of time."
The dogs got to enjoy the show from their own seats and took a break with everyone else during intermission. They were able to familiarize themselves with the theater experience so they know how to navigate through crowds and fit into tight bathroom stalls.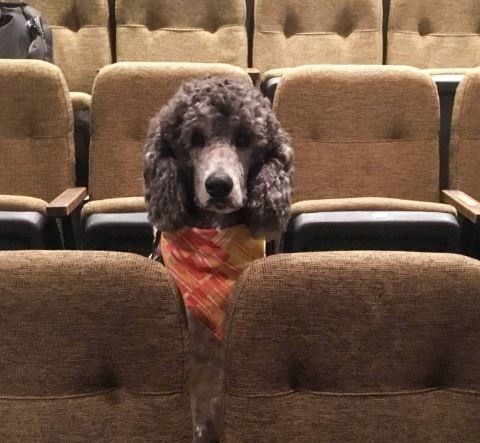 via Stratford Festival / Twitter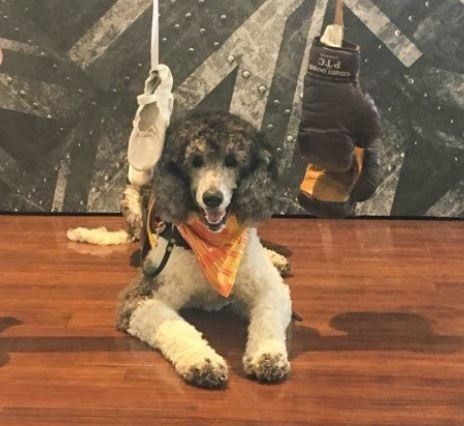 via Stratford Festival / Twitter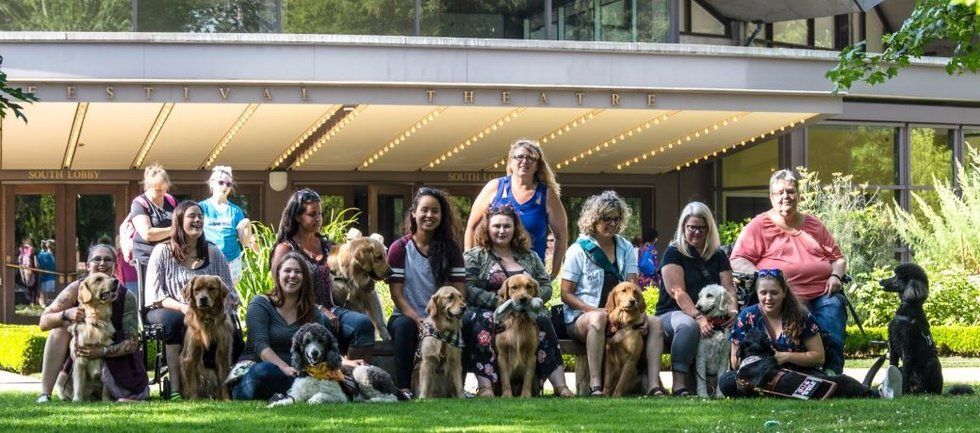 via Stratford Festival / Twitter
"About a dozen dogs came to our relaxed performance, and they were all extremely well-behaved," says Stratford Festival spokesperson Ann Swerdfager. "I was in the lobby when they came in, then they took their seats, then got out of their seats at intermission and went back — all of the things we learn as humans when we start going to the theater."

The dogs' great performance at the trial run means that people who require service animals can have the freedom to enjoy special experiences like going to the theater.

"It's wonderful that going to the theater is considered one of the things that you want to train a service dog for, rather than thinking that theater is out of reach for people who require a service animal, because it isn't," Swerdfager said.
The Stratford Festival runs through Nov. 10 and features productions of "The Merry Wives of Windsor," "The Neverending Story," "Othello," "Billy Elliot," "Little Shop of Horrors," "The Crucible" and more.
Inclusivity
Get stories worth sharing delivered to your inbox
Photo by Gregory Hayes on Unsplash
"Can I buy you a drink?" is a loaded question.
It could be an innocent request from someone who's interested in having a cordial conversation. Other times, saying "yes" means you may have to fend off someone who feels entitled to spend the rest of the night with you.
In the worst-case scenario, someone is trying to take advantage of you or has a roofie in their pocket.
Feminist blogger Jennifer Dziura found a fool-proof way to stay safe while understanding someone's intentions: ask for a non-alcoholic beverage or food. If they're sincerely interested in spending some time getting to know you, they won't mind buying something booze-free.

But if it's their intention to lower your defenses, they'll throw a mild tantrum after you refuse the booze. Her thoughts on the "Can I buy you a drink?" conundrum made their way to Tumblr.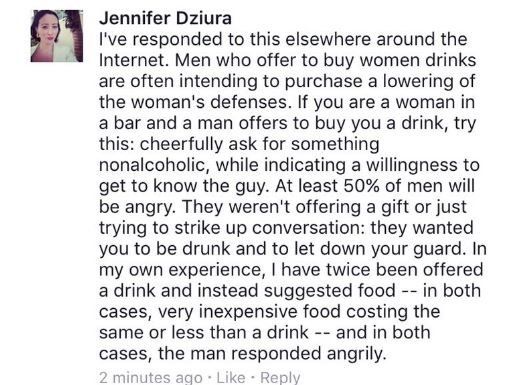 via AshleysCo / Tumblr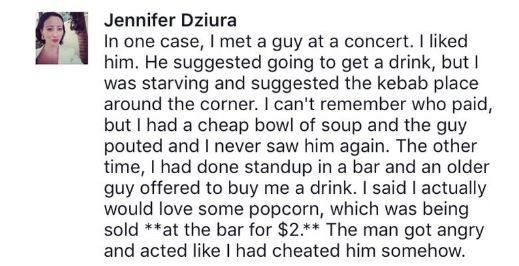 via AshleysCo / Tumblr
The posts caught the attention of a bartender who knows there are lot of men out there whose sole intention is to get somone drunk to take advantage.
"Most of the time, when someone you don't know is buying you a drink, they're NOT doing it out of a sense of cordiality," the bartender wrote. "They're buying you a drink for the sole purpose of making you let your guard down."
So they shared a few tips on how to be safe and social when someone asks to buy you a drink.
From the other side of the bar, I see this crap all the time. Seriously. I work at a high-density bar, and let me tell you, I have anywhere from 10-20 guys every night come up and tell me to, "serve her a stronger drink, I'm trying to get lucky tonight, know what I mean?" usually accompanied with a wink and a gesture at a girl who, in my experience, is going to go from mildly buzzed to definitively hammered if I keep serving her. Now, I like to think I'm a responsible bartender, so I usually tell guys like that to piss off, and, if I can, try to tell the girl's more sober friends that they need to keep an eye on her.
But everyone- just so you know, most of the time, when someone you don't know is buying you a drink, they're NOT doing it out of a sense of cordiality, they're buying you a drink for the sole purpose of making you let your guard down.

Tips for getting drinks-

1. ALWAYS GO TO THE BAR TO GET YOUR OWN DRINK, DO NOT LET STRANGERS CARRY YOUR DRINKS. This is an opportune time for dropping something into your cocktail, and you're none the wiser.

2.IF YOU ORDER SOMETHING NON-ALCOHOLIC, I promise you, the bartender doesn't give two shits that you're not drinking cocktails with your friends, and often, totally understands that you don't want to let your guard down around strangers. Usually, you can just tell the bartender that you'd like something light, and that's a big clue to us that you're uncomfortable with whomever you're standing next to. Again, we see this all the time.

3. If you're in a position to where you feel uncomfortable not ordering alcohol:
Here's a list of light liquors, and mixers that won't get you drunk, and will still look like an actual cocktail:

X-rated + sprite = easy to drink, sweet, and 12% alcoholic content. Not strong at all, usually runs $6-$8, depending on your state.
Amaretto + sour= sweet, not strong, 26%.
Peach Schnapps+ ginger ale= tastes like mellow butterscotch, 24%.
Melon liquor (Midori, in most bars) + soda water = not overly sweet, 21%
Coffee liquor (Kahlua) +soda = not super sweet, 20%.
Hope this helps someone out!
If you do accept a drink from someone at a bar and you want to talk, there's no need to feel obligated to spend the rest of the night with them.
Jaqueline Whitmore, founder of The Protocol School of Palm Beach, says to be polite you only have to "Engage in some friendly chit-chat, but you are not obligated to do more than that."

If someone asks to buy you a drink and you don't want it, Whitmore has a great tip. "Say thank you, but you are trying to cut back, have to drive or you don't accept drinks from strangers," Whitmore says.
What if they've already sent the drink over? "Give the drink to the bartender and tell him or her to enjoy it," Whitmore says.
Have fun. Stay safe, and make sure to bring a great wing-man or wing-woman with you.

Well Being
Photo by Artem Beliaikin on Unsplash
Jasmine has been used as a natural treatment for depression, anxiety, and stress for thousands of years. Oil from the plant has also been used to treat insomnia and PMS, and is considered a natural aphrodisiac. It turns out, our ancestor's instincts to slather on the oil when they wanted a little R&R were correct.
A study, published in the Journal of Biological Chemistry, and according to Professor Hanns Hatt of the Ruhr University in Bochum, Germany, revealed that jasmine can calm you down when you're feeling anxious.The results can "be seen as evidence of a scientific basis for aromatherapy."
"Instead of a sleeping pill or a mood enhancer, a nose full of jasmine from Gardenia jasminoides could also help, according to researchers in Germany. They have discovered that the two fragrances Vertacetal-coeur (VC) and the chemical variation (PI24513) have the same molecular mechanism of action and are as strong as the commonly prescribed barbiturates or propofol," says the study.
Nature
Get stories worth sharing delivered to your inbox