This article originally appeared on 02.02.19


"The greater the artist, the greater the doubt. Perfect confidence is granted to the less talented as a consolation prize." ― Robert Hughes
Great artists tend to live life swimming in a vast ocean of self-doubt. It's that special blend of insecurity and perfectionism that fuels their desire to hone their craft and get better with each piece.
But that self-doubt can also be paralyzing and prevent potential artists from picking up the pen, paintbrush or guitar.
To encourage his mother to stick with her art, Reddit user Gaddafo shared a picture of his mother, Cindi Decker, a school teacher from Florida, holding a lovely painting she made of an egret.
"My mom painted this and said no one would like it. It's her 2nd painting," he wrote.
Then Reddit user Cacahahadoodoo asked the forum to take the post a step further. "Someone paint the photo of his mom holding her painting and repost it with the same title for extra extra karma," they wrote.
Karma is a reward earned for posting popular content on the online forum.
Reddit user u/k__z jumped on the task and painted a picture of Decker holding her painting.
Then lillyofthenight took things a step further by painting a picture of herself holding a painting of u/k__z holding his painting of Decker holding her painting of an egret.
"Took a while and not perfect, but I painted the guy who painted the other guy's mom," she wrote.
Then seamusywray stepped in with his contribution and things started to get freaky. "I painted the girl who painted the guy who painted the other guy's mom who painted an egret," he wrote.
This kicked off a chain reaction that's come to be known "paintception."
To keep things from getting too confusing, another Redditor created an interactive tree to show how they paintings relate to one another.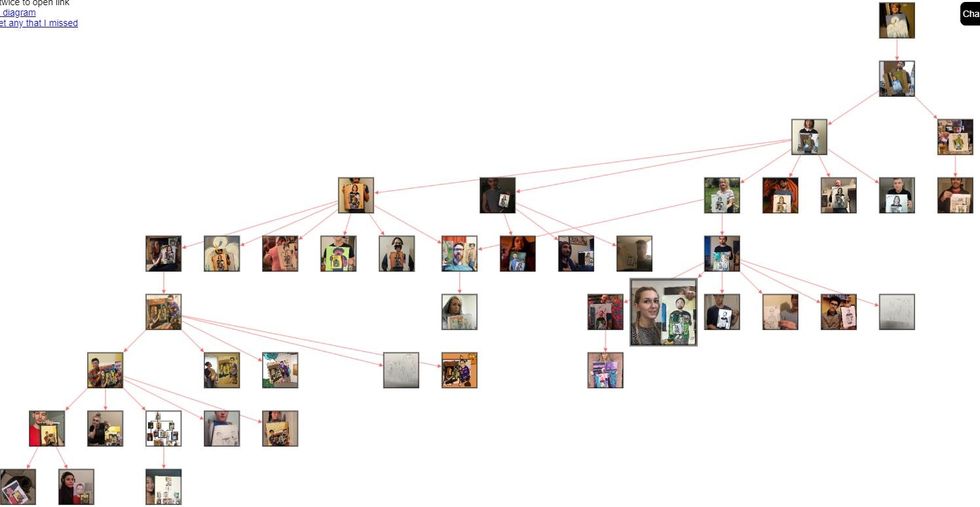 Decker was shocked by the chain reaction and couldn't believe she inspired so many people to paint.
"Even though people say, 'You inspired me to paint,' I don't know that it was so much me. I really give credit to the first artist who painted," she told the CBC. "You know, I'm not a painter. I'm just somebody who went out and did a little painting thing, so I got lucky to get caught up in all this fun craziness."
The question is: will the craziness ever end?
Courtesy of Farwiza Farhan
True
Growing up in Indonesia, Farwiza Farhan always loved the ocean. It's why she decided to study marine biology. But the more she learned, the more she realized that it wasn't enough to work in the ocean. She needed to protect it.
"I see the ocean ecosystem collapsing due to overfishing and climate change," she says. "I felt powerless and didn't know what to do [so] I decided to pursue my master's in environmental management."
This choice led her to work in environmental protection, and it was fate that brought her back home to the Leuser Ecosystem in Sumatra, Indonesia — one of the last places on earth where species such as tigers, orangutans, elephants and Sumatran rhinoceros still live in the wild today. It's also home to over 300 species of birds, eight of which are endemic to the region.
"When I first flew over the Leuser Ecosystem, I saw an intact landscape, a contiguous block of lush, diverse vegetation stretched through hills and valleys. The Leuser is truly a majestic landscape — one of a kind."
She fell in love. "I had my first orangutan encounter in the Leuser Ecosystem," she remembers. "As the baby orangutan swung from the branches, seemingly playing and having fun, the mother was observing us. I was moved by the experience."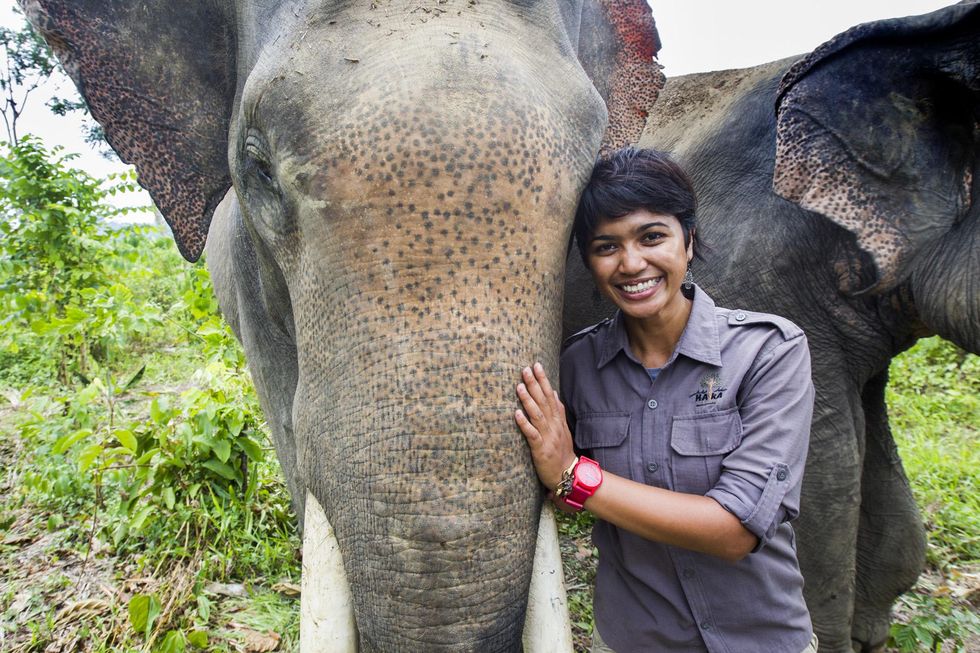 Courtesy of Farwiza Farhan
"Over the years," she continues, "the encounters with wildlife, with people, and with the ecosystem itself compounded. My curiosity and interest towards nature have turned into a deep desire to protect this biodiversity."
So, she began working for a government agency tasked to protect it. After the agency dismantled for political reasons in the country, Farhan decided to create the HAkA Foundation.
"The goals [of HAkA] are to protect, conserve and restore the Leuser Ecosystem while at the same time catalyzing and enabling just economic prosperity for the region," she says.
"Wild areas and wild places are rare these days," she continues. "We think gold and diamonds are rare and therefore valuable assets, but wild places and forests, like the Leuser Ecosystems, are the kind of natural assets that essentially provide us with life-sustaining services."
"The rivers that flow through the forest of the Leuser Ecosystem are not too dissimilar to the blood that flows through our veins. It might sound extreme, but tell me — can anyone live without water?"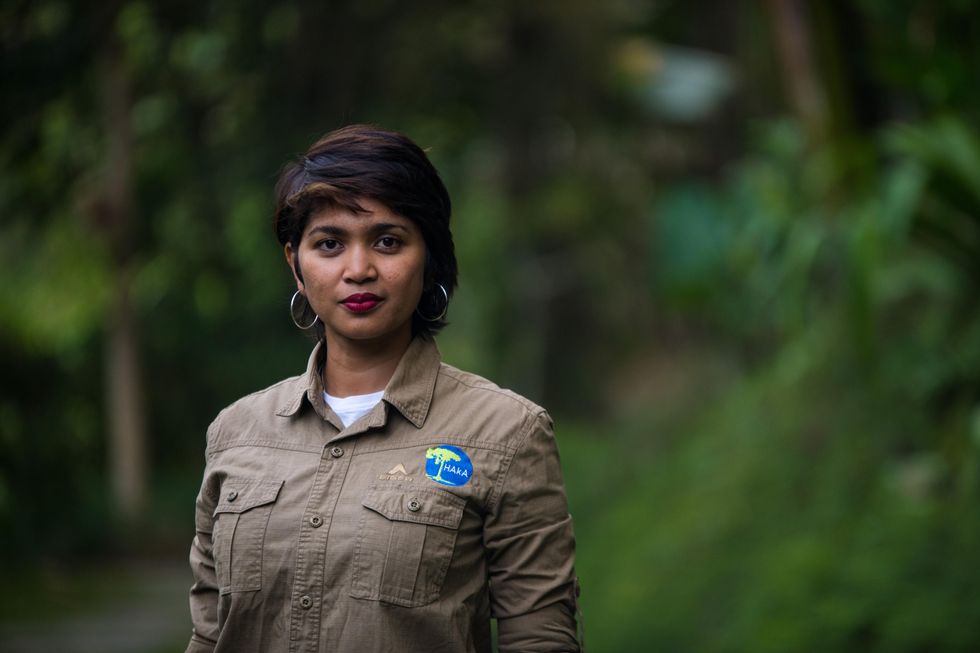 Courtesy of Farwiza Farhan
So far, HAkA has done a lot of work to protect the region. The organization played a key role in strengthening laws that bring the palm oil companies that burn forests to justice. In fact, their involvement led to an unprecedented, first-of-its-kind court decision that fined one company close to $26 million.
In addition, HAkA helped thwart destructive infrastructure plans that would have damaged critical habitat for the Sumatran elephants and rhinos. They're working to prevent mining destruction by helping communities develop alternative livelihoods that don't damage the forests. They've also trained hundreds of police and government rangers to monitor deforestation, helping to establish the first women ranger teams in the region.
"We have supported multiple villages to create local regulation on river and land protection, effectively empowering communities to regain ownership over their environment."
She is one of Tory Burch's Empowered Women this year. The donation she receives as a nominee is being awarded to the Ecosystem Impact Foundation. The small local foundation is working to protect some of the last remaining habitats of the critically endangered leatherback turtle that lives on the west coast of Sumatra.
"The funds will help the organization keep their ranger employed so they can continue protecting the islands, endangered birds and sea turtle habitats," she says.
To learn more about Tory Burch and Upworthy's Empowered Women program visit https://www.toryburch.com/empoweredwomen. Do you know an inspiring woman like Farwiza? Nominate her today!
Courtesy of Ms. Lopez
True
Marcella Lopez didn't always want to be a teacher — but once she became one, she found her passion. That's why she's stayed in the profession for 23 years, spending the past 16 at her current school in Los Angeles, where she mostly teaches children of color.
"I wanted purpose, to give back, to live a life of public service, to light the spark in others to think critically and to be kind human beings," she says. "More importantly, I wanted my students to see themselves when they saw me, to believe they could do it too."
Ms. Lopez didn't encounter a teacher of color until college. "That moment was life-changing for me," she recalls. "It was the first time I felt comfortable in my own skin as a student. Always remembering how I felt in that college class many years ago has kept me grounded year after year."
It's also guided her teaching. Ms. Lopez says she always selects authors and characters that represent her students and celebrate other ethnicities so students can relate to what they read while also learning about other cultures.
"I want them to see themselves in the books they read, respect those that may not look like them and realize they may have lots in common with [other cultures] they read about," she says.
She also wants her students to have a different experience in school than she did.
When Ms. Lopez was in first grade, she "was speaking in Spanish to a new student, showing her where the restroom was when a staff member overheard our conversation and directed me to not speak in Spanish," she recalls. "In 'this school,' we only speak English," she remembers them saying. "From that day forward, I was made to feel less-than and embarrassed to speak the language of my family, my ancestors; the language I learned to speak first."
Part of her job, she says, is to find new ways to promote acceptance and inclusion in her classroom.
"The worldwide movement around social justice following the death of George Floyd amplified my duty as a teacher to learn how to discuss racial equity in a way that made sense to my little learners," she says. "It ignited me to help them see themselves in a positive light, to make our classroom family feel more inclusive, and make our classroom a safe place to have authentic conversations."
One way she did that was by raising money through DonorsChoose to purchase books and other materials for her classroom that feature diverse perspectives.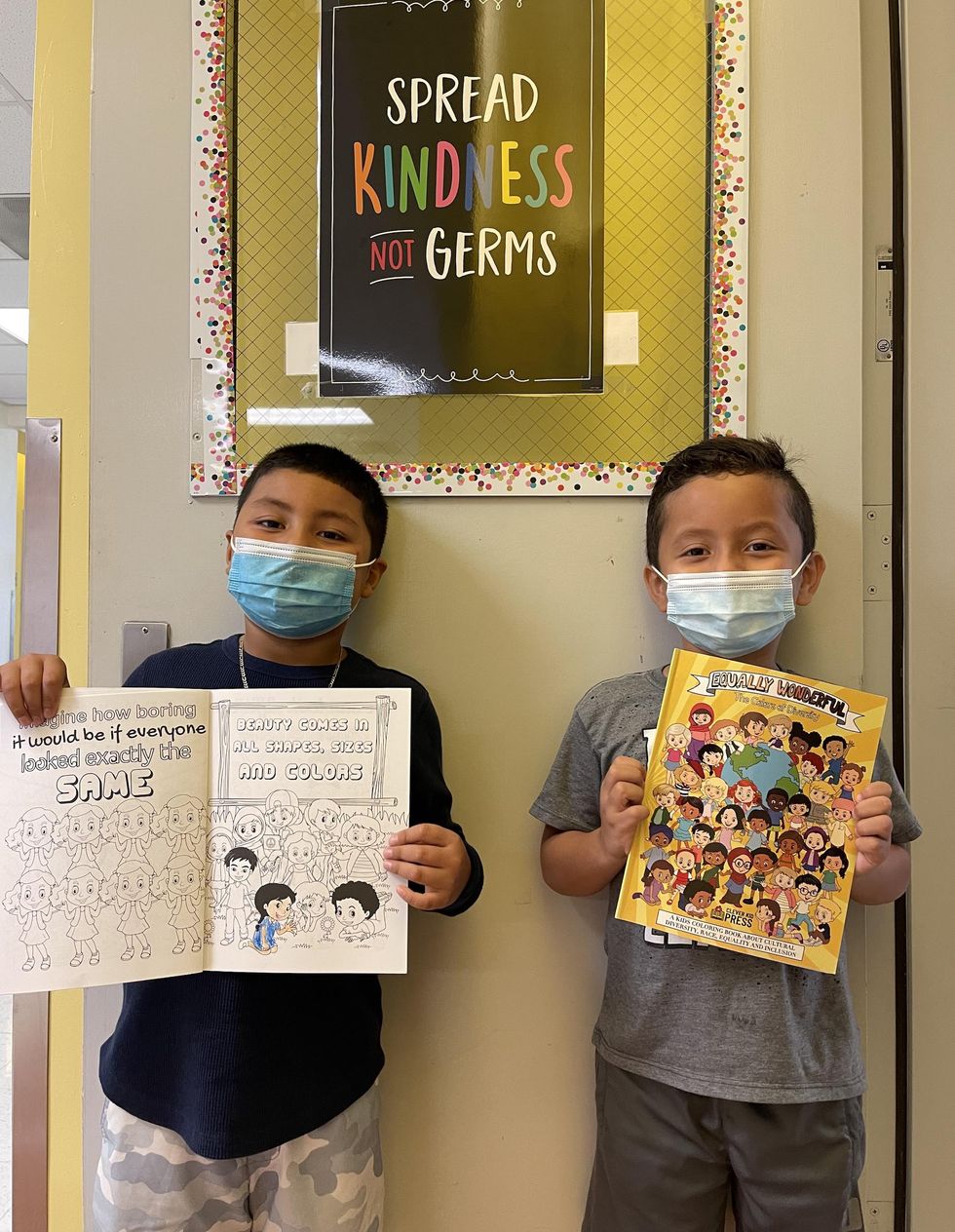 Courtesy of Ms. Lopez
The Allstate Foundation recently partnered with DonorsChoose to create a Racial Justice and Representation category to encourage teachers like Ms. Lopez to create projects that address racial equity in the classroom. To launch the category, The Allstate Foundation matched all donations to these projects for a total of $1.5 million. Together, they hope to drive awareness and funding to projects that bring diversity, inclusion, and identity-affirming learning materials into classrooms across the country. You can see current projects seeking funding here.
When Ms. Lopez wanted to incorporate inclusive coloring books into her lesson plans, The Allstate Foundation fully funded her project so she was able to purchase them.
"I'm a lifelong learner, striving to be my best version of myself and always working to inspire my little learners to do the same," she says. Each week, Ms. Lopez and the students would focus on a page in the book and discuss its message. And she plans to do the same again this school year.
"DonorsChoose has been a gamechanger for my students. Without the support of all the donors that come together on this platform, we wouldn't have a sliver of what I've been able to provide for my students, especially during the pandemic," she says.
"My passion is to continue striving to be excellent, and to continue to find ways to use literature as an anchor, depicting images that reflect my students," she says.
To help teachers like Ms. Lopez drive this important mission forward, donate on DonorsChoose.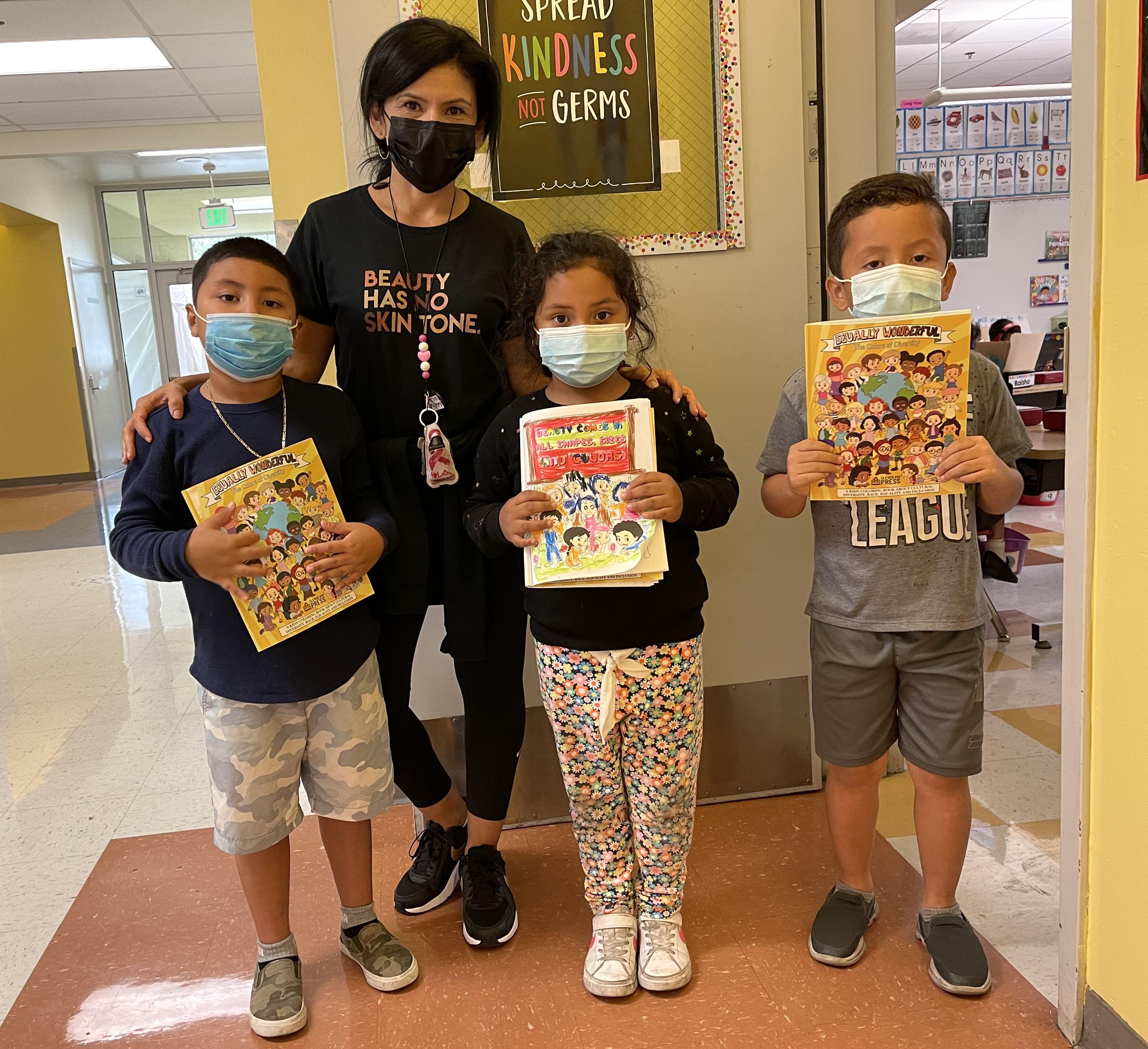 Courtesy of Ms. Lopez
From Your Site Articles
Related Articles Around the Web
This article originally appeared on 06.01.18


A teacher's message has gone viral after he let his student sleep in class — for the kindest reason.
Teachers spend time preparing lesson plans and trying to engage students in learning. The least a kid can do is stay awake in class, right?
But high school English teacher Monte Syrie sees things differently. In a Twitter thread, he explained why he didn't take it personally when his student Meg fell asleep — and why he didn't wake her up.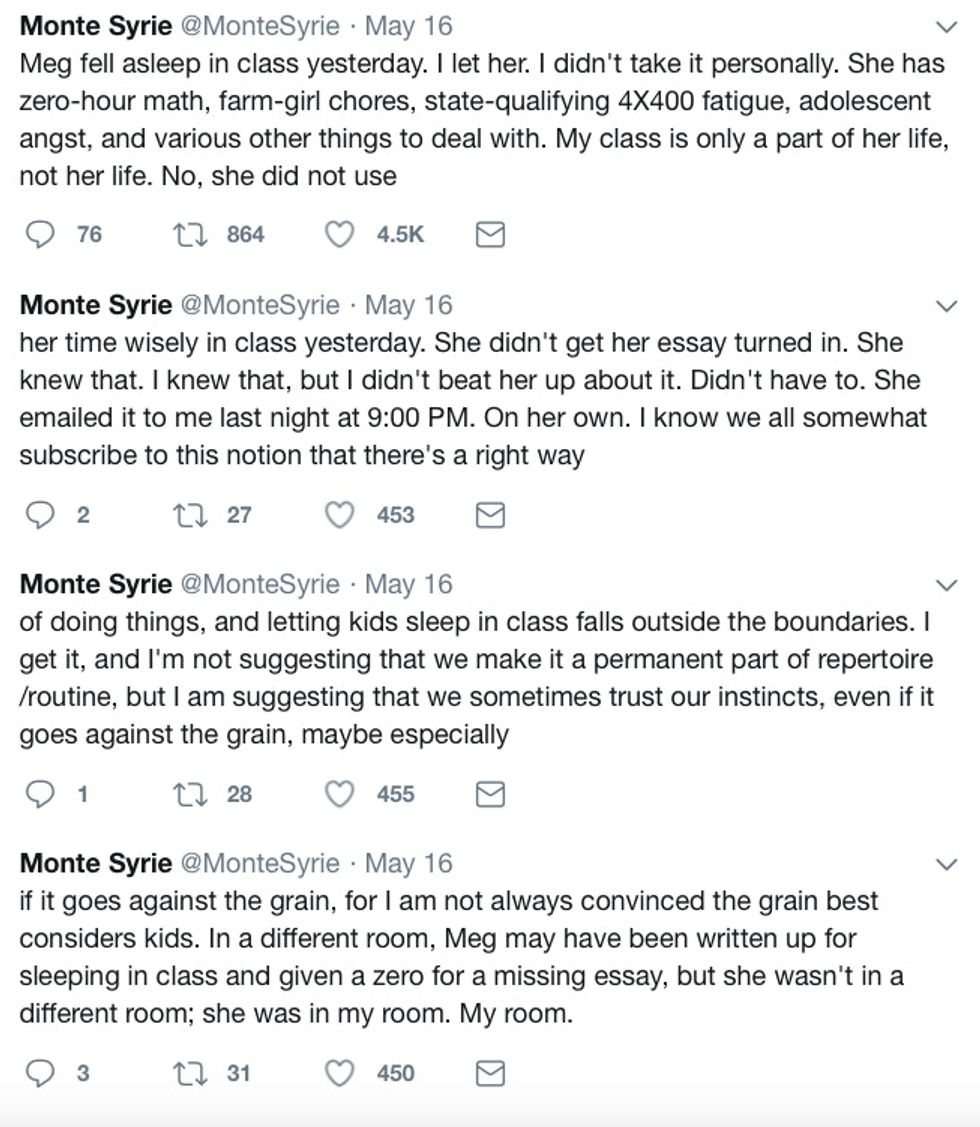 Screenshots via MonteSyrie/Twitter.
Meg's nap meant she missed an in-class essay, but she turned it in that night. "I didn't beat her up about it. Didn't have to," he wrote. "In a different room, Meg may have been written up for sleeping in class and given a zero for missing and essay, but she wasn't in a different room; she was in my room."
Syrie pointed out that sometimes we have to "trust our instincts, even if it goes against the grain."
Meg is a good student with a lot on her plate. She takes a zero-hour class before the normal school day and does farm chores before that. She runs track. And she's a teenager, with all of the social, academic, and life pressures that go along with it.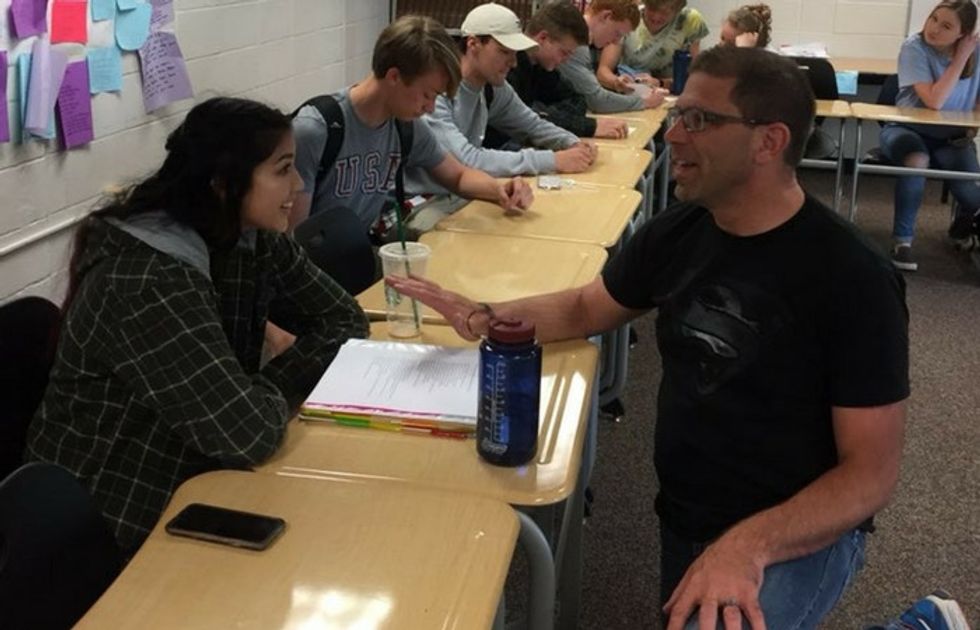 Syrie teaches sophomore English in Cheney, Washington. Photo via Monte Syrie.
And she's not alone. During the school year, teens report higher levels of stress than adults, and many students report feeling exhausted trying to keep up with it all.
"I think too often the biggest thing that people forget about high school students is that they are kids," Syrie says. "They're kids — kids who are having to grow up way too fast and are having way too much pressure put on them, in and out of school ... even for our best and brightest, that pressure gets to be too much."
Syrie's compassionate story resonated with people because we've all been in a position of needing a little grace.
Syrie's tweets continued, exemplifying how teachers can show kindness and understanding to students. He pointed out, "I can't offer Meg a math class later in the day. I cannot feed her horses ... I cannot run 6 race-pace 300s for her. I cannot spirit away her teen trouble. But I can give her a break."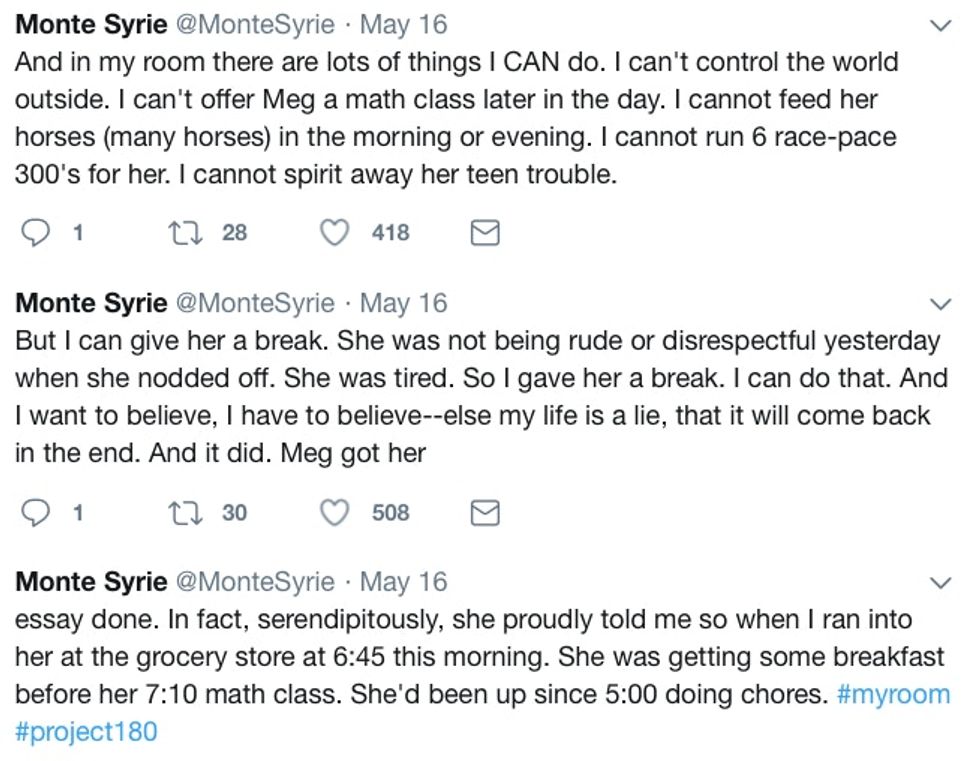 Syrie says he tries to be that responsive to all of his students. "Because I firmly believe that one size fits all is madness, I adjust to each student, trusting my instincts, trusting what I know," he says. "Regardless of our responsibilities, life is hard, and we all need some grace now and then."
Syrie says he's had a few negative comments, but overwhelmingly the response has been positive from both students and teachers.
[rebelmouse-image 19397573 dam="1" original_size="665x141" caption="Screenshot via Alexa Shaw/Twitter." expand=1]Screenshot via Alexa Shaw/Twitter.
[rebelmouse-image 19397574 dam="1" original_size="648x96" caption="Screenshot via Maria Riverso/Twitter." expand=1]Screenshot via Maria Riverso/Twitter.
[rebelmouse-image 19397575 dam="1" original_size="661x119" caption="Screenshot via Mrs. Chow/Twitter." expand=1]Screenshot via Mrs. Chow/Twitter.
Syrie has words for those who say that allowing a student to sleep in class doesn't prepare them for the "real world."
Some may question whether letting a student sleep in class without consequence is a good idea. Syrie has a response:
"We are not working in factories, stamping out standardized products," he says. "We are helping young humans — unique individuals — learn about themselves and their worlds. As such, when our young humans face the inevitable pressures of growing up, we need to respond with empathy."
"And if that does not prepare them for the 'real world' as some may suggest, then maybe the world needs to change. I want to live in a world where there's empathy. That's the world I want to live in."
You can read more about the way Syrie is rethinking education on his website.
Get stories worth sharing delivered to your inbox
Get stories worth sharing delivered to your inbox