Democracy
The actor lived in Uvalde, Texas until he was 11.
Identity
It's okay to have "curly hair."
Family
"We were already calling her mom because it felt so natural."
Sisters Gabriella and Julianna Ruvolo know that they're extremely lucky. Their stepmom Becky Ruvolo has been there for them for most of their lives and it's clear that they're grateful to her for it. On May 9, Gabriella posted a video to TikTok to share the very special way the young women honored their stepmom for Mother's Day.
In the short clip, you can see Becky flanked by the two girls, flipping through a book. On the video are the words "After 12 years… we finally asked our step-mom to adopt us." As Becky goes through the pages, you can see her becoming increasingly more emotional before she gets to the last page. By then, all three of the women are crying.
"Really?" Becky asks, before putting her head down on the table in tears. "Is that a yes?" the girls ask before embracing her. It's so touching, you can't help but feel moved by it.
Pete, the girls' father, is the one filming the entire thing, and while you can't see him, you can guess his heart is swelling with love and pride as much as ours are while watching it.
"I was so caught off guard," Becky Ruvolo told Good Morning America. "When I read that, it was just pure shock and an honor and the emotions of just like, 'Is this really happening?'"
And it was really happening. If you ask the sisters, it was always a matter of "when" and not "if" they would ask Becky to officially be their mom. She met them when they were 8 years old and, as they all tell it, the connection was instantaneous.

"We met as friends and then she became mom and it was just, from the start, it was like love at first sight," Gabriella Ruvolo told Good Morning America.
When Becky married Pete in 2013, she made sure the girls knew just how important they were to her by including them in the ceremony. In the 12 years she's been in their lives, the twins have always thought of her as the strongest mother figure they have.
"We were already calling her mom because it felt so natural," Gabriella said.

"We always went to her as we would a mom. She was always there for us," Julianna added.
It's really wonderful to see these two young women not only acknowledge the role their stepmom plays in their lives, but find a way to honor all the love and care she has put into them and their family.
"We figured like, what's the best time to ask the biggest question we will probably ever ask? And why not make it on Mother's Day? Ask our mom to officially be our mother on the day dedicated to her," Julianna told GMA.
And what about their dad? Well, he couldn't be happier, which is why he filmed the moment.
"To actually see it unfold, just filled me with such a feeling of pride, proud for my girls and for my wife. I know how happy that would make her and it really was such a special moment," he said. He also added that the relationship between the girls and Becky "worked out better than I could have ever dreamed of."
Based on how people reacted to the TikTok, it seems that stories like the Ruvolos' are starting to reshape the narrative around blended families and the stereotypes about stepmoms.
"As a step mom to a daughter who never had a relationship with her bio mom …this put me on my knees," one user wrote.
"My step mom adopted me and my brother may 14th 2018. so happy for you guys!" wrote another.
Joy
Irene and Tony Demas regularly traded food at their restaurant in exchange for crafts. It paid off big time.
The grilled cheese at Irene and Tony Demas' restaurant was truly something special. The combination of freshly baked artisan bread and 5-year-old cheddar was enough to make anyone's mouth water, but no one was nearly as devoted to the item as the restaurant's regular, John Kinnear.
Kinnear loved the London, Ontario restaurant's grilled cheese so much that he ordered it every single day, though he wouldn't always pay for it in cash. The Demases were well known for bartering their food in exchange for odds and ends from local craftspeople and merchants.
"Everyone supported everyone back then," Irene told the Guardian, saying that the couple would often trade free soup and a sandwich for fresh flowers. Two different kinds of nourishment, you might say.
And so, in the 1970s the Demases made a deal with Kinnear that he could pay them for his grilled cheese sandwiches with artwork. Being a painter himself and part of an art community, Kinnear would never run out of that currency.
Little did Kinnear—or anyone—know, eventually he would give the Demases a painting worth an entire lifetime's supply of grilled cheeses. And then some.
One day, Kinnear brought in some works from a friend by the name of Maud Lewis. Despite living in abject poverty and suffering from challenging health conditions, Lewis would create colorful, cheerful paintings using whatever materials she could get access to, be that leftover paint used for boats or discarded wooden boards.
According to Good News Network, Kinnear and Lewis had made their own trade: some painting supplies in exchange for a few of her pieces, which were brought to the restaurant.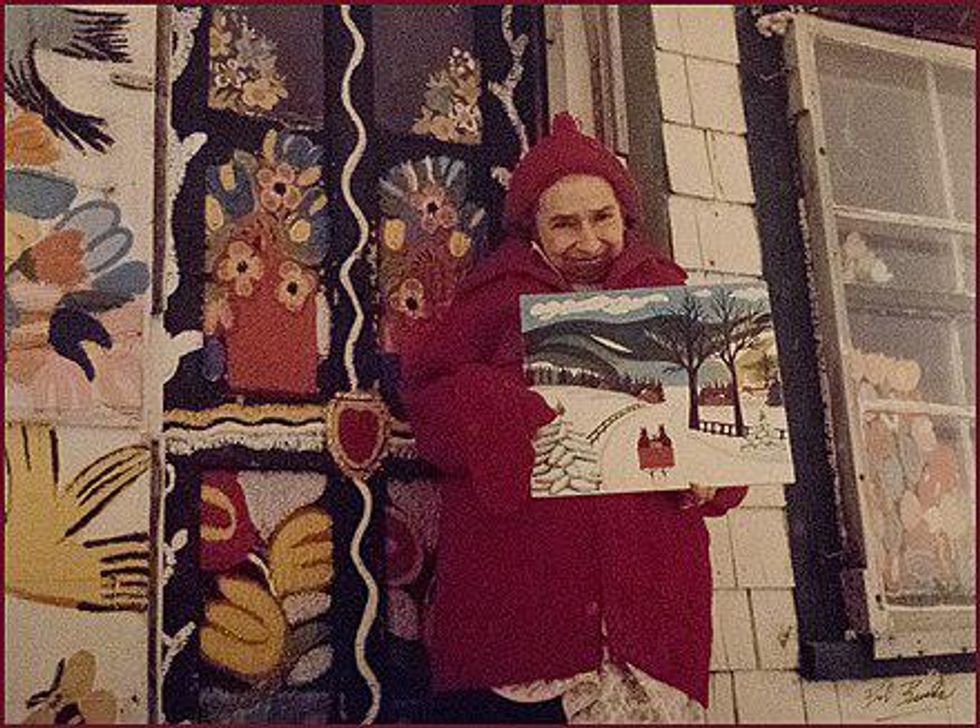 A picture of Maud Lewis holding one of her works.
One painting in particular struck the then-pregnant Irene in a profound way—a cheery image of an old black pickup truck cruising through a neighborhood, complete with a bright yellow house with a flower-lined yard.
Because of the pure innocence expressed in the piece, Irene thought a child might have created it. She told the Guardian, "I just sat there in silence for quite a while. I'd never ever seen any art like that before. At first I thought they might be playing some sort of trick on me."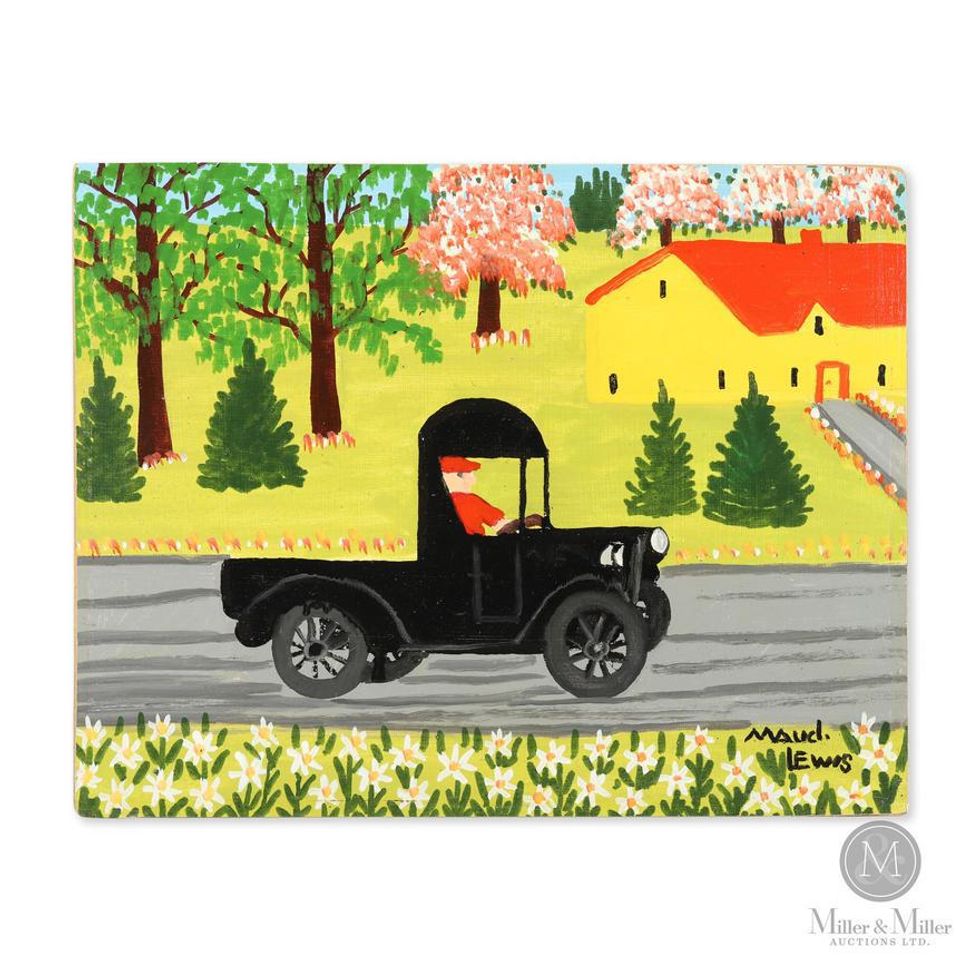 Lewis would often repeat happy themes throughout her work.
images4-cdn.auctionmobility.com
Nevertheless, Irene selected the work and hung it in her expected son's bedroom, where it remained for 50 years.
As an artist, Lewis never reached acclaim while she was alive, but over the years her art has made its way into the spotlight and there was even a romantic biopic made about her, starring Sally Hawkins and Ethan Hawke.
The movie caused Lewis' work to "double and triple in value" according to Ethan Miller, chief executive officer and auctioneer at Miller & Miller Auctions in New Hamburg, Ontario, who noted that the truck painting in particular was a rare piece.
Soon, the Demases realized that they owned the work of a now-famous painter and they put the work up for sale. It was subsequently auctioned off for $350,000. The letters written between Kinnear and Lewis—also sold at auction—were bought for $70,000. Not bad for free grilled cheese.
Painting swapped in 70s for grilled cheese sandwich serves up windfall https://t.co/LC0teC431o

— The Guardian (@guardian) May 8, 2022
Not only do the Demases have an exciting new chapter of possibilities in their lives, but an artist has received long overdue recognition. Talk about a win-win situation.
Get stories worth sharing delivered to your inbox
Get stories worth sharing delivered to your inbox