True
The experiences we have at school tend to stay with us throughout our lives. It's an impactful time where small acts of kindness, encouragement, and inspiration go a long way.
Schools, classrooms, and teachers that are welcoming and inclusive support students' development and help set them up for a positive and engaging path in life.
Here are three of our favorite everyday actions that are spreading kindness on campus in a big way: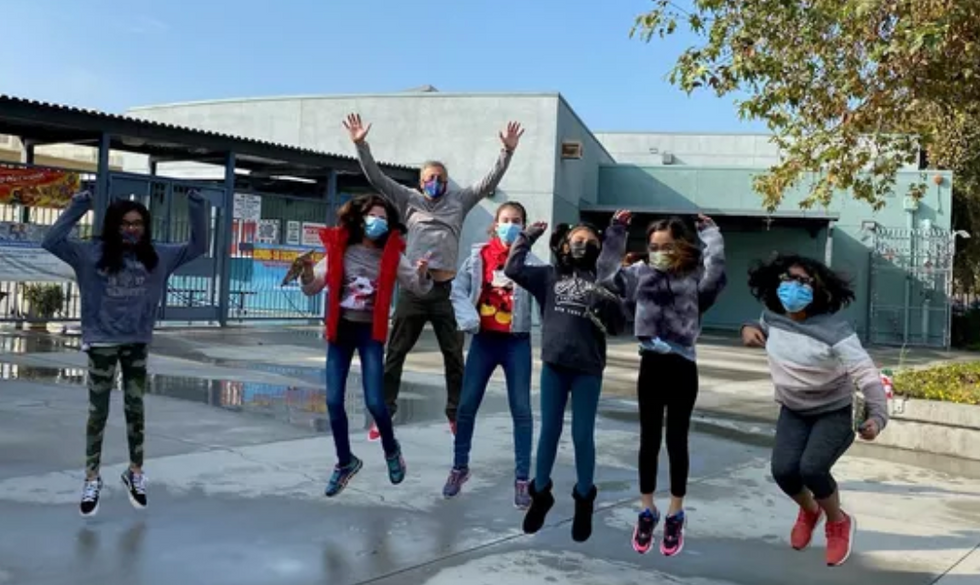 Image courtesy of Mark Storhaug
1. Pickleball to Get Fifth Graders Moving
Mark Storhaug is a 5th grade teacher at Kingsley Elementary in Los Angeles, who wants to use pickleball to get his students "moving on the playground again after 15 months of being Zombies learning at home."

Pickleball is a paddle ball sport that mixes elements of badminton, table tennis, and tennis, where two or four players use solid paddles to hit a perforated plastic ball over a net. It's as simple as that.
Kingsley Elementary is in a low-income neighborhood where outdoor spaces where kids can move around are minimal. Mark's goal is to get two or three pickleball courts set up in the schoolyard and have kids join in on what's quickly becoming a national craze. Mark hopes that pickleball will promote movement and teamwork for all his students. He aims to take advantage of the 20-minute physical education time allotted each day to introduce the game to his students.
Help Mark get his students outside, exercising, learning to cooperate, and having fun by
donating to his GoFundMe
.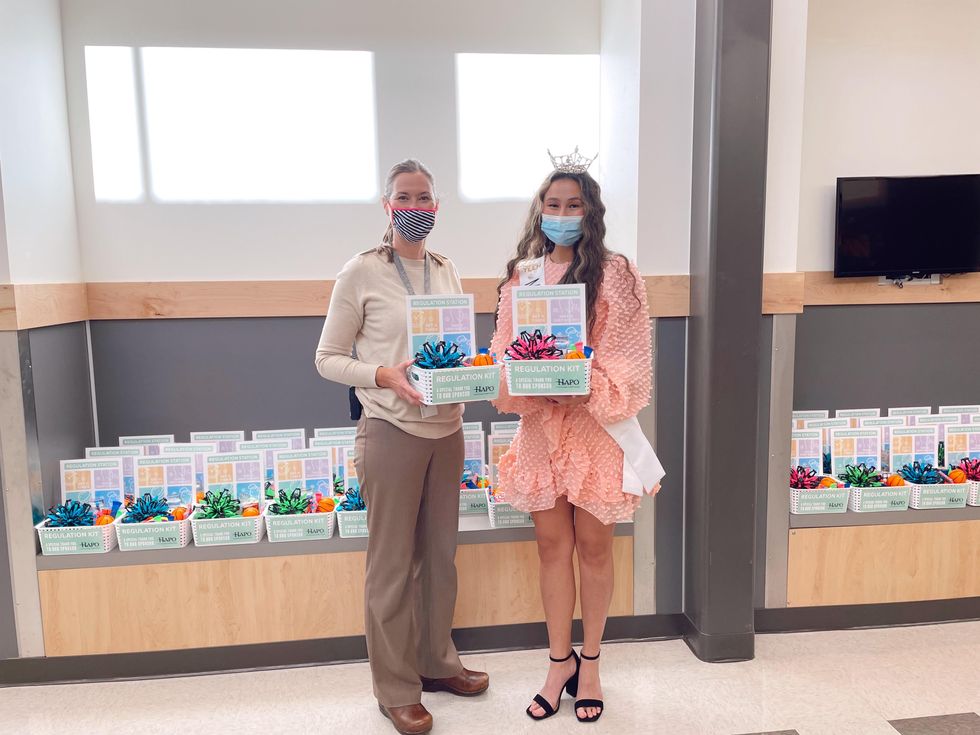 Image courtesy of Kaiya Bates
2. Staying C.A.L.M: Regulation Kits for Kids
According to the WHO around 280 million people worldwide suffer from depression. In the US, 1 in 5 adults experience mental illness and 1 in 20 experience severe mental illness, according to the National Alliance on Mental Illness.
Kaiya Bates, who was recently crowned Miss Tri-Cities Outstanding Teen for 2022, is one of those people, and has endured severe anxiety, depression, and selective mutism for most of her life.
Through her GoFundMe, Kaiya aims to use her "knowledge to inspire and help others through their mental health journey and to spread positive and factual awareness."
She's put together regulation kits (that she's used herself) for teachers to use with students who are experiencing stress and anxiety. Each "CALM-ing" kit includes a two-minute timer, fidget toolboxes, storage crates, breathing spheres, art supplies and more.
Kaiya's GoFundMe goal is to send a kit to every teacher in every school in the Pasco School District in Washington where she lives.
To help Kaiya achieve her goal, visit Staying C.A.L.M: Regulation Kits for Kids.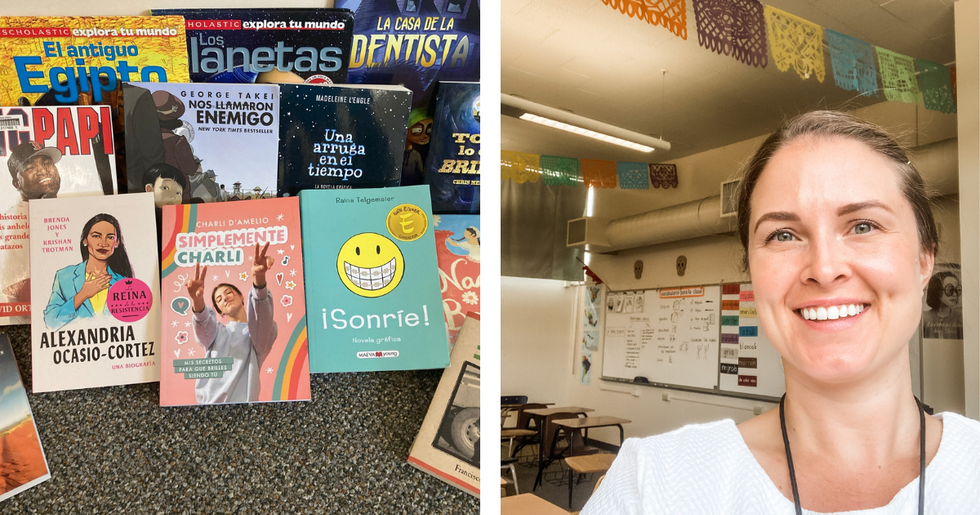 Image courtesy of Julie Tarman
3. Library for a high school heritage Spanish class
Julie Tarman is a high school Spanish teacher in Sacramento, California, who hopes to raise enough money to create a Spanish language class library.
The school is in a low-income area, and although her students come from Spanish-speaking homes, they need help building their fluency, confidence, and vocabulary through reading Spanish language books that will actually interest them.
Julie believes that creating a library that affirms her students' cultural heritage will allow them to discover the joy of reading, learn new things about the world, and be supported in their academic futures.
To support Julie's GoFundMe, visit Library for a high school heritage Spanish class.
Do YOU have an idea for a fundraiser that could make a difference? Upworthy and GoFundMe are celebrating ideas that make the world a better, kinder place. Visit upworthy.com/kindness to join the largest collaboration for human kindness in history and start your own GoFundMe.

From Your Site Articles
Related Articles Around the Web
Courtesy of Ms. Lopez
True
Marcella Lopez didn't always want to be a teacher — but once she became one, she found her passion. That's why she's stayed in the profession for 23 years, spending the past 16 at her current school in Los Angeles, where she mostly teaches children of color.
"I wanted purpose, to give back, to live a life of public service, to light the spark in others to think critically and to be kind human beings," she says. "More importantly, I wanted my students to see themselves when they saw me, to believe they could do it too."
Ms. Lopez didn't encounter a teacher of color until college. "That moment was life-changing for me," she recalls. "It was the first time I felt comfortable in my own skin as a student. Always remembering how I felt in that college class many years ago has kept me grounded year after year."
It's also guided her teaching. Ms. Lopez says she always selects authors and characters that represent her students and celebrate other ethnicities so students can relate to what they read while also learning about other cultures.
"I want them to see themselves in the books they read, respect those that may not look like them and realize they may have lots in common with [other cultures] they read about," she says.
She also wants her students to have a different experience in school than she did.
When Ms. Lopez was in first grade, she "was speaking in Spanish to a new student, showing her where the restroom was when a staff member overheard our conversation and directed me to not speak in Spanish," she recalls. "In 'this school,' we only speak English," she remembers them saying. "From that day forward, I was made to feel less-than and embarrassed to speak the language of my family, my ancestors; the language I learned to speak first."
Part of her job, she says, is to find new ways to promote acceptance and inclusion in her classroom.
"The worldwide movement around social justice following the death of George Floyd amplified my duty as a teacher to learn how to discuss racial equity in a way that made sense to my little learners," she says. "It ignited me to help them see themselves in a positive light, to make our classroom family feel more inclusive, and make our classroom a safe place to have authentic conversations."
One way she did that was by raising money through DonorsChoose to purchase books and other materials for her classroom that feature diverse perspectives.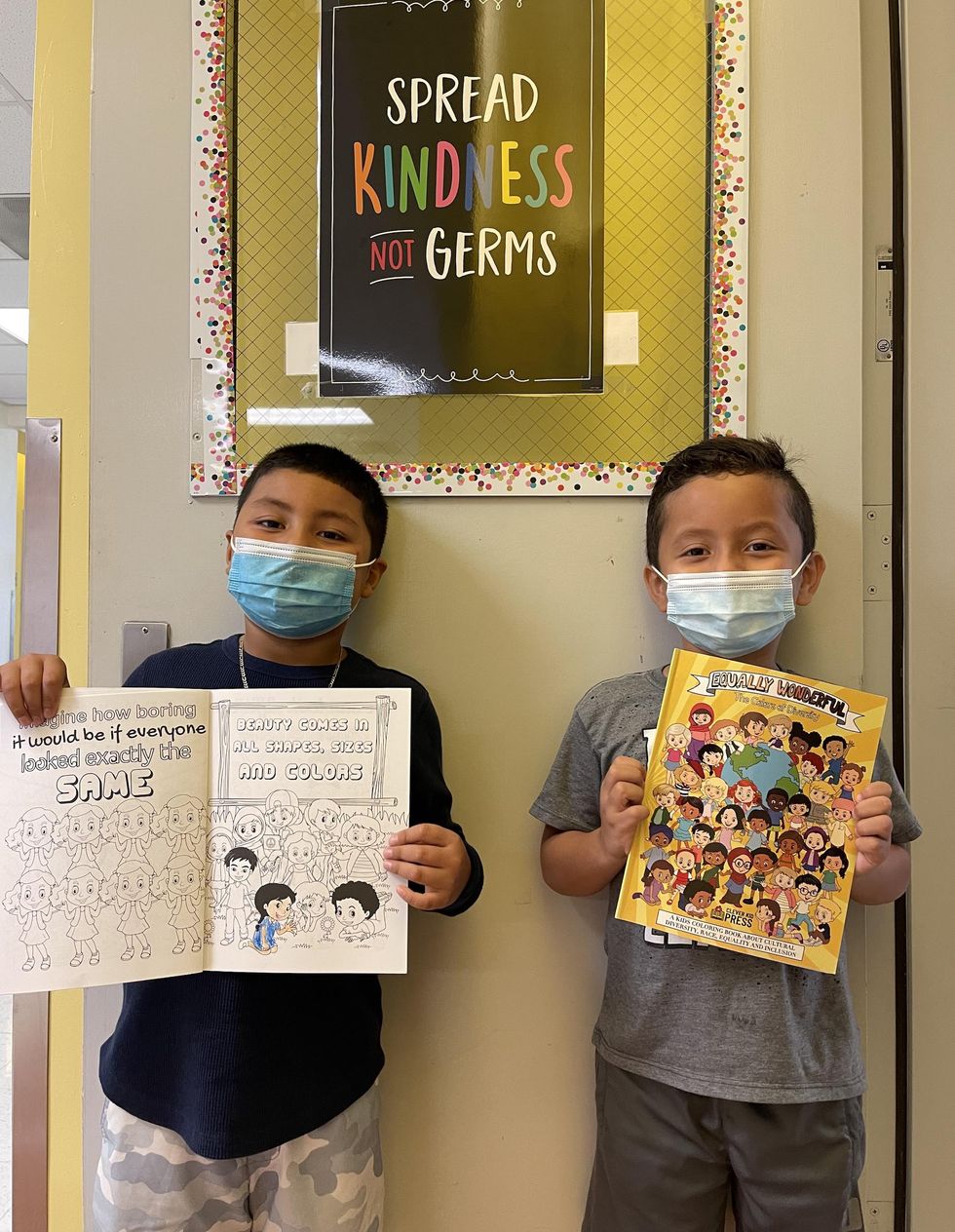 Courtesy of Ms. Lopez
The Allstate Foundation recently partnered with DonorsChoose to create a Racial Justice and Representation category to encourage teachers like Ms. Lopez to create projects that address racial equity in the classroom. To launch the category, The Allstate Foundation matched all donations to these projects for a total of $1.5 million. Together, they hope to drive awareness and funding to projects that bring diversity, inclusion, and identity-affirming learning materials into classrooms across the country. You can see current projects seeking funding here.
When Ms. Lopez wanted to incorporate inclusive coloring books into her lesson plans, The Allstate Foundation fully funded her project so she was able to purchase them.
"I'm a lifelong learner, striving to be my best version of myself and always working to inspire my little learners to do the same," she says. Each week, Ms. Lopez and the students would focus on a page in the book and discuss its message. And she plans to do the same again this school year.
"DonorsChoose has been a gamechanger for my students. Without the support of all the donors that come together on this platform, we wouldn't have a sliver of what I've been able to provide for my students, especially during the pandemic," she says.
"My passion is to continue striving to be excellent, and to continue to find ways to use literature as an anchor, depicting images that reflect my students," she says.
To help teachers like Ms. Lopez drive this important mission forward, donate on DonorsChoose.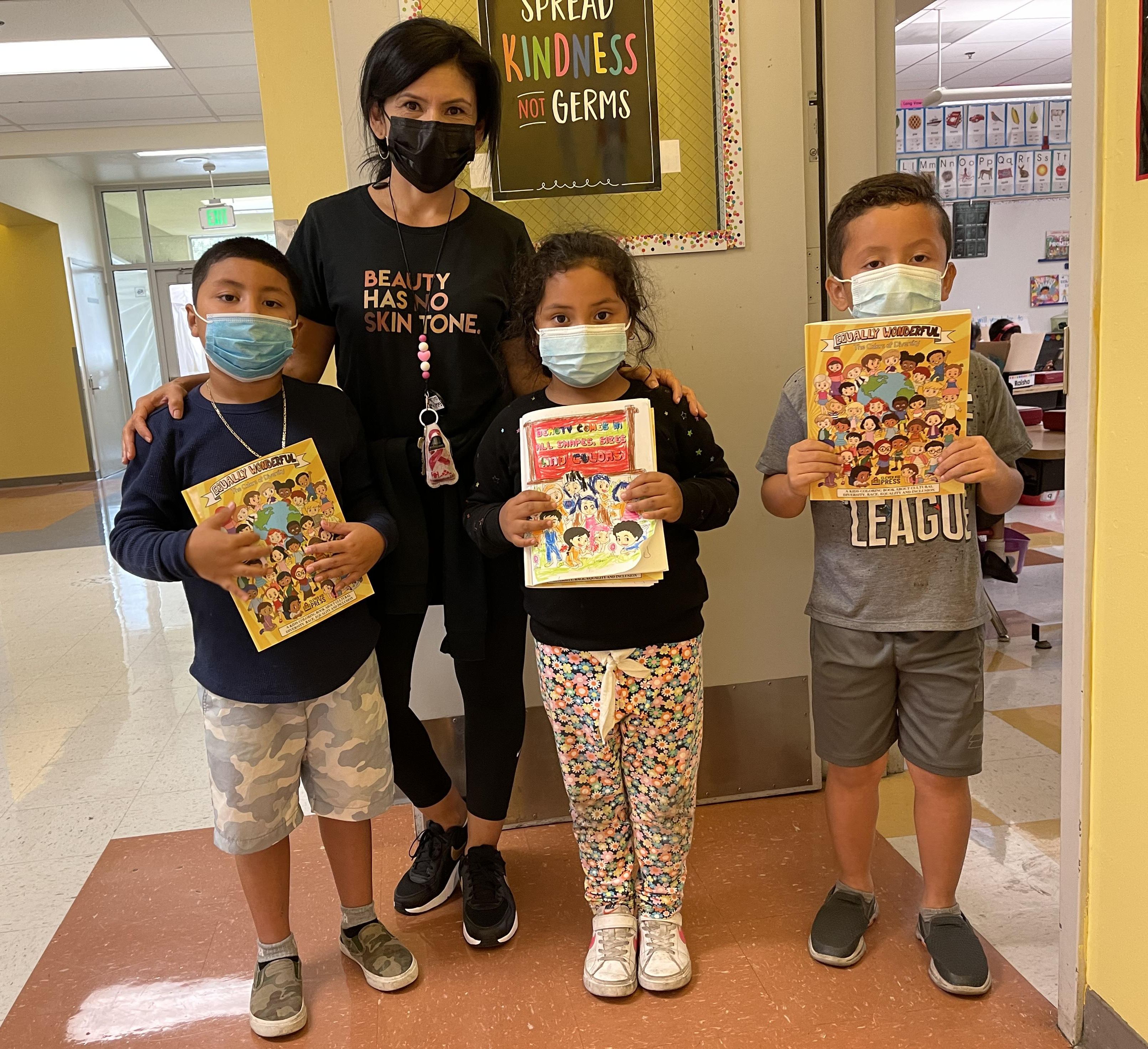 Courtesy of Ms. Lopez
From Your Site Articles
Related Articles Around the Web
Get stories worth sharing delivered to your inbox