True
If you've ever donated to a cause but worried that your contribution wasn't really enough to drive real change, you're not alone. As one person, it can be tough to feel like you're making a real difference, especially if you don't have a lot to donate or if times are tough (aka there's a worldwide pandemic going on.)
That's why, for years, the idea of philanthropy felt a little bit like a rich person's thing: if you had millions, you could donate and make change. The rest of us were just tossing pennies into a cup without really doing much.
But that's a problem: the priorities of a wealthy few don't represent the priorities of many, which means that good causes are often left underfunded, leading to a lack of meaningful action.
The thing is: it doesn't have to be like this. We can all make a difference, especially if we pool our money together.
Enter: Giving Circles. These are when groups of people with shared values come together to drive change. They do it by pooling their time and money together, then deciding as a circle where it should go. That way, they can cause a real targeted change in one place quickly in a very people-powered way by giving what they can, whether that's volunteer hours, money, or a mix of both. Best of all, Giving Circles are a social experience — you get to work together as a community to make sure you do the most good you can.
In other words, giving circles are a way to democratize philanthropy, making it more accessible regardless of your age, income, gender, or race.

That's why this year, The Elevate Prize, a nonprofit founded in 2019, is launching a new pop-up "Giving Circle" program so that problem solvers, budding philanthropists, and anyone that wants to do good can come together and drive real impact at a large scale. And you can do it all in just 90 minutes.
All you have to do is join one of the Elevate Giving Circles online. Learn about organizations doing good for the world, then pool your money together, and as a group, direct it where you think that donation could make the most difference.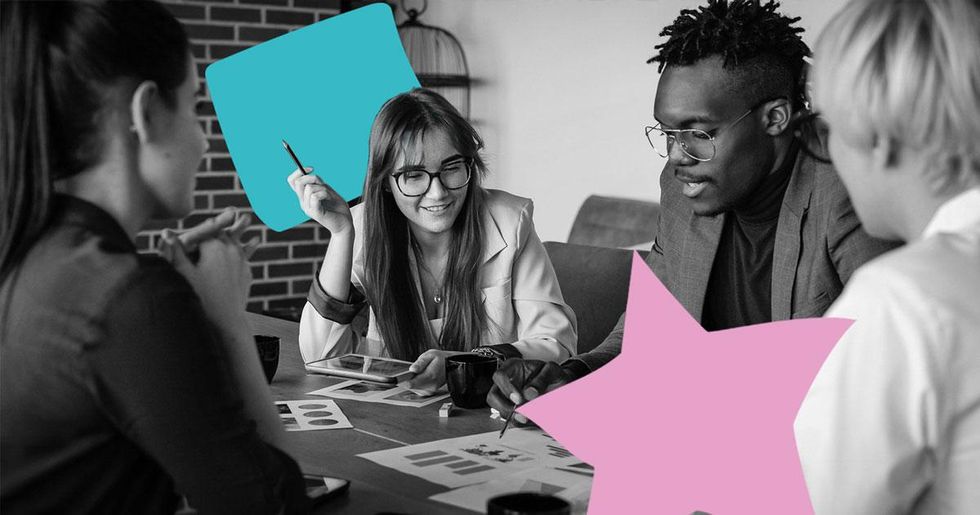 But that's not all: every single donation made is matched by the Elevate Prize Foundation — basically guaranteeing that you double your impact for good. The theme for the first cycle is education, and Elevate Giving will match up to $75,000 in total donations for each cycle.

Ready to get involved? Elevate Giving experiences start June 26th, so sign up now for your spot to make a difference. There's no minimum fee to join either — so get involved no matter what you have to give. Now that's philanthropy for all.
Courtesy of CAMFED/Eliza Powell
True
Alice Saisha was raised in the Luapula Province of Zambia with 10 brothers and sisters. She always had big dreams for when she grew up. However, she almost didn't achieve them. "I nearly had to drop out of school because of poverty," she says. She also almost became a child bride to a much older man.
"If CAMFED did not step in, my story would have been different."
CAMFED is a pan-African movement revolutionizing and supporting girls' education — which is exactly what it did for Saisha. Not only did she finish school with their support, she also got her undergraduate degree in Sociology and her Master's degree in Development Studies. She's currently looking to get her Ph.D.
And she didn't stop there. "All of the knowledge I obtained was applied right in the community where I grew up," she explains. Saisha is a trainer and facilitator in leadership and enterprise, financial education and psychosocial counseling — and an activist, philanthropist and advocate of women's rights.
"We speak out for the voiceless, create leaders along the way, and amplify the importance of children's welfare in school and at home."
Today, Saisha is a CAMFED ambassador, using her education to benefit her community and make sure that other girls, just like her, find a way out of poverty through education. Her work creates a bridge between the young women, children, youths and all the existing opportunities, information, and aid they can access. She provides mentorship and financial aid to those in need. "I come up with innovative ways to reach out to other young women or girls through media, calls, and one-on-one or group meetings," she explains. "To share knowledge, use my experience and give room to lend a listening ear whenever need be."
"I am very passionate about seeing women progress in all areas of life."
Without a doubt, she says her life story helps drive her work, not only because it is the motivation behind what she does, but also because it helps her relate to the girls she supports. Saisha is currently supporting 11 orphans and vulnerable children by directly funding their education. She is also fostering two of the children. "[They] come from similar backgrounds," she says. "They were at the verge of dropping out due to early marriage." She met them during her volunteer work in district communities and noticed a reflection of her own experiences. "I instantly connected with them and I believed they had brighter futures."
"Seeing them transform is priceless, and hearing them dream big is so touching. Their achievements speak to it all."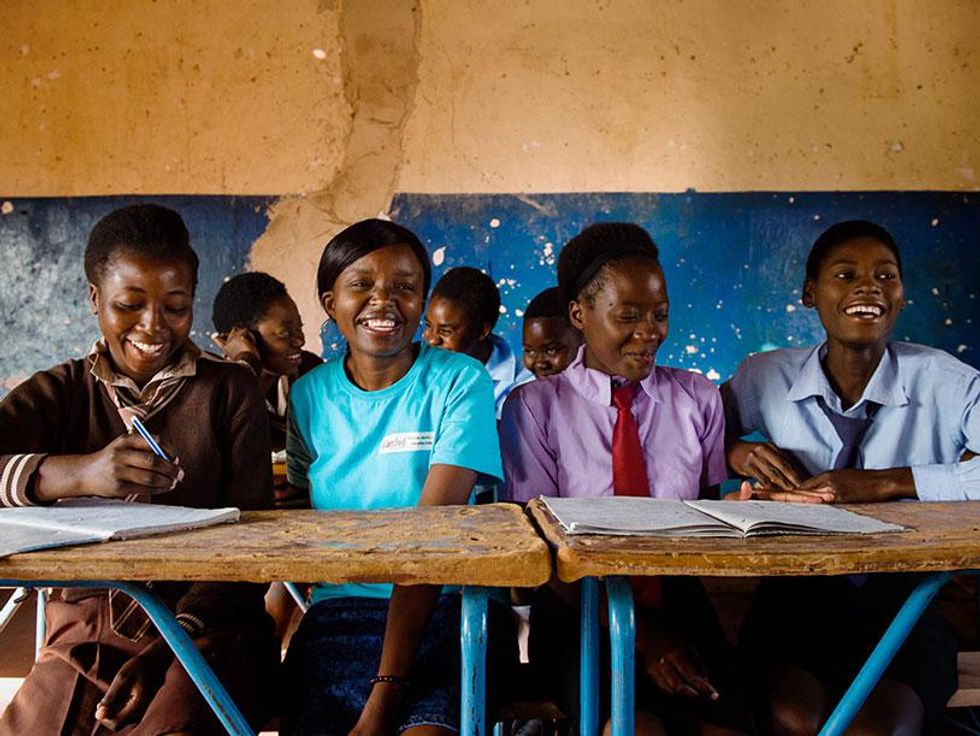 Courtesy of CAMFED/Eliza Powell
Saisha is one of Tory Burch's Empowered Women this year. The donation she receives as a nominee is being awarded to CAMFED — the very organization that helped get her where she is today.

"I want girls to be heard. It does not matter where they are in the world, what race they were born into or the type of background they came from," Saisha says. "Girls should be supported to escape unsafe environments. They need to always have a safe space which allows them to grow, and to nurture the great visions they possess."
To learn more about Tory Burch and Upworthy's Empowered Women program visit https://www.toryburch.com/empoweredwomen/. Nominate an inspiring woman in your community today.
True
Nicole Abate, a Registered Medical-Surgical Nurse living in New Mexico, starts her workday around 5:00 a.m. During her 20-minute drive to work, she gets to watch the sun rise over the Sandia Mountains as she sips her coffee.
"It's one of my favorite things to do," said Nurse Abate. "A lot of us need a little calm before the storm."
Nicole | Heroes Behind the Masks Presented by CeraVe youtu.be
In March 2020, after a fairly quiet start to the year, Nurse Abate's unit became the official COVID unit for her hospital. "It went full force after that," she says. Abate was afraid, overwhelmed with uncertainty, never knowing what was next on the wild roller coaster in this new territory, "just when you think ...we know exactly what we're doing, boom, something else hits so you adapt… that's part of nursing too." Abate faced her responsibilities courageously and with grace, as she always does, making life a little better for patients and their families "Thank you for taking care of my father," reads one recent letter from a patient's family. "You were kind, attentive and strong and we are truly grateful."
Nurses are accustomed to losing patients—it's part of the job. The difference for Nurse Abate during the pandemic was watching her patients go through it alone. That's what hit her hardest and prompted her to bring an iPad into a patient's room so that the family could say their goodbyes via FaceTime before the patient passed away. "I don't think I have a greater honor than to be the person to hold someone's hand while they take their last breath," she says.
"Nursing can be a traumatic field to work in," says Wendy Mason, PhD, a faculty member in the School of Nursing at Purdue University Global. "Nurses are exposed to pain and suffering and trauma, and we are often traumatized and not even realize it. If we aren't caring for ourselves, we can't care for others."
Self-care is important for workers in every field, but especially for nurses, who spend their working hours serving the needs of others. A recent study found that self-care reduces stress, replenishes a nurse's capacity to provide compassion and empathy, and as a result, improves the overall quality of care. But nurses aren't always very good at making themselves a priority.
Nurse Abate says that because she wasn't taught the importance of self-care early on in life, learning how to put herself first has always been a struggle. "As I've grown older, I realized it's imperative," said Abate.
"I'm stressed until I finally walk in the door and my dogs come up and greet me … it's hard with COVID because you come home and it's all over the news and you just can't escape it," said Nurse Abate. "It's very hard work but it's the most rewarding work that I've ever done in my life."
Abate feels she's become more resilient over the past year and a half, finding other ways to ground herself like taking walks, reading, and visiting her parents from a safe distance. While she's managed to make the best of a terrible situation, she's looking forward to getting back to her normal self-care routines of monthly massages, going to the gym with friends, and antiquing. After all, even nurse heroes need a little downtime.

CeraVe® is a brand rooted in the medical community and committed to supporting healthcare professionals. As part of its commitment to nurses, CeraVe® is also a proud sponsor of the ANA Enterprise and their Healthy Nurse, Healthy Nation™ initiative, a movement designed to transform the health of the nation by improving the health of the nation's 4.2 million registered nurses. Through the initiative, ANA is connecting and engaging with nurses to inspire them to take action in five key areas: activity, sleep, nutrition, quality of life and safety.
Additionally, over the past year, CeraVe® has donated more than 500,000 products to hospitals to help provide therapeutic skincare relief to healthcare workers and is continuing the product donation efforts. Nurses looking to engage with the brand and learn more about these initiatives can join the Shift Change: Nurse Essentials Facebook group, an online community hosted by CeraVe® where nurses come together for personal and professional empowerment.
To see more stories about nurse heroes, visit https://www.heroesbehindthemasks.com/.
Get stories worth sharing delivered to your inbox