More
Senator Stephanie Flowers' 'stand your ground' speech is fierce, raw, and sadly necessary.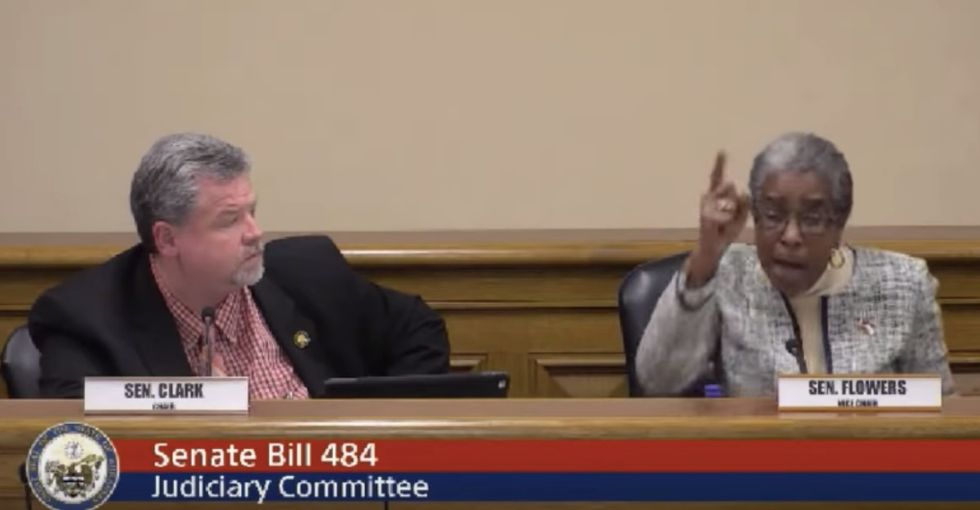 Arkansas state senator Stephanie Flowers lit up the state legislature in a debate over "stand your ground" laws.
Debates that involve guns tend to bring out people's passions. But when you're a mother of a black son debating a law that statistically makes it less likely for him to see justice if he's killed, your passion may be stronger than most.
State senator Stephanie Flowers shared her feelings in a legislative debate over Arkansas' "stand your ground" laws, taking issue with the bill being rushed through without proper debate.
---
"I'm the only person here of color," she said. "I am a mother, too. And I care for my son as much as y'all care for y'all's. But my son doesn't walk the same path as yours does. So this debate deserves more time."
Flowers pointed out that black boys and black men are regularly killed in Pine Bluff, where she lives. "For a long times since I've been back here in Arkansas," she said, her voice rising, "I have feared for my son's life!"
But she was just getting going.
Research shows racial disparities in how stand your ground laws are prosecuted.
For a little background, Arkansas law says that people can use deadly force if they feel threatened and are "unable to retreat with complete safety." A bill to remove that "duty to retreat" provision was on the table. Its passage would mean that a person wouldn't be required to try to get away before using deadly force if they felt threatened.
Despite significant controversy over them, stand your ground laws have been adopted by more than half the states in the U.S. However, research has shown racial disparities in how stand your ground cases are prosecuted. "Stand your ground" shooters are twice as likely to be convicted if a victim is white than if the victim is a person of color.
Flowers did not mince words as she shared her feelings.
As the senator got going, she laid into why open carry laws make stand your ground laws absurd, and vice versa.
"I worry about my son, and I worry about other little black boys and girls! And people coming into my neighborhood, into my city, saying they got open carry rights, walkin' down in front of my doggone office in front of the courthouse! That's a bully! Do I have a right to stand my ground with some crazy ass person walkin' around with a doggone gun? I don't know what the hell he intends to do! But I know I am scared, I feel threatened."
Flowers then pointed out some people in the legislature that carry guns, at which point the committee chairman told her she needed to stop. But Flowers wasn't having it.
"No, I don't!" she said. "What the hell are you gonna do, shoot me?!"
"I'm telling you, this deserves more attention!" she continued. "You wanna come up here with all these NRA bills ... I'm talking about my son's life!"
"Do what the hell you're gonna do! Go ahead! But you can't silence me."
Flowers got her point across. The bill was defeated by the committee 4-3, with one Republican voting with the three Democrats.
Flowers said what so many have wished they could say to lawmakers, and people are loving her for it.
Twitter users have responded to video of Flowers' fiery speech with a virtual standing ovation.
@nowthisnews Ma'am, you won my 💓. God bless Sen. Stephanie Flowers.

— Finni (@Finni) 1552060027.0
@nowthisnews Nothing is angrier than a momma bear when she's defending her cubs.

— Michele Foster (@Michele Foster) 1552063918.0
@nowthisnews This is why we need people who Represent their communities to speak out! politicians pass bills all th… https://t.co/8veaTs2mgu

— CoachGrice (@CoachGrice) 1552063569.0
@nowthisnews That's courage and leadership. We need more of her.

— Chris (@Chris) 1552060033.0
@nowthisnews I feel this rage after every shooting and after every lockdown drill my 5 & 9 year have to practice. RAGE.

— mskann (@mskann) 1552066538.0
@nowthisnews This is the kind of 'tell it like it is' that politicians need to do. Passionate plain-speaking based… https://t.co/RxWqX92vtj

— Ishena Robinson (@Ishena Robinson) 1552061306.0
@nowthisnews We will not allow you to be silenced. Many of us will pick up this argument along with you. Let's go people.

— Frank M. Goodman (@Frank M. Goodman) 1552059626.0
Thank you for speaking truth to power, Senator Flowers.
The senator's full remarks can be seen here. Watch the highlight video shared by Now This below:
State Sen. Stephanie Flowers had a powerful and emotional response to a white lawmaker trying to silence her in a d… https://t.co/w8N8qwmVTF

— NowThis (@NowThis) 1552059180.0