True
Walgreens
Natasha Rossi believed she had the perfect life.
She had two awesome kids — two and a half-year-old identical twins — and the love and support of her boyfriend, Desi. Life, she thought, could only get better.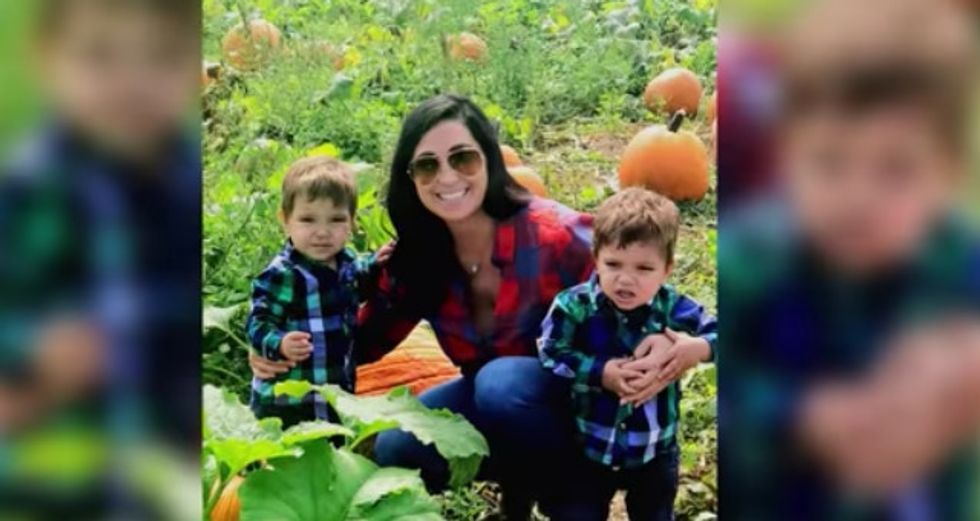 All photos via Upworthy/Walgreens.
Then, in January 2019, she was hit with some of the hardest news that anyone can hear.
<p>"Hearing those words, 'you have cancer,' my life changed forever," Natasha says. Learning that she'd been diagnosed with triple-negative breast cancer — one of the most aggressive forms of the disease — challenged Natasha to her core. She didn't know if she'd ever get her fairytale life back. Or if she'd even get to see her twins grow up. </p><p><div id="upworthyFreeStarVideoAdContainer"><div id="freestar-video-parent"><div id="freestar-video-child"></div></div></div></p><p>"I broke down and went into a really dark place for a couple of weeks," she remembers. "I stayed in my room and I kept the curtains closed and I kept the phone off. I was left in those thoughts of fear and anxiety and sadness." </p><h2>Natasha's boyfriend refused to leave her in that place.</h2><p>Desi knew that Natasha couldn't stay in her room forever, so he tried his best to pull her out of the deep depression her diagnosis had understandably brought on. He told her that no matter what, she needed to be there for her kids. <strong>They needed their mom. </strong></p><p class="shortcode-media shortcode-media-rebelmouse-image"><img class="rm-lazyloadable-image rm-shortcode" type="lazy-image" data-runner-src="https://assets.rebelmouse.io/eyJhbGciOiJIUzI1NiIsInR5cCI6IkpXVCJ9.eyJpbWFnZSI6Imh0dHBzOi8vYXNzZXRzLnJibC5tcy8xOTQ2OTYxMi9vcmlnaW4uanBnIiwiZXhwaXJlc19hdCI6MTYzMjA5ODMxNX0.5u-cxVYQxfEIzwL1Xfh0OhzvWF3ibdewRkr1WMoozPA/img.jpg?width=980" id="a1d5f" width="1158" height="612" data-rm-shortcode-id="932b99fe98e972a79fad53f530a1dbe7" data-rm-shortcode-name="rebelmouse-image"></p><p><strong>"Desi has been my biggest advocate in all of this," Natasha says. "He pushes me when I need to be pushed."</strong> With his support, she was ready to take on anything life threw at her.</p><p>When she looked in the mirror though, it was hard for her not to see someone living with cancer. Though she was still the same woman on the inside, on the outside many things had become different. </p><p>Treatment had caused Natasha's hair to fall out and her skin had changed so much as a result of chemotherapy that she didn't even know how to do her makeup anymore. </p><h2>Natasha wanted to feel like herself again. She knew she needed help. She didn't know it was available just a few blocks away. </h2><p>Where do you go when you need to relearn how to apply makeup as an adult? Who can help you adapt to the changes that cancer treatments have caused? A doctor's job is to treat the disease, but who do you go to for help on how to manage the loss of your eyelashes? </p><p>For Natasha, the answer was Walgreen's and their "<a href="https://www.walgreens.com/topic/specialty-pharmacy/feel-more-like-you.jsp" target="_blank">Feel More Like You</a>" program, which gives people living with cancer the tools they need to look and feel the way they want to during the toughest time of their lives absolutely free of charge. </p><p>At Walgreens, Natasha met with a specially-trained beauty consultant who helped her choose the right makeup and explained how to apply it. She also met with a pharmacist who had an expert knowledge of chemotherapy to discuss ways in which she could alleviate the side effects of the treatment she's undergoing. </p><p class="shortcode-media shortcode-media-rebelmouse-image"><img class="rm-lazyloadable-image rm-shortcode" type="lazy-image" data-runner-src="https://assets.rebelmouse.io/eyJhbGciOiJIUzI1NiIsInR5cCI6IkpXVCJ9.eyJpbWFnZSI6Imh0dHBzOi8vYXNzZXRzLnJibC5tcy8xOTQ2OTYxMy9vcmlnaW4uanBnIiwiZXhwaXJlc19hdCI6MTY3MDc3ODk4MH0.i3dHdejG16Jkw_JZ9wb9-lOr4IMffVUIDlOwQ_QFhsc/img.jpg?width=980" id="cf006" width="1246" height="532" data-rm-shortcode-id="0f82e3a539ff0fb86662acd06ea5093d" data-rm-shortcode-name="rebelmouse-image"></p><p>All that support is helping Natasha be the person she was before the diagnosis; a person who loves to put on makeup and feel beautiful when she looks in the mirror. </p><h2>Feeling better about her appearance, Natasha says, is making her journey easier. </h2><p>"If you feel good, your body's going to start to react to that," Natasha says. Getting advice on how to feel her very best is helping her regain her confidence and merge "the old Natasha" with who she is today. </p><p><strong>"I'm seeing life in my eyes where there wasn't life in my eyes," she says. "I feel more like me." </strong></p><h2>Whatever her future holds, Natasha's going to see it through with confidence, courage and love for herself. </h2><p>Natasha is ready for the journey that awaits her. She knows that it's going to be difficult, but she also knows that the support she gets from her loved ones will make living the life that she wants to live possible. And now that she feels more like herself again, Natasha is seeing the positive more and more. </p><p>"When you're diagnosed with cancer, it's very easy to fall into the routine of being tired and dealing with your side effects," she says. Now I'm walking away with confidence, feeling beautiful, feeling like I can take on the world."</p><p>"When people are looking at me, they're not seeing a woman with cancer. They're seeing a woman."</p><p><em>To learn more about Natasha's journey, check out this video. </em></p><div><div data-card="html" data-reactroot=""><div class="rm-shortcode" data-rm-shortcode-id="18922e954b668d2ee307f05281a795c3"><div class="fb-video" data-href="https://www.facebook.com/Upworthy/videos/2689804711092722/" data-allowfullscreen="true"></div></div></div></div>