feel more like you
A cancer diagnosis is life-changing. Here's how you can reclaim yourself.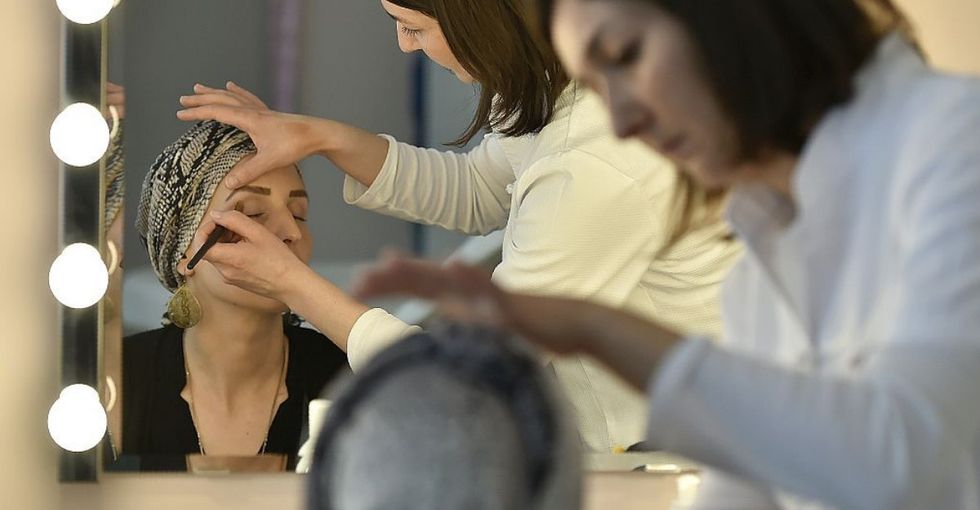 True
Walgreens
A cancer diagnosis brings with it a flood of thoughts and emotions that can be difficult to handle.
None of us are prepared to hear that we or a loved one have a life-altering disease with a potentially tragic outcome, and the uncertainty that follows a cancer diagnosis is scary.
Since 1 in 3 of us will experience a cancer diagnosis in our lifetime according to the American Cancer Society, it's good to know what to expect.
---
[rebelmouse-image 19478546 dam="1" original_size="700x467" caption="Photo by Gus Moretta on Unsplash" expand=1]Photo by Gus Moretta on Unsplash
Dr. Jennifer Lee, PhD, a Licensed Psychologist at the Aflac Cancer and Blood Disorders Center at Children's Healthcare of Atlanta, says that it's normal to feel upset, angry, sad, or numb upon hearing the words "It's cancer." "Many people's initial response to a cancer diagnosis is shock and fear," Lee says. "The shock and fear should gradually decrease, but it takes time. As families get more information about what the diagnosis means and their specific treatment plan, many families begin to shift to a more action-oriented approach to take steps to address the illness and symptoms."
Some of that action includes purposefully engaging in self-care — doing things that can help you feel more connected to yourself as you go through your cancer journey.
Self-care for cancer patients goes beyond seeing doctors and taking medications.
"Self-care" can feel like a loaded term when you're overwhelmed, but that's when caring for yourself is most vital. Many people living with cancer will see a therapist to help them deal with the emotional and psychological toll that cancer can take, but there are other things patients can do along with that to help them feel more like themselves.
Keep living your life.
[rebelmouse-image 19478547 dam="1" original_size="700x467" caption="Photo by Olivia Colacicco/Unsplash" expand=1]Photo by Olivia Colacicco/Unsplash
It can be tempting to put your life on hold while you're dealing with cancer, but Dr. Lee says that maintaining as much of a normal life as possible is one of the most important things cancer-affected families can do.
"This may require creating a 'new normal' for yourself after diagnosis," she says, "but be patient with yourself as you make these changes. If your treatment plan allows you to work or go to school, continue to do so as much as you can. This helps to alleviate financial stress, but also can be a good way to remind yourself that you are still living life while being treated for cancer."
Do the things that bring you joy, no matter how small they are.
Little things can make a big difference, especially when you're facing a major health challenge. Dr. Lee suggests regularly scheduling activities that help you relax or make you happy, such as brief exercise(doctor permitting), engaging in spiritual practices, or getting together with friends. Even something as simple as scheduling a spa session or taking regular walks in nature can help you feel more connected to yourself.
For some people living with cancer, finding ways to address how their body is changing can help boost their well-being. That begins with understanding how cancer and cancer treatments can affect you physically and making adjustments. For example, chemo and radiation can cause dry hair, eyebrow loss, dry skin and discoloration, and changes to nails and cuticles. It can also cause side effects that make you feel ill or uncomfortable.
Finding people who can help you manage those side effects and changes is important, which is why Walgreens created their Feel More Like You service. Specially trained beauty consultants and pharmacists work with individuals with cancer to help manage the internal and external changes that they're experiencing, offering individualized guidance and recommendations to help them look and feel their best. The service is available at 3,000 Walgreens locations nationwide —and it's free.
Connect with others — especially others in the cancer community.
Cancer can feel isolating sometimes, but it doesn't have to be. Dr. Lee recommends staying in touch with supportive people and communities while you're going through treatment and recovery. That might include your friends and family, your professional or religious community or local cancer support groups.
Dr. Lee says that others who have cancer can be a great resource as you go through treatment. "Connect with other people with cancer," she says, "especially if they are going through or have been through a similar treatment. Their expert tips and insights can be helpful, validating, and supportive." The Cancer Support Community website has a host of resources for people looking for such connections.
Indulge people's offers to help.
[rebelmouse-image 19478548 dam="1" original_size="700x467" caption="Photo by Emma Frances Logan/Unsplash" expand=1]Photo by Emma Frances Logan/Unsplash
Caring for yourself sometimes means letting others care for you. Many people don't know what to do when a friend, family member, or coworker is diagnosed with cancer, but most people truly want to help. Dr. Lee suggests taking people up on their offers.
"If people offer to help, let them help, even if it is something simple like picking up groceries, taking care of your pets or helping to manage childcare," she says. "Not only does it help you, it helps your friends and family feel like they can do something to help you get through this."
Cancer diagnosis and treatment can be physically and emotionally draining, which is why self-care is so important.
There are also millions of people who understand what you're going through and who have the knowledge and skills to help you through your cancer journey. There are loads of people out there who you can call upon all along that journey.
But don't forget to do small things for yourself too. You might be surprised at how a simple thing like a meditation session or a trip to a museum or a new beauty routine can boost your spirits. A person with cancer is a person first and foremost, so as you treat the cancer, make sure you're caring for yourself as well, whatever that means to you.