Courtesy of Macy's
True
"Would you like to build a snowman?" If you asked five-year-old Brantley from Texas this question, the answer would be a resounding "Yes!" While it may sound like a simple dream, since Texas doesn't usually see much snow, it seemed like a lofty one for him, even more so because Brantley has a congenital heart disease.
On Dec. 11, 2019, however, the real Macy's Santa and his two elves teamed up with Make-A-Wish to surprise Brantley and his family on his way to Colorado where there was plenty of snow for him to build his very own snowman, fulfilling his wish as part of the Macy's Believe campaign. After a joy-filled plane ride where every passenger got gift bags from Macy's, the family arrived in Breckenridge, Colorado where Santa and his elves helped Brantley build a snowman.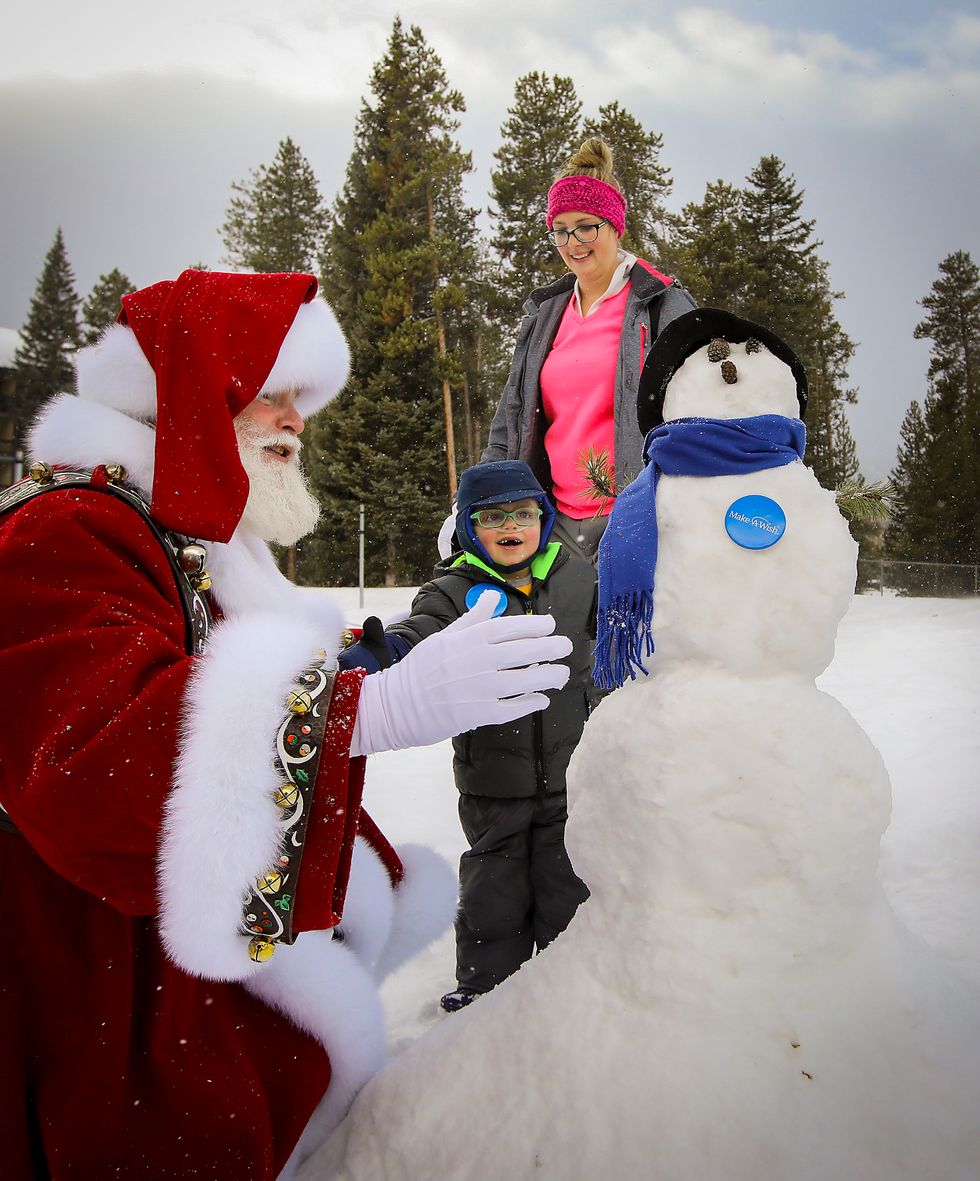 Brantley, Brantley's mom, and Santa marveling at their snowmanAll photos courtesy of Macy's
Brantley, who according to his mom had never actually seen snow, was blown away by the experience.

"Well, I had to build a snowman because snowmen are my favorite," Brantley said in an interview with Summit Daily. "All of it was my favorite part."
This is just one example of the more than 330,000 wishes the nonprofit Make-A-Wish have fulfilled to bring joy to children fighting critical illnesses since its founding 40 years ago. Even though many of the children that Make-A-Wish grants wishes for manage or overcome their illnesses, they often face months, if not years of doctor's visits, hospital stays and uncomfortable treatments. The nonprofit helps these children and their families replace fear with confidence, sadness with joy and anxiety with hope.
It's hardly an outlandish notion — research shows that a wish come true can help increase these children's resiliency and improve their quality of life. Brantley is a prime example.
"This couldn't have come at a better time because we see all the hardships that we went through last year," Brantley's mom Brandi told Summit Daily.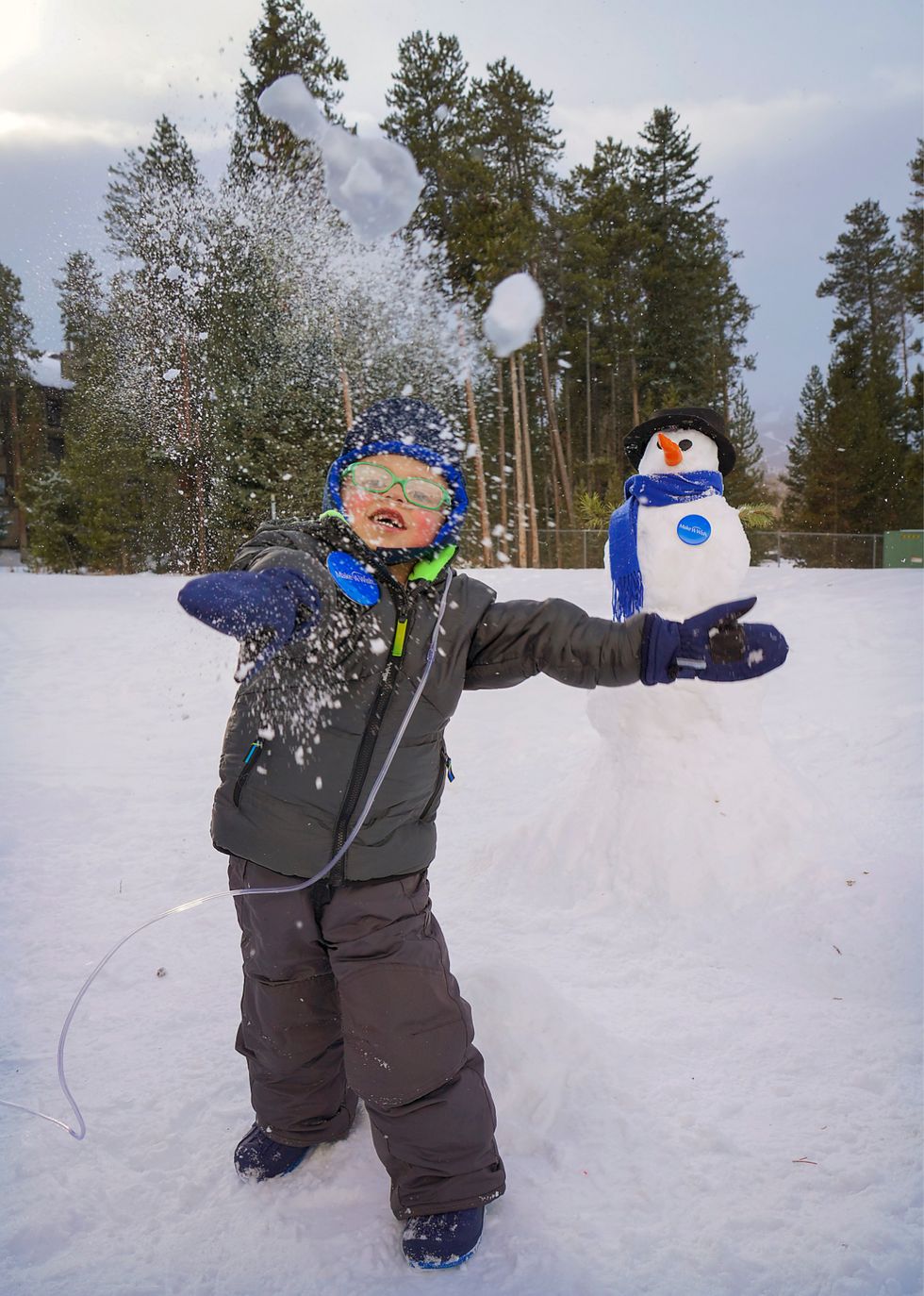 Brantley playing with snowballs
Now more than ever, kids with critical illnesses need hope. Since they're particularly vulnerable to disease, they and their families have had to isolate even more during the pandemic and avoid the people they love most and many of the activities that recharge them. That's why Make-A-Wish is doing everything it can to fulfill wishes in spite of the unprecedented obstacles.

That's where you come in. Macy's has raised over $132 million for Make-A-Wish, and helped grant more than 15,500 wishes since their partnership began in 2003, but they couldn't have done that without the support of everyday people. The crux of that support comes from Macy's Believe Campaign — the longstanding holiday fundraising effort where for every letter to Santa that's written online at Macys.com or dropped off safely at the red Believe mailbox at their stores, Macy's will donate $1 to Make-A-Wish, up to $1 million. New this year, National Believe Day will be expanded to National Believe Week and will provide customers the opportunity to double their donations ($2 per letter, up to an additional $1 million) for a full week from Sunday, Nov. 29 through Saturday, Dec. 5.
There are more ways to support Make-A-Wish besides letter-writing too. If you purchase a $4 Believe bracelet, $2 of each bracelet will be donated to Make-A-Wish through Dec. 31. And for families who are all about the holiday PJs, on Giving Tuesday (Dec. 1), 20 percent of the purchase price of select family pajamas will benefit Make-A-Wish.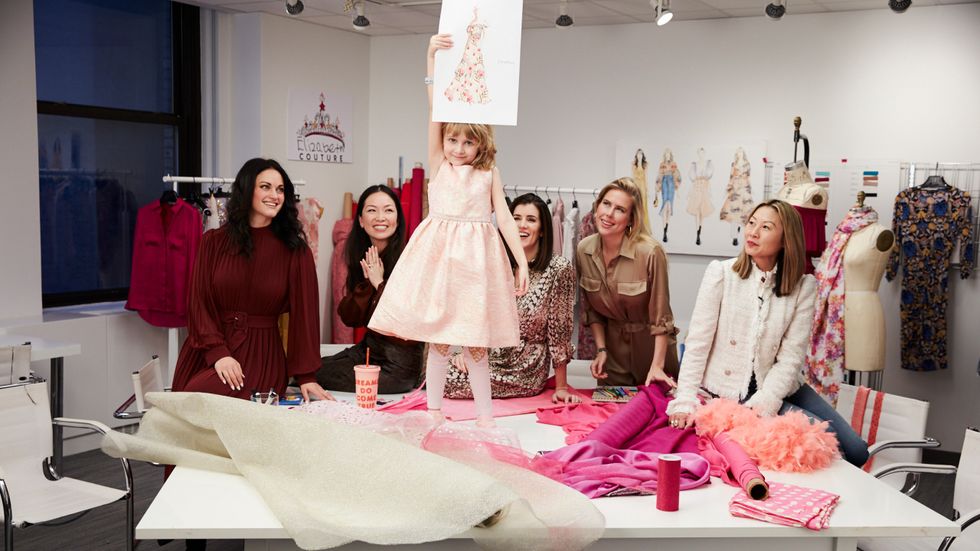 Elizabeth living out her wish of being a fashion designer
Additionally, this year's campaign features 6-year-old Elizabeth, a Make-A-Wish child diagnosed with leukemia, whose wish to design a dress recently came true. Thanks to the style experts at Macy's Fashion Office and I.N.C. International Concepts, only at Macy's, Elizabeth had the opportunity to design a colorful floral maxi dress. Elizabeth's exclusive design is now available online at Macys.com and in select Macy's stores. In the spirit of giving back this holiday season, 20 percent of the purchase price of Elizabeth's dress (through Dec. 31) will benefit Make-A-Wish.You can also donate directly to Make-A-Wish via Macy's website.

This holiday season may be a tough one this year, but you can bring joy to children fighting critical illnesses by delivering hope for their wishes to come true.