More
In New York, child sexual abuse victims can now sue their abusers decades after the abuse.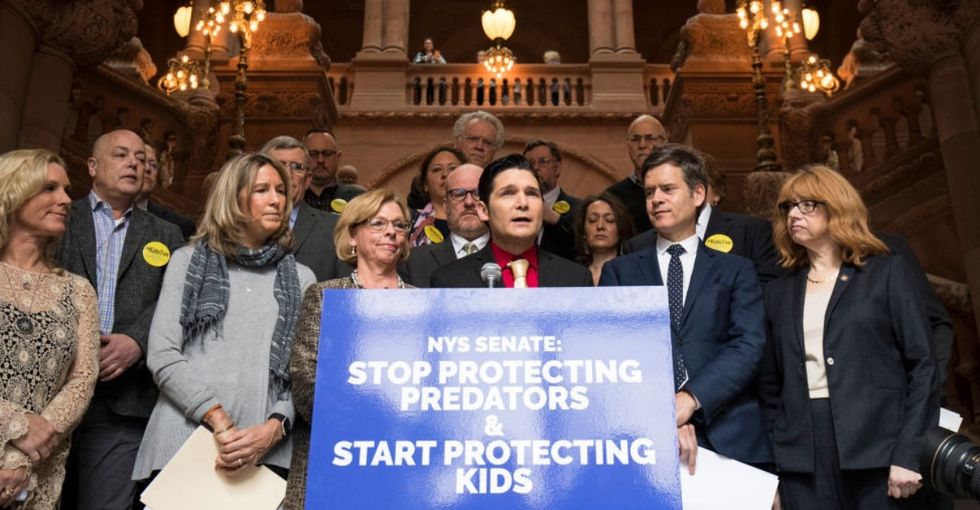 In a big win for victims of child sex abuse, New York has passed the Child Victims Act.
The state of New York has passed a bill in the legislature that significantly increases the statute of limitations for child sex abuse victims to prosecute their abusers. The Child Victims act changes the age at which people can legally bring their abusers to justice from age 23 to age 55 in civil cases, and to age 28 in criminal cases.
Considering the research that shows 1 in 5 females and 1 in 20 males are victims of child sex abuse, and that the median age for disclosing such abuse is 48, this bill will help many victims seek the justice they deserve.
---
With the passage of the bill, New York goes from one of the worst states in the nations for child sex abuse statutes of limitations to one of the best. According to the New York Times, many states allow victims to come forward decades after abuse takes place, and nine states have no statute of limitations at all.
The new age limit aligns with what we know about child sex abuse—and the tendency of victims to delay coming forward.
Many child sex abuse victims are reluctant to share their stories with anyone for years, if they ever come forward at all. As the New York State Coalition Against Sexual Assault indicates on their website, "We know that victims of childhood sexual abuse may not disclose for many years or even decades. They struggle with coming to terms with the fact that a loved one or trusted adult committed such a heinous act against them. It is important to provide these victims with the time they need to disclose and to provide an opportunity for recourse."
This bill provides a more reasonable amount of time for people who were abused as children to come to terms with their experiences and perhaps get the therapy and healing they need in order to publicly accuse their abusers. It also acknowledges that the effects of sex abuse extend far into adulthood—a validation that is too often overlooked.
The bill took more than a decade to pass, having been blocked in the Senate by insurance companies and the Catholic church, among others.
It's hard to imagine anyone taking issue with a law designed to help victims of child sex abuse seek justice, but the Child Victims Act was not a shoe in. In fact, it took 13 years and a great deal of advocacy to push it through New York's legislature.
Powerful opposing interests, including insurance companies, private schools, Catholic leadership, and Orthodox Jewish communities, claimed that allowing victims to prosecute their abusers well into adulthood could spell bankruptcy for schools, churches, and community organizations. For years, under a Republican-led Senate dominated by wealthy, well-connected lawmakers, the bill never made it to the Senate floor.
However, this past November, Democrats took the majority in the Senate. And last month, not only was the bill brought to the floor, but every single Senator, Republican and Democrat, voted to pass it. It also passed the New York Assembly 130-3.
"We apologize for not hearing you soon enough," Senator Andrea Stewart-Cousins, the new Democratic majority leader, said to victims and advocates on the Senate floor. "We apologize for making you wait so long."