True
If the past year has taught us nothing else, it's that sending love out into the world through selfless acts of kindness can have a positive ripple effect on people and communities. People all over the United States seemed to have gotten the message — 71% of those surveyed by the World Giving Index helped a stranger in need in 2020. A nonprofit survey found 90% helped others by running errands, calling, texting and sending care packages. Many people needed a boost last year in one way or another and obliging good neighbors heeded the call over and over again — and continue to make a positive impact through their actions in this new year.
Upworthy and P&G Good Everyday wanted to help keep kindness going strong, so they partnered up to create the Lead with Love Fund. The fund awards do-gooders in communities around the country with grants to help them continue on with their unique missions. Hundreds of nominations came pouring in and five winners were selected based on three criteria: the impact of action, uniqueness, and "Upworthy-ness" of their story.
Here's a look at the five winners:
Edith Ornelas, co-creator of Mariposas Collective in Memphis, Tenn.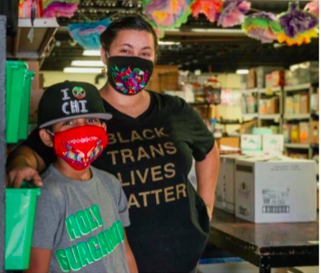 Edith Ornelas has a deep-rooted connection to the asylum-seeking immigrant families she brings food and supplies to families in Memphis, Tenn. She was born in Jalisco, Mexico, and immigrated to the United States when she was 7 years old with her parents and sister. Edith grew up in Chicago, then moved to Memphis in 2016, where she quickly realized how few community programs existed for immigrants. Two years later, she helped create Mariposas Collective, which initially aimed to help families who had just been released from detention centers and were seeking asylum. The collective started out small but has since grown to approximately 400 volunteers.

<p> In 2020, Mariposas shifted gears somewhat to help immigrants in the community who have lost their job or income stream due to the pandemic. The volunteers bring food and other essential supplies to families' homes, but Edith often lingers beyond the initial drop off, providing a sympathetic ear for families dealing with high levels of stress. Her patience and genuine concern inspires other Latinx people to come into the Mariposas circle and become community leaders, which in turn is making Memphis a more welcoming place for immigrants. </p><p> <strong>Tom Dittl, a first-grade teacher in Wisconsin</strong></p><p class="shortcode-media shortcode-media-rebelmouse-image image-crop-custom"> <img type="lazy-image" data-runner-src="https://assets.rebelmouse.io/eyJhbGciOiJIUzI1NiIsInR5cCI6IkpXVCJ9.eyJpbWFnZSI6Imh0dHBzOi8vYXNzZXRzLnJibC5tcy8yNTUzMzI5Ny9vcmlnaW4ucG5nIiwiZXhwaXJlc19hdCI6MTYzNTMxMDU4MH0.6vIYClSTWC5slsZNaSd72jt2c54VN9xCKCQEsNPKjjc/img.png?width=286&amp;coordinates=0%2C0%2C0%2C0&amp;height=381" id="cdf24" class="rm-shortcode" data-rm-shortcode-id="9de87c04606a9667dfeea201fac3a16a" data-rm-shortcode-name="rebelmouse-image" data-width="286" data-height="381"> </p><p>Like most teachers in 2020, Tom Dittl had to find fun, creative ways to navigate the challenges of teaching his students virtually. And he took it to the next level. Recently, Dittl made a music video of Jack Johnson's song "Upside Down" while dressed up as The Man in the Yellow Hat — a character from Curious George children's stories — to cheer up his students who've been cooped up at home. But the song also had a deeper purpose: He hoped it would inspire them to be kind to one another and spread that kindness around their communities.<br></p><p> In the video, he tells his students that you can always be kind, even when you're going through something tough. In response, many of them made "kindness rocks" and put them all over their neighborhoods as reminders for others to be kind. </p><p> Teachers have had one of the toughest jobs last year (not to mention every year). When a teacher like Mr. Dittl makes such a noticeable impact on his students, despite the obstacles and distractions of 2020, it's unequivocally a win. </p><p> <strong>Nikki and Jonathan Romain, creators of the Art Inc. Center in Peoria, Ill.</strong></p><p class="shortcode-media shortcode-media-rebelmouse-image image-crop-custom"> <img type="lazy-image" data-runner-src="https://assets.rebelmouse.io/eyJhbGciOiJIUzI1NiIsInR5cCI6IkpXVCJ9.eyJpbWFnZSI6Imh0dHBzOi8vYXNzZXRzLnJibC5tcy8yNTUzMzI5OC9vcmlnaW4ucG5nIiwiZXhwaXJlc19hdCI6MTY3MzM1NDM3M30.nT5owLlOTiGZAw7cGt3NEJbgn86aZVWB2FZwDffz-EA/img.png?width=336&amp;coordinates=0%2C0%2C0%2C0&amp;height=270" id="264c8" class="rm-shortcode" data-rm-shortcode-id="76dabc58784ed75d9500a605634efea4" data-rm-shortcode-name="rebelmouse-image" data-width="336" data-height="270"> </p><p>Arts education is so often overlooked, even though it can be a pathway to creative thinking, personal growth and a successful future. It's typically the first thing to go in lower-income public school curriculums, which leaves inner-city youth without an artistic outlet, or at least one that's professionally guided. So Nikki and Jonathan Romain decided to open up another artistic avenue for the inner-city youth of Peoria, Ill., in the form of an art center called <u><a href="https://www.artincpeoria.org/about" target="_blank">Art Inc.</a></u><br></p><p> The Center provides space and tools for the entire community to have an experiential arts education. Nikki and Jonathan also offer support and structure for young people to try their hand at various forms of artistic expression and pursue higher education goals. Nikki is the Executive Director and handles most of the business of the nonprofit, whereas Jonathan, using his professional artist expertise, runs development of the art and culture programs. He also serves as a counselor for youth who may be struggling to find their way. Together, they've made Art Inc. a haven for all community members and a place where art is always valued. </p><p> <strong>Kari Harbath, 'involuntary expert in grief' in Utah</strong></p><div id="cdd67" class="rm-shortcode" data-rm-shortcode-id="69268fcd99582b6116b71bf5b45dbcd8"><blockquote class="instagram-media" data-instgrm-captioned="" data-instgrm-version="4" style=" background:#FFF; border:0; border-radius:3px; box-shadow:0 0 1px 0 rgba(0,0,0,0.5),0 1px 10px 0 rgba(0,0,0,0.15); margin: 1px; max-width:658px; padding:0; width:99.375%; width:-webkit-calc(100% - 2px); width:calc(100% - 2px);"> <div style="padding:8px;"> <div style=" background:#F8F8F8; line-height:0; margin-top:40px; padding:50% 0; text-align:center; width:100%;"> <div style=" background:url(data:image/png;base64,iVBORw0KGgoAAAANSUhEUgAAACwAAAAsCAMAAAApWqozAAAAGFBMVEUiIiI9PT0eHh4gIB4hIBkcHBwcHBwcHBydr+JQAAAACHRSTlMABA4YHyQsM5jtaMwAAADfSURBVDjL7ZVBEgMhCAQBAf//42xcNbpAqakcM0ftUmFAAIBE81IqBJdS3lS6zs3bIpB9WED3YYXFPmHRfT8sgyrCP1x8uEUxLMzNWElFOYCV6mHWWwMzdPEKHlhLw7NWJqkHc4uIZphavDzA2JPzUDsBZziNae2S6owH8xPmX8G7zzgKEOPUoYHvGz1TBCxMkd3kwNVbU0gKHkx+iZILf77IofhrY1nYFnB/lQPb79drWOyJVa/DAvg9B/rLB4cC+Nqgdz/TvBbBnr6GBReqn/nRmDgaQEej7WhonozjF+Y2I/fZou/qAAAAAElFTkSuQmCC); display:block; height:44px; margin:0 auto -44px; position:relative; top:-22px; width:44px;"> </div></div><p style=" margin:8px 0 0 0; padding:0 4px;"> <a href="https://www.instagram.com/p/CJEYPoYhsLR/" style=" color:#000; font-family:Arial,sans-serif; font-size:14px; font-style:normal; font-weight:normal; line-height:17px; text-decoration:none; word-wrap:break-word;" target="_top"></a></p> </div></blockquote></div><p>Kari Harbath is no stranger to hardship and suffering. In April 2019, due to pregnancy complications, she gave birth to a daughter who is deaf, blind and has <u><a href="https://rarediseases.org/rare-diseases/charge-syndrome/" target="_blank">CHARGE syndrome</a></u>, a rare disorder that affects multiple organ systems in the body. If that weren't challenging enough, the following September, Kari lost her mother, and then this past June, she lost her husband of 13 years.<br></p><p> Yet somehow, after a year of unimaginable loss, Kari has managed to carry on with life and the care of her daughter, Sloan. In fact, she's taken what she's learned through her experience with grief and uses it to support others dealing with similar hardships. She's willing to return to that uncomfortable place over and over again just so she can help someone else climb out of it. Kari is <u><a href="https://www.instagram.com/sloan_strength_/" target="_blank">available as a resource for anyone who's struggling</a></u> or caring for someone who has disabilities and may feel lost. </p><p> <strong>Chavonne Hodges, Founder of Grillzandgranola in New York</strong></p><p class="shortcode-media shortcode-media-rebelmouse-image image-crop-custom"> <img type="lazy-image" data-runner-src="https://assets.rebelmouse.io/eyJhbGciOiJIUzI1NiIsInR5cCI6IkpXVCJ9.eyJpbWFnZSI6Imh0dHBzOi8vYXNzZXRzLnJibC5tcy8yNTUzMzMwMS9vcmlnaW4ucG5nIiwiZXhwaXJlc19hdCI6MTY2NjM4ODM2Mn0.taU1KBmingcwNtQGbx_sDvoqKDqBrj1wQkZUfN4RLZ8/img.png?width=316&amp;coordinates=0%2C0%2C0%2C0&amp;height=236" id="35ad2" class="rm-shortcode" data-rm-shortcode-id="dc123f1e7b44b1d2a3e99c38a02152fa" data-rm-shortcode-name="rebelmouse-image" data-width="316" data-height="236"> </p><p>When Chavonne was 26, she was going through a divorce and struggling with a panic disorder. She knew she needed to do something to help herself feel better, so she started working out at a gym. While there, she noticed a serious lack of racial and body diversity, so she decided to create her own gym and exercise program that caters to both. The gym is called <u><a href="https://www.grillzandgranola.com/" target="_blank">Grillzandgranola</a></u>, and aside from physical health, it's dedicated to mental wellbeing and community collaboration.<br></p><p> Amidst the COVID-19 pandemic, Grillzandgranola has moved classes online and created a space for group therapy called FEEL Better. These free therapy sessions are led by a diverse group of mental health professionals and are designed to help Black, Indigenous and people of color cope with grief, isolation, and negative emotions during these challenging times. </p><p> <strong>Love Wins<br> </strong>Kind, selfless acts have the power to change lives. It doesn't matter how big or small your act of kindness is, if it's thoughtful and genuine, you're doing it right. Not sure where to start? By joining <u><a href="https://www.pggoodeveryday.com/" target="_blank">P&amp;G Good Everyday</a></u>, you can lead with love through your actions. Each time you answer surveys, take quizzes and scan receipts, you can feel good knowing that P&amp;G will automatically donate to your favorite cause like ending period poverty, saving wildlife, or providing natural disaster relief. </p><p> <strong>Join us and #LeadWithLove.</strong> We know that even the smallest acts of good can make a world of difference. </p>