Culture
The 'Sioux Chef' works to return indigenous food to the forefront of the American diet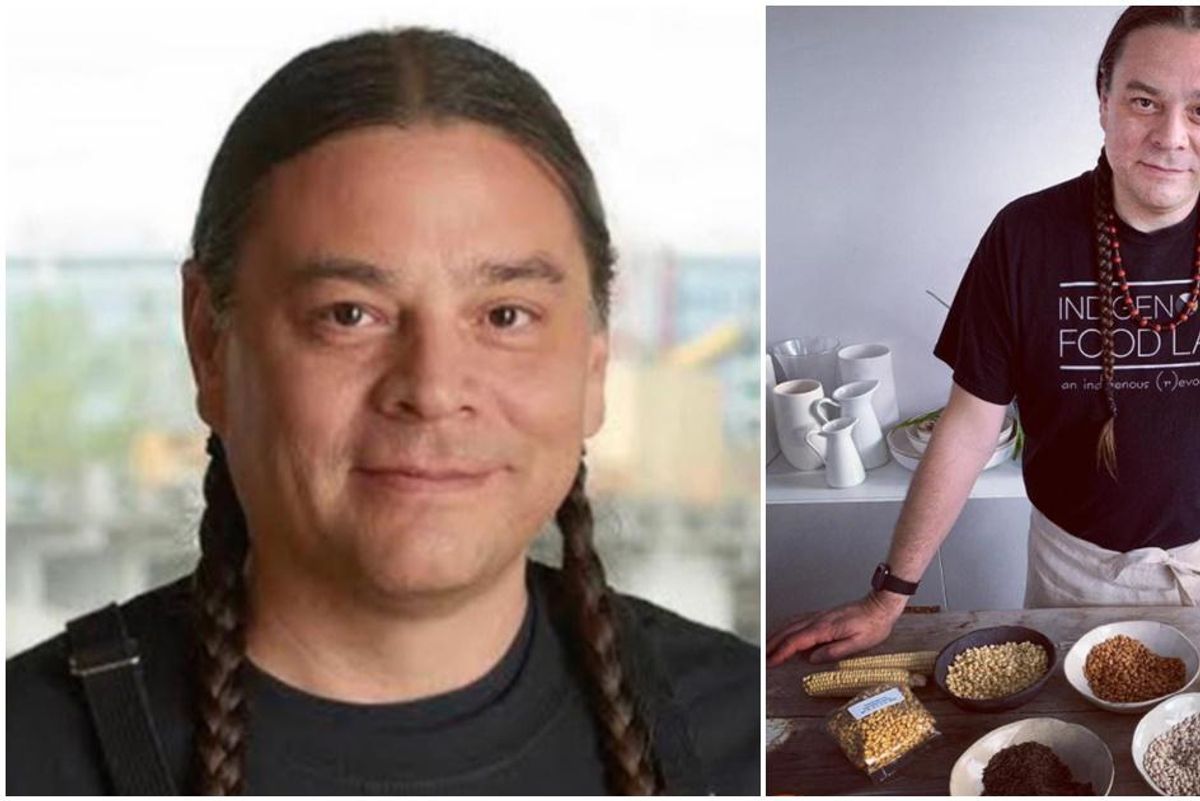 True
One of the greatest examples of how culture in the United States is shaped by colonization is the fact that Native American foods feel "ironically foreign" to most people who live on what was originally indigenous land.

This observation was made by Sean Sherman, aka "The Sioux Chef," an Oglala Lakota chef who was raised on the Pine Ridge Indian Reservation in South Dakota. Sherman grew up in one of America's poorest communities and when he was 13, got a job washing dishes at a local steakhouse.
This experience in restaurants created a lifelong affinity for cooking that he moved to Minneapolis, Minnesota to pursue.
---
After mastering French and Japanese cuisines he had an epiphany: "Just all of a sudden, I realized that there was no Native foods. I just realized the other absence of indigenous perspective anywhere in the culinary world, nothing that represented the land we were actually standing on," he told PBS Newshour.
Even though he was born on a reservation, traditional Native American foods weren't an important part of his diet growing up. He was raised on processed foods and government supplemental fare which he attributes as one of the leading causes of health issues such as obesity, heart disease and type 2 diabetes that many Native Americans face.
Sherman set out to better understand indigenous cooking by researching food systems and learning from elders, historians, and ethnobotanists.
"What were my Lakota ancestors eating and storing away? How were they getting oils and salts and fats and sugars and things like that?" he asked himself. "So it took me quite a few years of just researching, but it really became a passion."
He eventually compiled his research into a book, "The Sioux Chef's Indigenous Kitchen" which won the coveted 2018 James Beard Award for best American cookbook.
Sherman along with his partner in life and business, Dana Thompson, continued their mission to reclaim Native American food by offering catering through The Sioux Chef and the Tatanka Truck.
They also created the Indigenous Food Lab, a nonprofit that works to increase access to Native American foods.
"For Indigenous people who went through intense assimilation, we lost a lot of our food culture," Sherman told Food and Wine. "But we're at a point now where we can reclaim it and evolve it for the next generation. To be able to share culture through food will be really healing."
This summer, Sherman opened his first brick-and-mortar restaurant, Owamni, situated in downtown Minneapolis in an area that Native Americans have known as Spirit Island. The restaurant features indigenous dishes that are free from colonial ingredients such as wheat flour, sugar, pork and chicken.
Instead, diners feast on a decolonized menu featuring wild rice, nixtamalized corn from Mexico, bison, lake fish, dandelion, blueberries and corn ash.
Sherman is making his mark on Minnesota, but his work is spreading across the globe through Facebook and Instagram which he uses for activism and to share Native American history.
Sherman used Facebook to fight back against an incorrect Fox News report that called for a massive bison cull at Grand Canyon National Park.

He started a fundraiser that earned over $10,000 to help distribute Indigenous Home Meal Kits directly to families in need around the Minneapolis/St Paul area.
On Instagram, he stood with Standing Rock.
He also shared a powerful picture of his great grandfather who fought at Little Big Horn.
The Sioux Chef's work online and in the kitchen are all part of the same goal, to return Native American food and culture to the forefront of American society.

"The bigger goal is to eventually grow the Indigenous Food Lab so we can help train, educate, and support Indigenous kitchens all over the United States," Sherman said.
"We believe that there should be Indigenous restaurants everywhere because no matter where, we're on Indigenous land," Sherman says. Owamni will "help showcase further how Indigenous food fits into the American scene," he says. "You can't tell the story of American food while dismissing the Indigenous history of it all."
Why not celebrate Indigenous People's Day by cooking one of The Sioux Chef's delicious recipes? Here's how to make braised bison and root vegetables.
How To Make Cedar Braised Bison | Chef Sean Sherman | The Sioux Chef's Indigenous Kitchenwww.youtube.com