Joy
Touching viral video shows online gamer showing up to surprise his friend in real life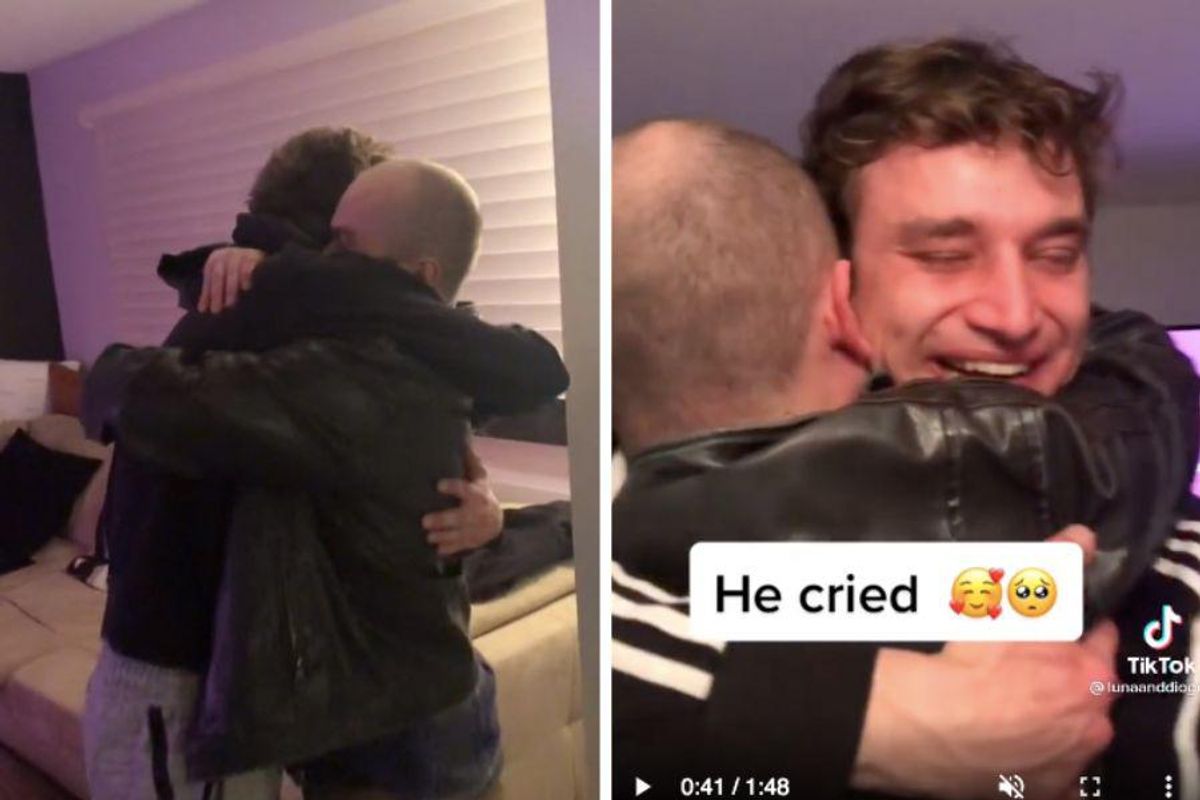 Since the introduction of online gaming and social media, much has been made about the importance of real-life interaction. While the hand-wringing over young people losing valuable social skills isn't entirely unwarranted, there can be a tendency for some to throw the baby out with the bathwater. While excessive gaming is associated with less sociability, there are social positives for many in the gaming world.
Real friendships can be—and frequently are—made through gaming. In fact, relationships forged through online gaming were a lifeline for many people during pandemic isolation periods. My 76-year-old mother plays World of Warcraft and has a group of friends she's played with for years. They know about one another's jobs and families and support each other in their real lives in addition to their gaming lives. I've seen how much these friendships play a role in her life and it's very sweet.
A video of a surprise gaming friend meet-up perfectly exemplifies how real these relationships can be.
---
TikTok user @lunaanddiogi shared the video with captions that told the story.
"My boyfriend has had an online gaming friend for over 10 years he has never met," she wrote. "At first I thought it was super weird. Then I got to know him over FaceTime."
"He ended up being super cool so we planned a surprise weekend," she continued. "He lives four hours away."
As the captions appear, we see the boyfriend lying on the couch when there's a knock at the door. "Someone's here," says the girlfriend. He sits up as she goes to the door and opens it.
"I heard you're having a bad day," said the gaming friend, as the boyfriend rose from the sofa in disbelief.
The joy. The hug. The tears. It's just the best.
Watch:
@lunaanddiogi

Besties #gamingontiktok #gamingfriends #callofduty #90dayfiance #bestfriends #imjustthinkingwithmyd #fyp #euphoria @Parker Hann
People loved the men's reactions to meeting in person and how happy they were to be together.
"Brings good tears to my eyes," wrote one commenter.
"I can confirm this is so cool and I've done the same except I flew from UK to LA to meet my friend was a BLAST for an experience," wrote another.
"This is everything honestly," wrote another. "Don't let anyone tell you that your online friends aren't real friends."
At least one commenter shared that they met their husband through gaming. (My mom shared that marriages have happened in her gaming community as well.)
Online friendships might be new in the course of human history, but like pen pals before, people can form real connections with one another long-distance through the internet. Meeting people via the internet has to be done safely, of course, but human relationships don't have to be limited by time and place. The bottom line is, when you find your people, geography is just a minor detail.