Education
Teacher donates kidney to a first-grade student so that she can "lead a normal life"
"We gave her a gift box, and under the tissue paper was a card with the words: 'It's a match."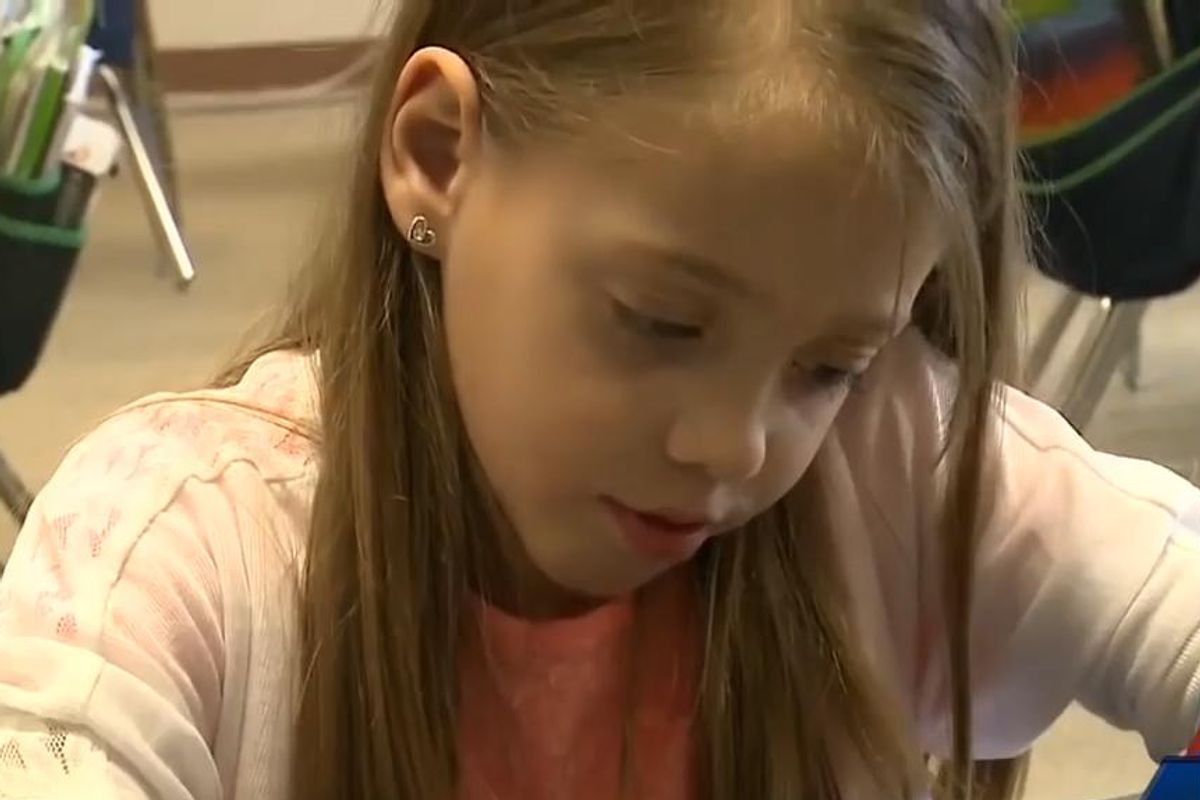 Photo pulled from YouTube video
"You could never tell this little girl has three tubes in her."

Natasha Fuller is just 8 years old, but her grandmother, Chris Burleton, told the Fond du Lac Reporter that she doesn't let her medical condition faze her. "She is happy and sassy, and she just wants to lead a normal life, and do things like go swimming."

Natasha was born with a rare abdominal muscle condition called Eagle-Barrett Syndrome, or "prune belly syndrome." Among other things, this means that her eight years of life so far have been plagued by urinary tract complications. She lives with her grandparents in Oakfield, Wisconsin — some 400 miles away from her parents and twin sister in Oklahoma — where it's easier to see the doctor, including thrice-weekly trips to the hospital for kidney dialysis.
---
But in the fall of 2015, doctors said if she didn't get a transplant, Natasha would die.
She had been waiting years to get a new kidney. But every time her name came up on the transplant list, she was already dealing with other kidney infections that would make the surgery impossible. So each time, she was bumped back to the bottom of the list.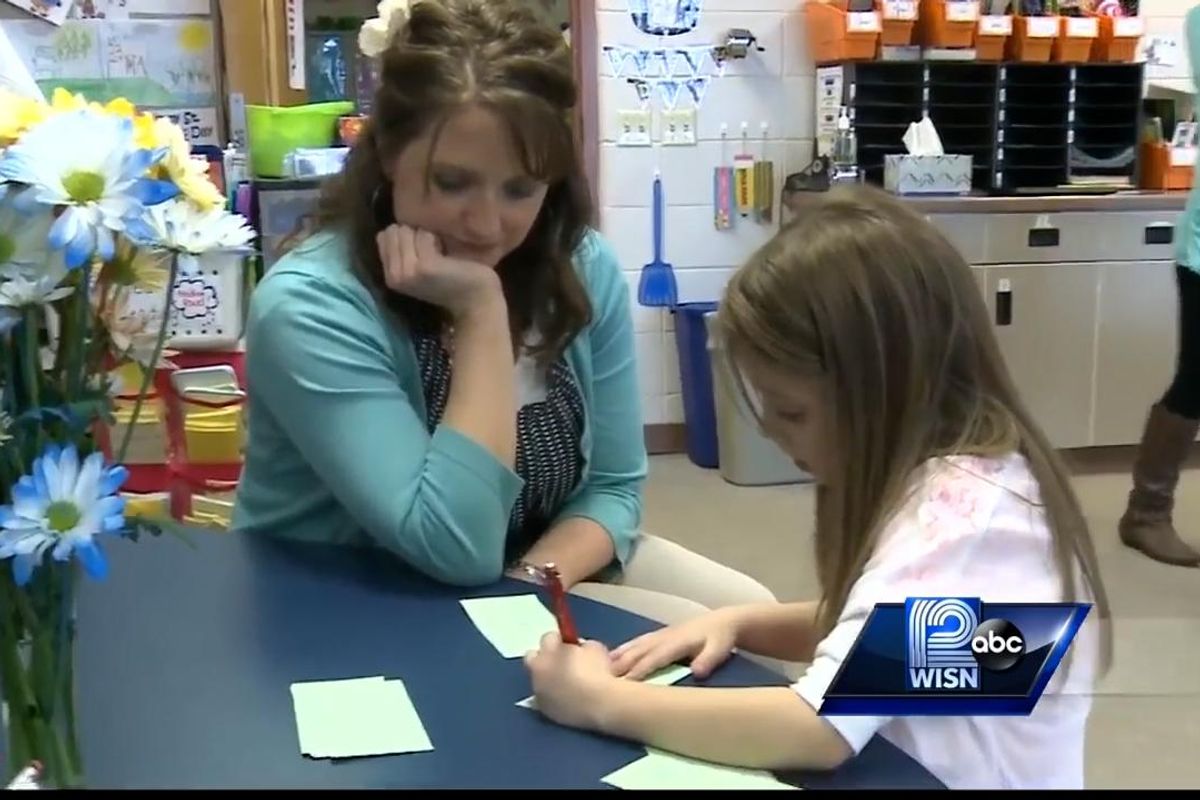 Jodi sits with Natasha, a first-grader in desperate need of a kidney transplant.
Photo pulled from YouTube video
That's when her first-grade teacher, Jodi Schmidt, was inspired to do something radical.
Jodi had only known Natasha since the start of the school year, and though she clearly cared about the girl, she couldn't quite articulate where the idea came from. All she knew was she was suddenly so overwhelmed that she had to pull the car over and call her husband.
"I told him, 'Rich, I want to give a student one of my kidneys,'" she told USA Today.
Jodi went through all the proper tests to make sure that she was a donor match for Natasha before she even shared her plan with anyone else. She checked with her principal, Becky Doyle, to see if she could take off the 8 weeks of recovery time, and confirmed with the hospital that her kidney would be used for Natasha and no one else.
Then she called Natasha's grandmother in for a special conference at the school.
Natasha's grandmother assumed that she was going in to speak about her granddaughter's grades or to address some concerns about her failing health, according to USA Today. Instead, she was greeted with a gift.
"We gave her a gift box, and under the tissue paper was a card with the words: 'It's a match,'" she explained.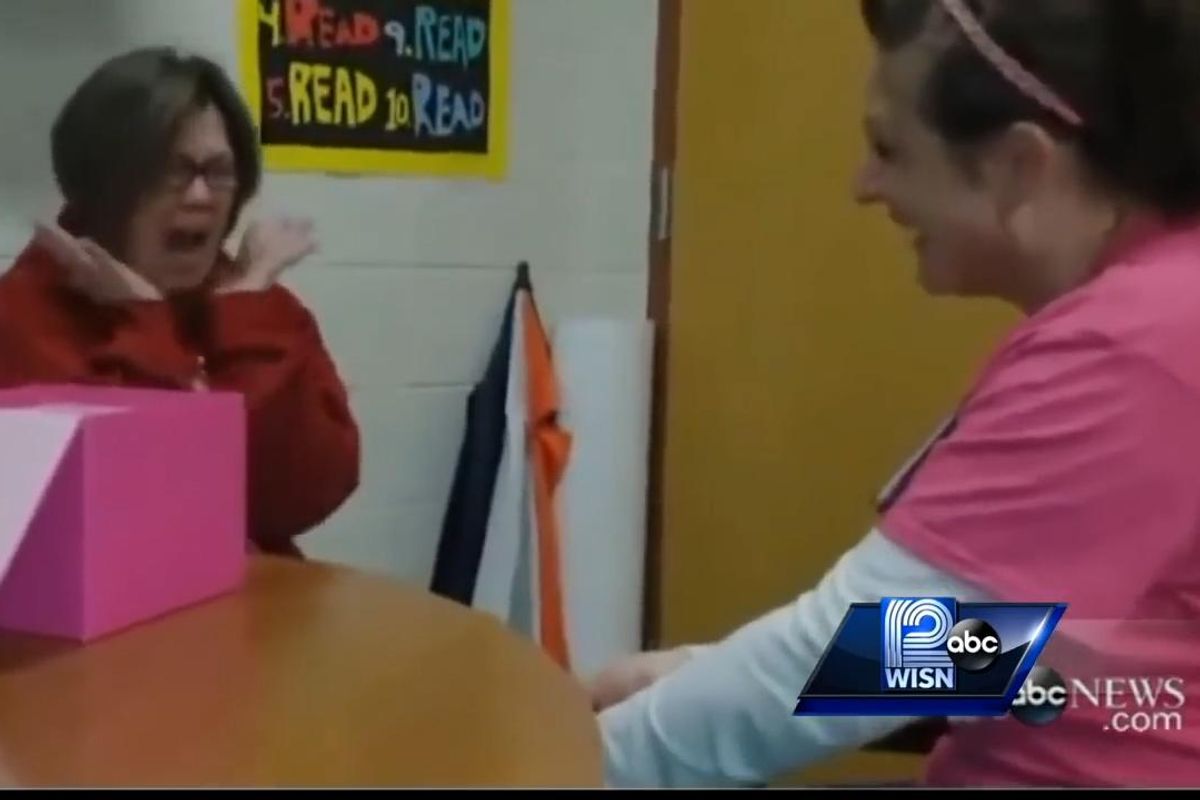 Grandma finds out Jodi is a donor match for Natasha.
Photo pulled from YouTube video
"I have had some really good days in my life, and that was probably one of the best," Jodi said after seeing the family's reaction. "I think that life takes us on very different paths, and I now have no doubt I was brought to Oakfield for a reason."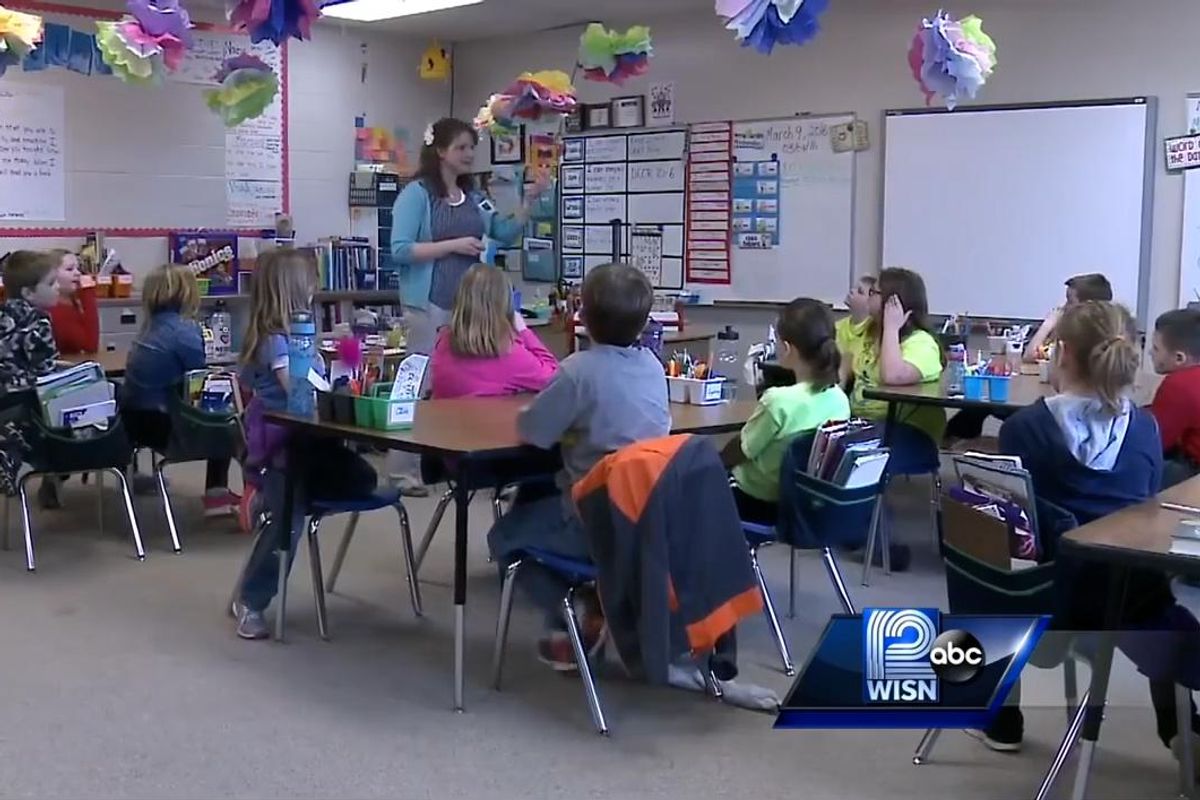 Jodi teaches her first-grade class.
Photo pulled from YouTube video
Teachers make amazing sacrifices for students every day — and Jodi's gift to Natasha is simply one of the most extraordinary.
In the meantime, you can warm your own heart with the full donor revelation video below — and let's all hope that Natasha and Jodi both have a speedy recovery after their surgeries in April!
This article originally appeared on 03.30.16