Culture
Basketball legend John Salley opens up about becoming vegan and his new Disney movie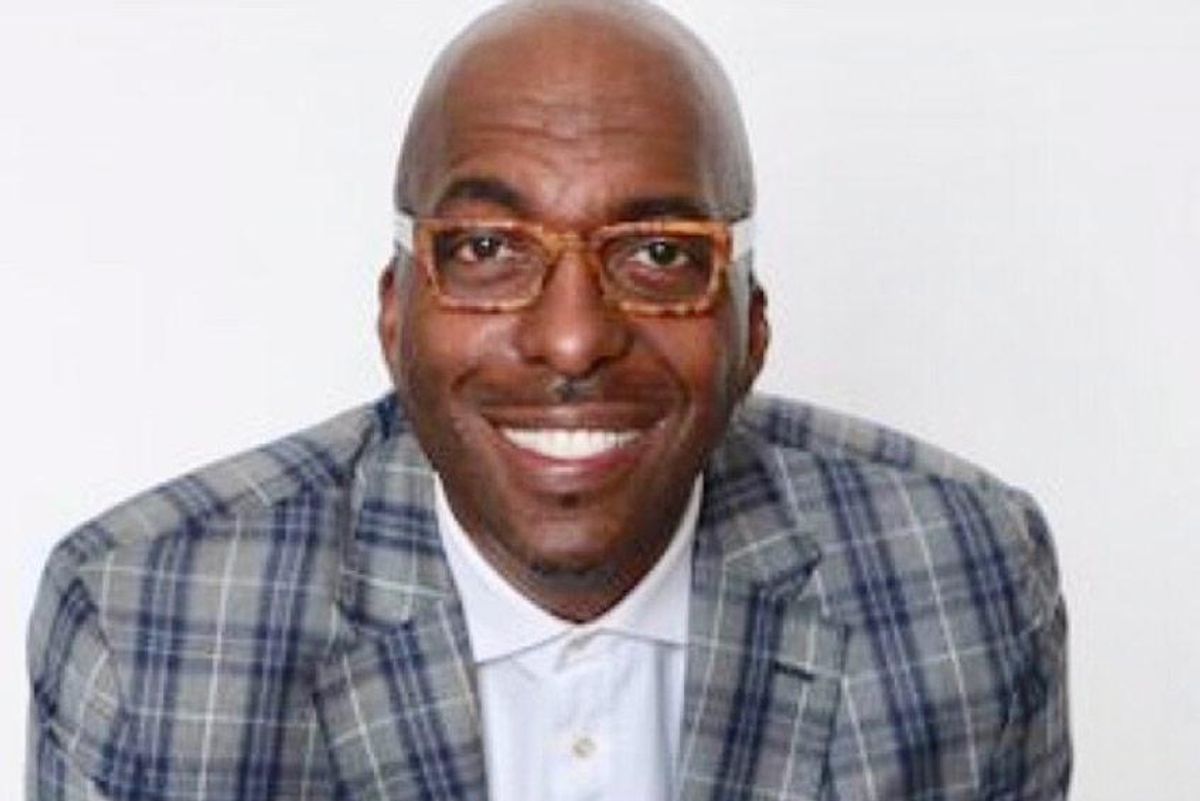 Four-time NBA champion John Salley is a true renaissance man. He's who you'd be if you were bright, thoughtful, charming, intellectually curious, and had millions of dollars at your disposal and the experience with which to make savvy business investments. He's also a vegan chef, restaurateur, philanthropist, health coach, a girl-dad of three daughters, actor, TV host, technology freak (we'll talk more about that), owns a cannabis company with his 25-year-old daughter Tyla Salley, and he's met the Dalai Lama. Did I mention he was charming?
We Zoom'd with Salley about his busy life and plethora of pursuits while he sat patiently waiting for his wife of 28 years, Natasha Duffy, to finish an appointment with her ophthalmologist. Most people of his stature would likely have canceled the interview, but Salley's not your average celebrity.
---
Upworthy: What was your interest initially in becoming vegan?
John Salley: My mother was a kosher caterer in Brooklyn growing up. She got together with a bunch of other folks from South Carolina and created a farm in the backyard of an old house. They grew cabbage, cucumbers, okra, collard greens, peppers, and I was always that kid growing up around this. I was a vegetable kid. My treat was a cucumber and ice tea. Then in 1992, my cholesterol was 271. There were guys on the team [Miami Heat] who were 12 years older with lower cholesterol than mine. They wanted to put me on a pill and it had a side effect of erectile dysfunction. So, I said there has to be a better way. I went to see a doctor, had my first colonic, I lost like 30 pounds, I was so impacted. Then I started off macrobiotic. I was jumping higher. I was happier. My libido was through the roof and my cholesterol was nowhere to be found. To this day I don't eat any oil. I only eat algae oil and I saute vegetables using water, onions, or garlic.
UP: What are your other keys to staying healthy?
JS: Walking 45 minutes a day. Stretching. I add trace minerals and one teaspoon of baking soda to my water and drink about 12-16 ounces first thing in the morning. When I get up I try not to moan.
UP: Why did you get into the cannabis business?
JS: For starters, it was the wild wild west. And the fact that so many people were in jail because of a weed that was set up for them to have. They're not growing weed in the hood. They don't make machine guns in the hood. They don't make heroin or cocaine in the hood. But now there were going to be people making billions in the weed business and it was open. I'm the first NBA ballplayer to be in the cannabis business. Obviously, the NBA didn't hire me to do any more appearances and I was fine with that. I got in [to cannabis] because I could be an entrepreneur. I wasn't grandfathered in. But, it's still not equal. They give you a license, but when you find a building, the landlord won't rent to you if you're growing. They're still redlining as many Black folks as they can. I didn't want another industry where my people were kept out. I realized the future was female. So, when we started Deuces 22 my daughter became the CEO at 19-years-old. We wanted to get in and make a difference. We're focused on destigmatizing the cannabis industry, and want to emphasize the science that is within it. This benefits the entire sector. We're also doing a reality TV show. And I film everything we do to destigmatize the industry and show the world what Tyla is doing.
UP: Tell me about your interest in IKIN, the San Diego-based hologram technology company.
JS: As soon as I saw what they were doing and after I heard the CEO and founder Joe Ward, I texted my partner and said move everything to the side. We're in! I'm a tech kid. I graduated from Georgia Tech because I love that kind of engineering. I drive a Tesla, not because it's cool, but because it's the future. When I saw the hologram, the first person I told about was my friend [actor] Will Smith. I said these guys have figured out how to bend light. If you can bend light, you can bend time. If you can bend time, you can see the future. All these things we're seeing in movies, the team at IKIN are making into a reality.
* According to IKIN,the technology turns all smart phone content into 3D experiences, including games, video, photos, driving directions, social media, etc. It becomes a much more immersive experience.Business use cases include teleconferencing, remote healthcare, warehousing, hospitality and online shopping.
UP: Talk about your upcoming Disney flick "Sneakerella."
JS: I'm a huge movie buff. One of my favorite movies is "West Side Story." I know every song. So, when I got to be in a musical, a Disney musical, I was excited. I love that the director [Elizabeth Allen Rosenbaum] is an editor and allowed me to try a lot of different takes. Seriously, I was with the next Denzel Washington [Chosen Jacobs] and Angela Bassett.[Lexi Underwood] and I told them that. And I get to play this great role, who's a lot like me. He has daughters and I have daughters. When people ask me about not having sons, I say, 'I don't have time for dummies.'But, seriously, this movie is one of the best things I've ever done.
UP: Who was the best coach you've ever worked with and why?
JS: In my life, I would say Ted Gustis. He started working with me at 12. And now I'm his health coach. He became a vegan five years ago. Chuck Daly was my favorite and first NBA coach. He never talked down to me. I'd also say Barney Davis who literally taught me fundamentals, Joe Reynolds who made me tough, and Phil Jackson gave me two shots. Although he didn't allow me to continue with the Lakers, he allowed me to jump two feet into entertainment. Because when I didn't have a chance to go back to the Lakers, he told me in June he 'didn't have any real estate for me,' in September I had my own late-night talk show on BET. As the Dalai Lama says, "Sometimes not getting what you want is an unbelievable stroke of good luck."
UP: Talk about meeting the Dalai Lama?
JS: I've always been enamored with India. So when a friend offered to do a documentary with me in India, I said, 'when do we leave?' I had the most terrifying ride for five hours up to Dharamsala. I'm understanding that this is big, but I've had championships, so I understand the pressure. You get to the palace. You get to the first floor and people are looking at you and bowing and whispering. Then you go to the second floor. And again, they're looking at you and whispering. They're checking your energy. When you get to the third level, there's one dude. He tells you don't touch him [Dalai Lama] , don't bum-rush him, and be very respectful. Then he walks in and everyone's bowing. I look at him and he says 'you've got a very nice smile.' And I say, 'I was thinking the same thing.' He tells me to come up and sit with him. He says you've got two questions. So, the first thing I ask him is to sign my shirt. Which he does in Tibetan. Then I asked him, 'How did you know you were the one?' And he says, 'How did you know you were the one?' And I said 'when I was 12-years-old I knew I'd be a pro and it all came spurting out.' And he said he had the same feeling when he was 6-year-old. Look, I've jumped out of a plane, and meeting him was the same feeling. He was ultra-human.
UP: Who do you think are the top 5 greatest NBA players? Why?
JS: They should be judged by decades. Michael Jordan was the best in the 90s. Kobe Bryant was the best in the 2000s. LeBron is the best after 2010. Now you have Kevin Durant who is the best of 2017. The best big man ever is Wilt Chamberlain and then you have Magic and Bird who changed the way we look at sports.