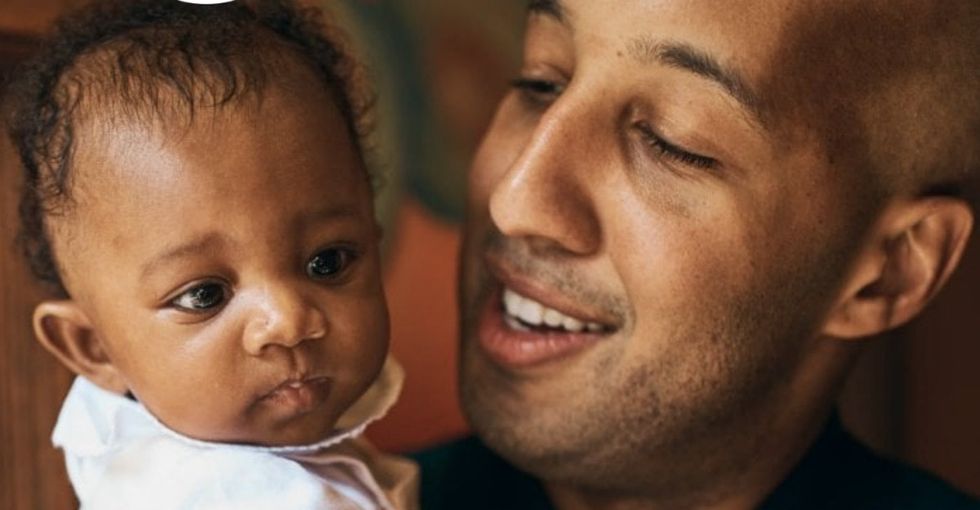 The workplace has daddy issues. While it's common for a new mother to take maternity leave postpartum, there's still a stigma surrounding paternity leave.
Most dads don't have access to paid time off to experience their child's crucial first few weeks of life. Furthermore, they feel as if their jobs might be in jeopardy if they do opt to spend time with their bundle of joy.
In order to combat the stigma around paternity leave, Dove Men+Care is offering $5,000 to new dads planning to take full-time paternity leave. Dove has pledged $1 million to new fathers across America for the next two years.
---
"Less than 1 in 5 men in the U.S. are offered any paid paternity leave. Most dads who do have it don't believe they can take their full time off to care for a newborn. It's time to change that," Dove wrote on their website ."Working dads shouldn't have to choose between their children and a paycheck—because when they take paternity leave, it benefits families, workplaces and communities."
Currently, companies with 50 or more employees are unable to fire workers for taking up to 12 weeks ofparental leave, however they are not required to pay them.
Children are expensive, and money is an object when parents are deciding whether or not they should spend time with their newborn.  Currently,70% of new dads will take 10 days of paternity leave – or less.
Dove Men+Care hopes that the campaign will raise awareness for the importance of paternity leave as well as the impact of paternity leave on children.
"While the role dads play in the lives of their families continues to evolve, 87 percent of dads report being more satisfied with their lives when they can be the caregivers they want to be," Unilever, the company that manufactures Dove Care+Men, stated in a press release.
The campaign is backed by Alex Ohanian, Reddit co-founder and husband to Serena Williams. After becoming a father to daughter Alexis Olympia, Ohanian realized just how important it is for fathers to spend time with their newborns. "No dad should have to sacrifice taking leave, and I've been very public about taking mine in an effort to show other men that you can still be an ambitious business person while also taking time for your family," Ohanian said.
Studies have shown that newborn babies benefit from having their fathers around just as much as they benefit  from having their mothers around. (Not to mention having dad around to help can be a relief to exhausted mom.) It'll be interesting to see how Dove Men+Care's initiative will impact a future generation of children and the society they will inherit.  
You can apply for the paternity leave fund on the Dove website.