Photo courtesy of Yoplait
True
When Benny Mendez asked his middle school P.E. students why they wanted to participate in STOKED—his new after school program where kids can learn to skateboard, snowboard, and surf—their answers surprised him.
I want to be able to finally see the beach, students wrote. I want to finally be able to see the snow.
Never having seen snow is understandable for Mendez's students, most who live in Inglewood, CA, just outside of Los Angeles. But never having been to the beach is surprising, since most of them only live 15-20 minutes from the ocean. Mendez discovered many of them don't even know how to swim.
"A lot of the kids shared that they just want to go on adventures," says Mendez. "They love nature, but...they just see it in pictures. They want to be out there."
Mendez is in his third year of teaching physical education at View Park K-8 school, one of seven Inner City Foundation Education schools in the Los Angeles area. While many of his students are athletically gifted, Mendez says, they often face challenges outside of school that limit their opportunities. Some of them live in neighborhoods where it's unsafe to leave their houses at certain times of day due to gang activity, and many students come to his P.E. class with no understanding of why learning about physical health is important.
"There's a lot going on at home [with my students]," says Mendez. "They're coming from either a single parent home, or foster care. There's a lot of trauma behind what's going on at home...that is out of our control."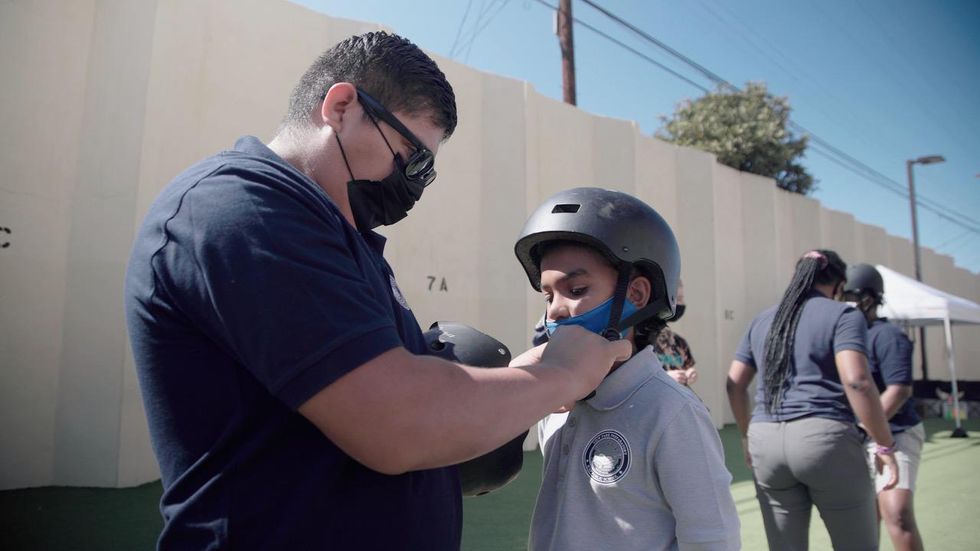 Photo courtesy of Yoplait
What Mendez can control is what he gives his students when they're in his care, which is understanding, some structure, and the chance to try new things. Mendez wakes up at 4:00 a.m. most days and often doesn't get home until 9:00 p.m. as he works tirelessly to help kids thrive. Not only does he run after school programs, but he coaches youth soccer on the weekends as well. He also works closely with other teachers and guidance counselors at the school to build strong relationships with students, and even serves as a mentor to his former students who are now in high school.
Now Mendez is earning accolades far and wide for his efforts both in and out of the classroom, including a surprise award from Yoplait and Box Tops for Education.
Yoplait and Box Tops are partnering this school year to help students reach their fullest potential, which includes celebrating teachers and programs that support that mission. Yoplait is committed to providing experiences for kids and families to connect through play, so teaming up with Box Tops provided an opportunity to support programs like STOKED.
"We know that Box Tops believes that a child's education is the foundation to achieving their fullest potential," says Rachel Letsche, assistant manager of Brand Experience at Yoplait, "so we thought that by coming together, we could help schools and parents both teach and raise 'good little humans'."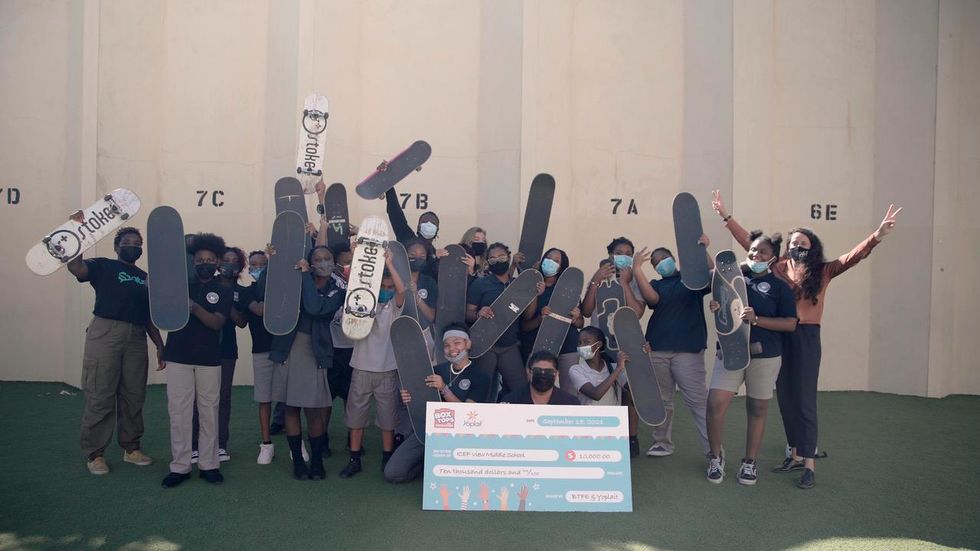 Photo courtesy of Yoplait
In recognition of his extraordinary dedication, Yoplait and Box Tops recently surprised Mendez by paying for every item on his Amazon teacher wishlist, including a tent, chairs, two portable basketball hoops as well as colorful bands, balls and cones.They also presented Mendez with $10,000 in Box Tops for his school to develop and support more programs like STOKED, along with a note praising his efforts:
Dear Mr. Mendez,

Your passion for physical fitness has inspired hundreds of View Park students to lead healthier lives! You've used your own story to relate to and mentor students who need it most. You've used your passion to help bring new and interesting sports like Skateboarding, Surfing and Snowboarding to your school.

Your dedication to your work leaves little free time, yet you still spend your weekends coaching youth soccer. Your influence will continue to change the world and lives for years to come.

As a thank you for being a role model in the classroom, Box Tops for Education has purchased every item on your wishlist and is giving ICEF View Park Middle School $10,000 that can be used toward bringing even more incredible programs to your students.

Thank you, Mr. Mendez!

Sincerely,
Yoplait & The Box Tops for Education Team
The award is particularly meaningful for Mendez as securing funding at a Title 1 school can be difficult.

"In order to provide these opportunities for students at no cost, the athletic director and I work on the funding, getting grants, and making sure that the students don't have to put any of their own money," Mendez explains.
"Funding has continued to be a challenge just in order for me to have the equipment here at the school. Writing the grants is very time consuming. Applying for certain scholarships has been a challenge."
Over the past 25 years, nearly $1 billion in Box Tops has gone to K-8 schools in the US. As part of General Mills' commitment to advance equity in education, Box Tops now has a renewed focus to help the students in schools where support is most needed.
Within the Box Tops app, shoppers can now use the search feature to find and select Schools in Need to receive funding from purchases of Box Top products. This back-to-school season, in addition to Mendez's school, Box Tops and Yoplait also donated $10,000 in Box Tops to another School in Need, Jefferson Elementary in Lennox, California.
Mendez is no stranger to the financial realities his students face, having grown up in a poor family himself. His own middle class P.E. teacher would waive his fees for cross country running competitions, which enabled him to participate in a sport he loved. Mendez credits that teacher with helping him come out of his shell and build confidence, something that Mendez now tries to do with his own students. The key, he's learned, is opening up to them about his own life and his own challenges, which helps them relate to him and feel comfortable opening up to him.
All of these accomplishments are quite extraordinary for a man who didn't even intend to become a teacher. When Mendez started college, his goal was to become an athletic trainer for professional athletes. But as he advanced in his studies, he realized that his true passion was working with student athletes, helping them develop their skills and talents, and trying to make a positive impact in their lives.
Mission accomplished, Mr. Mendez. Thank you for being a shining example, not only for your students, but for the rest of us as well.
For more information on how to help schools in need, download the Box Tops app today.
The early 2000s were a golden age for Hollywood rom-coms. Think of classics like "How to Lose a Guy in 10 Days," "Bridget Jones' Diary," "Love Actually" and, of course, "13 Going on 30," starring Jennifer Garner and pre-Marvel Mark Ruffalo. Who wouldn't fawn over their clumsy yet endearing chemistry in the film's iconic "Thriller" dance sequence.
And to think, the world was nearly deprived of such a performance.
During an interview in March with theSkimm, Garner shared that Ruffalo nearly quit the production after only one dance rehearsal.
"Our first rehearsal, I think it was Mark and Judy [Greer] and me, and Judy and I were both dancers growing up and poor Mark didn't know that," Garner explained. "And he came in and he hated the rehearsal process so much he almost dropped out."
Jennifer Garner texts with theSkimm www.youtube.com
Jennifer Garner texts with theSkimm
Ruffalo recently decided to elaborate on this behind-the-scenes story, reposted by Comments by Celebs. It seems Garner wasn't exaggerating.

"It didn't help that it took me three hours to learn what Jen mastered in about 20 minutes! 😆😂😆," he said. "Matty [Ruffalo's character in the movie] had to be dragged out on that dance floor as well, poor guy. But all this time later he is grateful he did!"

And we're grateful as well, Mark. The rom-com world is better because of it.
In case you missed this legendary dance number, here it is, full of awkward monster arm movements and teen angst for your viewing pleasure:
The Thriller Dance | 13 Going On 30 | Love Love www.youtube.com
Has all this talk about Jennifer Garner and Mark Ruffalo left you feeling nostalgic and wanting more? The two are actually set to work together again in yet another semi-sci-fi rom-com hybrid coming to Netflix called
The Adam Project
. (You even get the added bonus of Ryan Reynolds, so we know it's something to look forward to.) And if this post is any indication, it looks like Ruffalo and Garner are having just as much fun the second time around.
From Your Site Articles
Related Articles Around the Web
Photo courtesy of Macy's
True
Did you know that girls who are encouraged to discover and develop their strengths tend to be more likely to achieve their goals? It's true. The question, however, is how to encourage girls to develop self-confidence and grow up healthy, educated, and independent.
The answer lies in Girls Inc., a national nonprofit serving girls ages 5-18 in more than 350 cities across North America. Since first forming in 1864 to serve girls and young women who were experiencing upheaval in the aftermath of the Civil War, they've been on a mission to inspire girls to kick butt and step into leadership roles — today and in the future.
This is why Macy's has committed to partnering with Girls Inc. and making it easy to support their mission. In a national campaign running throughout September 2021, customers can round up their in-store purchases to the nearest dollar or donate online to support Girls Inc. and empower girls throughout the country.

Kaylin St. Victor, a senior at Brentwood High School in New York, is one of those girls. She became involved in the Long Island affiliate of Girls Inc. when she was in 9th grade, quickly becoming a role model for her peers.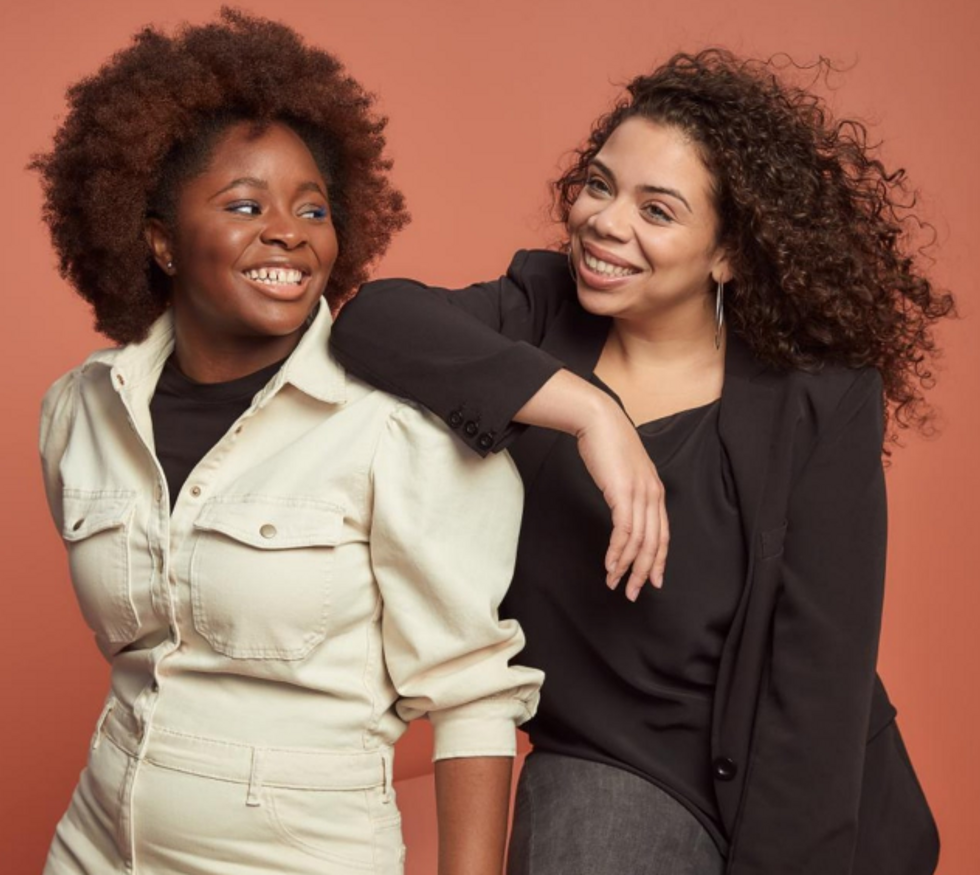 Photo courtesy of Macy's
Within her first year in the organization, she bravely took on speaking opportunities and participated in several summer programs focused on advocacy, leadership, and STEM (science, technology, engineering and math). "The women that I met each have a story that inspires me to become a better person than I was yesterday," said St. Victor. She credits her time at Girls Inc. with making her stronger and more comfortable in her own skin — confidence that directly translates to high achievement in education and the workforce.
In 2020, Macy's helped raise $1.3 million in support of their STEM and college and career readiness programming for more than 26,000 girls. In fact, according to a recent study, Girls Inc. girls are significantly more likely than their peers to enjoy math and science, to be interested in STEM careers, and to perform better on standardized math tests.
That's huge.
The benefit to girls like Kaylin causes a positive ripple effect through communities because often, once girls finish the program with Girls Inc., they continue to give back through mentorship. Just this past fall, for example, Kaylin was awarded the 2020 Girls Inc. of Long Island Scholarship and honored at their annual gala for exemplifying the mission of the organization. Kaylin is a natural leader with goals to advance her education and to continue inspiring and empowering girls in her community, and by shopping at Macy's, you can help other young women follow in her footsteps.
"Their Bold Future Leader meetings have prepared me for my future and taught me not to be afraid to put myself out there...I have had amazing opportunities to make new friends and have established relationships with such incredible women," said St. Victor.
The future really is female.
Now through September 30th, 2021, as you shop at Macy's, be sure to round up your in-store purchase to the nearest dollar and donate your extra change to support Girls Inc. — making it easier than ever before to help inspire today's generation of girls to become tomorrow's leaders.
Get stories worth sharing delivered to your inbox