Family
Here's to the stepdads who step in and step up to fatherhood.
Happy Father's Day to all the stellar stepdads.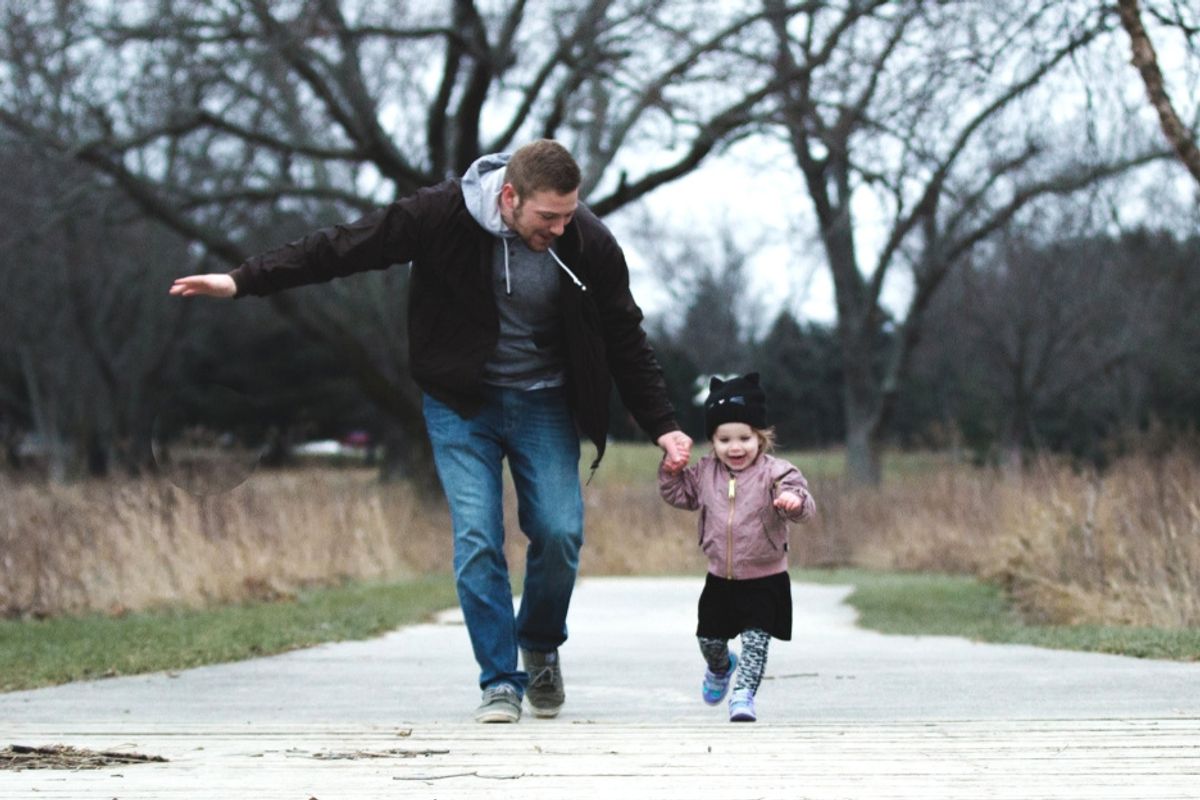 Some fathers are there at the starting line. And some fathers step in partway through the race.
My biological dad left my mom when I was a toddler. I don't even remember living with him, and my memories of weekend visits throughout my early childhood are vague. He loved me, I'm sure, but he eventually slipped off the radar. He wasn't abusive or a massive jerk or anything. He just wasn't there.
---
Who was there was my Dad. My stepdad, technically, but for all intents and purposes, he was and is my Dad. He stepped in when I was four, and stepped up to raise two kids who weren't his. He went to the parent-teacher conferences, attended the school plays, surprised us with trips to the ice cream shop, taught us how to change a tire. He loved us, not just in word but in action.
As a parent myself, I now understand how hard it must have been to step into that role. Step-parenting involves unique relationship dynamics, and you have to figure a lot of things out as you go along.
My Dad had his own demons from his own childhood to deal with on top of that, and his cycle-breaking parenting still awes me. But he was always there to cheer me on, comfort me, and talk me through life's challenges. He wasn't perfect, but he was there, actively engaged in the marathon of fatherhood every step of the way.
Stepparents are often vilified in stories, but there are millions of awesome stepdads out there.
Without a doubt there are some terrible stepdads (and stepmoms) out there, just as there are some terrible parents in general. But there are a lot of great ones, too.
Alison Tedford's 11-year-old son Liam is lucky to have such a stepdad. Liam shares his time between his mom's and dad's house equally, but when he is with his mom, he's also with his stepdad, Paul. Alison says that Liam adores Paul, who stepped into the stepdad role when Liam was 7. Paul spent the first couple of years carrying Liam to bed every night, per Liam's request. Now that he's too big for that, they practice lacrosse and play video games together.
"To support Liam in his love of lacrosse, Paul took a lacrosse coaching course and is the team statistics manager," says Tedford. "They are best buds and Paul treats him with all the love and kindness he does his own kids. He drives him all sorts of places, goes on field trips, and makes sure he has everything he needs and is having fun. He's a really great stepdad."
These aren't the kinds of stories that make the news. But millions of stepdads dive into supportive, involved parenting as they fall in love with their loved ones' kids.
Having a stepparent is now about as common as not having one.
According to the US Census Bureau, half of the 60 million kids in the U.S. live with a biological parent and the parent's partner. And the most common stepfamily configuration—85% of them—is a mom, her biological kids, and a stepfather. That's a whole lot of stepdads.
Blending families can be complicated, and figuring out how to navigate those waters isn't easy. But family counselor and researcher Joshua Gold calls becoming a stepdad both "a challenge and an opportunity."
"The challenge comes in rejecting previously held beliefs about what it means to be a father," Gold wrote in The Conversation. "Stepfathers – and I count myself as one – must avoid outmoded notions of compensating for the absent biological father or paternal dominance."
"The opportunity comes in devising a parenting role that expresses the best and fullest aspects of being a man and a father figure," he wrote. "Done consciously and deliberately, the role and function of the stepfather can be tremendously fulfilling for all, and a source of lifelong joy and pride."
Here's to the stepdads who step into that role, step up to the challenge, and make the most of the opportunity to have a positive, nurturing influence in children's lives.