Joy
Man adopts Wally as his 'emotional support alligator' and they've become the best of friends
Real friendship has a long tail.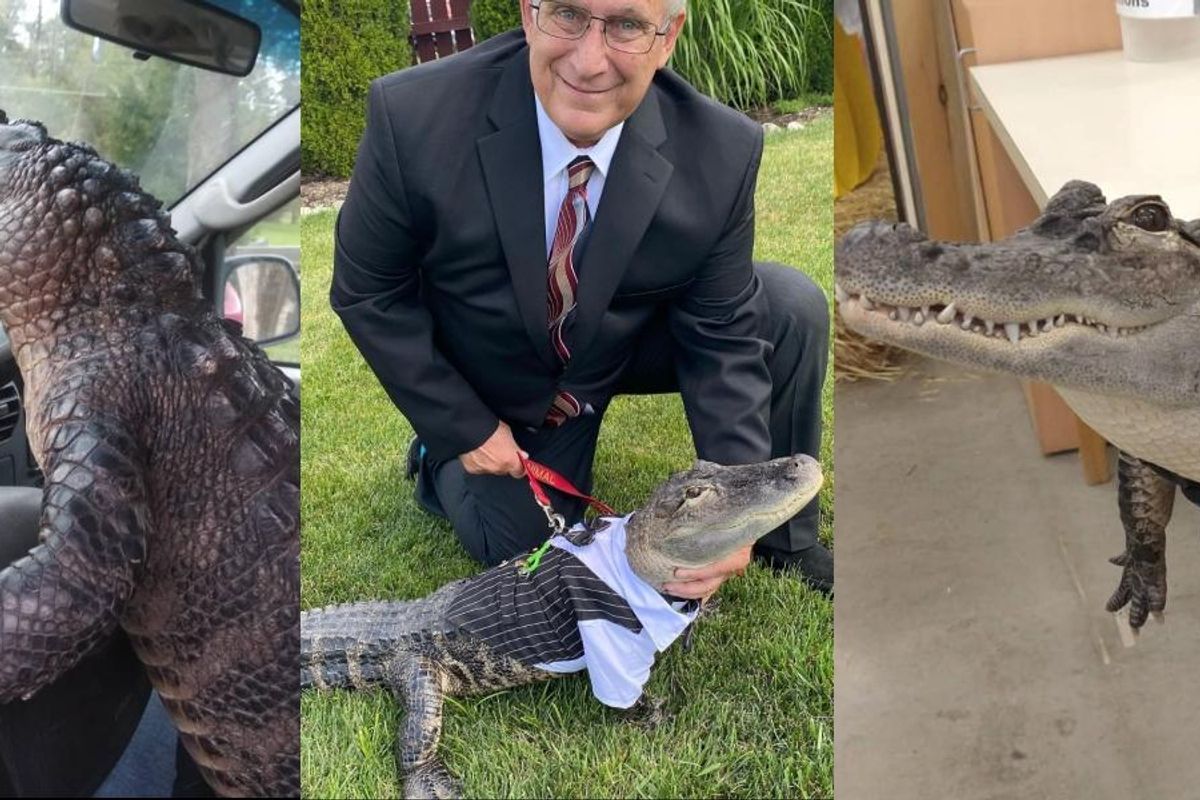 You've heard of emotional support dogs, cats and even an emotional support peacock . But an emotional support alligator? This has to be a first. Joie Henney and his emotional support alligator, Wally, are turning heads after Henney took the gator to Love Park in Philadelphia recently. In the viral video, the gator can be seen in a harness and leash while it enjoys the splash coming from the fountain. The leash is being held by a little girl, who is the child of Henney's friend. That's a lot of trust in an animal that people would generally sprint in the other direction to get away from.
---
That doesn't stop Henney from treating the animal just like he would if Wally was a golden retriever. According to an interview Henney did with CNN , he came by the alligator after a friend in Florida asked him to take the baby gator that was in his pond. Wally was just under two feet long at that point, but he came at the right time for Henney, who had recently experienced the death of three friends.
Henney told The Philadelphia Inquirer , "My doctor wanted to put me on depression medicine, and I hate taking medicine. I had Wally, and when I came home and was around him, it was all OK. My doctor knew about Wally and figured it works, so why not?"
While Wally is certainly sweet, alligators can be vicious when encountered in the wild , so this isn't something you'd want to try at home. Wally was different from the start. Henney explained to CNN, "Wally has been quite different than any alligator I've ever dealt with in the past 30 years. He doesn't show anger. He doesn't show aggression. He hasn't since the day he was caught. We never could understand why." He went on to say that the gator sleeps with him and is known to be a pillow hog.
I don't know about you, but something about sleeping with an alligator's head on my pillow doesn't seem like it would be ideal conditions for a good night's sleep. But for Henney, having his prehistoric friend snuggled next to him helps his depression and has been a support through his treatment for prostate cancer, according to CNN. I suppose once you get over the fear that the alligator might suddenly decide that your face looks like a delicious snack, you learn to relax a bit.
The same goes for people around town. Wally is somewhat of a local celebrity. When he splashed around at Love Park, people came up to hug him and take pictures. Sure, people know he's an alligator, but the love is abundant for this surprisingly docile animal. Henney has told multiple news outlets that the alligator is not interested in biting anyone.
I'll just have to take his word for it. In the meantime, we can catch up with Wally and his adventures on social media where non-locals go to see what the alligator is doing. Wishing Henney all the luck with his treatments. I'm sure Wally will continue to give the best alligator snuggles while his human recovers.