Nature
Caesar the 'no drama' therapy llama has been keeping protesters and police calm in Portland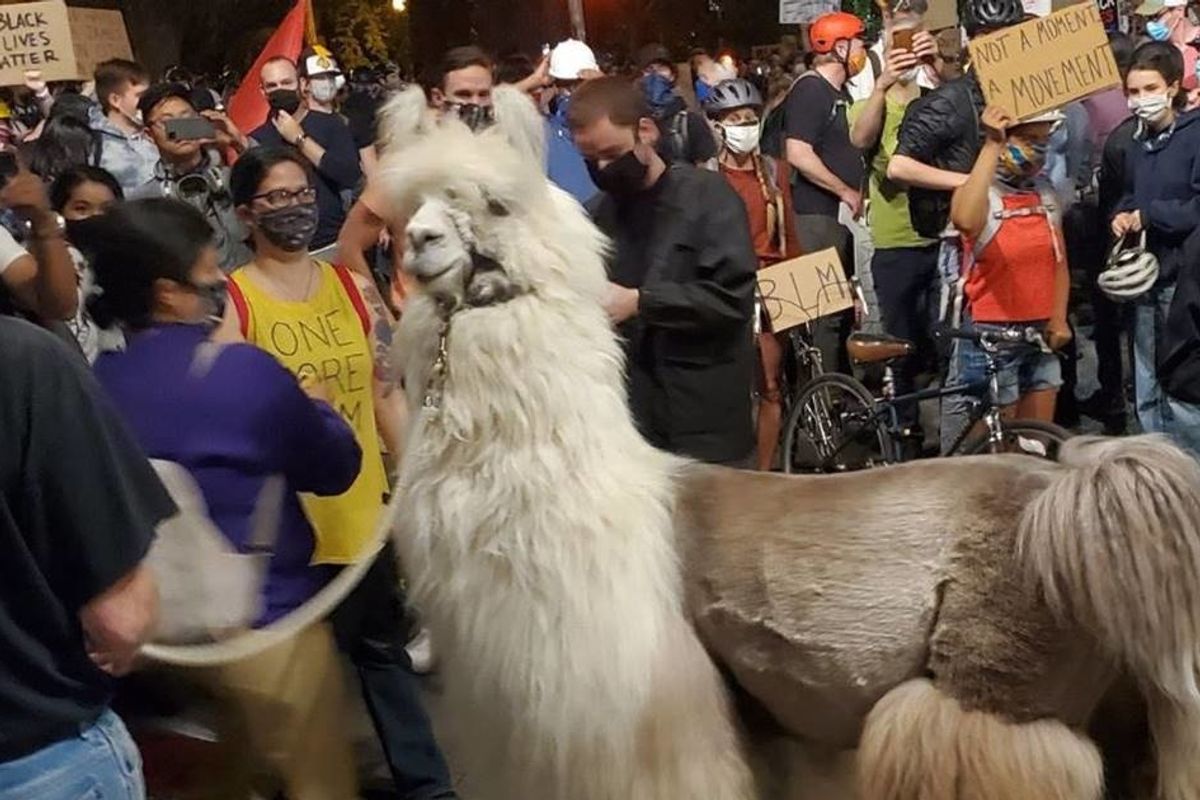 Therapy animals have become a controversial issue of recent, even though they've helped over 500,000 people overcome psychological and physical issues that have made it difficult to perform everyday tasks.

It's because countless people have tried to pass off their pets as service animals, making it hard for legitimate, trained animals to gain acceptance in public.
So when people hear about emotional support llamas, they're met with understandable cynicism. However, studies show they are great at helping children with autism spectrum disorder, and they are routinely used to cheer up people residents in retirement homes.
---
Llamas are calm, have plush fur perfect for petting, and large, empathetic eyes. Llama owners will tell you their pets have a sixth sense about people who are needy, ill or frail.
One emotional support llama has been helping cool down some of the most heated streets in America.
Caesar the no drama llama attended our protest today and I just love this photo of him lol https://t.co/aasCUqTGok

— Princess Rebel Scum (@Princess Rebel Scum) 1591504328.0
Caesar the "No Drama Llama" and his caretaker, Larry McCool, have been marching in Portland Black Lives Matter protests and he's been a calming influence on both demonstrators and the police.

Who in the world wouldn't be comforted by 350 pounds of pure fluffy bliss?
"Everyone seemed really happy to have him there, even those who were confused by his presence," Caitlin Reasor, who spotted Caesar at the peaceful protest, told The Sun, "he was definitely a good morale booster."
Demonstrator Nakaycha Dent added: "Everyone was immediately all smiles as soon as they saw him galloping past. Everyone was shocked there was a llama, but you could definitely feel the positive vibe he brought to the crowd.
McCool agrees that Caesar can be an oasis of chill in situations that can easily become heated.
"They'll be clapping, chanting, stomping, and all of a sudden I'll get up with Caesar and the next thing I know, everyone will just band around Caesar," McCool told The Washington Post.
This made me smile, this is Caeser the no drama therapy llama who gave hugs to protestors in Portland, Oregon.… https://t.co/kd7FJFrNYk

— krupali (@krupali) 1596656260.0
The 6-year-old Argentine grand champion show llama has been a comforting presence to police as well.

"I don't care how big, how staunch, how intense that somebody is — it could be a big marcher in total riot gear, and he will come up and give Caesar a big hug," said McCool. "It's all I can do to just keep him from snuggling."

Caesar and McCool have attended 10 Black Lives Matter protests in Portland this year and, over the years, have been to over 50 protests in support of a variety of civil and environmental causes.
They also regularly visit retirement homes to cheer up elderly residents.
McCool has owned the Mystic Llama Farm for over 20 years and cared for dozens of Llamas. But when he met Caesar in 2015, he knew there was something different about him.
"He's a magical creature," McCool said. "I wish I could take some credit for him, but he's developed all on his own. I've been his tutor and his guide, but sometimes I'm the one following him."