Modern Families
People are loving this uncle who stepped up to slay the father-daughter dance with his niece
Here's to the ones who show up.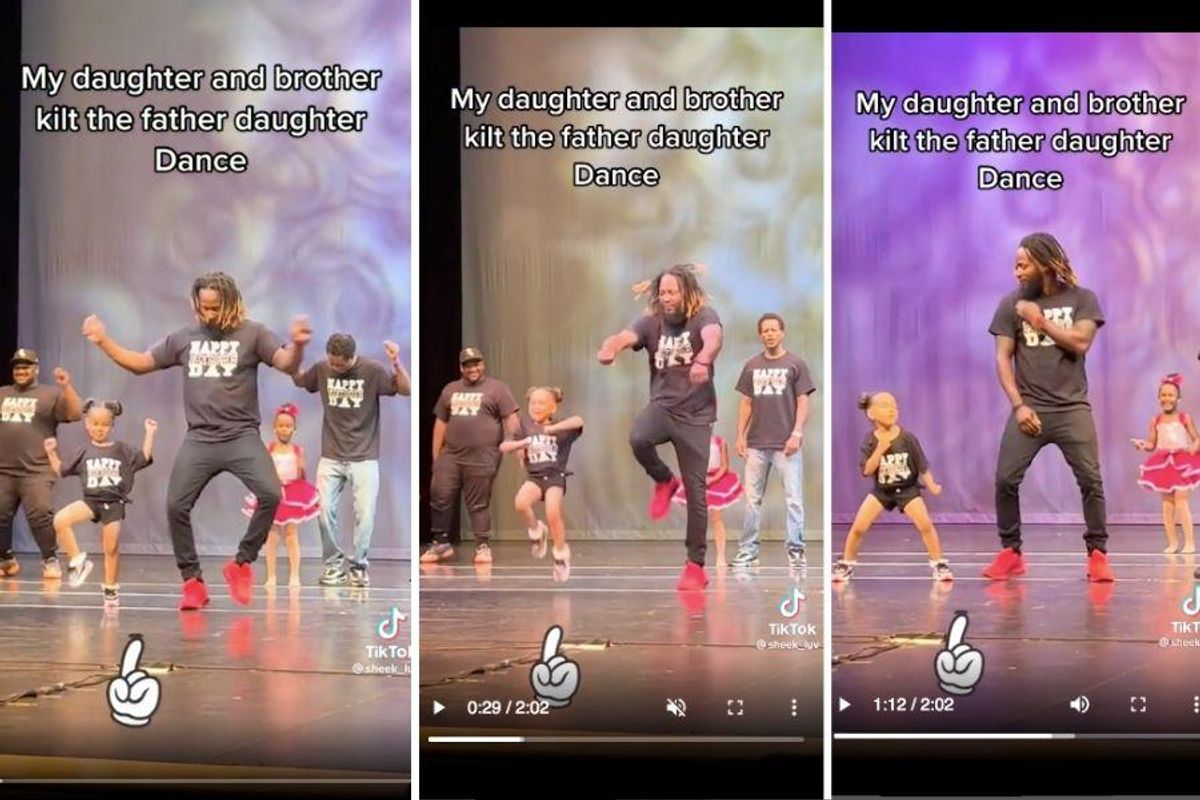 Dads and daughters dancing together often bring a smile to people's faces. But what about when a father isn't available for a father-daughter duo?
A video on TikTok gives us a gorgeous glimpse of what's possible.
TikTok user LailaMom (@sheek_luv) shared a video from her daughter's dance recital showing a group of girls dancing on stage with their dads in T-shirts that said "Happy Father's Day." Her daughter, however, was dancing with her brother (the girl's uncle).
---
Not that anyone watching the recital would know any different. As LailaMom wrote, "My brother and daughter kilt the father daughter dance." They sure did.
The young girl's confidence as she's dancing says it all. We don't know the reason her dad wasn't there and it doesn't even matter. She has an uncle who shows up and steps up for her, and she knows it. He learned the dance steps with her, followed her lead and looked like he had a blast doing it.
Showing up matters, but showing up and actually being an active part of a child's life matters even more. Extended family members, friends and community members can be powerful mentors and champions and can fill in a lot of gaps, especially when parents aren't around. The more love and support a child is surrounded by, the better, but sometimes even just one special person can make a significant difference.
Watch how wonderfully these two work together:
@sheek_luv

Shoutout to the brothers that step up for their sisters 💪🏾💪🏾#singlemom #lovedsister
Upworthy shared the video on our Instagram page and commenters lavished praise on the girl (for her dancing skills) and her uncle (for his dancing and his uncle-ing skills).
"Need more Uncles like him in this world! LOVE this!!!!" wrote one person.
"That is a FUNCLE right there!" wrote another.
"My cheeks hurt from smiling. Watched it twice," wrote a third.
Good grown-ups help make childhood everything it should be. Kudos to this man for giving his niece a dance recital to remember.