Powerful Clean
These men created a support group for fathers. They're changing what it means to be a dad.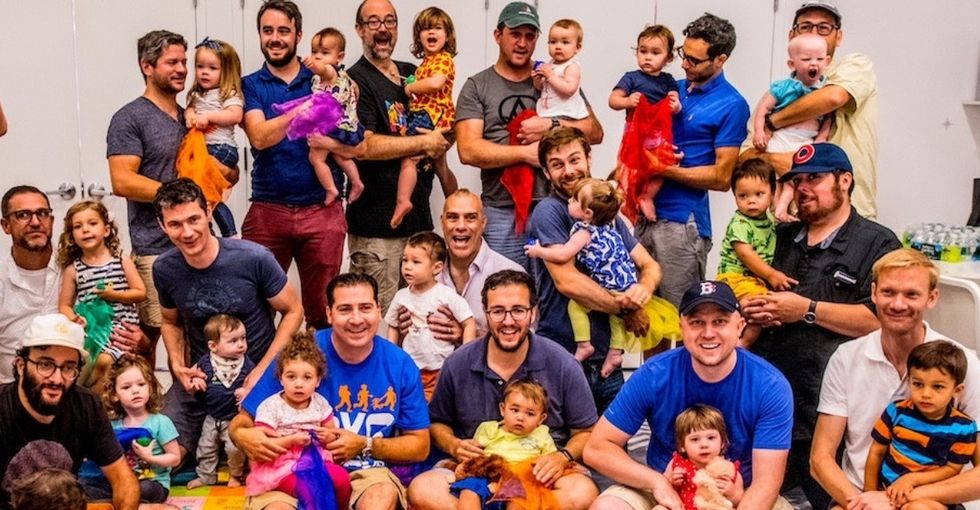 True
Clorox
Lance Somerfeld and Matt Schneider never meant to start a movement. They were just two dads taking care of their kids full-time.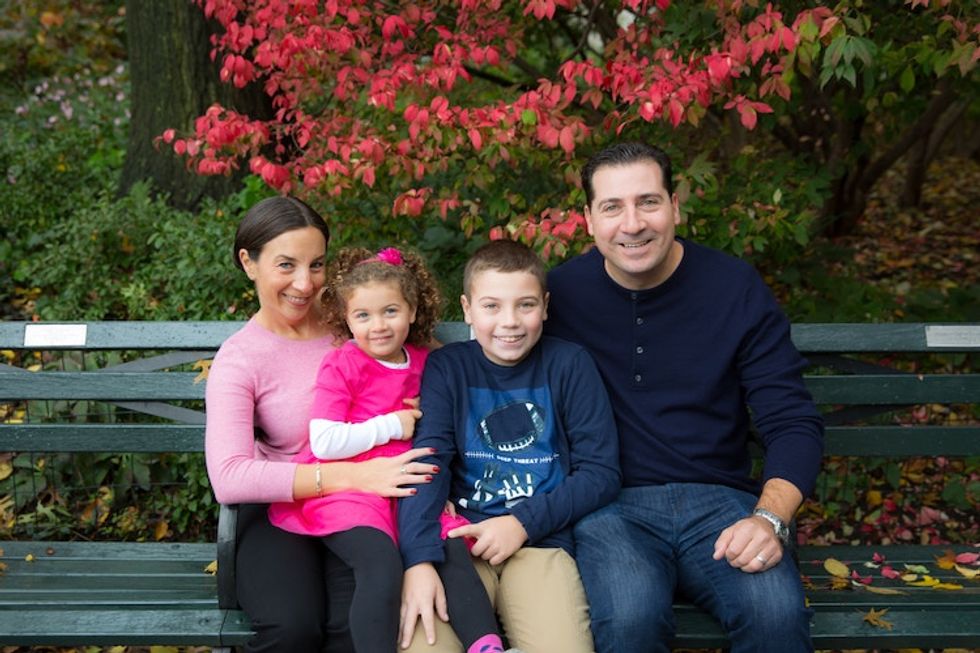 Lance Somerfeld, his wife, Jessica, and their children, Jake and Jade. Photo courtesy of Lance Somerfeld.
The two men met and became friends when they were public school teachers in The Bronx. While they'd already bonded over lesson plans, their love of their work and their students, soon Somerfeld and Schneider were bonding over something else: The fact that they'd become the primary caregivers to their children.
---
"My wife works in insurance in corporate America," says Somerfeld, who became a stay-at-home dad in 2008. "I had a position where I was teaching, and if I took a childcare leave of absence, I was still able to have a secure job waiting for me when I was ready to go back, which is a luxury and privilege these days."
"We really wanted one of the two of us to be home with our child," he adds. "We really wanted to be present and have one of us be on the front lines those first couple of years."
Schneider, who became a stay-at-home dad three years earlier, had a similar story. He and his wife knew they would have to strike a balance to make their family work. So the couple decided that Schneider would stay at home while his wife continued her career in investment management.
Though Somerfeld and Schneider loved taking care of their kids, they noticed something worrying — there wasn't a lot of support for stay-at-home dads.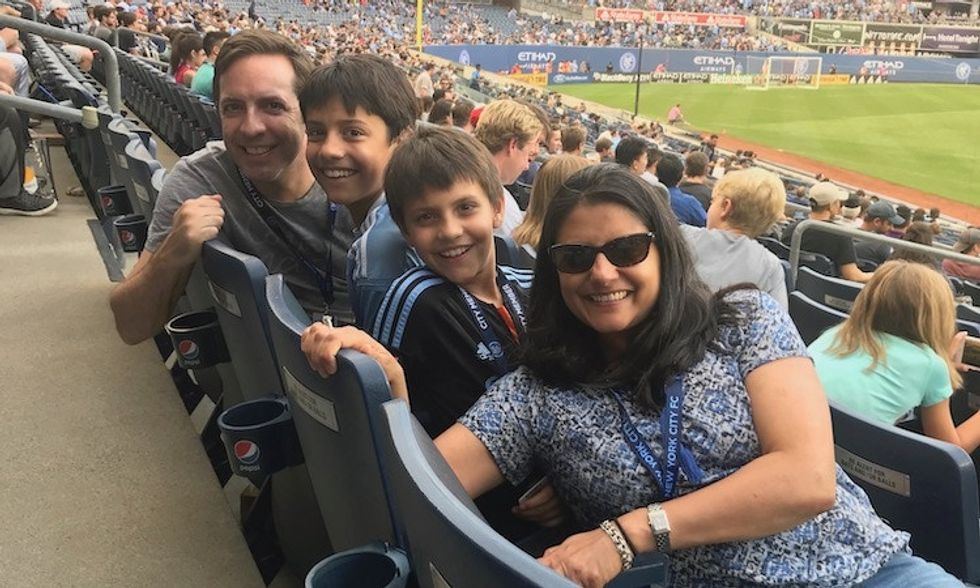 Matt Schneider, his wife, Priyanka, and their children, Max and Sam. Photo courtesy of Matt Schneider.
Traditional parental roles have changed a great deal in the past few decades. According to recent Pew research, more and more dads are seeing parenthood as a central part of their identity. They're spending more time with their kids (the number of hours fathers devote to childcare has tripled since 1965), and doing what they can (consciously or not) to bust that old trope that dads are just "babysitters giving mom a day off."
The going, however, has been slow. While trends are moving towards more balanced parenting, there are still relatively few programs and support groups that target fathers. They were able to attend some of the mommy-centric groups, but they definitely felt some hesitation about them being there coming from the moms. And when you're traversing scary new territory as a parent, lacking a truly welcoming group can be very isolating.
In a world where parenting groups are still primarily geared towards women, Somerfeld and Schneider realized that they needed to shift the narrative to be more inclusive; to paint a broader portrait of what it means to be a father in the 21st century.
As primary caregivers, they needed a place where they could share their own experiences and get guidance from other fathers.
So the dads started a meet-up group for other dads. They never imagined how quickly it would catch on.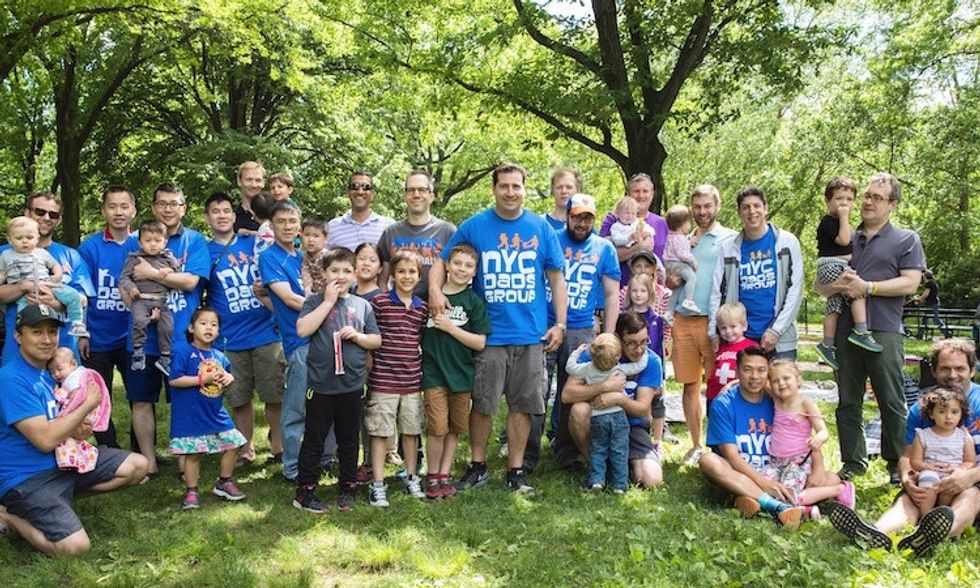 Photo courtesy of City Dads. Photo by Geg Kessler.
The initial burst of inspiration came from Somerfeld, Schneider recalls. "He was very proactive in recognizing that there must be more dads than the two of us out there that were home. [Also] there must be other guys out there that may not be at-home dads, but are engaged in their kid's life."
So Somerfeld and Schneider posted an invite to all Dads in New York City on Meetup — a website that helps people organize gatherings. The meet-ups were small at first. The dads went to the park, had playdates, and wandered through the Museum of Modern Art with their babies snuggly fastened in carriers and strollers.
Then the group began to grow. Dads were taking their kids to the zoo en masse, meeting up for ball games, and letting their kids make friends as they forged new connections themselves.
The activities were fun for the kids, but the camaraderie the dads shared can't be understated. Soon the dads started planning activities that were just for fathers. They'd meet up for happy hour to talk about their biggest hurdles and accomplishments, exchange tips on how to navigate fatherhood and all that came with it, like essential laundry hacks, and lean on each other for emotional support and guidance.
Today, that group is known as City Dads, and boasts 13,000 members across 37 cities. They've brought New Dad Bootcamps to New York City to help expectant and brand-new dads adjust to their new role (and probably learn more than a few dad jokes). They even have a blog and a podcast, all resources which Somerfeld and Schneider desperately wanted in 2008.
But it's not just about outings and meet-ups: they're giving back to their community, too. Group members regularly get together to donate their time and resources to good causes. For example, City Dads has walked with The Preeclampsia Foundation to help raise awareness, and they've collected and sorted baby clothes for the Good+ Foundation, which fights to help families out of poverty.
Most importantly, members spread the word: It doesn't matter who you are — as long as you identify as a dad, you were welcome.
City Dads is redefining what it means to be a dad. And that's a wonderful thing.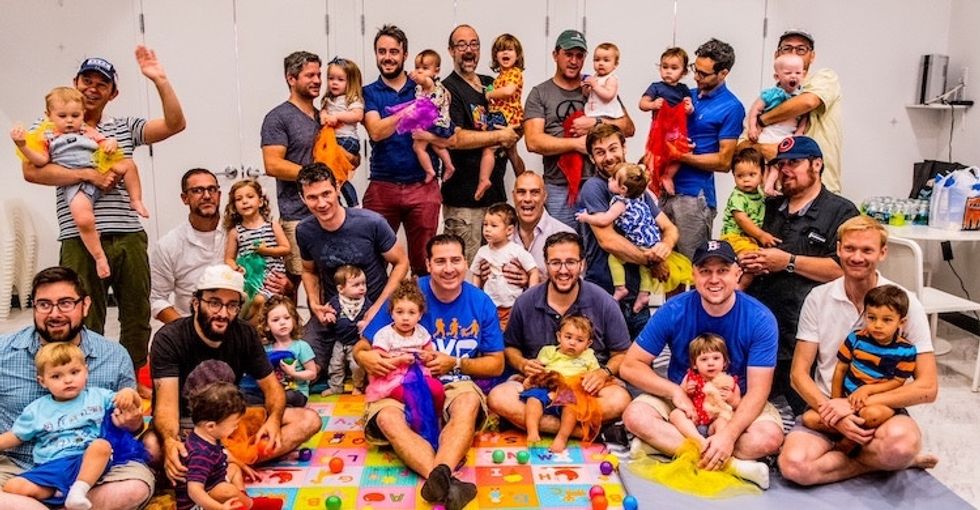 Photo courtesy of City Dads.
The stereotypical image of the American father is now grossly outdated. While many dads work, the idea that fathers are only meant to be tough, stoic breadwinners is one that gets in the way of the truth: that fatherhood is also about being gentle, cooperative, sensitive, and supportive. And that truth is liberating for all parents. It allows for more balance and more equality in relationships.
Groups like City Dads help dads explore their new identities and find their place in the world all while encouraging them to be vulnerable and real. And it's obviously a welcome change, because each year more and more dads join City Dads and make connections that will last them a lifetime.
Being stay-at-home dads gave Somerfeld and Schneider a whole new perspective on life. Getting to share in the big and small moments with their kids is something they wouldn't trade for the world.
"It's the daily, small, wondrous moments that I get to be a part of every single day," says Somerfeld. "The major milestones, are beautiful, but what's lovely is the day in and day out. Jokes that I get to be a part of with my kids, the laughs and sometimes the cries that I get to go through with them, the failures of falls, of stitches, that I'm there to give them a kiss or a hug when they need it."
"That's the most beautiful part of parenting for me. That's something that keeps me plugging away. It keeps me in my role everyday."
Clorox is committed to providing a gentle yet powerful clean, which is why they've partnered with Upworthy to promote those same traits in people, actions and ideas. Cleaning up and strength are important aspects of many of our social good stories. Check out the rest in the campaign to read more.