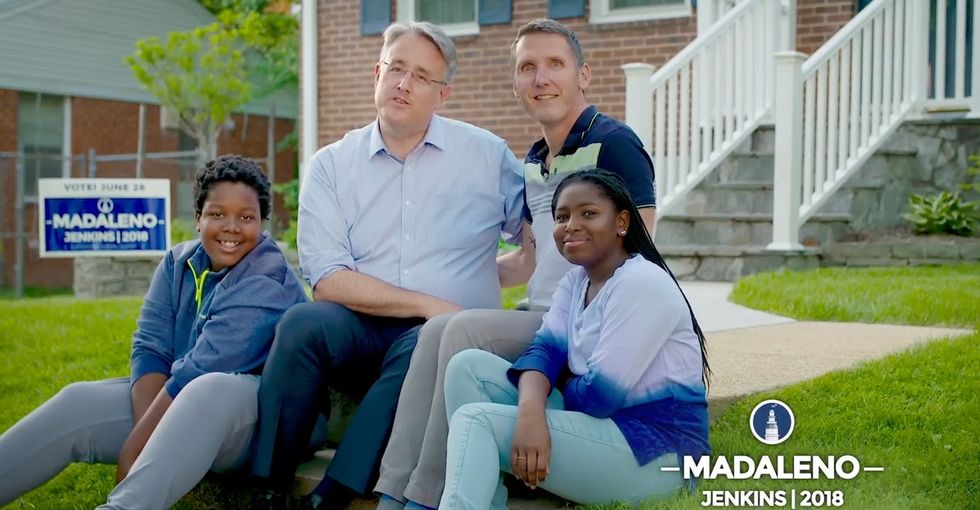 Most politicians end their campaign ads with a shot of their family. Richard Madaleno is no exception.
Madaleno, who is running to be the Democratic candidate for governor of Maryland, devoted his latest ad, "Take That," to how he'd "infuriate" Donald Trump. During the short clip, he rattles off a series of accomplishments, such as standing up for Planned Parenthood, banning assault weapons, and supporting public schools.
The video cuts to a shot of Madaleno and his husband and two children in the closing seconds. He says, "And what's the number one way I can piss off Donald Trump and the Republicans?" before leaning in and kissing his husband.
---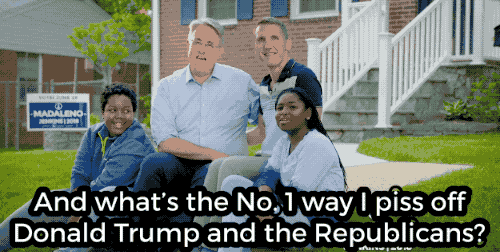 Annise Parker speaks during a Family Equality Council event in 2015. Photo by Jason Kempin/Getty Images for Family Equality Council.
"Nothing about us without us" and "No taxation without representation" are common themes throughout history touching on people who are underrepresented in an organization or government or who are simply denied a voice entirely. It's hard for LGBTQ people's concerns to be heard without proportionate representation — the same goes for other underrepresented groups, such as people of color. While nobody is suggesting we find a way to elect another 20,000 LGBTQ people immediately, it certainly couldn't hurt to have a few more in positions of power.
It would really be nice to live in a world where two husbands kissing doesn't immediately conjure shock value.
A quick look at comments on the original video shows that there are still people extremely uncomfortable with the idea that LGBTQ people exist. Unfortunately for them, we absolutely do exist. Straight politicians kiss their spouses so often that we hardly notice it (unless it gets awkward, and yeah, sometimes it gets awkward).
Perhaps the confrontational nature ("Take that!") of the kiss in Madaleno's ad makes an important point of defiance to an administration that's been anything but friendly to LGBTQ people since taking power. Let's just hope it doesn't always have to be that way.
You can watch Madaleno's full ad below.