Relationship pro tip #1: Don't call your partner "disgusting."
As she tells it, after Miranda Baker's boyfriend called her "disgusting and unattractive," she decided it was time to lose some weight — about 200 very specific pounds of it. On Nov. 12, the 18-year-old Iowa State University student tweeted, "After getting called disgusting last night, I successfully dropped 200lbs!! (Before and after pics)."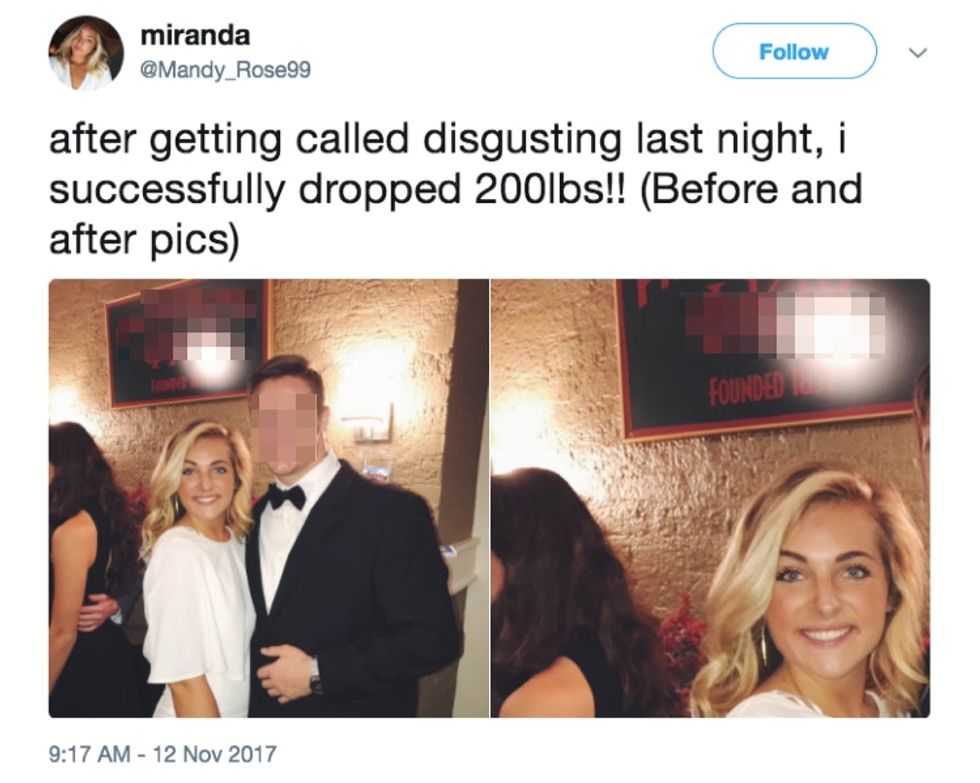 Screenshot (edited to blur) via Mandy_Rose99/Twitter.
<p>The before picture showed the couple together. The after was the same photo, with him cropped out of it. 🔥🔥🔥 </p><p>Life's just too short to spend with people who don't value you for who you are.</p><p>"The way you were acting today was disgusting and unattractive," Baker quotes her (now ex) boyfriend as telling her after they spent the day together at a tailgate. That's when she says she bounced, deciding that her time was better spent with her friends than with a guy who'd say something like that to her. </p><p>"I was done with him," she explains in a Twitter direct message. Then, according to Baker, "about an hour later he called me, yelling at me to apologize for leaving him! I said i will not apologize for leaving you after you called me disgusting and unattractive."</p><p class="shortcode-media shortcode-media-rebelmouse-image"><img type="lazy-image" data-runner-src="https://assets.rebelmouse.io/eyJhbGciOiJIUzI1NiIsInR5cCI6IkpXVCJ9.eyJpbWFnZSI6Imh0dHBzOi8vYXNzZXRzLnJibC5tcy8xOTUzMjU5OC9vcmlnaW4uZ2lmIiwiZXhwaXJlc19hdCI6MTY0OTIzMDI1MH0.jS61RGdlRlakFewqnU58FHAOFGMPUNEupFuLTI0y9iQ/img.gif?width=980" id="c316b" class="rm-shortcode" data-rm-shortcode-id="68457944a348830011bae177237df6f1" data-rm-shortcode-name="rebelmouse-image"><small class="image-media media-caption" placeholder="add caption...">GIF from "The Simpsons."</small></p><p>It almost goes without saying, but losing weight doesn't necessarily mean getting healthier, and generally we roll our eyes at weight loss as any sort of relationship advice (#AllBodiesAreGoodBodies). But when it comes to losing 200 pounds the way Baker did, that's a special exception; dropping a person who treats you like garbage is by far the healthiest way to lose weight.</p><p>Find someone who likes you for <em>you</em>, for all your flaws and quirks. If they can't do that, they should hit the road.</p><p class="shortcode-media shortcode-media-rebelmouse-image"><img type="lazy-image" data-runner-src="https://assets.rebelmouse.io/eyJhbGciOiJIUzI1NiIsInR5cCI6IkpXVCJ9.eyJpbWFnZSI6Imh0dHBzOi8vYXNzZXRzLnJibC5tcy8xOTUzMjU5OS9vcmlnaW4uZ2lmIiwiZXhwaXJlc19hdCI6MTY1MzU5NzYzN30.6weCnqlprKfdWMz98o-_UQQ5yub0OLlFFaEnA2P688U/img.gif?width=980" id="2b2eb" class="rm-shortcode" data-rm-shortcode-id="ab62beab3e4df378505f630bf1600027" data-rm-shortcode-name="rebelmouse-image"><small class="image-media media-caption" placeholder="add caption...">GIF from "Bring It On."</small></p><p><em>This article was originally published on November 14, 2017. </em></p>