popular
Two candidates running against each other in Utah made a new ad together about rejecting hate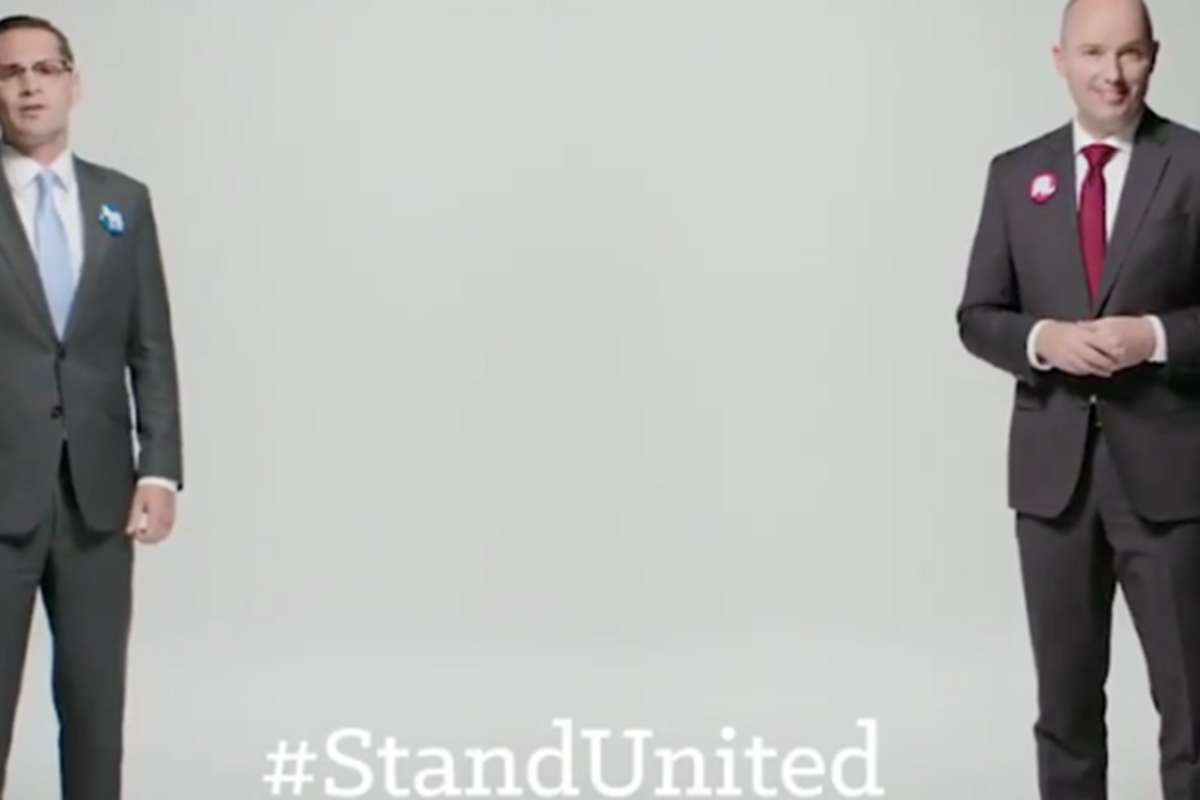 via Spencer Cox / Twitter
In the middle of a heated election, liberal and conservative Americans are at odds over a lot of issues, but there's one thing they can agree on, they're sick of all the political acrimony.

A 2018 PBS poll found that nearly three-quarters of Americans — 74 percent — think the overall tone and level of civility in the nation's capital have gotten worse since Trump was elected.
Seventy-nine percent are "are concerned or very concerned that the negative tone of national politics will prompt violence."
---
Many believe that a big reason why Joe Biden has such a commanding lead in the polls is the nation is suffering from "Trump fatigue."
"I have said this since he was elected," a former GOP member of Congress told The Hill. "This exhaustion, this never-ending drama and chaos ... I think a lot of people are yearning for some kind of normalcy."
In a rare showing of civility just 14 days before the November 3 election, Republican Spencer Cox and Democrat Chris Peterson, rival candidates for Utah governor, created a joint campaign ads promising to respect the outcome of the presidential race.
The display was a rare instance of candidates coming together in the middle of an election.
"We can debate issues without degrading each other's character," Peterson says in one ad. "We can disagree without hating each other," says Cox. "And win or lose, in Utah we work together," says Peterson. "So let's show the country there's a better way," says Cox.
I'm not sure this has ever been done before...but as our national political dialogue continues to decline, my oppon… https://t.co/UZ2MilTiaZ

— Spencer Cox (@Spencer Cox) 1603198790.0
In another ad, the duo pledge to accept the results of the election and to "commit to a peaceful transition of power." Although they didn't mention the president by name, it's a clear repudiation of Trump's campaign to challenge the legitimacy of the 2020 election.
"We've come together with a message more important than our differences," Cox says in the ad. "That we will fully support the results of the presidential election," adds Peterson. "So Utah can be an example to the nation," added Cox.
Cox, Peterson call for Utah to support peaceful transition of powerwww.youtube.com
"The time-honored values of a peaceful transition of power and working with those with whom we differ are an integral part of what it means to be an American," said Peterson in a joint statement with Cox. "It's time to reforge a national commitment to decency and our democratic republic."

The ad is clearly an attempt by both politicians to win points by presenting a positive face at a time when partisan rancor is particularly heated. But there is reason to be a little skeptical of both politicians motives.
Cox has a huge lead over Peterson in the highly Republican state and loses very little by showing his opponent in a positive light.
The ad was applauded by Utah Republican senator Mitt Romney, who recently admitted that he didn't vote for President Trump. Romney has been a consistent anti-Trump voice in the senate after winning the seat in 2018.
Applaud this joint effort by @SpencerJCox and @PetersonUtah to promote the Utah values of respect and civil discour… https://t.co/Bj4eQguDqo

— Mitt Romney (@Mitt Romney) 1603204538.0
While it's right to be skeptical of this overt attempt by two politicians to show themselves as beacons of civility in a world gone mad, the important part is that the message has clearly been supported by the American people.

The ads have received tens of thousands of likes on Twitter and have attracted national attention.
If the polls are correct, we appear to be limping towards the final days of the most divisive presidency in recent American history. Cox and Peterson's ad shows that Americans on both sides of the aisle have a real hunger for a greater sense of civility in our public discourse.
Let's hope the message is heard loud and clear by leaders throughout the country and wen begin to heal after a viscous four years of partisan bickering.