Culture
Norway has an incredible new game show where the most polite person wins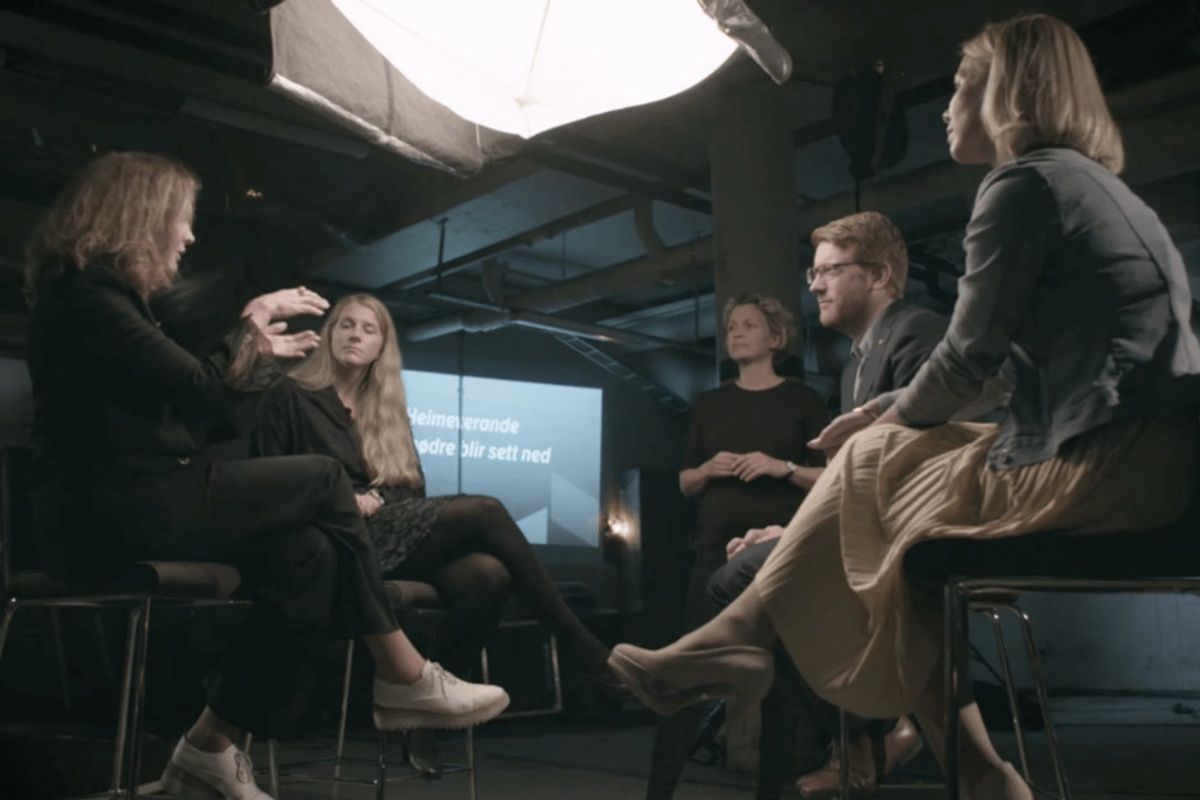 In a similar vein to CNN's Crossfire, or when your grandfather opens up about his views on "the Northern problem," contentious political debate is coming to Norway. The Norwegian Broadcasting Corporation's new show, Einig?Einig?(Agreed?) takes the bitter, aggressive, spiteful intensity we know to be public political debates out of contention and replaces them with a system that rewards positivity and politeness. The goal of the show isn't to find where the political opponents contend with one another, but instead it aims to bring them together over opinions on which they can both agree.
Einig(?) aims to take the competition out of politics and replace it with camaraderie. Imagine if instead of Trump and Clinton lambasting each other for their checkered personal histories, they instead spent their time on television coming together to agree that Katz's Deli truly makes the best pastrami in Manhattan.
---
The rules of the game are simple: don't interrupt or attack your opponent, but instead try listening to their arguments and understanding where they're coming from. The show is not live, and the guests are informed that the flashy argumentation and ad hominem attacks that make political debates such a viral, engrossing spectacle will be edited out in favor of civil, laid-back conversations about the issues. Gro Engen, the editor of Einig, describes the show as trying to "re-create that type of atmosphere" where the cameras are off and the guests are just speaking their minds to each other, perhaps over a cup of coffee, or what I can only assume is the Norwegian equivalent: snow-juice.
There's no moderator for Einig, in an effort to open up discussion by placing the responsibility on the contestants to foster multidimensional conversations on a diverse array of topics, ranging from abortion to tax legislation. The thesis of the show is simple: if there's no parental guidance, eventually the kids will discover that manners are the only way to get anything done. Tired of the political debate format that only perpetuates the "us vs. them" mentality that makes political discussion such a cage match, Einig recognizes that political issues stem from dilemmas that societies are placed in charge of solving, and by letting moral opponents form a framework of discussion around each dilemma at hand, the discussion can focus on intellectual compromises rather than emotional attacks.
The show was first released before their elections in September of 2019, before a Norwegian election that ended up surprising the pollsters as the smaller parties in Norway's multi-party system made large gains on the majority-holding Labour Party. Perhaps this proves exactly what Einig was setting out to do: voters are not divided along clear party lines. Instead, they (ideally) hold complex political opinions that vary from issue to issue, and platforms like Einig can help political candidates better express how they've drawn the conclusions they form their opinions around.
It would be interesting to imagine Joe Biden and Donald Trump in an unmoderated forum like Einig for their debates this fall. So much of American politics is boiled down to the highlights and soundbites of each debate, but if our candidates were able to casually sit down and sparse things out over a cup of coffee in a polite setting, maybe our political system would stop rewarding the loudest and brashest among us, and instead elevate complex thinkers and well-reasoned intellectuals to public office. Or maybe the U.S should let itself be annexed by Norway. Really, anything seems possible these days.