via ReMARKable Cleanouts / Facebook
One of the oddest things about the COVID-19 pandemic is that it's hard to identify people at times because they are wearing a mask. It can be tough noticing people you regularly see in the community because more than half their face is obscured.

In this case, people were trying to locate and identify John Thomas Archer, a 23-year-old architecture student who wowed people in the ReMARKable Cleanouts second-hand store in Norwood, Massachusetts. But it was hard to figure out who he is because of the mask he wore to protect him from getting or spreading COVID-19.
On Saturday, July 11, he walked into the store and asked an employee, Melissa Rediker, if he could play one of the pianos on display, it had a "Do Not Play' sign attached.
Archer sat down at a Steinway and started banging out a song that always gets everyone in the bar singing along, "Don't Stop Believin'" by Journey. Everyone knew what Archer was playing right off the bat due to the songs infectious bass line.
The store placed a video of his playing on its Facebook page and it went viral.
Good News Movement on Facebook Watch
The video made the store owner, Mark Waters, so happy that he decided to give Archer the piano.

"He started playing and the place lit up!" Waters told CBS Boston, adding: "We'll give him the piano. Bring the kid in! We'd be more than happy to bring it to him. We can't find him! Nobody knows who this young man was."
This kicked off a search for the "mystery man" who was found by Julie McDonald at WBZ Channel 4 who interviewed him on the newscast three days later.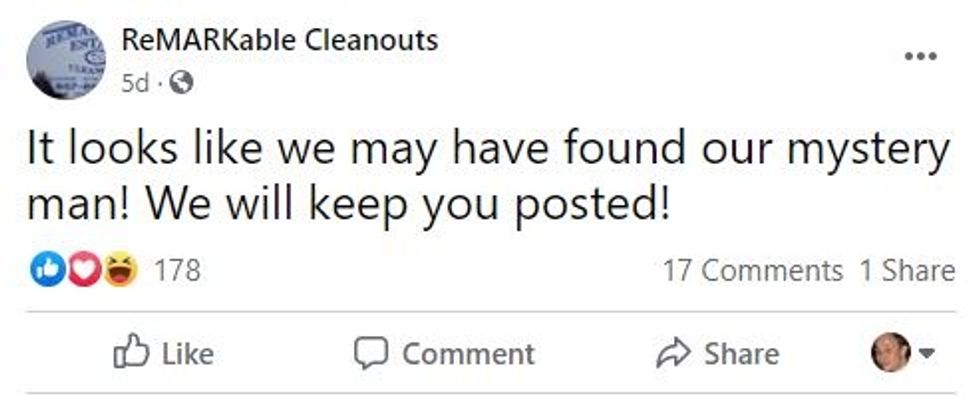 via ReMARKable Cleanouts / Facebook
That Tuesday, Archer's girlfriend send him a text saying that people were looking for him.

"My girlfriend sent me a text that the media was looking for me," he said. "I didn't know so many people would be affected by watching me play. I am just baffled."
Archer told McDonald that he was an "amateur" musician and the at the Journey tune was the first he ever learned. He didn't have a piano at home, just a keyboard. The next day he returned to the store and gave a performance of "All of Me" by John Legend.
"He's a good young man and I'm glad he gets to have the piano," Waters said. "If it brings joy into his life, that brings joy into my heart."

"I just wish there was more stories like this with everyone opening their hearts," he told Good Morning America. "I'd like to donate something every day if it brought people into a good mood."
The only problem was that the store isn't sure how to get the piano up to his fourth-floor apartment.
"A very talented and kind young man who will be receiving a piano…we can get it to his home, but having trouble finding a way to get it on the 4th floor!!" ReMARKable Cleanouts wrote on their Facebook page.
"Do we know anyone who can deliver a piano to a 4th floor? Asking for a friend," they also posted.