All images provided by CARE & Cargill
True
Cocoa, the key ingredient found in your favorite chocolate bar, has been a highly revered food product throughout human history. It's been used for religious ceremonies in Peru, royal feasts in England and France, traded as currency for the ancient Mayans. And considering that many of us enjoy chocolate on a regular basis (mochas and candy bars, anyone?) it seems like that love is still going strong even today.

And if you are someone who looks forward to that sweet chocolate pick-me-up on a regular basis, you likely have the women of West Africa to thank.
Women like Barbara Sika Larweh, a mother of six who works as a cocoa farmer in Larwehkrom, a community located within the Sefwi Wiawso Municipality in the Western North Region of Ghana.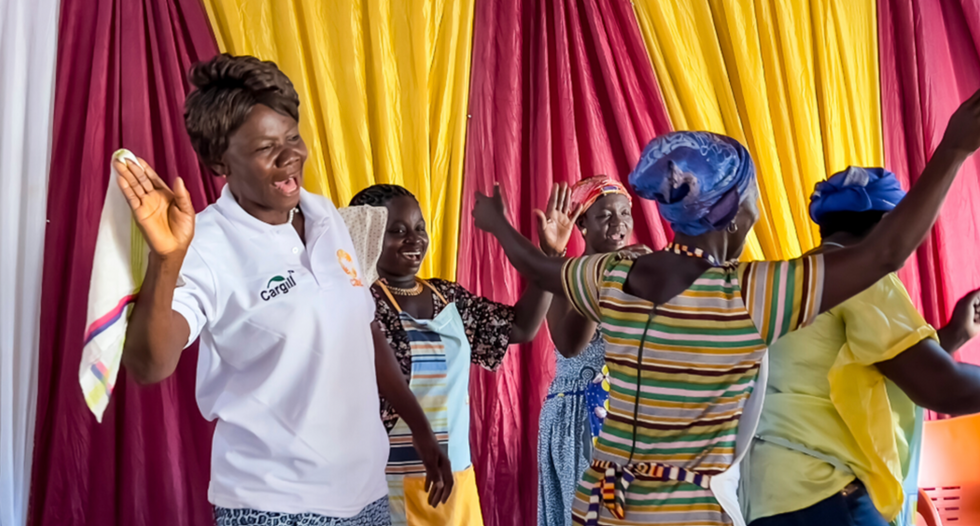 Mama Cash now empowers other women to gain independence
Nearly 60% of the world's cocoa comes from both Ghana and Côte d'Ivoire, where Barbara and other mothers make up over half of the labor force. These female cocoa farmers shoulder the same physical burden as their male counterparts—all while also running households and paying for their children to go to school. And yet, they typically don't receive equal income. Nor do they have access to the resources that could help them achieve financial independence.
Thankfully, positive changes are taking place. Barbara's story exemplifies the impact of programs offered by CARE and Cargill, such as Village Savings and Loan Association (VSLA), which are small groups that offer low-interest loans to individuals living in poverty, helping them to build savings without going into devastating debt.
Through these initiatives, women, like Barbara, are equipped with vital knowledge like financial literacy to improve household incomes, sustainable agriculture practices that improve yields, and nutrition education to diversify their family's diets.
"They came and trained me on the VSLA. I dedicated myself and volunteered so that I would be able to train my people, too," Barbara explains.
Within the first year of using the programs, Barbara and the people she trained profited—earning her the nickname of "Mama Cash."
This is no isolated event. In cocoa-growing communities supported by CARE and Cargill programming between 2019-2022, the number of households living below the national poverty line decreased by nearly 32% in Cote d'Ivoire and Ghana - as a direct result of increasing and diversifying income through using these programs.
Like Barbara, who today is an executive member of the Community Development Committee, more than 2.4 million women have used their success as entrepreneurs to transform into leaders and decision-makers within their communities. Whether it's giving most of their earnings back to their families, reducing child labor, or exponentially increasing overall farm yields, the rippling effect is profound.
The impact of the CARE and Cargill partnership goes beyond empowering cocoa farmers. The joint initiatives have fostered progress on complex global issues related to social justice, such as gender equality, climate change, and food security. By improving access to quality nutrition, water, and hygiene, the joint programs have positively influenced the cocoa communities' well-being.
Suddenly there's a lot more to think about the next time you eat a candy bar.
Find out more about the important partnership between CARE and Cargill
here
.