More
A dying woman left a heartwarming note to her cat's future owner.
We are sharing this story to celebrate Adopt-a-Cat Month.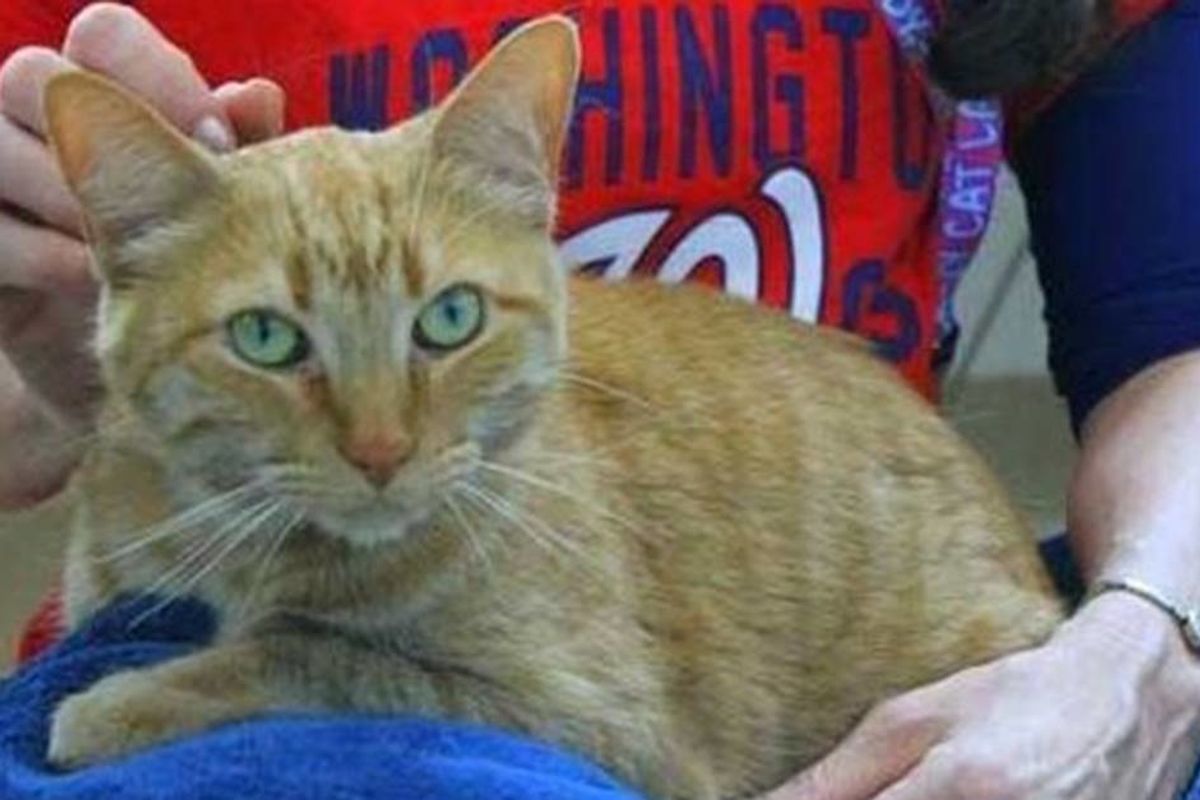 Every June, the American Humane Society celebrates Adopt-A-Cat Month because it's the time of year when the most kittens are born, and sadly, the highest number find their way to shelters.
The American Humane Society is encouraging people to adopt shelter cats by asking cat owners to share their favorite feline stories, so we're sharing ours.
In May of 2015, a dying woman knew that she would have to give her cat up to a shelter when she passed, because her son's rental didn't allow pets. After she passed, the son surrendered the five-year-old orange cat named Susie to the Montgomery County Animal Services and Adoption Center in Derwood, Maryland, with a note from the cat's later owner.
In the heartbreaking letter, the former owner detailed the quiet life they lived together and told the future owner that Susie was shy, but eventually became a loving companion.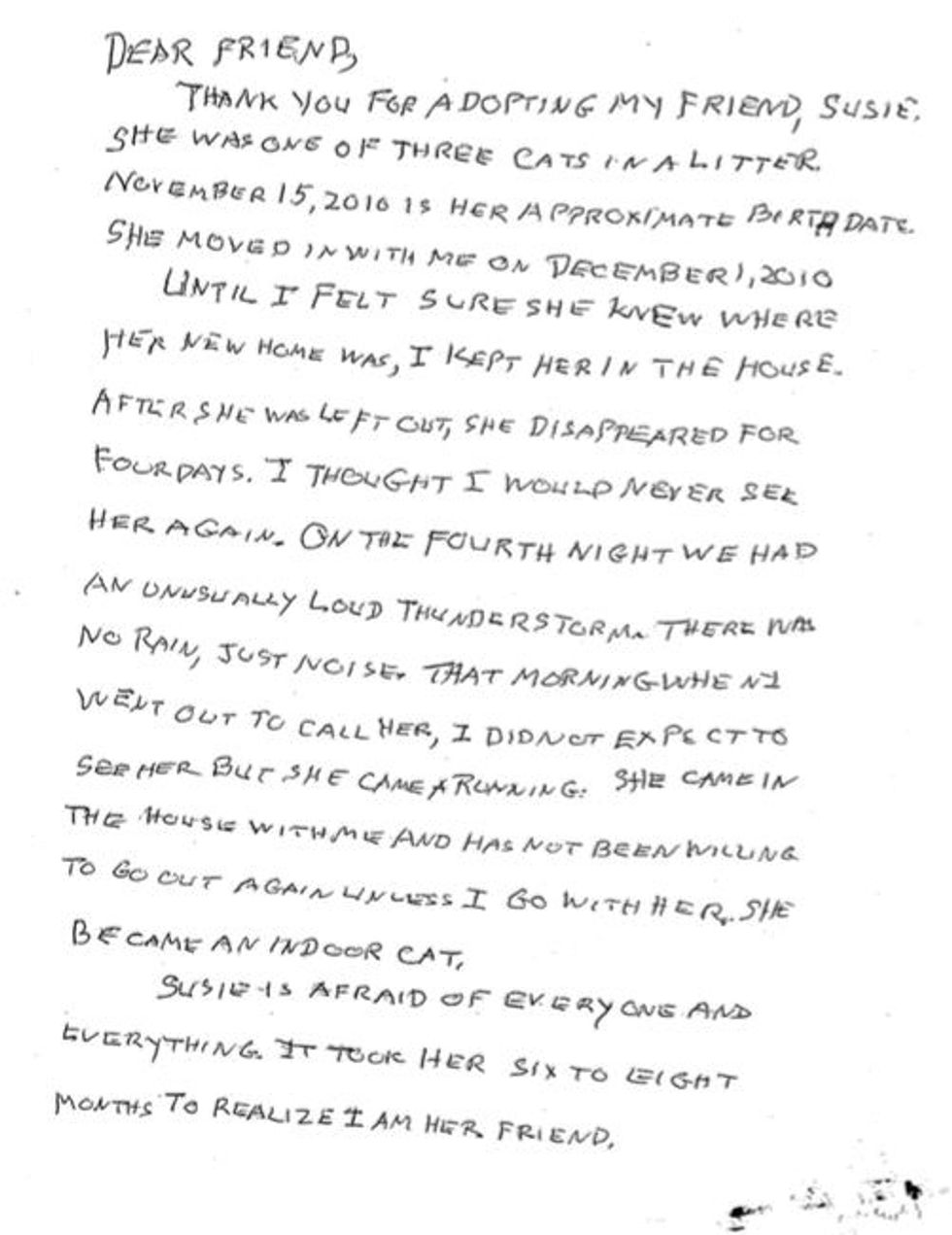 via Montgomery County Animal Services and Adoption Center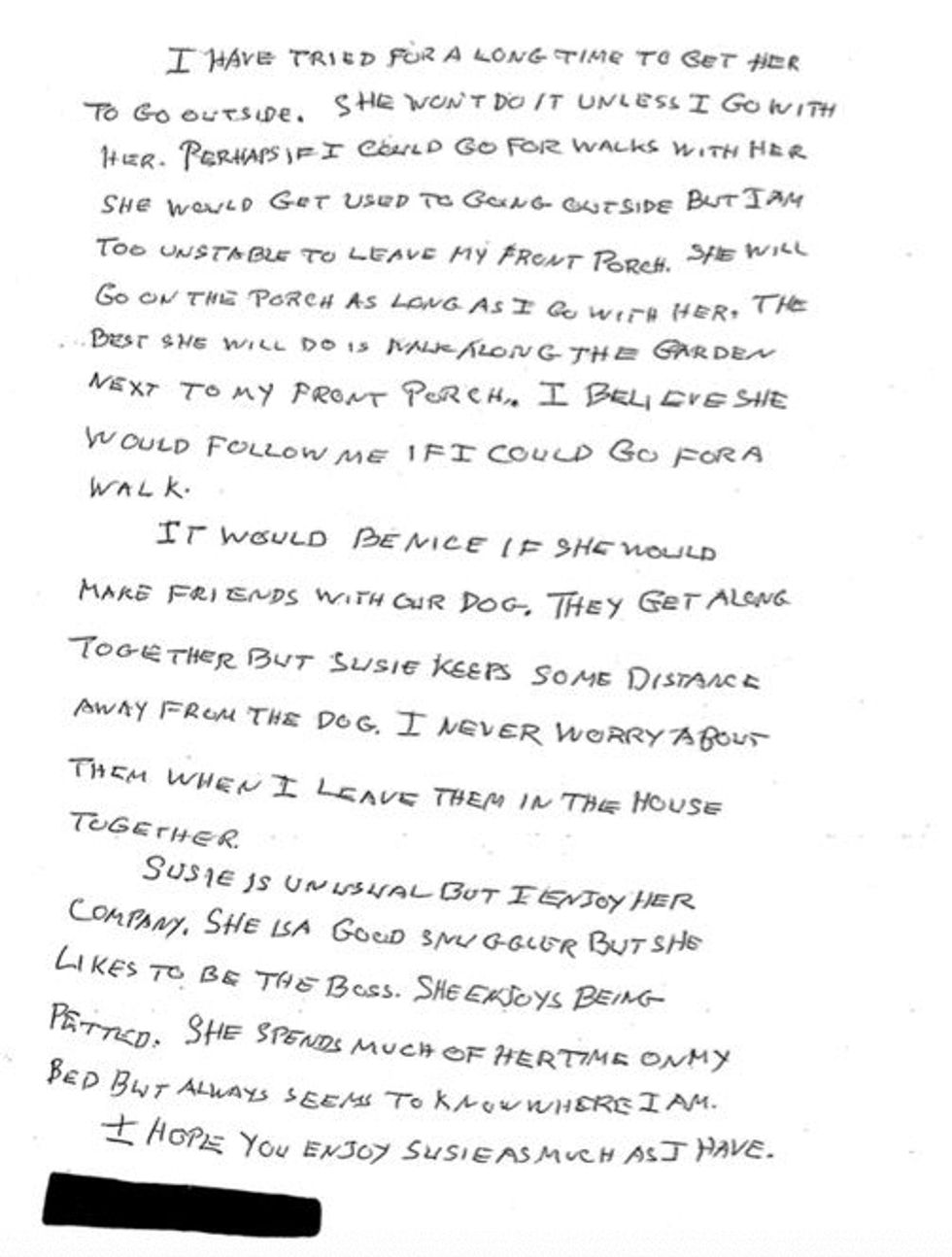 via Montgomery County Animal Services and Adoption Center
Here's the letter in full:

Dear friend

Thank you for adopting my friend, Susie. She was one of three cats in a litter.

November 15, 2010, is her approximate birthday. She moved in with me on December 1, 2010.

Until I felt sure she knew where her home was, I kept her in the house.

After she was left out, she disappeared for four days. I thought I would never see her again. On the fourth night we had an unusually loud thunderstorm. There was no rain, just noise.

That morning when I went out to call her, I did not expect to see her, but she came a running. She came in the house with me and has not been willing to go out again unless I go with her.

She became an indoor cat.

Susie is afraid of everyone and everything. It took her six to eight months to realise I am her friend. I have tried for a long time to get her to go outside. She won't do it unless I go with her.

Perhaps if I could go for walks with her she would get used to going outside but I am too unstable to leave my front porch. She will go on the porch as long as I go with her. The best she will do is walk along the garden next to the front porch.

I believe she would follow me if I could go for a walk.

It would be nice if she would make friends with our dog. They get along together but Susie keeps some distance from the dog. I never worry about them when I leave them in the house together.

Susie is unusual but I enjoy her company. She is a good snuggler but she likes to be the boss. She enjoys being petted. She spends much of her time on my bed but always seems to know where I am.

I hope you enjoy Susie as much as I have.
When Susie arrived at the shelter, she was shy and hid from her caretakers. Knowing that it would be tough to find a home for the cat, the shelter made the letter public.
"I'm sure that when she wrote it, she wrote it just to the intent of getting it to the adopter," said Katherine Zenzano, community outreach coordinator of Montgomery County Animal Services and Adoption Center, said according to ABC News. "But we realized Susie was wasn't going anywhere. Some cats are really great at selling themselves and Susie wasn't selling herself."
"If this letter can in any way help Susie, or any other cats in the same situation, we are happy to get it out there because we think it can touch a lot of people," she continued.
Fifty-five days later, a woman who says she has experience with shy cats adopted Susie. "She just felt she had the ability to work with Susie and wanted to give her the home that she needed," Zenzano, told WTOP.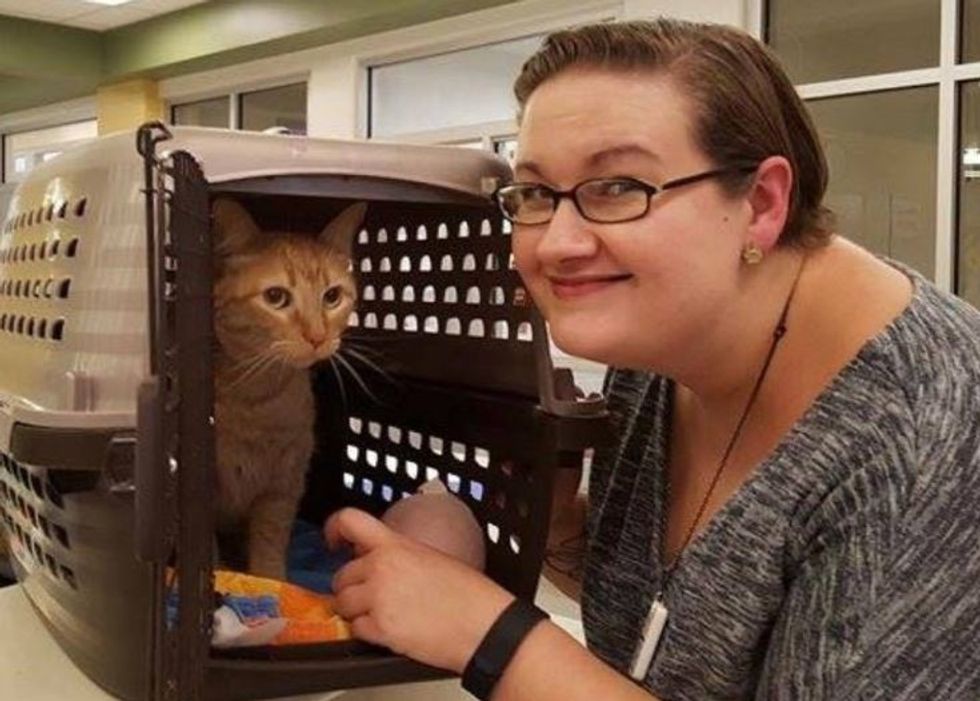 via Montgomery County Animal Services and Adoption Center