More
Should an employer be allowed to ban an employee from wearing a hijab?
A European court recently issued a controversial ruling that effectively says employers can legally ban their employees from wearing religious symbols at work.
And while the European Court of Justice (ECJ) ruling doesn't single out any one religion, the cases in question involved Samira Achbita, a Muslim woman who was fired from her job as a receptionist for wearing a hijab to work, and Asma Bougnaoui, a design engineer at an IT consultancy firm fired after a customer complained about her headscarf.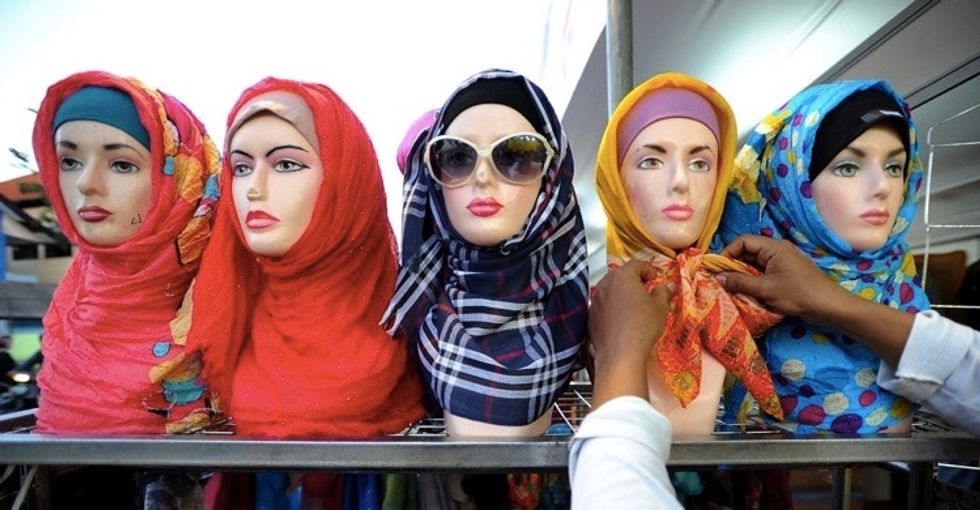 </div></div></div><p>In its ruling, the ECJ stated that companies are allowed to institute in-house rules prohibiting employees from wearing political, philosophical, or religious symbols, in order to project a neutral public image. And while it seems fair enough that a private company may not want to come off as endorsing the political or religious views of its employees, it comes at a time when anti-Muslim sentiment is reaching a fever pitch across Europe and North America. </p><p>This ruling will almost certainly not help.</p><h2>This ruling, while non-binding, sends a discouraging message that may come off as legitimizing anti-Muslim views.</h2><p>"It will lead to Muslim women being discriminated in the workplace, but also Jewish men who wear kippas, Sikh men who wear turbans, people who wear crosses. It affects all of them, but disproportionately Muslim women," Maryam H'madoun of the Open Society Justice Initiative told <a href="https://www.theguardian.com/law/2017/mar/14/employers-can-ban-staff-from-wearing-headscarves-european-court-rules" target="_blank">The Guardian</a>.</p><p>Others are worried this ruling will encourage more companies to adopt bans on religious wear, effectively banning hijabis from the workforce.</p><div id="05d75" class="rm-shortcode" data-rm-shortcode-id="2QNJRJ1559349864"><blockquote class="twitter-tweet twitter-custom-tweet" data-twitter-tweet-id="841582360957181952" data-partner="rebelmouse"><div style="margin:1em 0">"IT consultant who was told to remove her headscarf after a client complained" complained of what? was her hijab blocking the screen/wifi?</div> — Knox Mulder (@Knox Mulder)<a href="https://twitter.com/knox_o/statuses/841582360957181952">1489483845.0</a></blockquote></div><p>"I am a top performer at my company and headscarf doesn't make difference to my talent, my skills, my performance or my work but then I could be kicked out from my job because I wear a scarf," said one woman in an interview with the <a href="http://www.bbc.com/news/blogs-trending-39266824" target="_blank">BBC</a>. "If I have to choose between my head scarf and job, I will definitely choose my head scarf."</p><div><div class="push-wrapper--mobile" data-card="image" data-reactroot=""><img type="lazy-image" data-runner-src="https://assets.rebelmouse.io/eyJhbGciOiJIUzI1NiIsInR5cCI6IkpXVCJ9.eyJpbWFnZSI6Imh0dHBzOi8vYXNzZXRzLnJibC5tcy8xOTUyNjUxNC9vcmlnaW4uanBnIiwiZXhwaXJlc19hdCI6MTY1OTY1OTExM30.q9mONZWgBoP-SKDCW2WZOrQqgI5bPCcGsyayHwly3Ks/img.jpg?width=980" id="09153" class="rm-shortcode" data-rm-shortcode-id="b1545bc0c3ad21bf7082fad2bf85835c" data-rm-shortcode-name="rebelmouse-image"><div class="image-caption"><p>A young woman in London wearing a hijab. Photo by Dan Kitwood/Getty Images.</p></div></div></div><h2>Those of us who aren't Muslim need to take a long look at ourselves and question why this matters to us. Because it really shouldn't.</h2><p>In a statement to <a href="https://www.theguardian.com/law/2017/mar/14/employers-can-ban-staff-from-wearing-headscarves-european-court-rules" target="_blank">The Guardian</a>, right-wing German politician Georg Pazderski lauded the ECJ's decision, calling the hijab "much more than a religious symbol" and "a political statement of oppression."</p><p>It's not an uncommon argument either. In support of various bans on Muslim headwear, many non-Muslims suggest that these are oppressive pieces of clothing that nobody should be <em>forced</em> to wear. On Twitter, Zainab Akhtar shot that argument down, writing, <strong>"There is NO difference between forcing a Muslim woman to wear a hijab and forcing her to remove it." </strong></p><p>If non-Muslims actually care about oppression, it's time we stopped denying people the right to express their religious beliefs through what they wear. There is nothing "liberating" about this <a href="http://blog.angryasianman.com/2017/03/theres-very-un-disney-like-twist-at.html" target="_blank">disturbing trend</a> of banning religious garb.</p><p><em>Learn more about today's ruling — and what you can do about it — at <a href="http://www.amnesty.eu/en/news/press-releases/all/ecj-rules-no-violation-in-dismissal-of-women-for-wearing-headscarves-at-work-1029/#.WMgUsnTytE5" target="_blank">Amnesty International</a> and <a href="https://www.opensocietyfoundations.org/voices/eu-top-court-fails-guarantee-muslim-womens-right-wear-headscarf-work" target="_blank">Open Society Foundations</a>.</em></p>