popular
Watch a man peel a confederate flag off of a moving truck in traffic.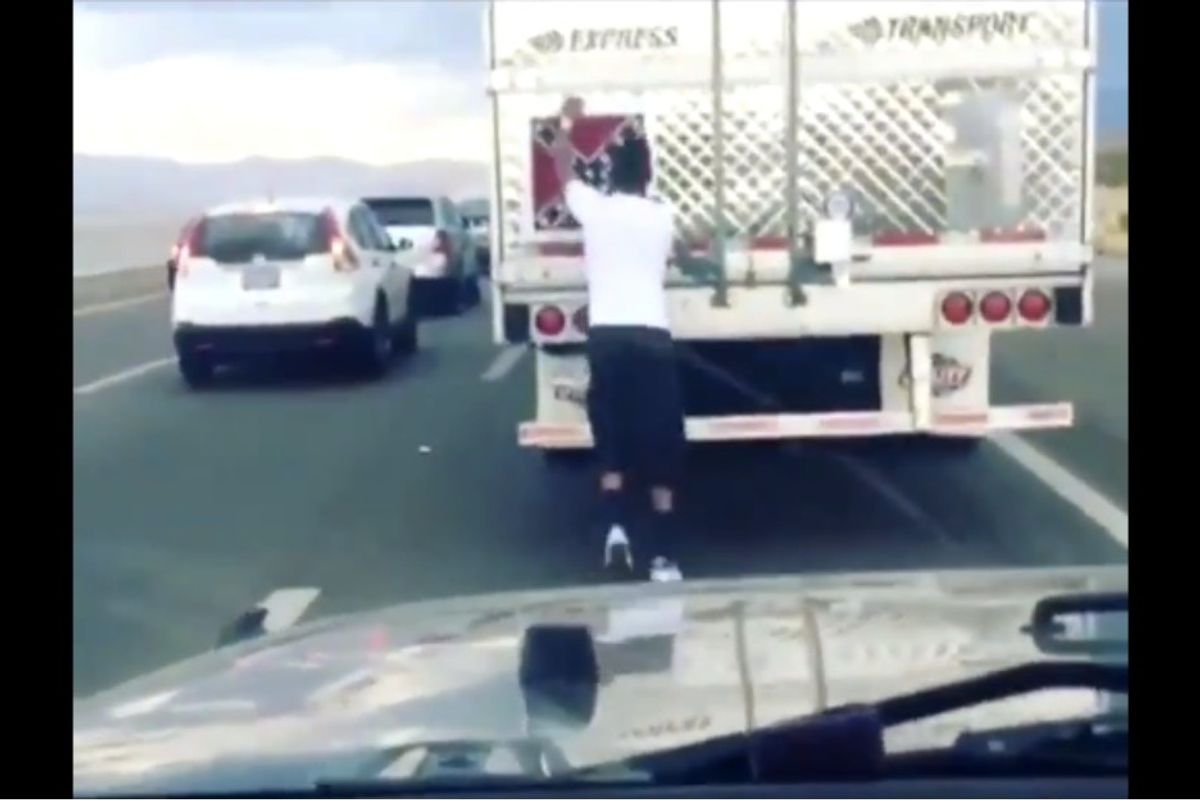 First, let's be clear that confederate flags are racist symbols. Full stop.
In modern discourse, what words and actions are considered racist is often debatable. People can argue about how to define "racist." People can debate whether intent or impact is more important. People can discuss whether to center the voices of the historical oppressed or the historical oppressors.
But I have yet to see a reasonable argument for confederate flags not being racist symbols. Even if they're supposed symbolize "southern pride," as some folks like to argue, they're still racist. Those flags represent a heinous era of southern history in which southern states were willing to fight to the death in order to maintain the right to enslave black people. It's literally a symbol of the southern battle to maintain the institution of slavery.
How can that symbol not be racist?
(Before anyone chimes in with "The Civil War wasn't about slavery, it was about states' rights!" please go here and read the primary documents in which the slave-holding southern states themselves explained the reasons for secession. Save yourself some time and search for the word "slavery." The primary right that they were fighting for was the "right" to uphold white supremacy and enslave black people. They spelled it out clearly.)
That's why this video of black man running up to a moving truck to remove a confederate flag sticker has gone viral.
A Twitter user with the username "Tall, Dark & Sad" shared the video, which has now been shared nearly 40,000 times, with the caption "This Guy 2020."
This Guy 2020 https://t.co/NTK9W49PfQ

— C. Donovan Copeland (@C. Donovan Copeland) 1559179607.0
It shows a man on a freeway jogging up to the back of a moving semi truck and peeling off a large, square confederate flag. Traffic was moving slowly, but it's still a rather impressive feat.
The people of Twitter, for the most part, loved it. Thousands of comments praised the flag peeler.
Predictably, of course, there were some who tried to explain (or whitesplain, as it were) that the flag doesn't mean what the flag has always meant.
This is the kind of twisted logic and gaslighting that comes with posting a confederate flag getting destroyed. It… https://t.co/W9rN5DB9ye

— C. Donovan Copeland (@C. Donovan Copeland) 1559305888.0
(For the record, being a battle flag is kind of the point, and in no known universe is this iteration of the battle flag a "religious flag." People in the U.S. died to protect the right to own other human beings, not to protect the St. Andrews cross—a cross that is not even what we see in its true form on the confederate flag anyway.)
Others who got mad because they think destroying a racist symbol is just a symptom of young whippersnappers running amok.
@DGBPHOTOS @cxcope I know, right Don? It's disgusting. Young truckers thinking they can just advertise their racism… https://t.co/YtL4OnwnQN

— Quill 🏴󠁧󠁢󠁷󠁬󠁳󠁿 (@Quill 🏴󠁧󠁢󠁷󠁬󠁳󠁿) 1559237362.0
@DGBPHOTOS @cxcope I know! Who the hell would just fly a flag of treason on their trailer. It's good this sharp eye… https://t.co/hzda5lvLEo

— Ryan (@Ryan) 1559277005.0
People can argue that it was vandalism, but which is worse?
Is this kind of vandalism a crime worth getting worked up over? I mean, tossing England's tea into Boston Harbor was a destruction of property, but we celebrate that act of rebellion as part of our proud history.
Is it worse to publicly display a racist symbol or to destroy one displayed in public? Of course, people have the freedom to express themselves, but what about when that expression causes harm? One could argue that the flag on the truck did more harm than the act of removing it did. One could argue that some acts of civil disobedience are justified.
I mean, if you didn't cry "Vandalism!" at this scene in The Sound of Music, why freak out over this?
@cxcope @cryborg https://t.co/cCUZJhepOh

— Jeff Gauvin (@Jeff Gauvin) 1559242040.0
One final note: The confederate flag isn't just a symbol of racism; it's also little more than a glorified participation trophy. I mean, who flies the flag of the losing side in your own country's civil war—the side that tried to split the country in two and fought to preserve something everyone now agrees was horrendous? That's just weird.
With a broad understanding of history and more than enough explanations for why it's widely seen as a racist symbol, no one who doesn't want to make a racist statement should display confederate flags. The southern pride and southern heritage argument simply doesn't fly when the heritage that flag represents is the violent defense of slavery.
Figure out another way to express your southern roots, y'all. Carry a bucket of peaches or get yourself a Roll Tide t-shirt or something. The confederate flag is long past its expiration date and needs to stay in the past where it belongs.