popular
A teenager has perfectly recreated Myspace and people are flocking to it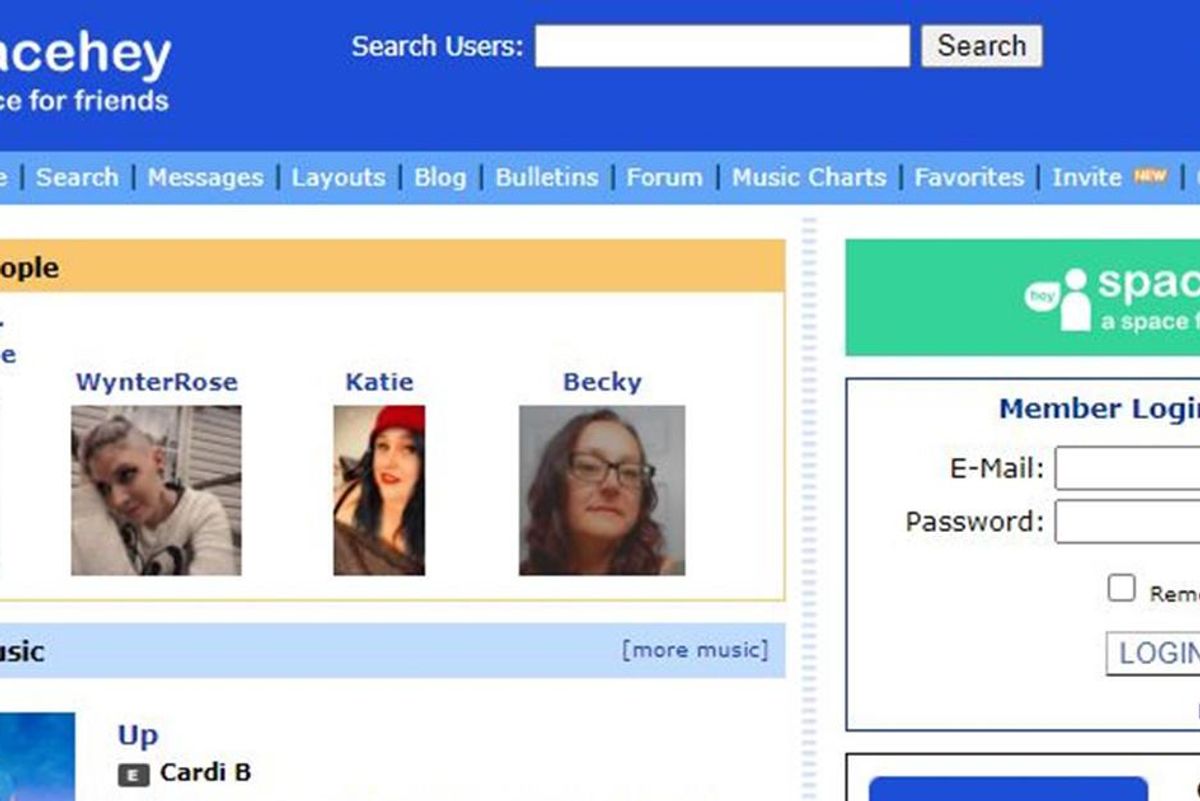 via SpaceHey
The MySpace era feels like such an innocent time. Little did we know back then that social media would come to dominate the way just about everyone on the planet interacts.

Back then, social media was just about the joy of human interaction.
Over 100 million people logged on to Myspace per month from 2005 to 2008. It was a place where people blogged, shared their favorite music, gave brief status updates, and followed Tom and Tia Tequila.
It also was a place for self-expression. You could update your page with CSS and HTML to add cool pictures and artwork as a backdrop to your profile. This focus on self-expression made it especially popular with young people in the emo scene.
---
However, eventually, Facebook would come to dominate and overtake MySpace in 2008. Facebook was easier to operate and had more of an emphasis on real-time interaction with friends.

Now, Facebook has become an environment that many see as toxic. It's a place rife with political bickering and questionable news stories. It's also a heavily manipulated environment, ruled by an algorithm that chooses what you get to see and sells your information for top dollar.
This has led many to long for the days when the biggest problem on MySpace was who you chose for your top eight. As opposed to today when logging onto Facebook is an anxiety-inducing trip to the platform where you get to watch your friends, coworkers, and relatives slowly devolve into conspiracy theorists and political extremists.
So An, an 18-year-old student from Germany, has replicated the old-school MySpace experience into a new social media platform called SpaceHey. if you join the site you will immediately become friends with An, much like you did with Tom back in 2006.

via spacehey
"I was only a few years old when Myspace was popular," An told Vice. "I never came to use Myspace. However, thanks to older friends and the internet, I heard a lot about it. I came to the conclusion that you can't find something like this nowadays, where everyone can be this creative."

An studied internet archive pictures of MySpace and watched videos of the "old internet" to perfectly recreate the site's user interface and look. The site doesn't have any algorithms, news feed, or like buttons. So that means you get to see everything as it happens in real-time and there's no need to worry about how many likes your bulletin received. The site is also highly concerned with privacy and careful about the information it shares with third-parties.
Most importantly, you won't have to see your uncle's daily posts about Ben Shapiro.
It's almost like we got the Internet right the first time.
Over 57,000 people have signed up for SpaceHey not only for the cozy nostalgia of the early millennium but because it's a safer place for people to interact.
"Most social media platforms these days are incredibly toxic," a user named Kelly says. "In the three weeks I've been on spacehey I've experienced more love and support from people than I have in the last five years on all of my social media platforms combined. It's definitely refreshing."
While it'll take a big push to make the MySpace redux a viable alternative to Facebook, its relative popularity shows there is a hunger out there for social media spaces that are less toxic. SpaceHey is proof that there's a big audience of people who want social media to be a "place for friends" again. And, that's a good thing.