Top Splash
A Bronx teen is using social media to tutor a generation of out-of-school students in math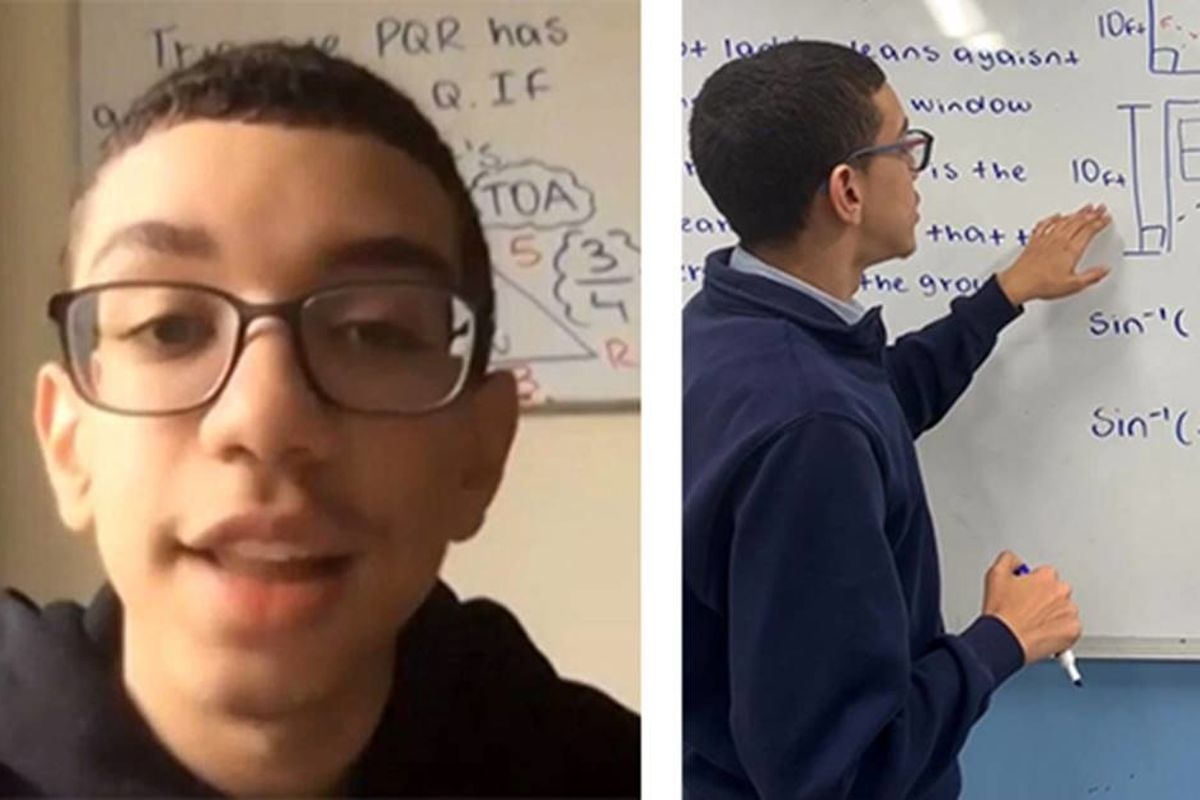 via TikTok
Alexis Loveraz, a 16-year-old high-schooler from The Bronx has earned over 660,000 followers on TikTok by helping fellow students with their algebra, geometry, chemistry and SAT prep during the COVID-19 pandemic.

He's a math whiz with a 4.0 grade point average at Harlem Prep High School, earning the nickname "TikTok Tutor" for his ability to teach complicated subjects with ease on the social media platform.
"How did you explain it better than my teacher?" one commenter asked. "You explain 1000x better than my math teacher!!!" another exclaimed.
---
Alexis started making videos before the COVID-19 pandemic temporarily closed schools throughout the country. But during the lockdown, they've been a lifeline to students struggling to keep up at a time where education has been turned on its head.
"I was, like, really shocked," Alexis told CBS2. "Things that they probably forgot like before COVID-19, this is like a refresher of what I'm, like, giving them out. It's really cool because they understand it even better the way I'm explaining it to them."
His tutorials have become so popular that they're now appearing on Google Classrooms, helping kids all over the globe keep up with their math and science skills.
"It reached places like United States, Canada, Australia, the Philippines, Singapore," he said.
In a world where most teens use TikTok to make dance videos or share makeup tips, Alex's mother is ecstatic that her son uses it to help educate others.

"I'm excited about this. I know he can do this and more. I'm so proud that he helped a lot of people," said Likmilian Hiciano.
When asked what motivates him to make the videos, Alexis's response was simple: "The knowledge I have, like, I want to share it to other people."
The TikTok Tutor's popularity shines a light on the grim reality faced by students across the world who have lost at least three months of education due to the pandemic.
According to Education Week, the loss of classroom time will create "longstanding gaps in performance between advantaged and vulnerable students."
When the school bell finally rings, students will be returning to an educational system that will have been weakened by the economic and political fallout from the pandemic.
"I don't think we've had a shock to educational systems of this magnitude, at least to instructional time," said Joshua Goodman, an associate professor of economics at Brandeis University. "
"And part of that is the number of weeks and months of school students are going to be missing. But it's also the fact that a bunch of parents will be unemployed, or that their savings will have vanished, or that someone in their family is sick," he continued.
Over the next few months, the U.S. educational system will have to stitch itself back together to compensate for lost time and money due to the pandemic. But it's encouraging to know that students such as Alexis have stepped up to do their best to help fill the gaps during the lockdown.