Family
Rob Lowe's sons constantly troll him on social media and it's seriously hilarious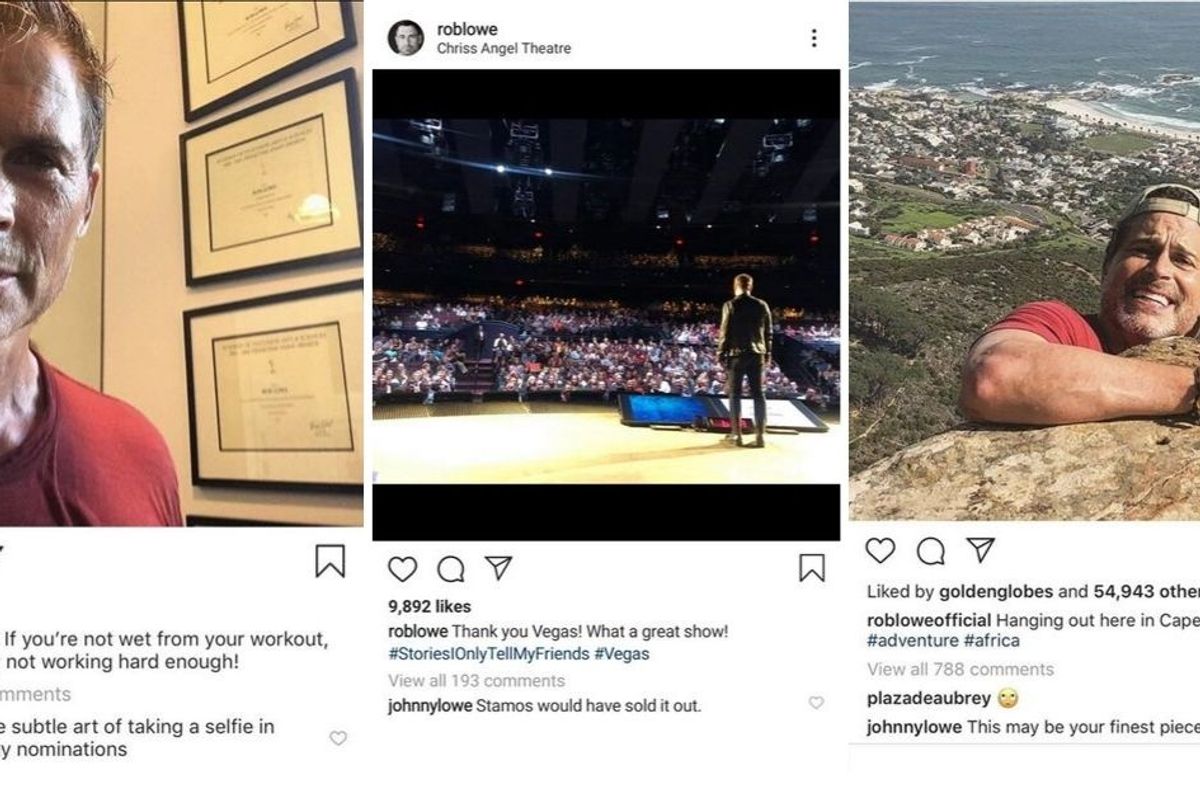 Rob Lowe/Instagram
Rob Lowe has an adorable bond with his sons, which has turned into a hilarious, ongoing roast of him on social media.
Several years ago, I read his essay about his eldest son going off to college and was blown away. I had no idea that Lowe was a writer, but his heartfelt words about his kids growing up brought me to tears. Just check out an excerpt, and you'll see what I mean:
---
One of the great gifts of my life has been having my boys, Matthew and Johnowen, and through them, exploring the mysterious, complicated, and charged bond between fathers and sons. As my wife, Sheryl, and I raised them, I have discovered the depth of our relationship and the love and loss that flowed between my father and me. After my parents' divorce, when I was four, I spent weekends with my dad in Ohio. By the time Sunday rolled around, I was incapable of enjoying the day's activities because I was already dreading the inevitable goodbye of the evening.

Now, standing among Matthew's accumulation of possessions, I realize it's me who has become a boy again. All my heavy-chested sadness, loss, and longing to hold on to things as they used to be are back, sweeping over me as they did when I was a child.

In front of Sheryl and Matthew, I'm doing some of the best acting of my career. I smile like a jack-o'-lantern and affect a breezy, casual manner—positive sentences only and nothing but enthusiasm framing my answers to Matthew's questions.
As a mom of teens myself, Lowe's self-reflection and processing as he prepares to leave his son moved me. Lowe clearly has a close, loving relationship with his boys, Matthew and John.
That's what makes their constant trolling of him on social media all the more hilarious.
Facebook user Erica Zinman shared screenshots of some of Lowe's Instagram posts with comments his sons left on them, and there are some delightfully wicked burns in the bunch.
For example, this post-workout photo of Lowe, in which he talks about how you should be sweating if you work out hard enough. His son John totally ignored the exercise advice and wrote, "The subtle art of taking a selfie in front ur Emmy nominations."
LOLOLOLOL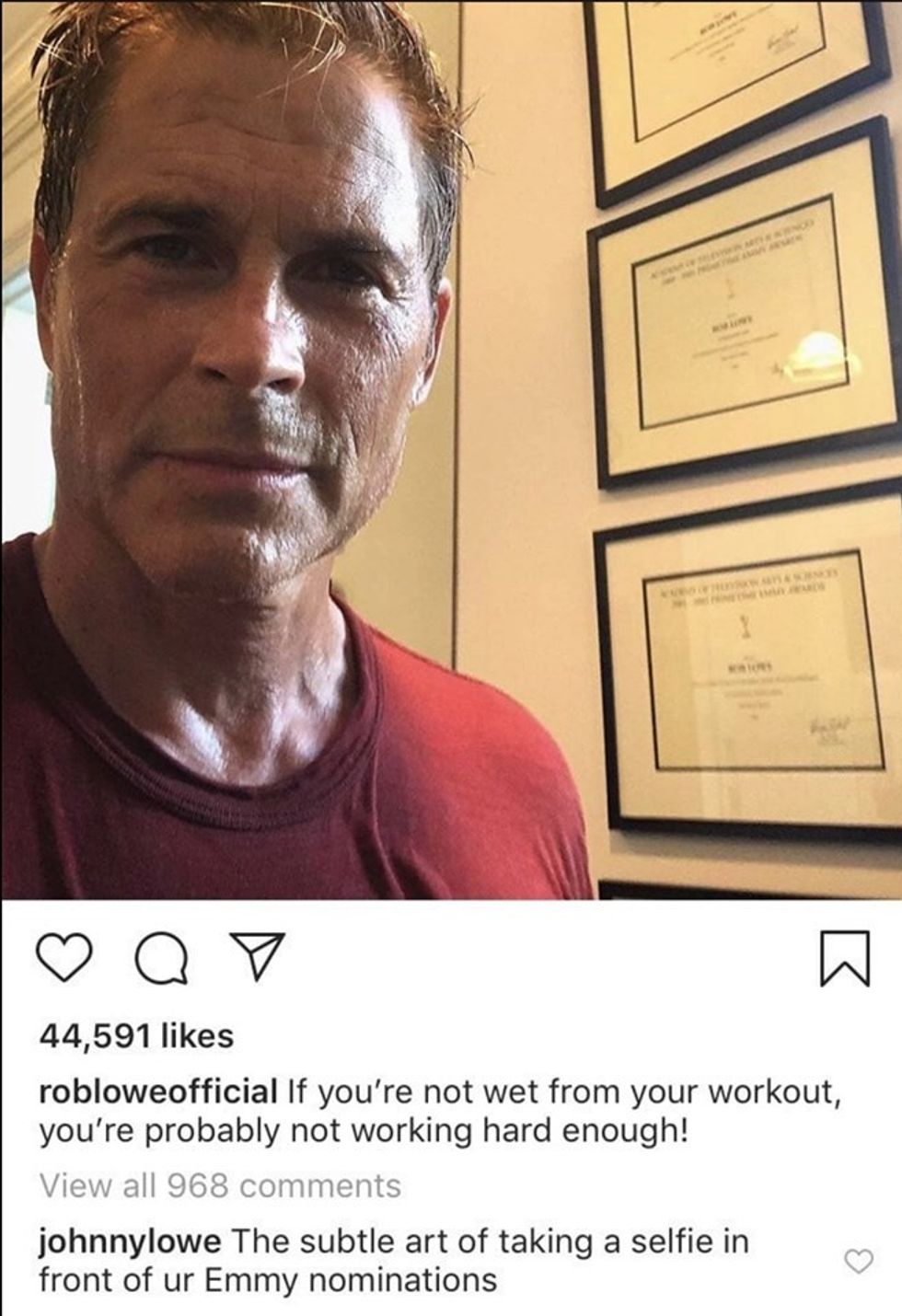 Rob Lowe/Instagram
Or this one of topless Lowe, with Johnny poking fun of his pecks. "Maybe skip chest day for a while."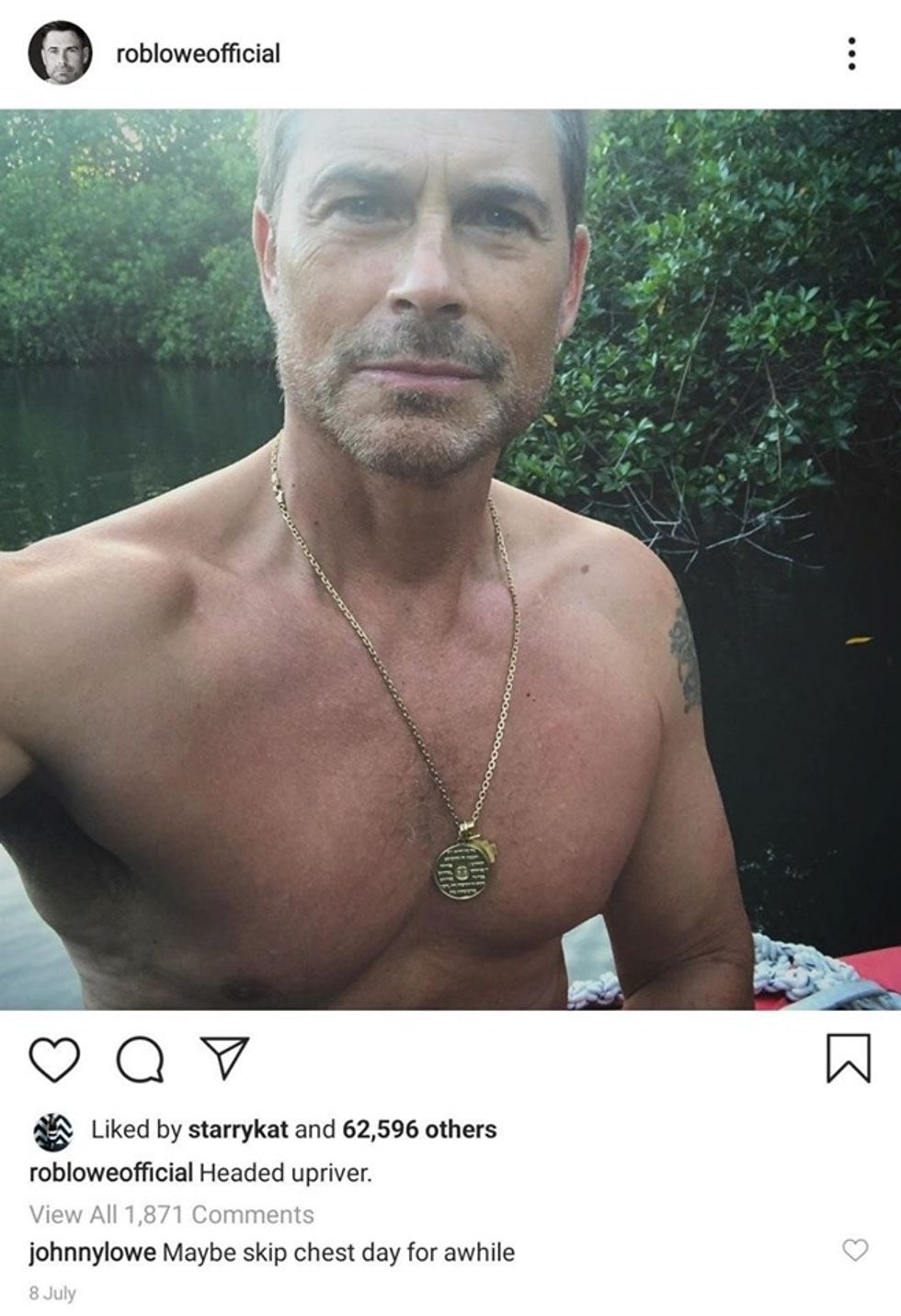 Rob Lowe/Instagram
Or how about this photo of the three men which Lowe captioned "Threesome"? John was not having it.
"I don't condone this caption."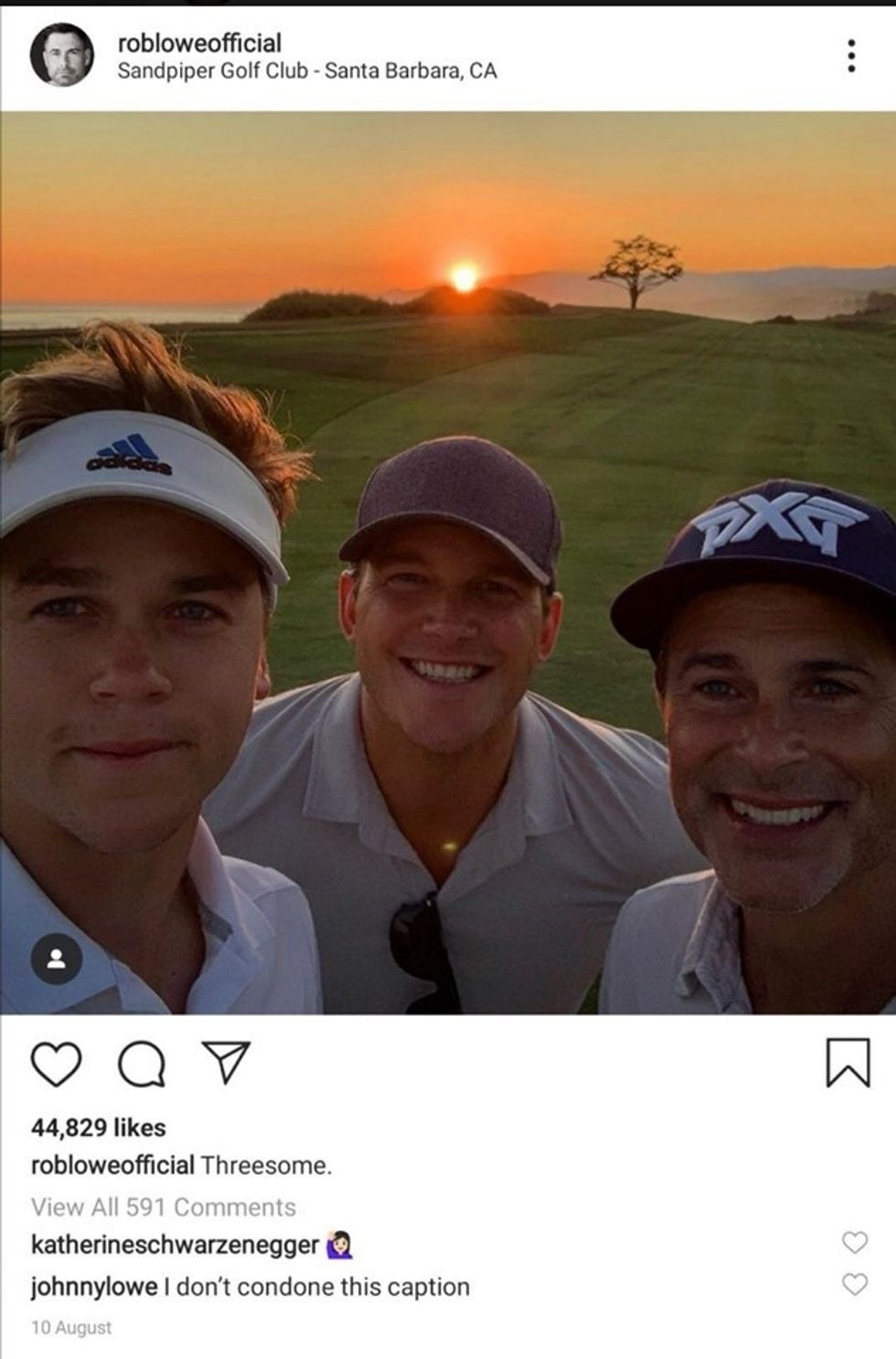 You are rich and famous actor, Rob Lowe, posing with another rich and famous actor, Michael Douglass. You're both dressed to the nines at a red carpet event with other rich and famous people milling around behind you.
That won't protect you from your kids making fun of your clothes.
"Why does it look like you are wearing pads under your suit?" Matthew wrote.
That is *LITerally* the definition of humbling your old man.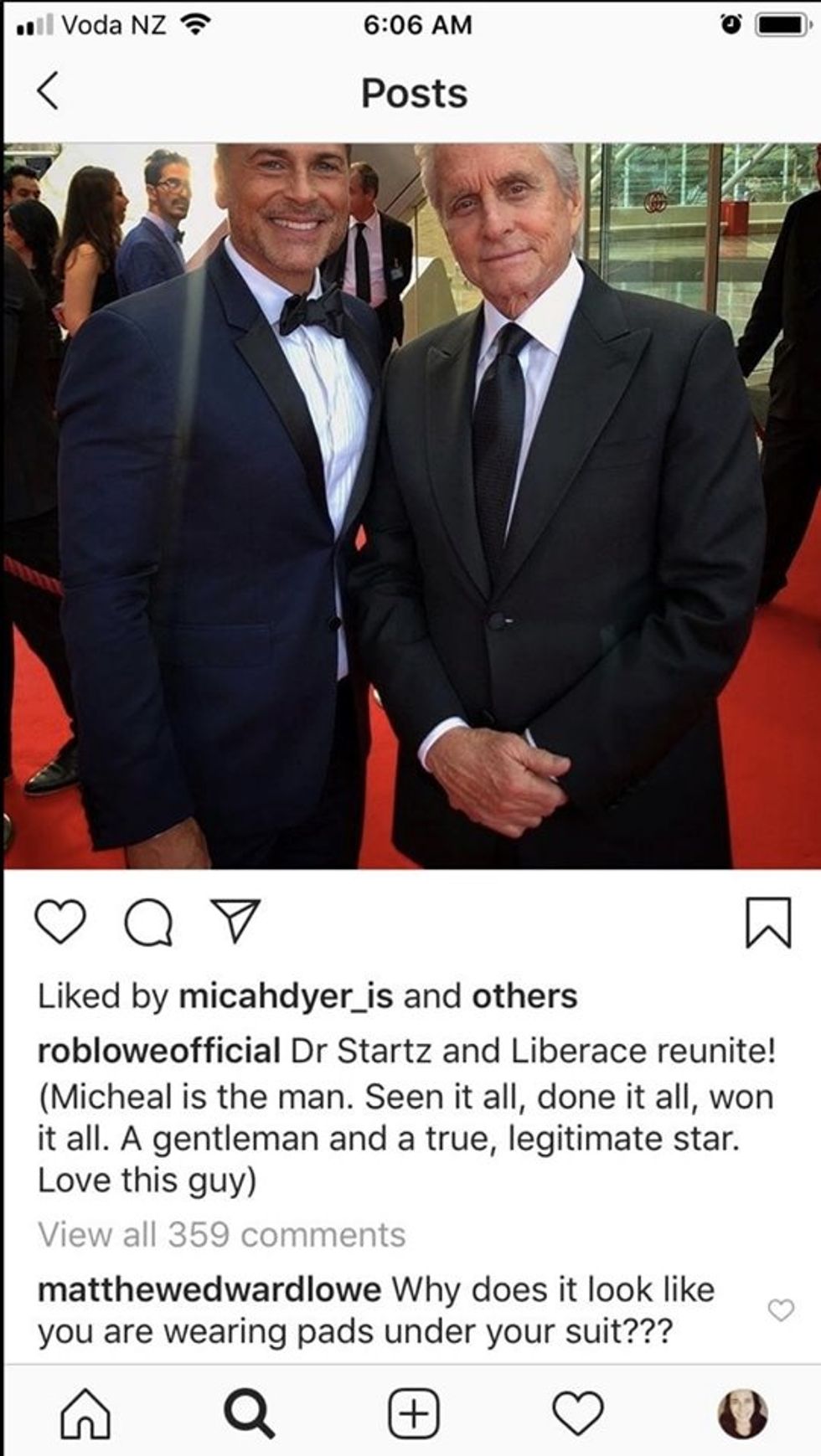 Rob Lowe/Instagram
Oh but they're not done. Nothing like making your sex symbol father look like a bumbling old man by poking fun of his photo cropping skills.
"We gave up on smart cropping, right?" John wrote. "We must have."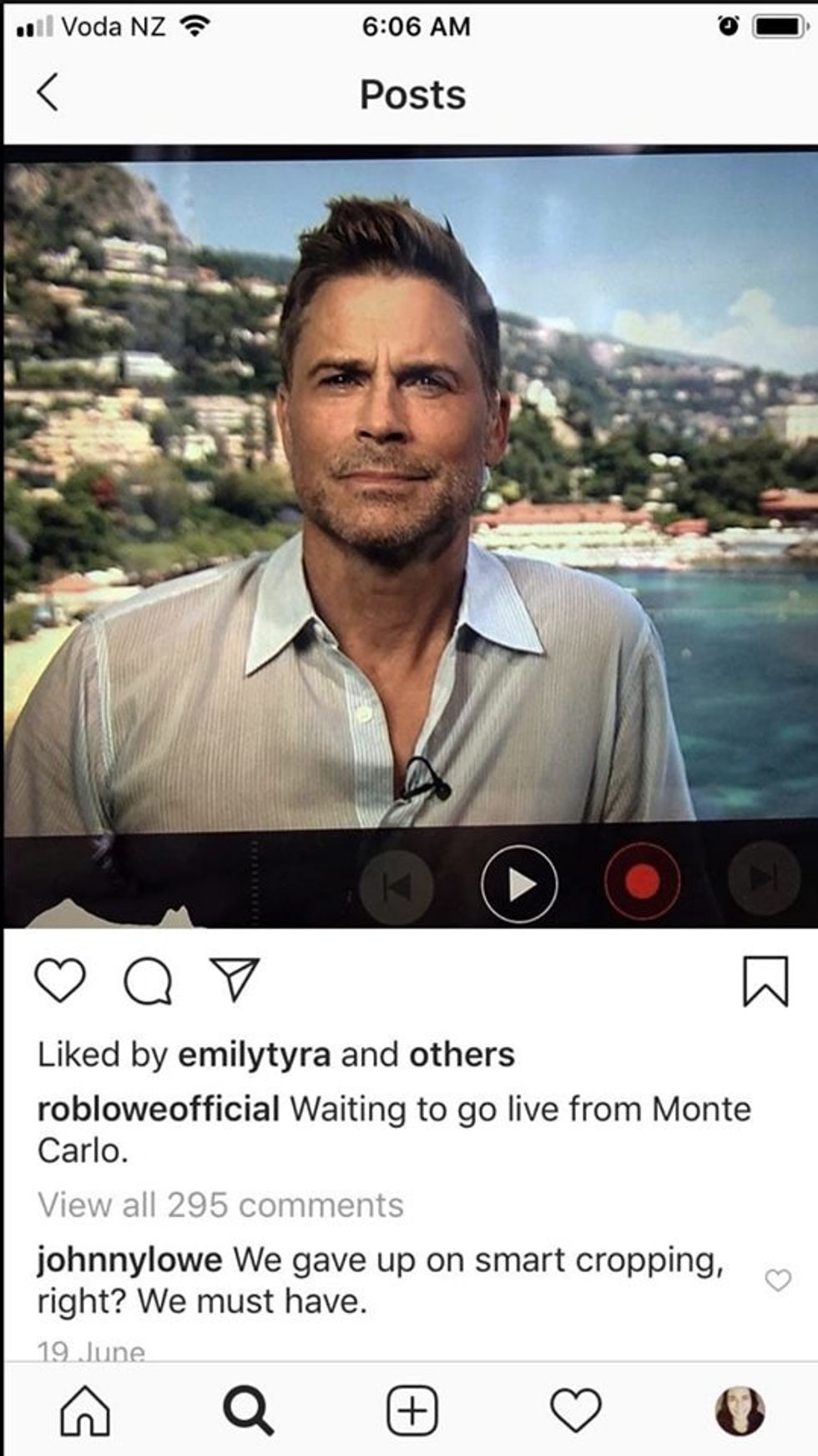 Rob Lowe/Instagram
The boys also turn the tables sometimes on their dear old dad. When Lowe shared a man-contemplating-life photo from the Galapagos Islands, John chastised him for not texting him back.
"So u have time to instagram but not to text me back hmmmm," he wrote.
Ouch, the burn.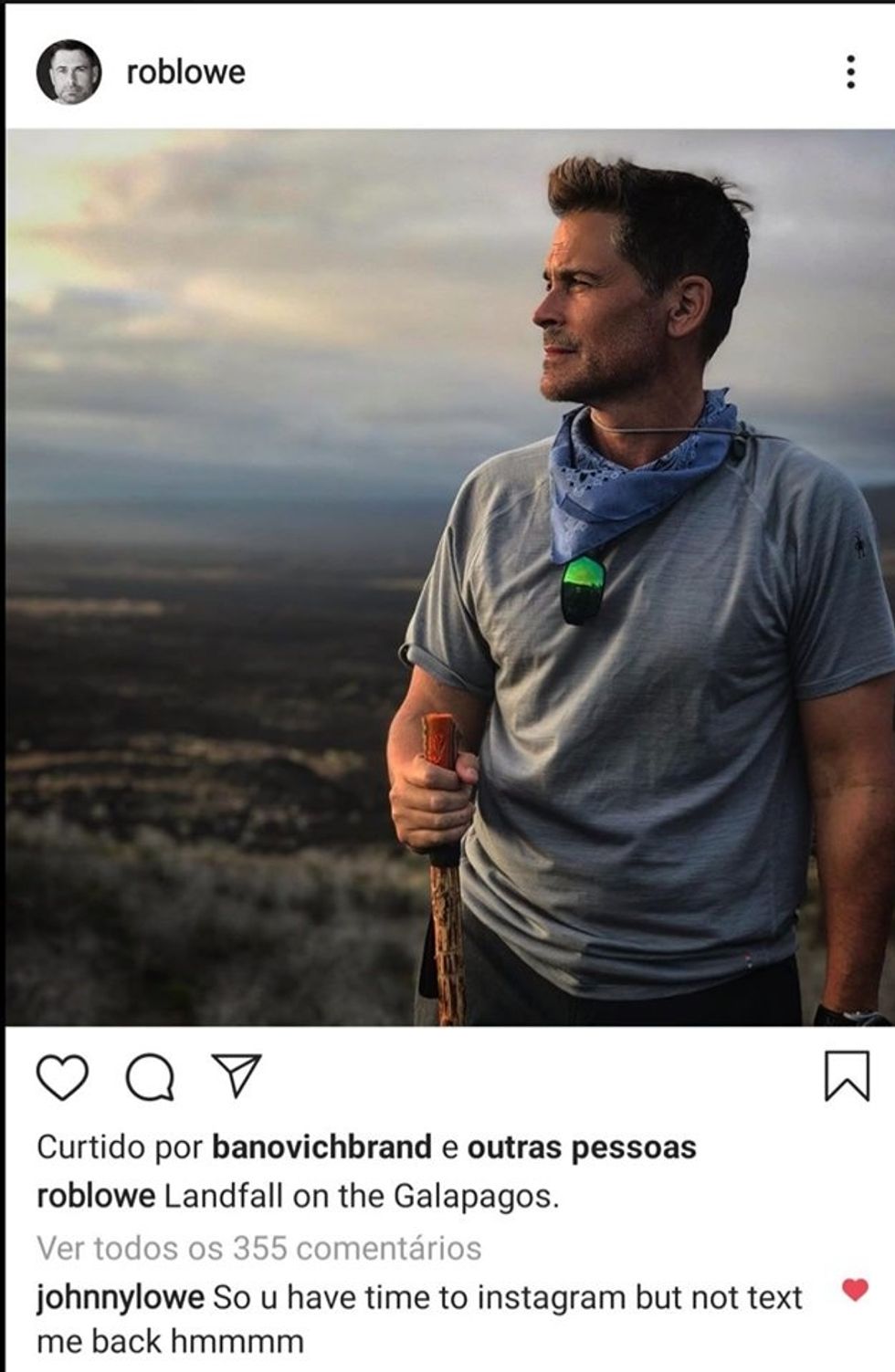 Speaking of burn, this swipe at Lowe's acting is hilarious. As Lowe appears to be hanging precariously from a clip outcropping with the cheezy caption, "Hanging out here in Cape Town," John writes, "This may be your best piece of acting."
OMG. It's too much.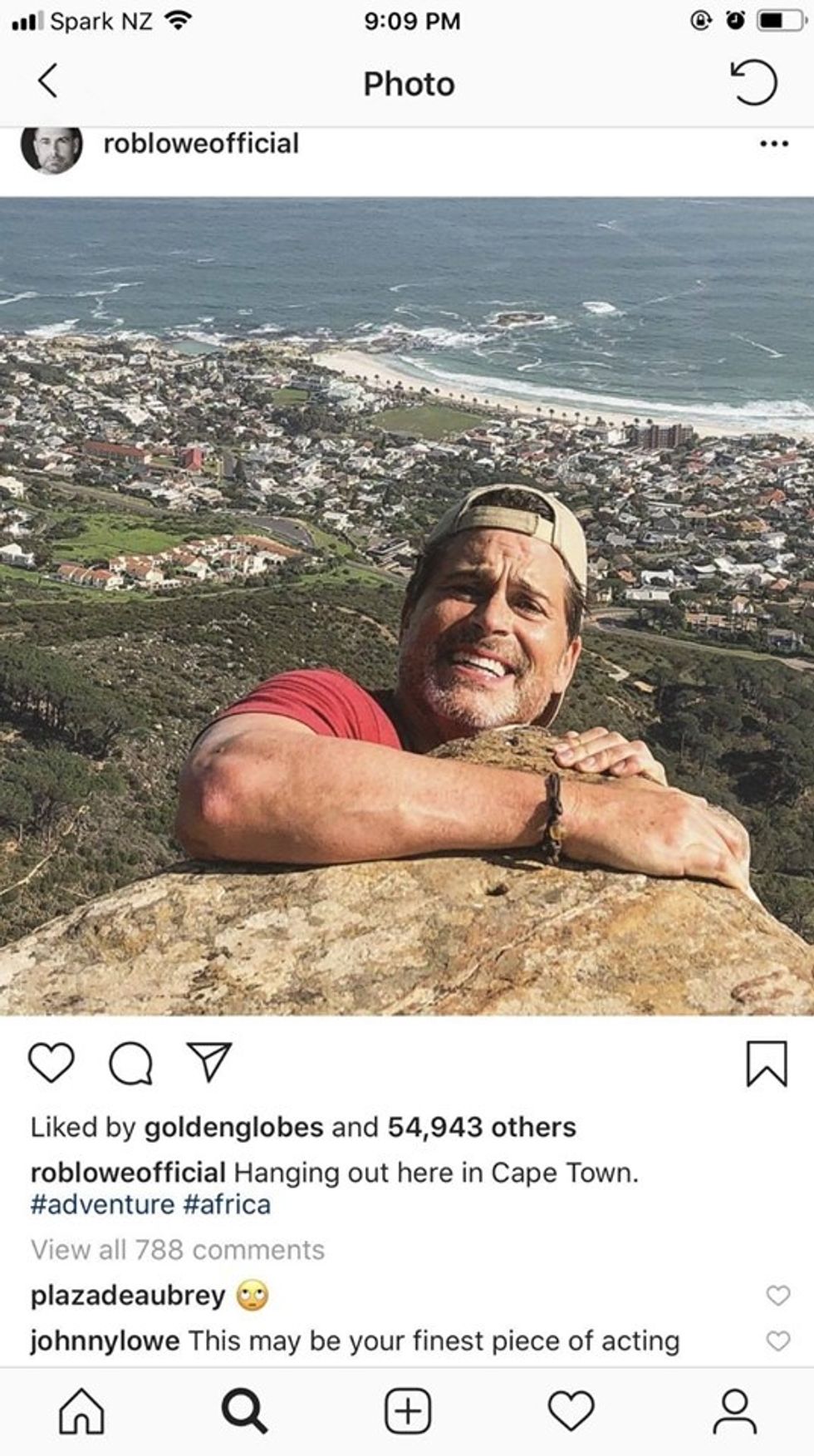 Rob Lowe/Instagram
Even when he's doing his thing in the spotlight in front of crowds of fans, Lowe's sons know just how to keep his feet on the ground. Lowe shared a photo of him at his live show in Las Vegas, only to get an epic ego smackdown from his offspring.
"Stamos would have sold it out," wrote John.
Anybody got some aloe vera handy?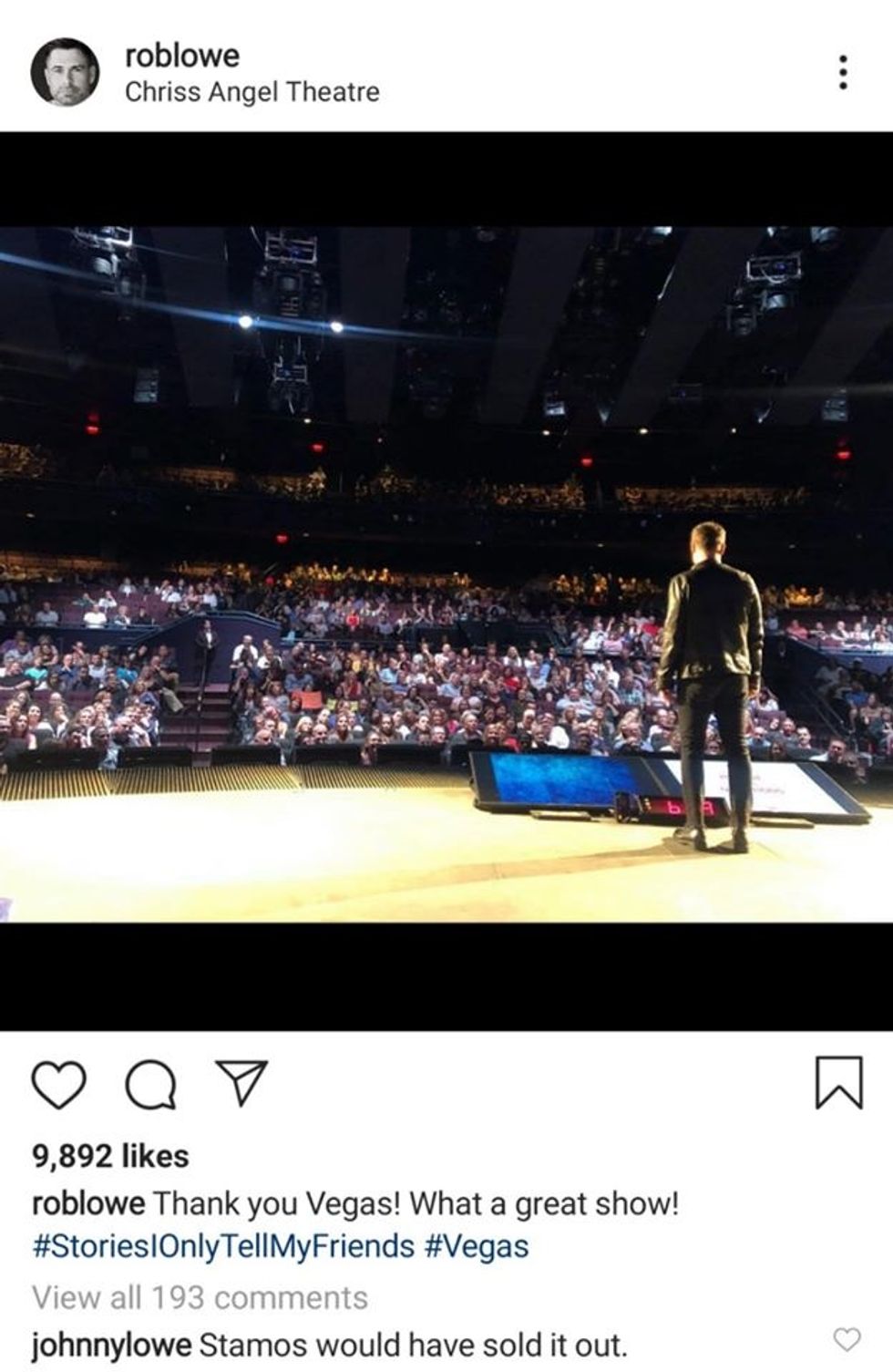 Rob Lowe/Instagram
Every photo in Lowe's Instagram feed includes his sons totally ripping on him, and it's totally hilarious.
For instance, this recent photo of the Lowe family men, including John and Matthew, earned the following comments from the boys:
"Still playing with IG effects like it's 2014." - John
"This hurts me as a photographer that you made it look like a bad Bob Ross painting." - Matthew
It doesn't matter how much fame or much money you have—kids are kids and parents are parents. And Rob Lowe's kids sure know how to have fun at their famous dad's expense, much to the delight of the rest of us.
(If you look through the family's Instagram feeds, you'll easily see that they really are a loving, supportive family. They just have a savage sense of humor to go along with it.)