Inclusivity
A gay couple's pride flag helped give a young teen the courage to come out to their family.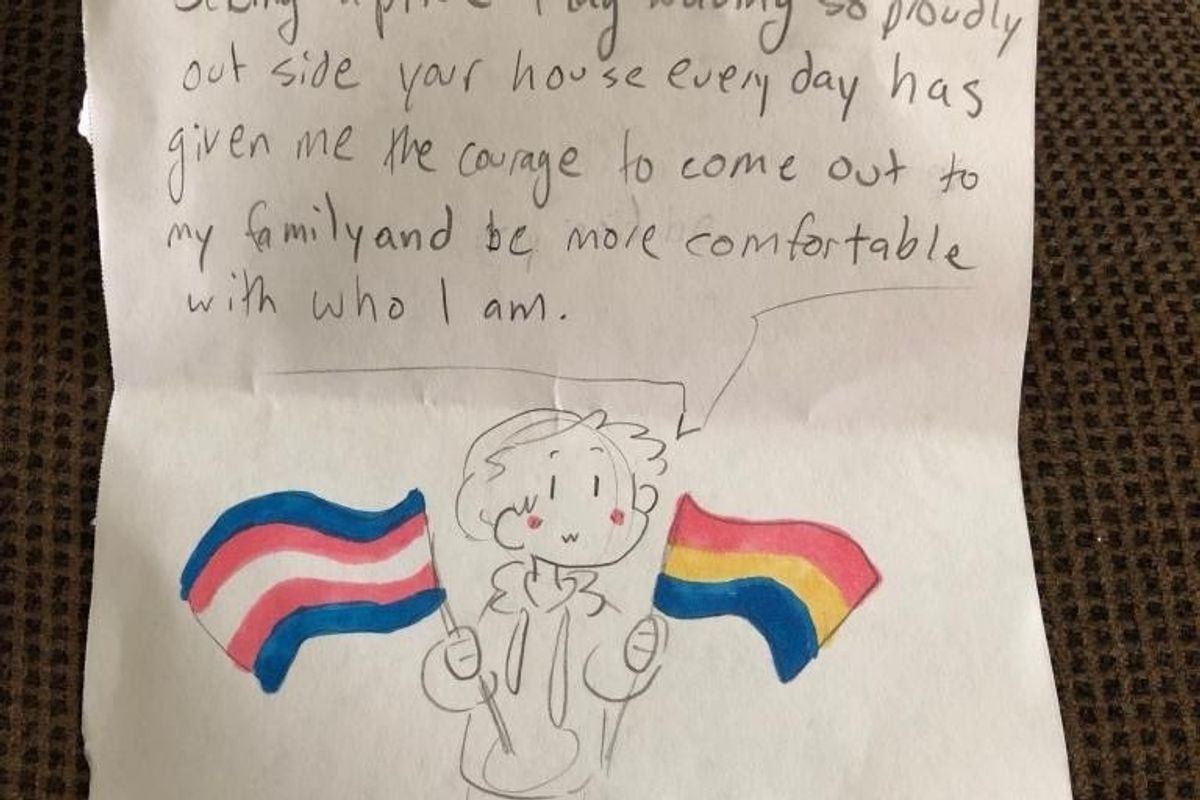 One of the questions that LGBT people get most often during Pride month is why we need to be so visible all the time — especially in June, when you can't turn a corner without running into a rainbow-themed display at Target. While there are many reasons — check some out right here — one of the biggest reasons visibility is important is that it's letting future generations know that it's okay to be who you are. That there will always be people who support you.
In Round Rock, Texas, that visibility helped change the trajectory of one person's life. And it all has to do with the rainbow flag a couple flies outside their home every day.
Sal Stow, who lives at the home in question with her partner, Meghan Stabler, was just out picking up the mail when she noticed that there was a handwritten note held down by a rock among the letters and packages. She didn't know what to expect — sometimes those things are just pizza delivery menus — but when she took a closer look, the sentiment brought her near tears.
"Hello, you don't know me," the note began. "We've moving away today, but I wanted to thank you. Seeing a Pride flag waving so proudly outside your house every day has given me the courage to come out to my family and be comfortable with who I am." The note-writer had also drawn a self-portrait. In it, they look healthy and content while waving the transgender and pansexual pride flags.
On Twitter and Facebook, the note's been shared thousands of times.
LGBTQ Visibility Matters: Read a beautiful note found on my doorstep. I proudly fly 2 rainbow flags at my home. You… https://t.co/46PMcKALZo

— Meghan Stabler (@Meghan Stabler) 1560966229.0
The message here is crystal clear: When we're open about who we are and live our lives free of fear and shame (to the extent which society allows), we're also inspiring others to live out loud. And for those who are struggling with being open about their sexual orientation or gender identity, the tiniest symbols of love and acceptance are a reminder that the world can be a good, supportive place. Sometimes, no words need to be exchanged.
Sure, many of us yearn for a world in which no one has to come out because it's no longer frightening or dangerous, but while Americans have made great strides forward in furthering LGBT+ rights, coming out is anxiety-provoking. Especially when the threats of family rejection and homelessness are still all too real. For many teens, there's a fear that their friends and families will turn on them due to their sexual orientation — even if their loved ones endorsed support for the LGBT+ community before.
In a town like Round Rock, where, Stow writes, the residents are primarily conservative and the local government unanimously struck down a motion to fly a Pride flag at the courthouse, this type of visibility has even more of an impact.
"I am proud of who I am and the person I love. I will continue to be visible in whatever way I can," Stow vowed on Facebook. Maybe it's time we all picked up a rainbow flag to hang near our doors to show pride in ourselves and be an ally for others? Just an idea!