Inclusivity
Homophobe claimed Pride Month is disrespectful to the military. Then, a veteran shut him down.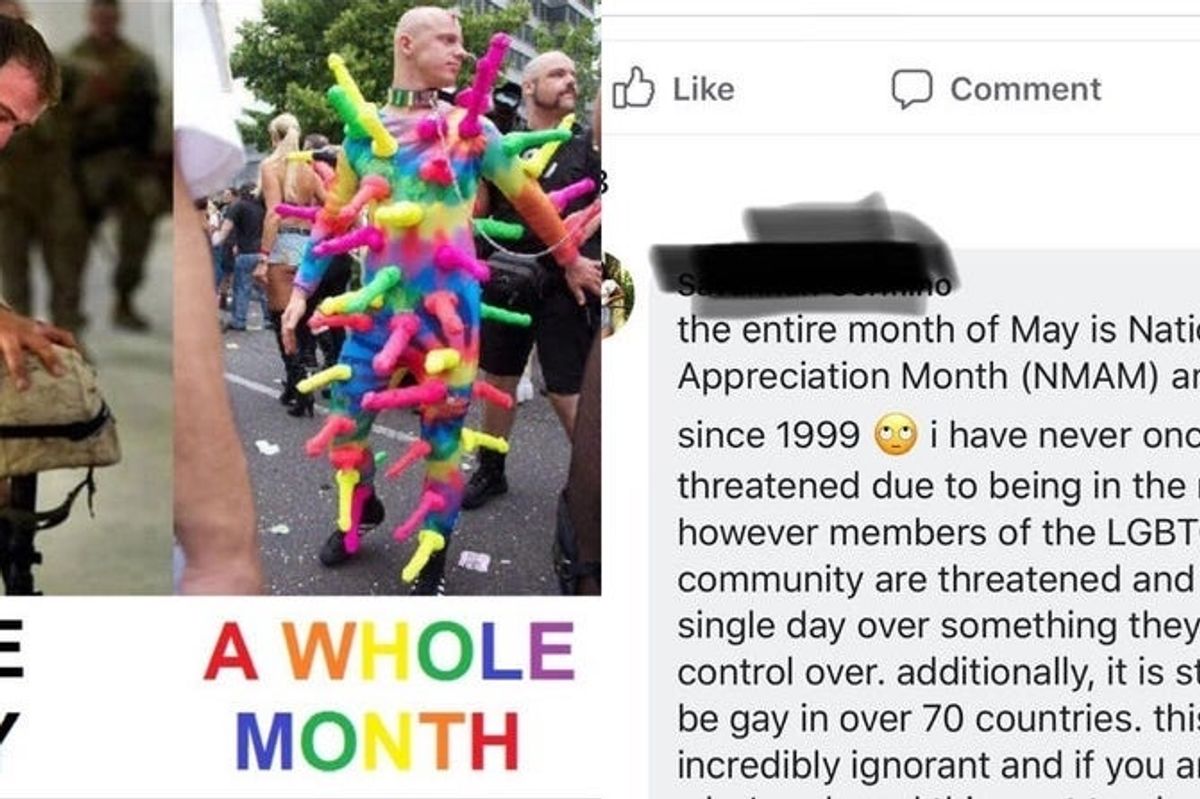 We're about halfway through pride month, which means we're also about halfway through every one of the hot takes about why we shouldn't have pride month, why it's too long, and why we don't need it anymore. SPOILER ALERT: WE DO. If only for the fact that there are so many people demanding that the LGBT+ community justify their existence.
Equality didn't happen just because gay people can marry now. And while things are markedly better than they were when I came out in 2002, homophobia and heterosexism still exist and there are still public officials out there (hi Alabama!) demanding that homosexuals be killed.
---
This year has also seen the added bonus of white supremacists (and those perilously adjacent) creating a "straight pride" parade in order to troll the "privilege" of those who identify as LGBT+. Because nothing says "privilege isn't real," like members of majority groups banding together to take something back from marginalized communities!
Fortunately, people are out here fighting the ignorance with education and support. In Oklahoma, for instance, a straight guy transformed his truck to challenge stereotypes and show love for those who've faced bigotry; on the celebrity front, Taylor Swift released a Pride anthem that you've got to admit (even if you don't like it) will likely change the minds of some of her more socially conservative fans. (That's another thing about Pride: We're going to need it until coming out in support of LGBT+ people isn't seen at all controversial or a "power move" for celebrities.)
Here's one more for the annals of "people correcting those arguing in bad faith." In the tradition of smugly asking when International Men's day is (It's November 19th!) on International Women's Day, a meme's been going around asking why Pride lasts an entire month when veterans get only a day to celebrate what they've done for this country. And a blistering Facebook response from a member of the military, which made the front page of Reddit, has got a lot of people's attention.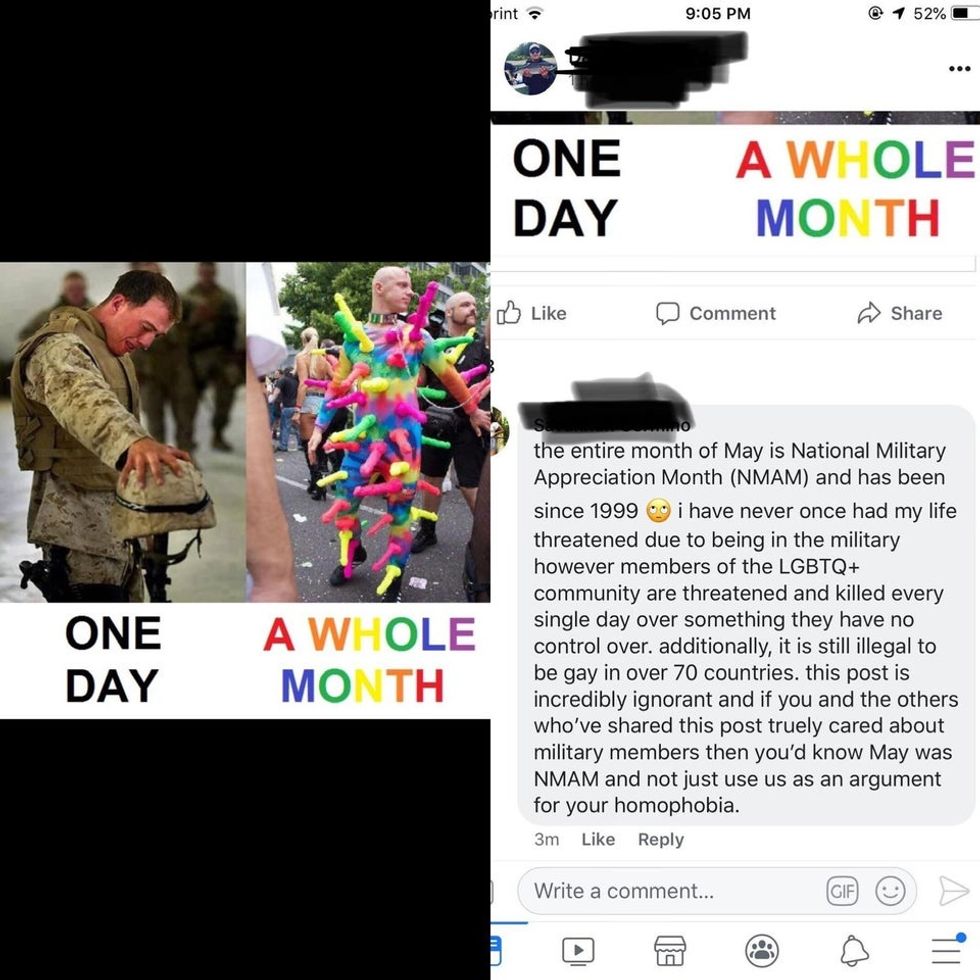 Reddit
"The entire month of May is Military Appreciation Month and has been since 1999," wrote the Facebook user.
"I have never once had my life threatened due to being in the military however members of the LGBTQ+ communities are threatened and killed every single day over something they have no control over."
After pointing out that being gay is still illegal in many, many places around the world (even in the US, we're still fighting for federal protection from discrimination in all 50 states), the author closed with this: "This post is incredibly ignorant and if you'd and the others who've shared this post truely [sic] cared about military members then you'd know May was NMAM and not just us as an argument for your homophobia."
The writer's got more than a point. There's no reason to pit communities against each other. And when people do so just for the purpose of denigrating others — a quick google search would have made it clear that NMAM happens every May, so it would have been easy to raise awareness if that was the goal! — they're showing that they don't actually care about the causes they purport to be championing. They're just trying to tear others down.
And that's just another reminder of why we still need Pride.