Family
7-year-old's sweet LEGO gesture for his military dad turns into beautiful viral moment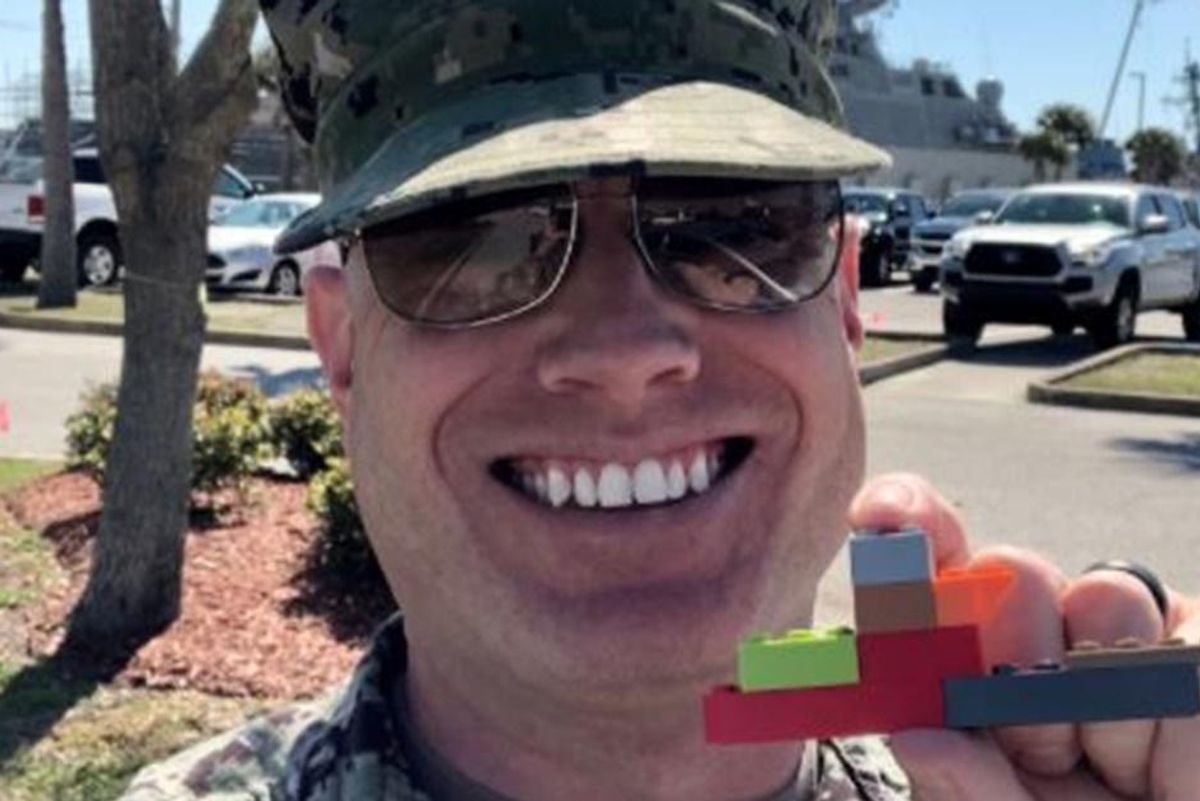 via Travis Akers / Twitter
A tweet thread by Travis Akers, a Navy Lieutenant with 17 years of service, is going viral because it shows just how sweet children can be and also points to an overlooked issue facing military families.

In the early morning of April 12, Akers tweeted a photo of himself and his seven-year-old son Tanner who he affectionately calls "Munchie." Akers was moved because his son set his alarm clock so he could get up early enough to hand him a pocket full of Legos before work.
Tanner wanted to be sure his father had something to play with at the Naval Station Mayport in Jacksonville, Florida. "This was my daily morning trip to base, departing my house at six am for work," Akers told Upworthy.
---
My son was waiting for me very early this morning with a handful of random Legos. He told me that he set his alarm… https://t.co/SblKWXHbNX

— Travis Akers (@Travis Akers) 1618223895.0
Akers followed up the tweet with a photo of his son from seven years ago showing just how quickly they grow. "This picture just popped up in my Facebook memories - It's him seven years ago today," he wrote. "Don't blink."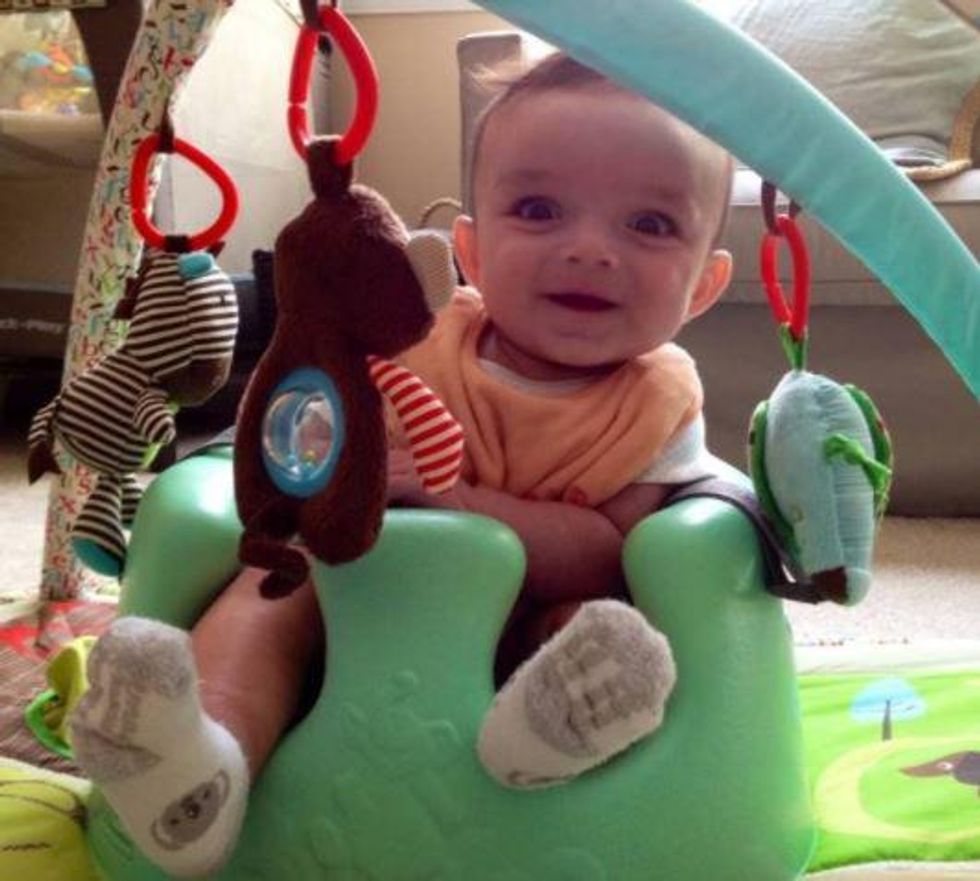 via Travis Akers / Twitter
Akers made a ship out of the Legos his son gave him and it looks a lot like the vessel behind him, right? Akers told Upworthy that he named his new Lego ship the USS Munchie, after his son. he plans on keeping it on his desk at work.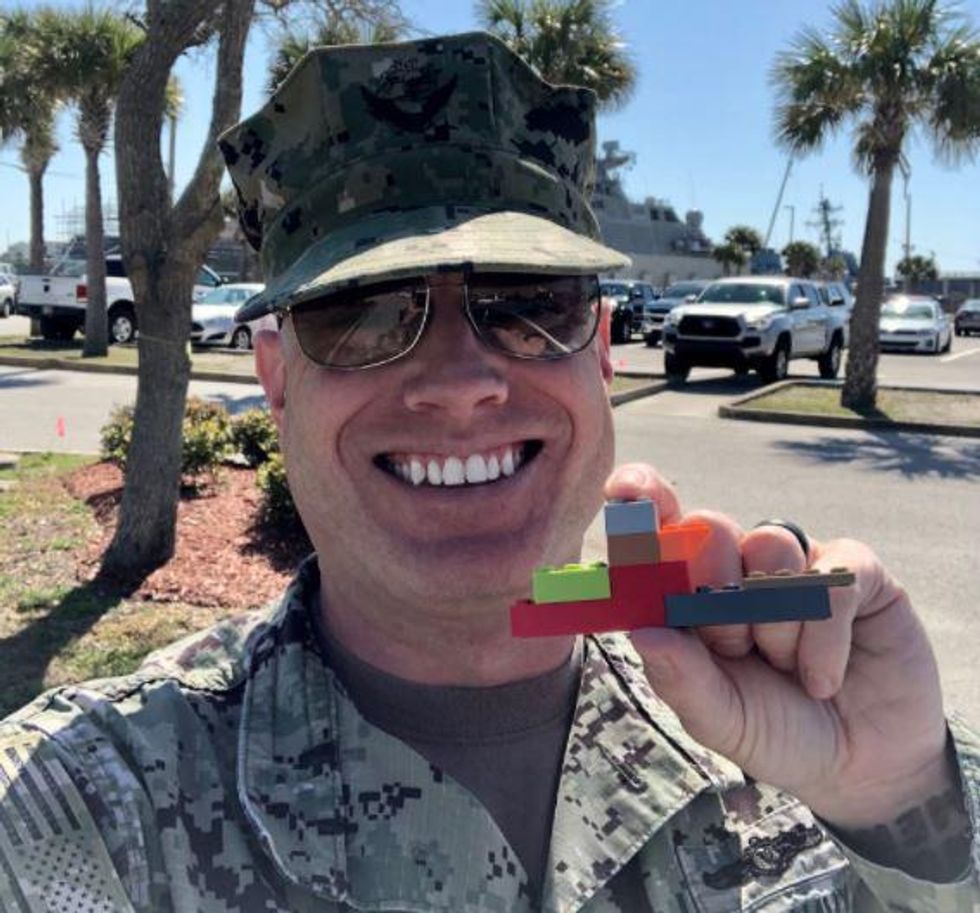 via Travis Aklers / Twitter
The Lieutenant sent a photo to his wife for Tanner to see. Akers' wife said the photo of the Lego ship put a "very big smile" on the child's face and he was "surprised" he actually kept it on his desk.

The sweet gesture by brought a lot of joy to people on Twitter.
However, Tanner's gesture was about more than just keeping his dad happy at work. Akers is preparing to depart for a one-year deployment in a month. "The reality is beginning to set in with him, so he has been wanting to spend a lot of extra time with me and has become very emotional and sentimental over the previous few weeks," Akers said.

A study by Clinical Neuroscience on the impact that military deployment has on children says they often have problems with "sleeping, higher stress levels, and anxiety, declining grades, an increase in maladaptive child behaviors."
Even though time away from the family is hard, Akers has some advice for families to make it easier for them to be apart.
"Technology has done so much for families who are separated during deployments and missions, especially with Facetime and Skype. I recommend parents try to call or Facetime with their children once a day if able," he said.
"Also, do things that are special for your kids, such as recording videos of you reading their favorite books or singing their favorite songs. Write them actual letters, not just emails. The power of a real letter in the mail is astronomical," Akers continued.
The Lieutenant hopes that his new Lego ship will help his son feel better about him being away.
"Something I will be doing on my upcoming deployment is taking the USS Munchie with me and sending him photos of it in various locations from where I will be deployed. Parents can do something similar with a stuffed animal or special toy," Akers said.
Tanner's beautiful gesture comes at a time when the Department of Defense is highlighting the sacrifices made by the children of those who serve our country. April is the Month of the Military Child.

"While people are quick to thank members of the military for their service, we often forget the sacrifices that families make, especially our children," Akers said. "Remember them this month and what they are giving up so that their mom or dad can carry out the duties of protecting our country."
DoDEA Month of the Military Child - April 2021www.youtube.com