More
Congress just passed a historic LGBT rights bill. And it's only the beginning.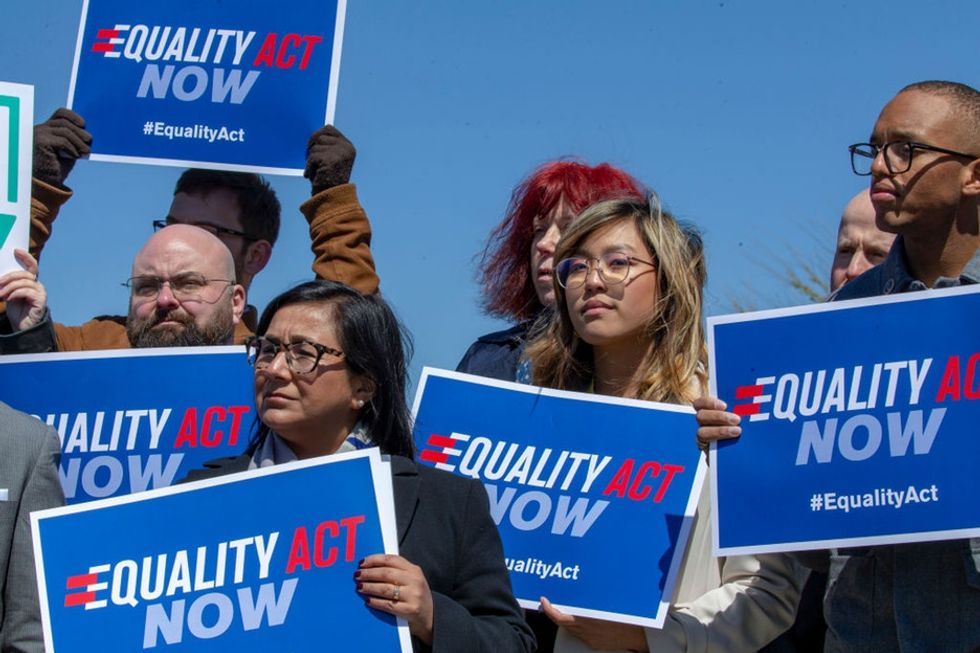 It's a historic day: The house just passed a bill that will provide nationwide anti-discrimination protection for the LGBT+ community and extend protection to women and people of color.
The bill, known as H.R. 5, is an extension of 1964's Civil Rights Act. It's meant to ensure that those who identify as LGBT+ can't be discriminated against at work, school, when seeking housing, and when participating in federally funded programs (among other things).
---
Exactly 15 years after Massachusetts became the first state to legalize gay marriage, the House has passed the… https://t.co/I6EeHYyMYC

— Elizabeth Warren (@Elizabeth Warren) 1558115170.0
While many believe that the LGBT+ community already has all of these protections (especially after gay marriage was made legal), the reality is that gay, lesbian, transgender, and non-binary individuals can still be legally discriminated against in many parts of The United States. In fact, they can even be fired for their sexual orientation and gender identity in 26 states.  
Because these states don't have laws that protect these members of our society, individuals that are treated unfairly at school, let go from their jobs, or denied housing because they are LGBT+ have no legal recourse when it comes to fighting discrimination there. This bill attempts to rectify that, making it clear that all Americans are first-class citizens regardless of how they identify or their sexual preference. (sidebar: Isn't it strange that we have to keep reminding ourselves we're in 2019 because the laws that either govern us or are being passed are so goddamn archaic?)
Of course, this is just one hurdle we've crossed on the long, arduous road to equality. While the bill has passed 236-173 in the house, it still needs to pass the senate in order to become law and there will be some major opposition there. OUT reports that voters have generally been supportive of moves towards equality, but that doesn't mean that republican senators will be.
One republican congressman actually quoted Coretta Scott King when denouncing the bill on the house floor.
"Coretta Scott King wisely said, 'Freedom is never really won. We earn it and win it in every new generation,'" said Ross Spano of Florida. "H.R. 5 is bad for freedom. You see, it would immediately expose churches, religious schools and universities and faith-based organizations to legal liability for simply following their earnest beliefs."
First of all: Gross to invoke King's name like that.
Second of all: Rest assured that this is only the beginning. The way that it will always be only the beginning until all of us are seen as equal in the eyes of the law. There will be many more people who will try to tear this bill down, but there will also be countless others who will fight for it with everything they've got.
And that's why we're not ending this on a dark note. There's lots to be hopeful about when it comes to equal rights — in America and around the world. Case in point, just recently in Taiwan, the government legalized same-sex unions. In The US, we'll continue fighting for equality.
As presidential hopeful Elizabeth Warren said this morning: "LGBTQ Americans deserve to be treated equally, no matter where they live – or who they love."