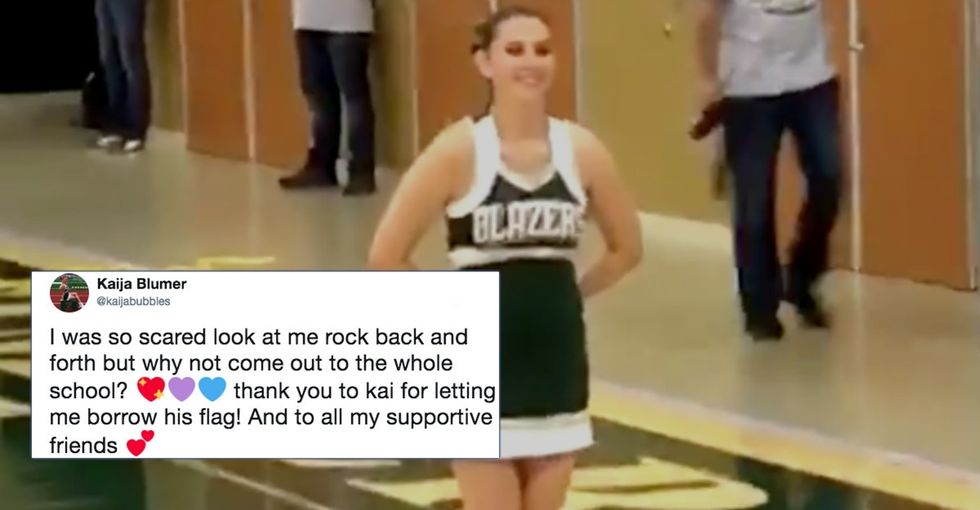 My high school didn't have a sports team, but if there's one thing that movies and TV have taught me it's that there's nothing more nerve-wracking than the first pep rally of the season.
Friendships are formed, hearts are broken and mended, and everyone's life is somehow changed (hopefully for the better).
For Kaija Blumer, that assembly truly was life-changing. Because she came out as a member of the LGBT+ community to her entire school.
---
And it was spectacular.
The high school senior — who now joins the ranks of such heroes as the young woman who came out with a viral yearbook quote —  surprised everyone by unfurling a giant rainbow flag when she was introduced as the school's cheer captain.
And, of course, every second was caught on video — from Blumer's nervous rocking back and forth as she waited to let everyone in, to the joyous expression on her face as her classmates erupted with genuine love, acceptance, and at least one celebratory "oh my god" that most of us spend our lives waiting for.
You ready for this? Because. It. Is. Magic.
Blumer's tweet immediately went viral.
If you've been on twitter in 2018, you know how toxic the platform can get. But, just like her classmates, social media erupted with congratulations for Blumer, with users lauding her bravery and sharing their own thoughts on coming out.
One of Blumer's classmates even commemorated the moment with some incredible art:
Blumer's bravery and message are more important than ever right now.
While the LGBT+ community has been making greate strides towards equality, there's still a lot of work to be done.
And it's people like Blumer who are leading the way towards towards more acceptance and understanding.
I know it's a lot to hang on just one person, but here's hoping that Blumer's act of courage will inspire even more teens to feel safe about coming out.
None of us should ever have to hide who we are.