Inclusivity
Councilwoman comes out to her constituent complaining about Pride flags in an unforgettable exchange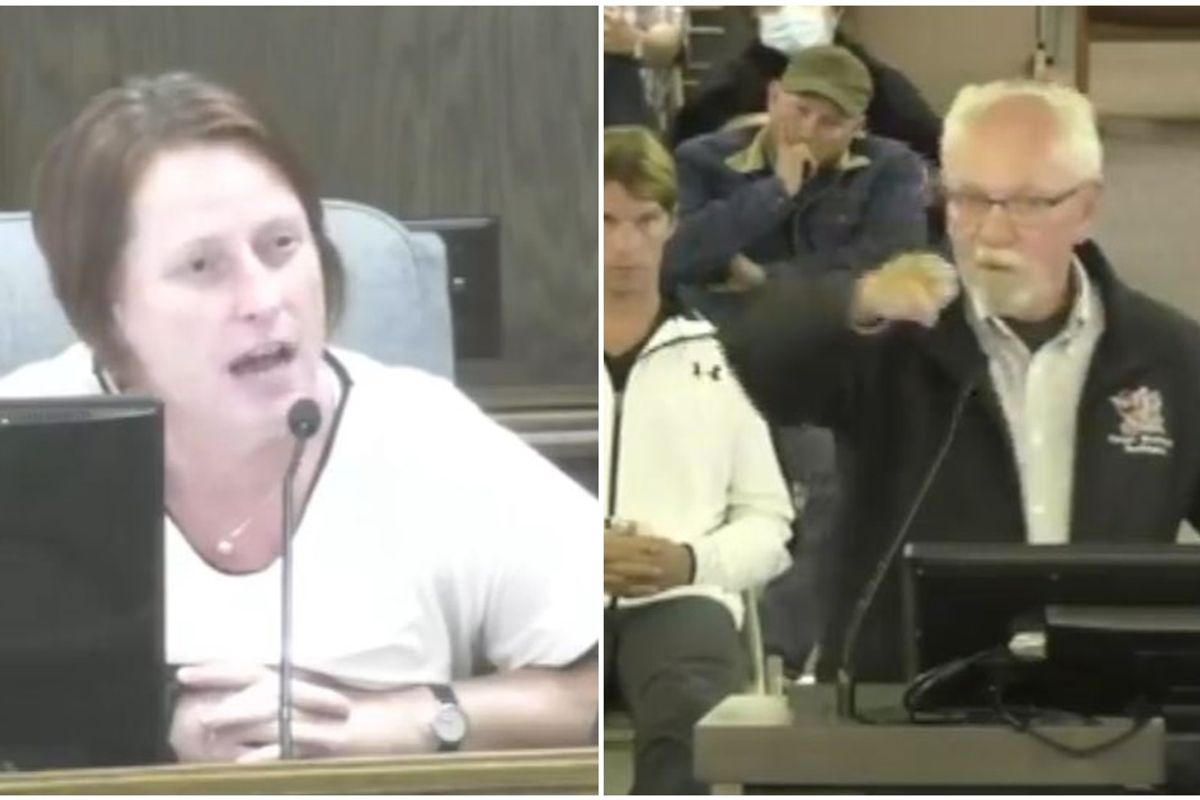 via Facebook
Pride Month events were cancelled in Minot, North Dakota last June due to the COVID-19 pandemic. So, the city decided to temporarily fly a Pride flag in support of the LGBTQ community at city hall earlier this month.

The flag ceremony was accompanied by the town's mayor, Shaun Sipma, proclaiming June as Pride Month in the city. This gesture ruffled a lot of feathers in Minot, a city of around 41,000 residents.
Spima said his decision to support the flag-raising stemmed from seeing "a population within our community that does need to have that issue addressed – the issue of hate. When they came to me, they had stated that they wanted a call for kindness, not necessarily acceptance but a call for kindness. And that I can appreciate."
---
Last Tuesday, angry residents spoke out against the flag at a city council meeting. This prompted councilwoman Carrie Evans to deliver a beautiful defense of the flag.
Evans began her defense by letting meeting attendees know that she is a lesbian.
"So Mr. Walker, if you're not aware," Evans told a resident who was against the flag, "and I think a lot of people in this room are not aware and have come here just because this is a gay issue, I am proudly the first openly elected lesbian in North Dakota. So that is why I am not paying any heed to your crap."

Evans told Walker that the flag was a way to show LGBTQ people that they are just as valuable as anyone else to their community.
"We, the people. I'm the people. I live in Minot. I am a taxpayer. I am a person," she said. "I get to see myself represented on that flagpole just as much as the people who got the Juneteenth flag last month, as much as the POW/MIA will get later this month."
"Every single person is entitled to see themselves represented," she continued. "We are not some group of people who live in San Francisco or Seattle."
"We are here. We are your elected officials. We are your brothers. we are your sisters, and don't tell me you're not hatred or anger. That's all I feel. I've had to listen to it for days now, as has the mayor and many of my colleagues. It is unacceptable," Evans said.
I was proud to witness tonight the flying of the #LGBT+ pride flag in my city of Minot for the first time. There is… https://t.co/MODSdTHDLe

— Zach Raknerud for North Dakota (@Zach Raknerud for North Dakota) 1599090250.0
The councilwoman made the compelling point that the flag does absolutely nothing to hurt Walker but has an incredibly positive effect on how the LGBT community is perceived and protected.

"This city is big enough for all of us. Me having a flag flying does not take away anything from your rights. But you know what it does for me? It shows me I live in a city that appreciates and embraces me, and my community," Evans said.
"And I can live here and feel safe," she continued. "That's what it does. I'm sorry that it doesn't make you feel comfortable, but we're here, we're queer, and we're not going away!"
Over time, symbols like the Pride flag may become so ubiquitous that we forget their true meaning and why it's important for them to be flown.
Evans' defense of the Pride flag serves as a perfect explanation for why people choose to fly it in the first place and why they should continue to do so.