popular
A Disney fan complained that 'wokeness is ruining' the Magic Kingdom and the responses are great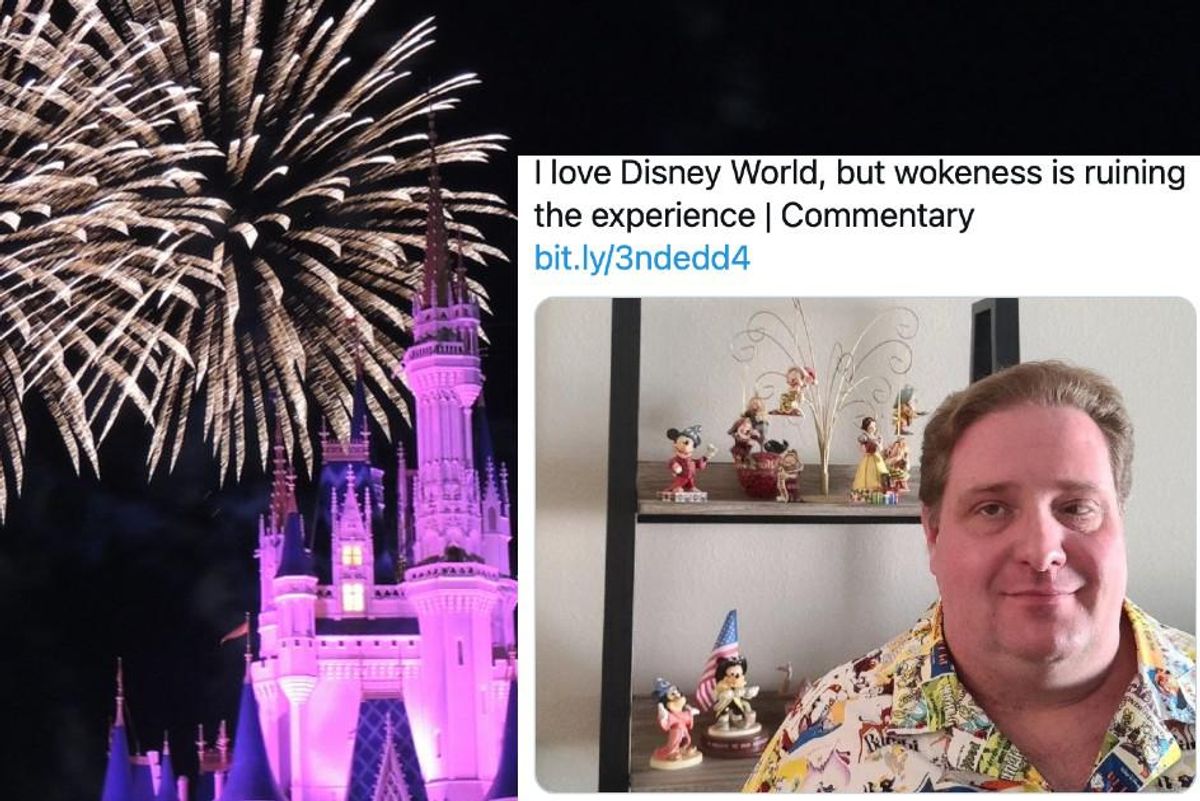 Wikicommons
Self-proclaimed Disney fan Jonathan Vanboskerck has caused a stir on social media after an op-ed he wrote was published by the Orlando Sentinel entitled, "I love Disney World, but wokeness is ruining the experience."

He believes that Disney's decision to bow to political correctness and the "Twitter Mob" has sucked some of the magic from his experience at Disney World.
Disney's unique ability to create magic comes from immersing people in fantastic settings, allowing them to momentarily suspend disbelief and be transported to another world. It's an incredible trick and nobody does it better than Disney.
Vanboskerck argues that the company has made changes to its parks to project its liberal values and that takes him out of the experience.
---
"When I stand in Galaxy's Edge or Fantasyland, I know I am in a theme park but through immersion and my willingness to set the real world aside, something magical happens," he writes.
"That spell is broken when the immersive experience is shattered by the real world. And boy, has Disney been breaking the immersion," he continues.
I love Disney World, but wokeness is ruining the experience | Commentary https://t.co/vobMA2IX6y https://t.co/wpNmXXzgBK

— Orlando Sentinel (@Orlando Sentinel) 1619183334.0
He doesn't like the new Disney policies that allow cast members to have "inclusive" haircuts and tattoos. Now, he has a point here, if Tinkerbell has a sleeve tattoo it kinda kills the experience.

However, he should be a bit more clear about what he means by "inclusive" hairstyles. Does he have a problem with people having braids? An androgynous hairstyle? A die job?
"More broadly, like many corporations, Disney has been politicizing its business," Vanboskerck continues. "Full disclosure: I am a Christian and a conservative Republican, so the people who run Disney and I do not see eye to eye."

He then goes on to say that it's acceptable for corporations to express their political belief if it's for profit. He's also fine with corporations getting political to express values, as long as they align with his.
"Regardless, corporations have always made politically motivated decisions. Usually, it is due to the desire to make a profit, but sometimes it is due to the values of the people in the corporation," he writes. "Walt Disney used his corporation to express his patriotism during World War II and his pro-capitalism beliefs afterward. The difference today is that the people who run Disney use social media to scream to the whole world that a decision has been made for political reasons."
Vanboskerck is upset that Disney removed Trader Sam from the Jungle Boat Cruise because he might "offend some people."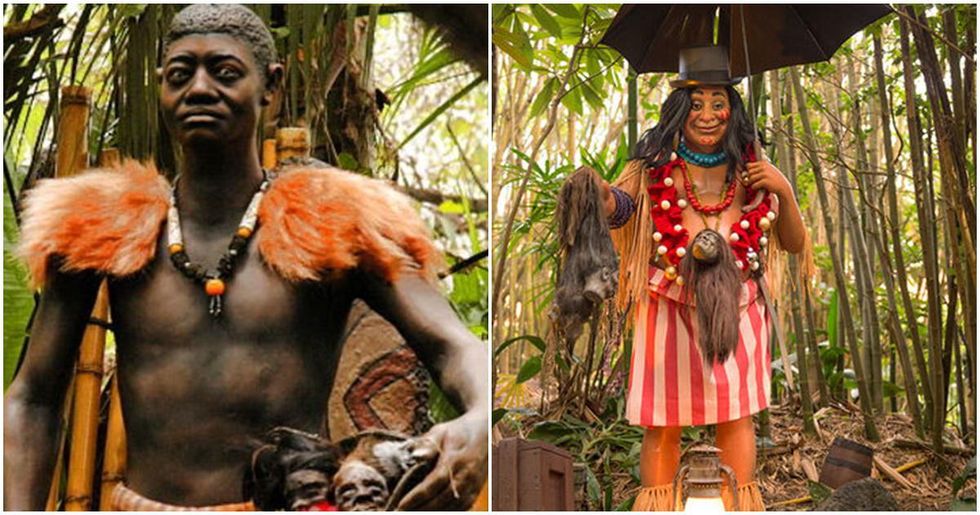 via Disney Fandom Wiki
According to the Disney fandom wiki, Trader Sam is a South American indigenous shrunken head dealer who comes from a "cannibalistic" family. If there's anything that perpetuates the colonialist idea that indigenous people are savages this would be it.

If Vanboskerck's concern is immersion, then he should consider the fact that, for many, seeing an indigenous person portrayed as a savage also really ruins the immersive experience.
He also says that Disney's decision to change "Splash Mountain'' because of its association with "Song of the South" is to "appease a certain political point of view."
"Song of the South" is a film that paints a rose-colored picture of life on a plantation for Black people in the South at a nebulous time somewhere around the Civil War and Reconstruction. The idea that "Song of the South" is troublesome only to left-wing people is setting the bar very low for conservatives.
Every time Vanboskerck looks at Splash Mountain he says he's "thinking about politics." But, again, what about people who don't want to be reminded of slavery when they're on a theme park ride? Their opinion matters as well.
So political.
Unfortunately, we live in a world where it seems that everything has become political. That's a shame because at the heart of politics is a battle between groups to force their will upon one another. However, we all have the choice to decide how we interpret reality and whether we judge everything as political.

Creating an environment that's considerate of people with different backgrounds isn't, at its heart, political. The Magic Kingdom is a place that welcomes people from all over the world. Disney would be really killing the magic if it decided to only present a world of fantasy that appeals to a limited group of people.

Vanboskerck shows his hand when he writes that "every time I look at the ride I am thinking about politics." The problem could be he's conditioned himself to see everything around him as political. That's a problem that even the geniuses at Disney Imagineering can't solve.
The piece inspired a lot of passionate, and funny responses on Twitter.
@orlandosentinel 'I prefer to think of the cast members not as individual humans who are there bc they need to put… https://t.co/s5U2s9vgsH

— Thom Bird (@Thom Bird) 1619190749.0
"As a white guy living life on the lowest difficulty setting, I'd like my theme park experience to stay exactly the same. Sure, that means some rides and shows are a bit insensitive to others, but it doesn't affect me, and you're here to accommodate ME."🤦♀️
— Anne Wheaton (@AnneWheaton) April 23, 2021
Won't someone please consider the delicate sensitivities of a middle aged white man when designing children's theme parks?
— Adrienne (@MorazonInc) April 23, 2021
@PattyArquette @orlandosentinel Well I'm Mexican and I grew up in LA. My dad took me to Disneyland as a child and I… https://t.co/WvxY9YAsBU

— Rachel Classic Bougie Ratchet (@Rachel Classic Bougie Ratchet) 1619195368.0
A Christian shouldn't even be at Disney , it's full of magic and magic is of the devil
— Yggy Pop (@Yggypop) April 23, 2021
"I just want sanitized stories about colonialism, indigenous people and American race relations that whitewashes history and spreads a message about how white people have only ever been the good guys, not something POLITICAL"
— PS (@OttawaFencer) April 23, 2021