Pop Culture
11-year-old AGT audience member wows everyone with her amazing voice—getting her own 'Golden Buzzer'
Madison Taylor Baez continued to move audiences when she told them what she would do with the million dollar prize.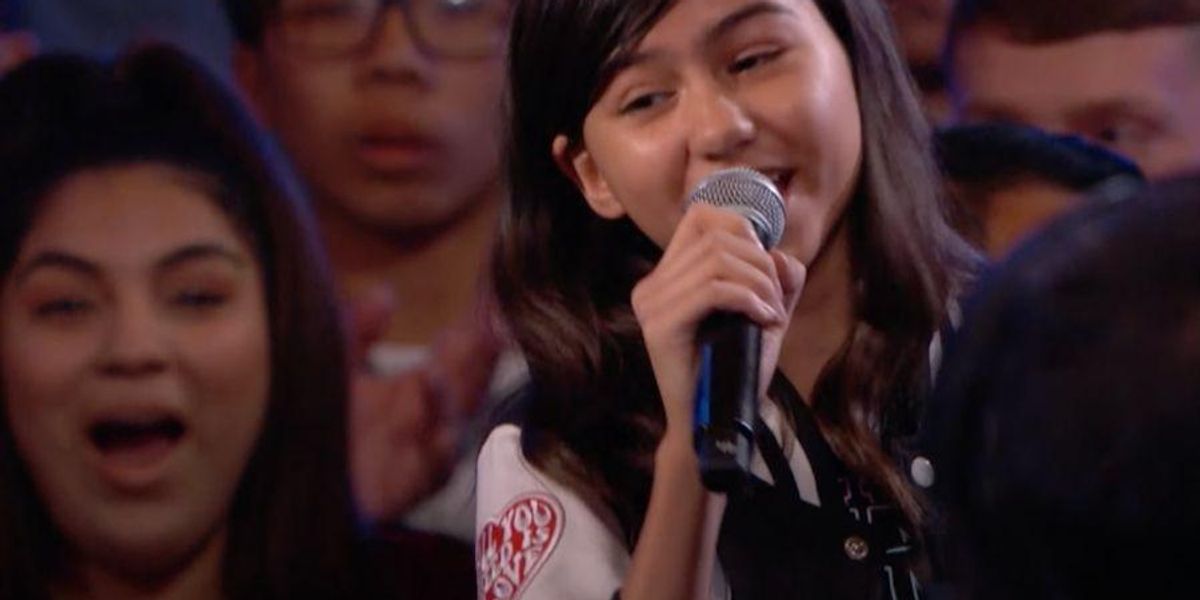 We all know that in NBC's long running "America's Got Talent," it's all about earning that coveted Golden Buzzer. Performers of all kinds grace the stage in hopes of wowing the judges, seizing the prize and moving onto the next round.
What you might not know is that during commercial breaks, random audience members get a chance to show their stuff as well. Usually this bit is just for fun to pass the time. But one young singer gave such a spectacular performance that everyone was left in awe.
Eleven-year-old Madison Baez Taylor was placed in the audience by the show's producers unbeknownst to the judges. A huge AGT fan, Madison had been to tapings since she was 4 years old and would always try to sing during the commercial breaks. Finally—the year she came to actually audition, no less—her dream came true.
---
Once Madison was handed the mic, there was no holding back. Her raw, soulful rendition of "Amazing Grace" instantly wowed, and the crowd burst into a standing ovation. Judges Sofía Vergara, Heidi Klum and Howie Mandel spun in their chairs. Even the notoriously unimpressed Simon Cowell quickly came in from backstage to see who the mysterious powerhouse was.
"We do ask people in the breaks if they'd like to sing a song and I was literally just coming back in and I heard this voice, thinking, 'Who the hell is that?' And then I see this little thing in the audience and it's you," Cowell told Madison.
With a smile, Cowell then asked Madison to sing again. This time on the stage. For an official audition.
Through tears, Madison sang again a capella, somehow with even more flair and gusto. And holy moly, that vibrato.
Needless to say, cheers ensued.
After her thrilling encore, Cowell told Madison, "I'm not kidding. In all the years we've ever done this, this has never actually happened before. I mean, I normally leave during the break because people do sing, so this is actually the opposite. It actually brought me back into the room."
Mandel then asked Madison what she might do with the $1 million grand prize if she were to win. Her heartfelt answer caught everyone by surprise.
"I would help my dad with cancer research. He's had stage 4 colon cancer for the past nine years," Madison said, getting emotional.
Her dad, who had come to support his daughter during her big moment, later joined Madison on the stage. He revealed that she learned to sing by serenading him during his surgeries and chemo treatment. "She'd sing to me and help me get better, and I'm doing very well," he told the audience.
Madison received the Golden Buzzer from Mandel. No vote necessary. She and her dad shared a wonderful moment of victory as the golden confetti rained down. Whether she makes it to the final round or not, this girl is a winner.