Pop Culture
Watch Anne Hathaway hilariously beat Kelly Clarkson at her own karaoke game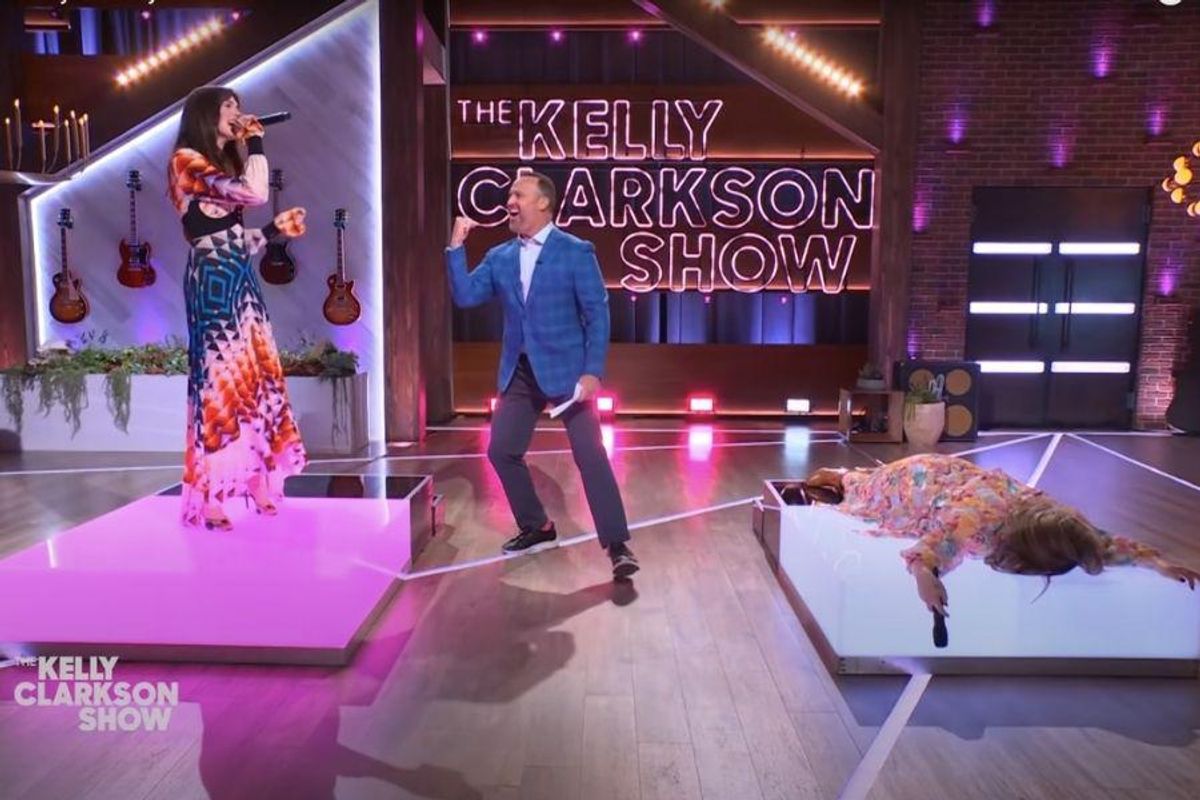 If there's anyone you don't want to go up against in a singing contest, it's Kelly Clarkson. The singer who made "American Idol" her success as much as it was theirs is arguably one of the most talented singers alive today. Who would dare to go up against those pipes in a competition?
Anne Hathaway, apparently.
Hathaway proved herself to be no slouch in the musical world with her performance as Fantine in "Les Miserables," but still. We're talking Queen Kelly Clarkson here. It would take some serious guts to compete with the Queen, no matter how well you can sing.
---
But Hathaway not only agreed to some friendly competition on Clarkson's show, she actually slayed it. Not by besting Clarkson's vocal chops, but by recognizing songs and singing them before Clarkson could—including, as it turned out, one of Clarkson's own greatest hits.
The game was "Sing That Name That Tune," in which Hathaway and Clarkson competed to see who could start singing karaoke to a song after just hearing an intro. Whoever recognized the song first and stepped up to sing it would win the round. In the first two rounds, Clarkson stepped up first, but she didn't get the songs right. (Well, technically, she got the second song right but couldn't sing any of the lyrics, so Hathaway took it.)
"Can you play a fricking song I'll know!" said Clarkson. So the band did. Her hit song, "Since You've Been Gone." And Hathaway still beat her to it.
Watch:
anne hathaway is a theater kid, you will never beat a theater kid at these types of games (even if you are the untouchable kelly clarkson)pic.twitter.com/FQiopkySqQ

— alex (@alex) 1647953052
First, kudos on the belting. That's not an easy song to sing. Second, Clarkson's reaction was hilarious. Classic Kelly Clarkson. And Anne Hathaway's cool confidence made a perfect contrast. So fun.
People joked about Anne Hathaway being a theater kid and how that experience led her to this very moment.
Kelly has never stood around the piano for HOURS at her theater director's house while he plays tune after tune that everyone joins in on within the first 2 bars. The hours of my life spent doing just this...

— Jolie Lindley (@Jolie Lindley) 1648000794
It actually gets better when you watch the whole segment, because the song that followed "Since You've Been Gone" ended up creating an awesome David Bowie and Vanilla Ice mash-up.
Was it all scripted? Who knows. It's fun nonetheless and Kelly Clarkson's response is already being made into a GIF, which we'll surely start to see everywhere.