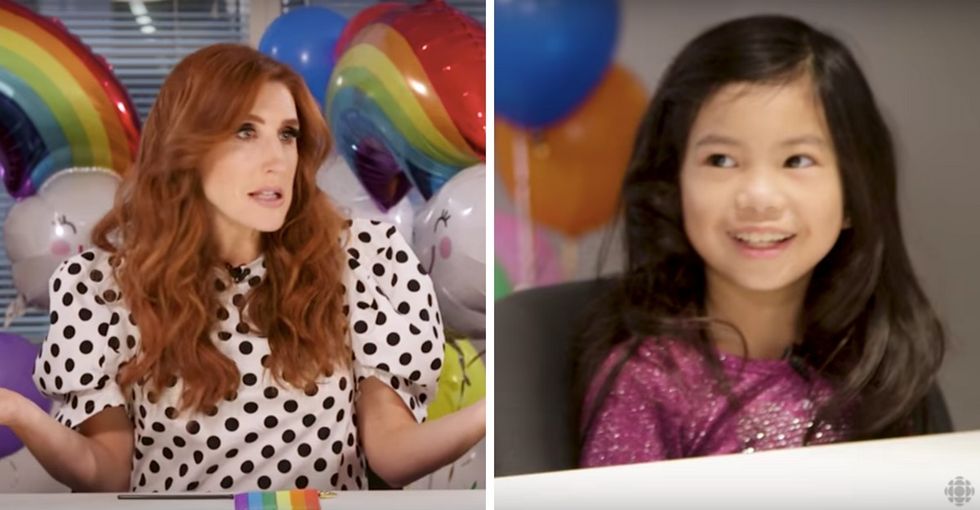 What do kids really think about LGBTQ Pride month?
"CBC Life's" Jessi Cruickshank wanted to know. So she got a roundtable of four kids together and asked. Their funny, smart, and surprisingly heartening answers really are worth a watch:
My favorite kid snippets include:

On what it means to come out of the closet: "When you're playing hide and seek ... and someone finds you and you have to come out of the closet and you have to be it."

On if it'd be cool to have two moms: "If the house is full of girls and there's no boys in sight ... you wouldn't have to flush the toilet for the boys."




---
One-liners aside, the segment serves as a hopeful reminder that most kids today see being LGBTQ as perfectly normal and acceptable.
"What do you think of gay marriage?" Cruickshank asks at one point.
"I just think it's normal marriage," a woke little boy answers without missing a beat.
"My auntie — I know that she's gay," another girl answered, totally unfazed by her aunt's queerness. "She's not married yet, but I'm wondering if I'm going to be her flower girl."
They're telling exchanges.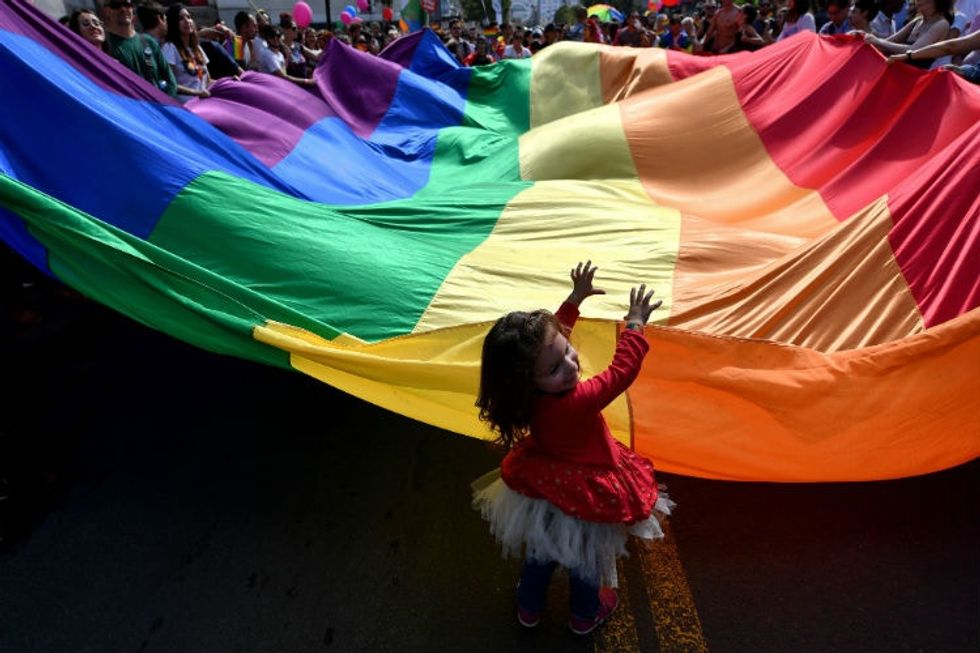 Let this pic remind you that LGBTQ Pride Month isn't just for adults! There are lots of ways kids can celebrate and learn about Pride, too. Photo by Andrej Isakovic/AFP/Getty Images.
Research shows the younger a person is, the more likely they're accepting of LGBTQ people.
Throughout the past few decades, sweeping legislation has followed a wave of queer acceptance in the U.S. and other Western countries, with younger generations largely leading the way.
That progress isn't concrete, to be sure — backlash to social change can be an equally powerful force — but the trend lines still paint a bright, rainbow-colored future for LGBTQ people.
And that's worth remembering during Pride month.
"Guys, I'm so impressed with you!" Cruickshank concluded the segment. "Remember, what are we to the gay community? We are ..."
"Gay icons," one kid answered flatly.
That you are, little guy.