More
Willie Nelson saved the lives of 70 horses and gave them a place to roam on his farm.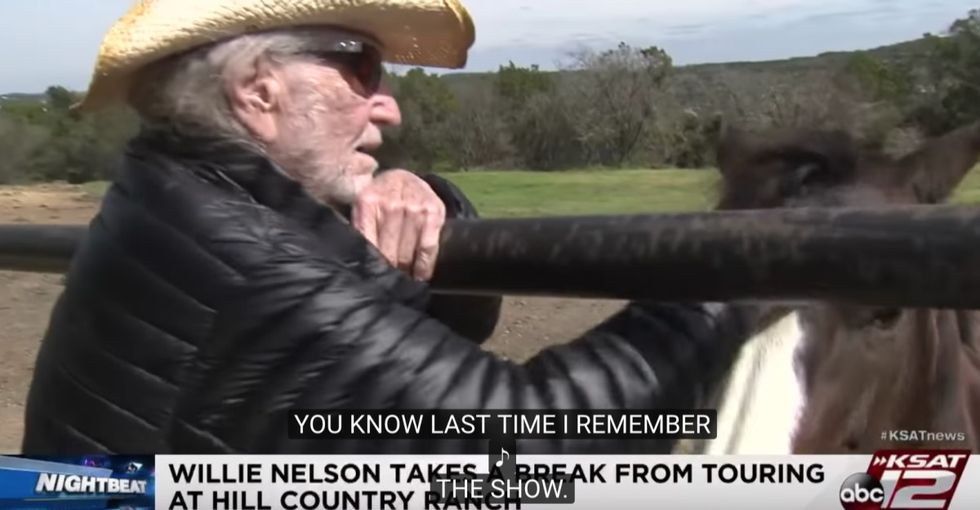 Country music legend Willie Nelson has a 700 acre ranch in Texas called Luck, and the name is no misnomer, especially for the 70 horses who live there.
They get hand-fed twice a day and have a wide expanse of farm land to roam around on. But most importantly, almost all of them were rescued from slaughterhouses.
Nelson's horse rescue mission has been ongoing over the last several years, and is actually a large part of why he named his property Luck Ranch in the first place.  
---
"When you're here, you're in Luck, and when you're not, you're out of Luck,"  Nelson told ABC KSAT 12.
[rebelmouse-image 19534854 dam="1" original_size="700x284" caption="Photo via KSAT/YouTube." expand=1]Photo via KSAT/YouTube.
Horses are much more than a staple of his farm life — they're featured in his music as well. Nelson recently wrote a song about his beautiful rescue horses called "Ride Me Back Home" which will appear on his album that drops this summer. The 87-year-old singer-songwriter spends roughly 200 day stretches on the road touring, so it makes sense he'd be longing for the more laid back life on the ranch with his beloved equines.
Rescuing horses isn't the only sort of on-the-ground philanthropy Nelson's dedicated to though. He also supports struggling American farmers via a nonprofit he co-founded called Farm Aid.
For over 30 years, Farm Aid has been dedicated to building "a system of agriculture that values family farmers, good food, soil and water, and strong communities," as the website states.
Farm Aid also holds annual food and music festivals where some of the biggest names in country music come together to raise money for farmers, and show appreciation for all that they do for this country.
[rebelmouse-image 19534855 dam="1" original_size="700x467" caption="Photo by Scott Streble/Farm Aid." expand=1]Photo by Scott Streble/Farm Aid.
Celebrities and public figures often give money to support causes they care about, but when they get out there and actually make giving back a part of their lives, it's particularly inspiring.
If you're interested in helping Nelson help promote family farmers and the good food movement, there are many ways to get involved. If offering aid to horses that need to be rescued and rehabilitated speaks to you more, Habitat for Horses is a great place to start.
You don't have to be famous or have a lot of money to make an impact. All that's needed is a little effort and drive to make the world a better, more humane, and healthier place to be.
Watch Nelson's whole interview with KSAT here: