More
Robin Williams' advice for people who are depressed is really touching and important.
In 1978, Robin Williams pretended it was 40 years later and explained what made him survive.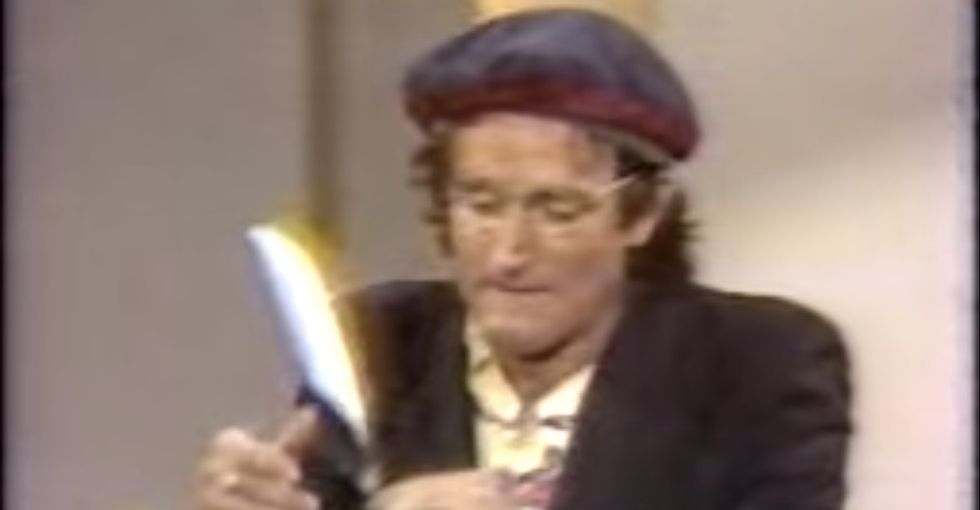 This article originally appeared on 08.13.14
There's a quote going around the Internet attributed to Robin Williams that goes as follows: "You're only given a little spark of madness. You mustn't lose it."
Here's where that quote came from. Williams was performing at the Roxy in 1978 for a brand new comedy special on a little known network called HBO. In the audience were a surprising group of people: Henry Winkler (The Fonz), Tony Danza (before he was famous), and even John Ritter, who does a weird round of improv with Williams in the show.
---
Robin Williams Spark Of Madness www.youtube.com
Trigger warning: discussion of suicidal thoughts. If you decide to start reading my personal story here, please read through the end.

When I was a kid, I was all over the map.
I was an ADD-riddled hyper-awkward nerd, jumping from thing to thing without a trackable train of thought, making jokes, going on tangents, freaking out, jumping around, and generally being weird. People didn't know how to talk to me.
At the time, I was struggling with the bullying I was getting regularly, and one of my hobbies was contemplating places to commit suicide. My grandfather's retirement community was seven stories tall and had a nice roof. I imagined plunging those seven stories to my death, and I'd show those bullies who was boss. Which was not the smartest thing to be thinking. Because they wouldn't realize anything. I'd be dead, and my family would have to live through that pain for the rest of their lives. It's the worst option ever, and you should never do it.
When I was 10 years old and discovered the genius of the comedy album "Reality ... What A Concept," I knew I had found a kindred spirit and role model in Robin Williams.
I wanted to be him. The kinetic energy he presented himself with reminded me of me, and I figured even though kids bullied me for being a freak, there was someone else who made it out of school in one piece who acted like me in a small way. I memorized his routine like it was Shakespeare. (And, in fact, at one point, he did a Shakespeare routine about porn.) I told the jokes to friends even though I didn't get half of them.
Robin Williams was everything to me. His jokes made me realize there was more to life than just ending it. I started thinking about the family members I'd leave behind, how upset they'd be, and what I'd miss out on. I'd never get to perform at the Roxy. I'd never get to be on "Saturday Night Live."
When I heard about Williams' death by apparent suicide in August 2014, I was sad. For me, 28 years later, as a father, it wasn't him I was worried about. It was his children and the pain they were no doubt dealing with as their father lost his fight with depression.
The even worse thing about celebrity suicides is that they actually can be contagious . People see the glamorized tributes and start to think that somehow they are a good idea. Let me be clear, they aren't.
Listen to some advice from someone who knows and talked about it on Reddit :

I wish he would have listened to his own advice.
As we mourned, and continue to mourn, the loss of the incredible Robin Williams, please know that if you are suffering, you are not alone.
Many of us here at Upworthy have struggled with depression, and lots of things have helped us get better — from therapy to medication to yoga to meditation to running to memorizing comedy routines of incredibly talented people and other activities. And you can get better too.
If you are in distress right now, please call (800) 273-8255 . We love you. Someone else loves you. And copying an incredibly self-destructive act with your own will only lead to more pain and suffering, not only for you, but for those who love you.
Share this and let those you love know how much they are loved, and if you need help, please just ask. There's a better way than what you may be thinking.