More
Paul McCartney brought James Corden to tears with the story behind 'Let It Be.'
This is what the world needs right now. ❤️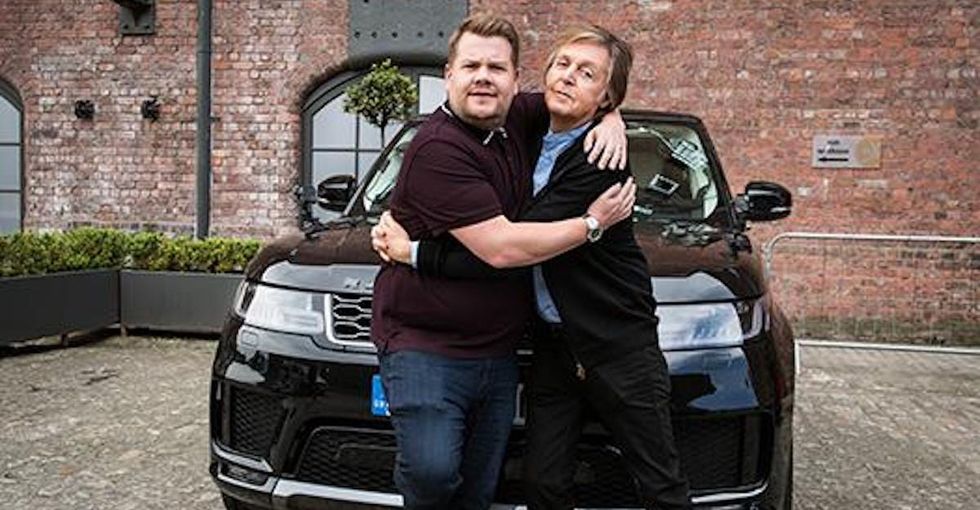 This article originally appeared on 06.22.18


Imagine you're sitting in a pub and Sir Paul McCartney walks in.
That's exactly what happened when he guested on an episode of "Carpool Karaoke." The legendary performer rolled through his hometown of Liverpool with host James Corden, sharing memories of the city, surprising fans in his favorite pub, and bringing all of us a badly needed emotional release with his music.
---
McCartney's trip down Penny Lane was poignant, and his message of positivity brought James Corden to tears.
The most prevailing themes in The Beatles' music are those of love, peace, joy, and togetherness. It's the kind of music that you put on during the happiest times and when you've had a really rough day.
One of the most comforting songs in difficult times is "Let It Be," and that's no accident. During their road trip, McCartney told Corden it was inspired by a dream of his late mother.
"My mum, who died, came to me in the dream and was reassuring me, saying it's gonna be OK, let it be." McCartney said. "I wrote the song 'Let It Be,' but it was [inspired by] her positivity."
"It got me emotional there, Paul," Corden said, echoing the feelings of everyone watching.
"That's the power of music," McCartney replied. "It's weird, isn't it, how that can do that to you?"
McCartney's reminder that things will be OK is something we all need.
"All you need is love" might sound a little sappy, but in these times, that message is more important than ever. And the Beatles' continued success is a testament to how much we all need to work toward the joy the group so often sang about. To achieve it, we've all got to come together (right now).
Watch the full video below, free your tears, feel the full spectrum of your emotions, and then get to work making the world the awesome place we all know it can be. (The story starts at 4:50.)
James Corden heads to Liverpool for a special day with Paul McCartney spent exploring the city of Paul's youth, visiting his childhood home where he wrote mu...