Culture
James Corden mocked the mighty boy band BTS for their activism. It didn't end well for him.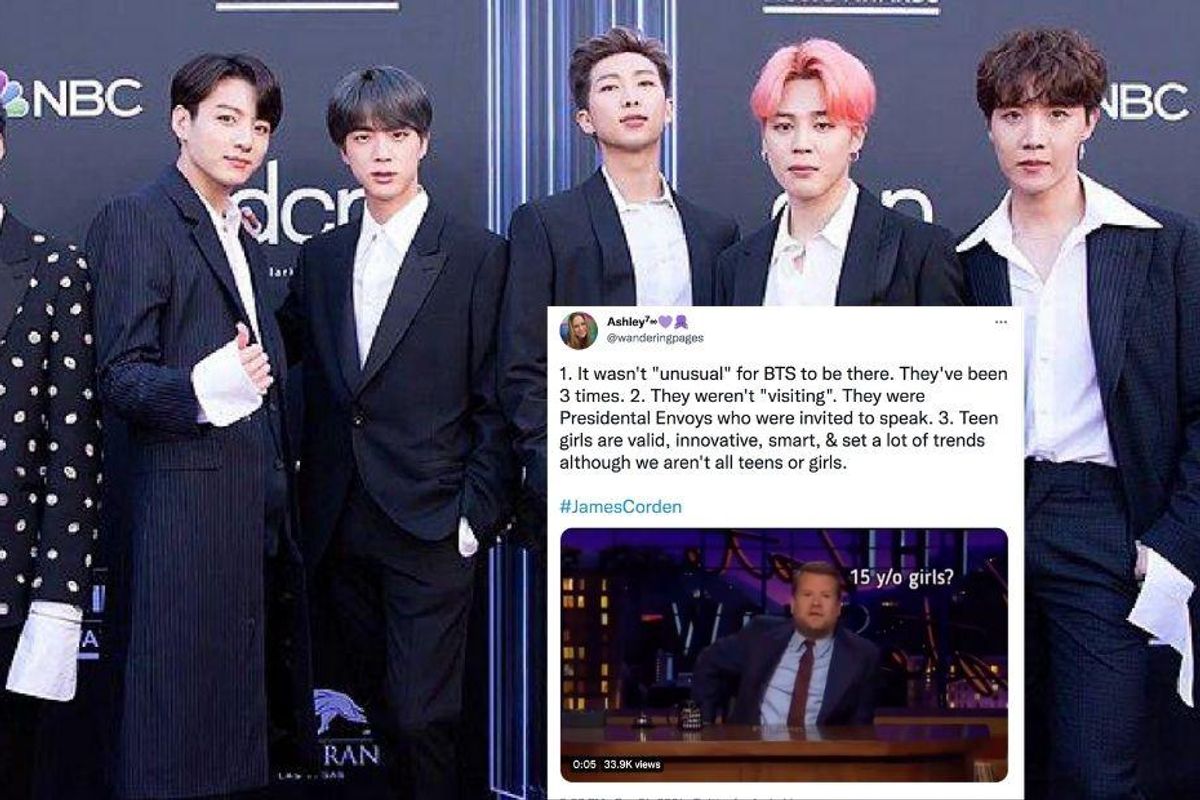 James Corden recently earned some severe but justified backlash from the almighty "BTS ARMY," after Corden referred to the fanbase as a bunch of "15 year old girls," and described the super powered South Korean pop group's appearance at the United Nations as "unusual" on the Late Late Show.
Considering BTS had been to the UN twice previously, their appearance was far from "unusual." Not to mention they delivered a moving seven minute speech; one that poignantly addressed climate change, the importance of vaccines, preserving the planet, and gender equality, and received the attention of over 6 million viewers, making their appearance a pivotal platform for addressing important issues.
---
You can watch BTS's speech here:
WATCH: BTS members speak about the COVID-19 pandemic at the 2021 United Nations General Assemblywww.youtube.com
Corden's jokes also denigrated an enormous (not to mention extremely influential) fanbase with what can only be seen as a low brow sexist and ageist comment. Needless to say, within minutes Twitter was flooded reactions from the ARMY.

There has even been a rally for Corden to lose his nickname of "Papa Mochi," a term of endearment he formerly earned because of his relationship to Jimin, one if BTS's performers.
Considering Corden is no stranger to BTS, you would think he'd know better than to mess with their ARMY. Or, at least be less dismissive about them. Not only are they powerful, but like the pop group, they are driven to create positive change, and once they rally, there's no stopping them. They've proven their influence before, like raising 1 million dollars for the Black Lives Matter movement. Or when they succeeded in sabotaging a Trump rally in Oklahoma in July of 2020.
James Corden is no stranger to creating negative buzz on the internet. Take his his hip thrusting mouse stunt for instance, intended to promote the new Cinderella with Camila Cabello, which really only served to promote his bad reputation. Or his recent rant about Halloween, where even his staff decided to turn on him. And let's not forget his now infamous segment, "Spill Your Guts or Fill Your Guts," which blatantly mocked Asian cuisine.
The original video has since been deleted by the
Late Late Show
, yet no formal apology has been made. Teasing BTS-during their moment of genuinely creating a positive impact, for having a fanbase of teenage girls is not only tone deaf, but a bit antiquated, no? Teenage girls have been deciding who's who in music since Elvis Presley. And as the ARMY has proven, Corden's not-so-wisecracks pale in comparison to the massive influence that BTS has. Still, an apology from the artist formerly known as "Papa Mochi" would be a nice place to start.