Culture
James Corden mocks Trump's White House return with Paul McCartney parody: 'Maybe I'm Immune'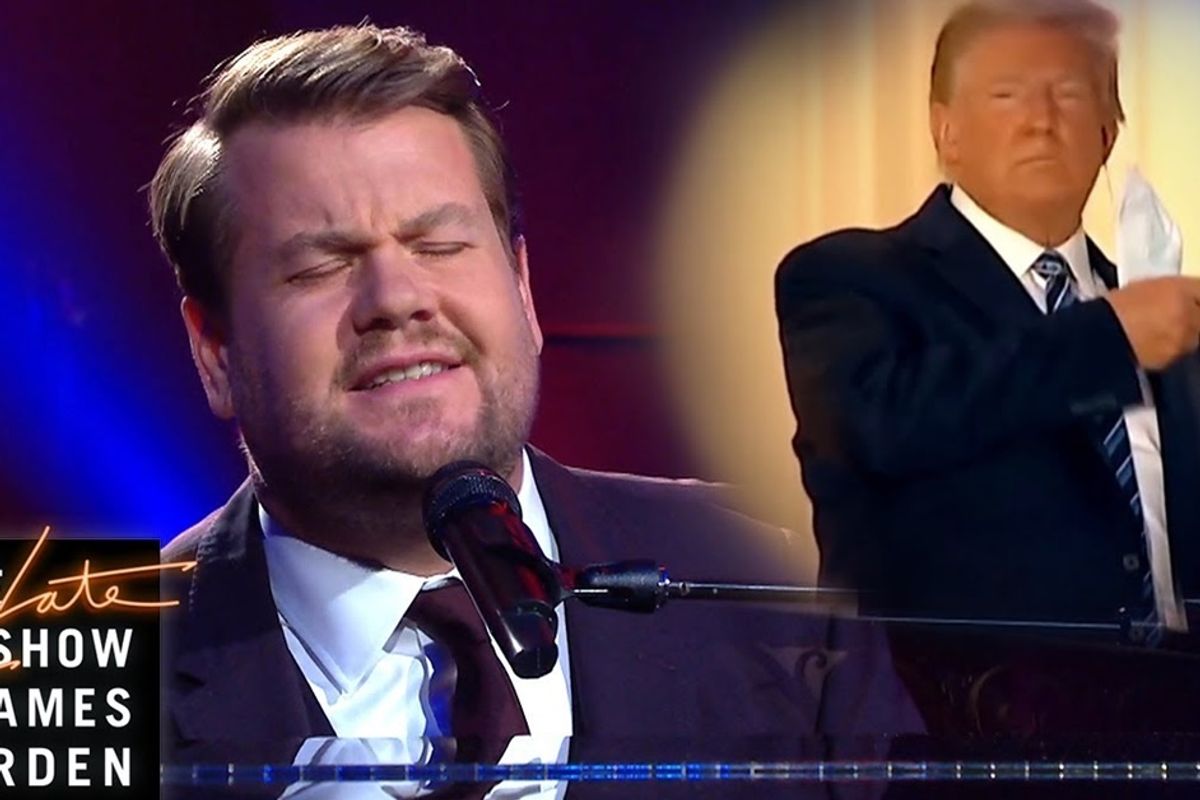 via The Late Late Show with James Corden
"The Late Late Show" host James Corden took a shot at President Trump's erratic behavior after his COVID-19 diagnosis with a parody of Paul McCartney's 1970 hit, "Maybe I'm Amazed" on Tuesday night.

"Maybe I'm Immune" is based on Trump's statement after returning to the White House from the hospital on Monday night when he wondered, "Maybe I'm immune?"
The song is funny but it also highlights Corden's beautiful Elton John-esque singing voice and solid piano skills.
---
The song is intercut with clips of Trump's doctor, Sean Conley's questionable attempts to suggest the president was in good health after being diagnosed with a deadly virus. It also features a clip of Trump speculating that the virus could be cured by injecting bleach.
The end of the song touches on the president's "immunity" to the fact that he's trailing Joe Biden substantially in the polls. On Monday, a CNN poll came out showing Biden with a 16-point lead among likely voters.
On Wednesday, a Rasmussen poll came out saying that Biden has a 12-point lead over Trump. Rasmussen has traditionally been seen as a conservative-leaning polls.
Trump: 'Maybe I'm Immune' - Paul McCartney Parodywww.youtube.com
Lyrics to "Maybe I'm Immune"

Maybe I'm immune 'cause today I'm feeling so alive
Just don't be afraid of the way I'm breathing
Maybe I'm immune, it's okay to go out for a ride, with others trapped inside
Maybe you're immune to the lies my doctors tell you
Maybe I'm a man and maybe I don't wear a mask because I don't care about others
Science, I don't really understand
Maybe I'm a man and maybe I'm just high from this experimental cocktail
Maybe I just need some oxygen
Maybe I'm immune to the ways the polls are looking now
Maybe I'm afraid it's not fake news
Maybe I'm immune to all the lies that I have made, I shouldn't have downplayed
Maybe I'm afraid of the way that I might lose this
Maybe on November 3 I just might lose this
"Maybe I'm Amazed" is notable for being Paul McCartney's first big solo hit after leaving The Beatles in 1970. The song was the second to last track on his first solo album, "McCartney" in which Paul played every instrument alongside vocal contributions from his wife, Linda.
The album has been back in the press recently after rumors that McCartney is looking to release "McCartney III" at the end of the year. It would be the third album in McCartney's catalog where he plays the instruments by himself. "McCartney II" was released in 1980.
Paul McCartney & Wings - Maybe I'm Amazed [Live] [High Quality]www.youtube.com