Pop Culture
Man goes skydiving with a cardboard sign asking for work. His new boss responded the same way.
Sometimes you gotta just take a leap of faith.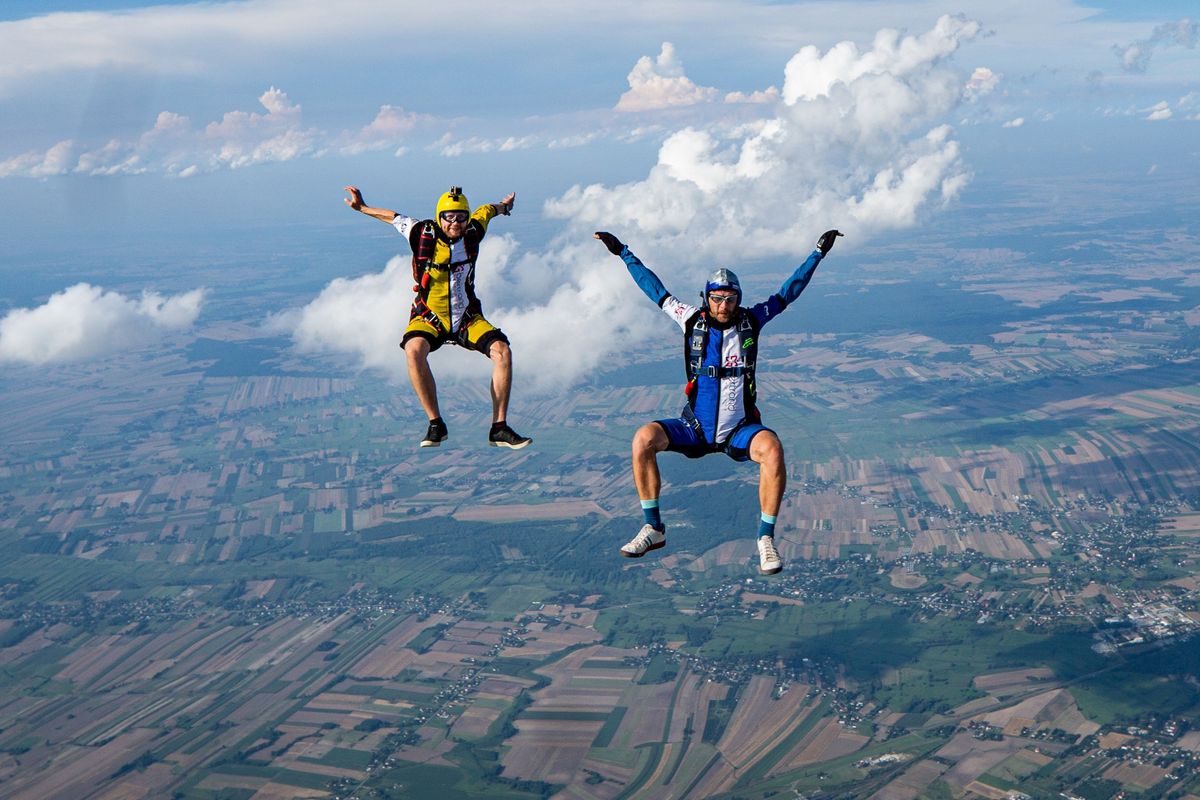 Times seem grim for employees. Every day seems to bring a new series of layoffs, pay cuts, strikes and…you know, the whole threat of being replaced by robots thing…
Chris Serrano, a creative director who "does all his own stunts," found himself in one of these abysmal situations after getting laid off.
However, Serrano quickly turned his luck around by thinking outside the box and leaning into his daredevil personality. On his LinkedIn, he posted a video of himself jumping out of a plane with a cardboard sign that read, "Open4Work."
---
"I got laid off last week. So I'll be freefalling until I find a new gig—literally. If you're looking for an award-winning creative that works hard, takes risks, and knows how to pack a parachute, reach out. Don't let your brand plunge to its death. Hire me instead," he added in the caption.
Can't say this guy isn't clever. Or brave.
It wasn't long before Serrano's post caught the attention of Jack Peagam, UK- based entrepreneur and co-founder/CEO of the social app Linkup, which aims to authentically connect people based on similar hobbies and interests. Fitting that these two connected over a shared passion for extreme sports.
Peagam seemingly one-upped Serrano's stunt—videoing himself skydiving with a cardboard sign that read. "Hey Chris, sorry 2 see you got laid off. We've got work 4 U. Let's Link Up".
In his own caption, Peagam matched Serrano's knack for wordplay, writing, "Can't guarantee you a parachute payment, but we're ready to catch you and launch you into new heights of success. 🪂 ✈️ I'm sure you'll free-fall in love with what we're doing. I believe this is the ultimate way to extend the offer."
Because clearly these two are a match made in workplace heaven, Serrano then shared a subsequent video showing both thrill-seekers signing a new employment contract while jumping out of a plane together.
"When I lost my job, I was a bit nervous as to what could be next, but taking a leap of faith from a plane is sometimes all you can do," Serrano shared, according to Good News Network.
That leap of faith certainly paid off. Peagam loved Serrano's "bold" and "daring" ad, telling Good News Network it "featured everything I love about creative talent." Serrano was also "blown away" by the support he received after posting, from folks sending positive comments to sharing the video across the platform.
While maybe not all of us can jump out of a plane to
secure the job of our dreams
, there is something to be said for the magic that happens when we use our imaginations and show up as our most authentic selves. Losing a job isn't fun, but it doesn't take away the special, unique qualities that we bring to the table. And when we can harness that, often opportunities seem to fall from the sky—quite literally, in this case. Bottom line: even in less-than-ideal circumstances, or perhaps especially then, a dose of optimism and ingenuity goes a long way.