Family
Tony Hawk helped create a song for an autistic teen who is soothed by skateboarding rhythms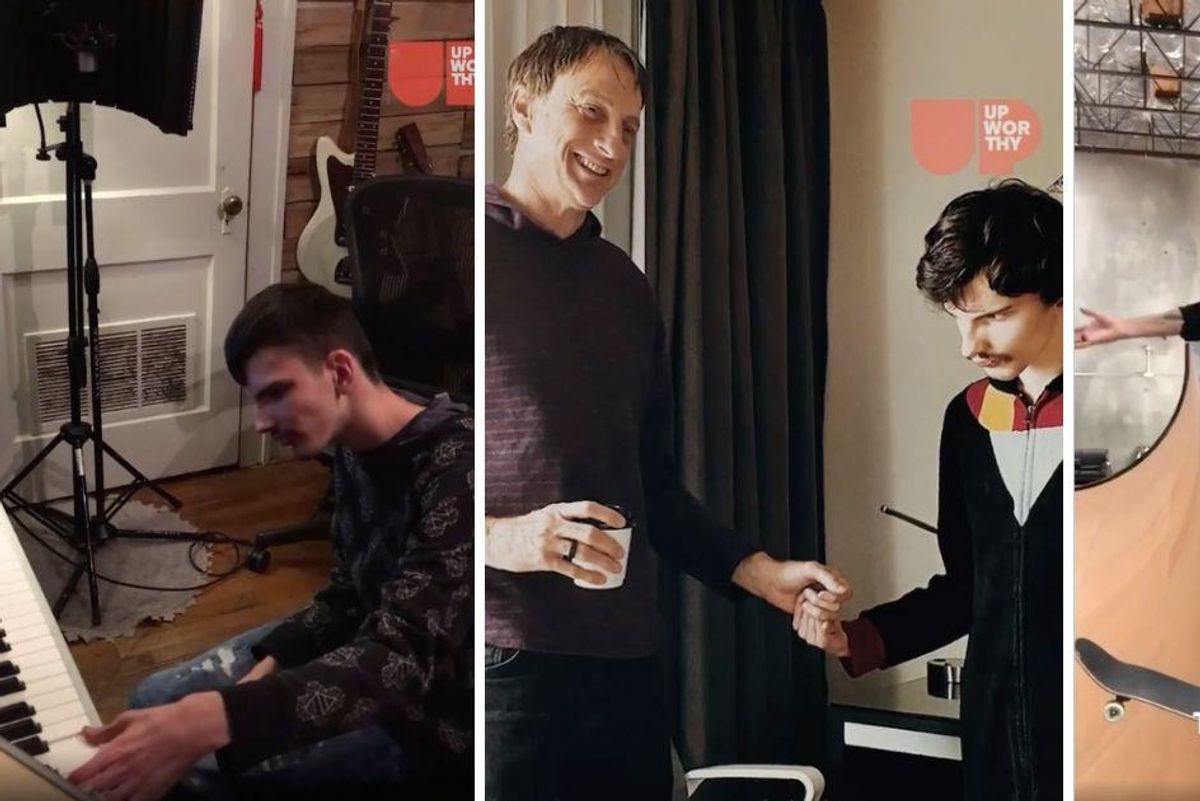 Odin Frost has always loved the sound of skateboarding, especially the rhythmic sound of the wheels rolling over wood. As a nonverbal autistic young man, having tools for soothing distress and anxiety is important for Odin, and his parents say he connects with music and different kinds of rhythms.
Tim Frost, Odin's dad, sent legendary skater Tony Hawk an email inviting him to collaborate with him and Odin on a musical piece based on the sounds of skateboarding. The idea was that they could use skateboard sounds as percussion and build a song around it. Not only did Tony agree to help out, but he did a special recording of a run on the half pipe specifically for Odin and Tim to use for that purpose.
If Odin looks familiar, there's a good reason for that. We shared his life story last summer, when photos of him and his best friend Jordan went viral after their high school graduation. Both boys had both been given slim chances of survival and had overcome tremendous obstacles to graduate from high school, and their story of friendship, perseverance, and family support touched millions.
---
Upworthy was thrilled to learn about Odin had gotten a chance to meet his hero, Tony Hawk, and we recently caught up with both Tony and the Frost family to chat about their musical endeavor and what it was like for them to meet one another.
Despite living very different lives, Tony told us that he identifies with Odin in a couple of ways. One, he understands what it was like to be different from other kids growing up, and celebrates what's good in that experience. And two, he knows how having parents who support you makes all the difference in the world.
"You can see that Odin thrives from it," Tony told us. "I met him. I can tell that he's right there with them. You know, on the surface, from the outsider's perspective, you don't understand how in tune he really is with everyone."
Tim shared how he came up with the idea of making a song based off of Tony's skateboarding with and for Odin, and Tony explained how it helped him see skating in a whole new way.
"I think I didn't understand the potential of it until I heard the song they created," said Tony. "I think that one thing that Odin has taught me is that there is a zen of skating in just the motion and the sound of it that maybe I never had tuned into."
Imagine teaching the world's most recognizable skater (at least by name) something new about skateboarding. But as Tony said, "We learn from each other." Indeed we do. What a delightful match-up of creativity and humanity this collaboration turned out to be.
You can see more of the Frosts' story about connecting with Tony Hawk and listen to the whole song they created here. (The song begins at the 2:00 mark.)
Dropped In -Featuring Tony Hawkyoutu.be