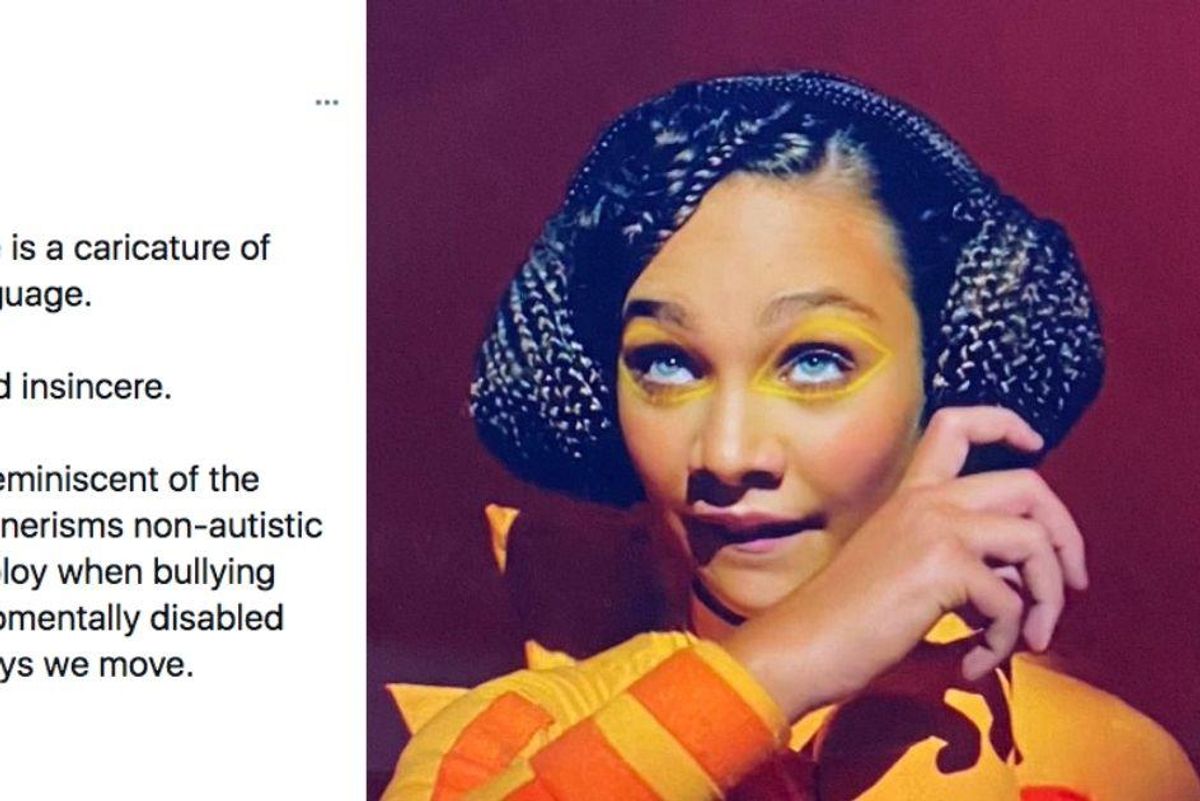 When the trailer for Sia's directorial debut movie "Music" was released in November, the Australian singer faced intense backlash from people in the autistic community who felt that the portrayal of an autistic character played by Maddie Ziegler (who is not autistic) was problematic. Advocates also expressed concern about the use of harmful restraint techniques shown in the trailer.
At the time, Sia engaged in heated public debate with her critics on social media, ultimately ending with the statement, "I really hope you see the movie (s)o you can be less angry."

Now the movie is out, and autistic people are commenting on the full film—and they are definitely not any less upset.
The Autisticats is a group of autistic young people who share their experiences with being autistic (among other things) online. On their Twitter account, one of them offered a "detailed & chronological review" of the film.
---
First they shared images and a clip from the film that show the exaggerated mannerisms of the autistic main character, in addition to a scene with strobing lights and overwhelming visuals that would be difficult for many autistic people to sit through.
Their explanation of what was problematic continued in the thread:
"This performance is a caricature of autistic body language. It's unsettling, and insincere. And it is deeply reminiscent of the exaggerated mannerisms non-autistic people often employ when bullying autistic & developmentally disabled people for the ways we move.
There is absolutely nothing wrong with the ways autistic people move, or the ways we make facial expressions. Some of us roll our eyes and put our teeth over our lips as a stim or just because it's comfortable. But we do those things naturally. Maddie Ziegler does not.
The fact that Ziegler is not autistic, and the fact that her performance is so heavily exaggerated, turns the entire movie into one long display of mockery. I know that 'wasn't Sia's intention.' But it doesn't make things any easier to stomach.
Two other things I want to touch on: 1. The strobing lights and colors in the dance scenes are extremely overstimulating, and could cause seizures in people with photosensitive epilepsy (common in autistic people) 2. The restraint scenes are still there, without a warning.
I was under the impression, according to Sia's apology and accompanying promise, that: A. There would be a warning at the beginning of the movie regarding the danger of restraint, or B. That the restraint scenes would be removed from the film entirely. That isn't true so far.
If this thread prevents just 5 other people from watching this movie, it will have been worth it. I know people are curious. And I also know it's not my responsibility to bear the burden of watching this film for the community. But I want to serve the greater good.
I want to be able to provide my perspective from as informed a position as possible, and I couldn't do that without actually watching the film. I'll be writing my review and posting it when it's done. I don't know if this was a good idea. I just want it to be worth something."
With the film receiving two Golden Globe nominations—one for best motion picture, musical or comedy, and one for best actress in a musical or comedy (for Kate Hudson's performance)—the controversy is extra heightened, and many people from the autistic and disabled community are weighing in. A petition requesting the Golden Globes to rescind the nominations due to the movie being "severely ableist" and contributing to "harmful stereotypes of autistic people" has been signed by nearly 50,000 people so far.
According to Vanity Fair, Sia has said that a disclaimer will be placed at the beginning of the film that reads: "MUSIC in no way condones or recommends the use of restraint on autistic people. There are autistic occupational therapists that specialize in sensory processing who can be consulted to explain safe ways to provide proprioceptive, deep-pressure feedback to help w meltdown safety." She also said that future releases of the film will have the restraint scenes removed.
Though Sia has defended her good intentions in the casting and directing of the film, she has also apologized repeatedly for the film's portrayal of autism. "I listened to the wrong people and that is my responsibility," she wrote on Twitter, "my research was clearly not thorough enough, not wide enough." She has since deleted her Twitter account.

More details about the making of the movie have come out that indicate there were some red flags even in the midst of filming. Sia said that Maddie Ziegler herself, who played the role at age 14, broke down crying one day and told Sia she was afraid people were going to think she was making fun of autistic people. Sia reassured her that she wouldn't let that happen.
What Sia should have done is seen the teen's discomfort as a sign that perhaps there was something problematic in the way the role was being played and sought more advocates in the autistic community to consult about it.
Though "Music" certainly isn't the first movie to have a neurotypical actor portraying a neurodivergent character, the issue has been brought up so many times following other films and society has become so much more aware that it's quite clear that the issues in this film could have been remedied with more meaningful inclusion of autistic people in the filmmaking process.
Grappling our way toward becoming a more accepting, respectful, and truly inclusive society is a messy process. Let's listen and learn from these responses and conversations so that harm to already stigmatized communities can be avoided in the future.